MDM is designed to help Apple users configure their devices' settings, accounts, apps, and others. Sometimes you can see MDM profiles on company and organization devices, as they use MDM to ensure full security and control their employees remotely. But for those who have left the company, MDM is unnecessary for them. In that case, it is vital to skip MDM Lock.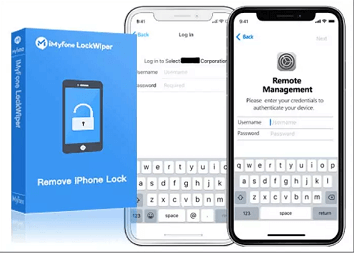 The latest version has been upgraded to iOS 16, but unfortunately, many MDM removal apps only support iOS versions up to 14. In this article, we illustrate some useful methods to help you skip MDM on iOS 16.
Part 1. New MDM Features of iOS 16
Since the upgrading of iOS 16, it has improved iPhone with brand-new features, especially for MDM Profile Keys and MDM Command. Let's take a look!
01

MDM Profile Keys
Previously, MDM Lock allows administrators to hide individual preference panes from the end user, but upon the upgrading of the System Settings app, this restriction is deprecated.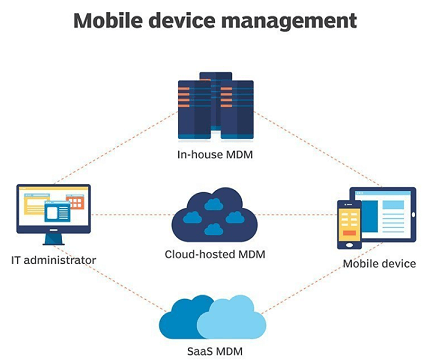 In iOS 16, this restriction has also changed, allowing Universal Control. If set to false, this will prevent Universal Control between devices.
02

MDM Commands
Users used to download apps in lightweight modes. However, apps like this haven't been differentiated from whole apps to MDMs until iOS 16. Some apps have to be installed with the permission of TestFlight, a flag to indicate whether an update is available.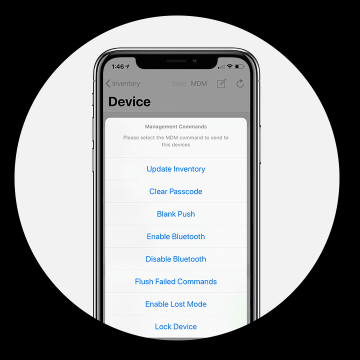 Apart from that, another key change of the MDM is to recover information from the device and display information to the administrators. Notably, there have been deprecations of major items here, including key identifying information, like the ICCID, IMEI, Current Carrier Network, and Phone Number.
Part 2. How to Skip MDM on iOS 16?
After introducing the key changes of MDM Lock, the useful ways to skip MDM according to the upgrading of iOS 16 have been offered below.
01

iMyFone LockWiper
iMyFone LockWiper is a one-stop removal tool designed for iOS devices to skip MDM Lock, remove password and so on. It comes with a range of features that are enjoyed by everyone.
If you are bothered by MDM remote management or want to break the upgrading restrictions from iOS 16, such as the app downloading and upgrading restriction, iMyFone LockWiper merits a try. Besides, it supports all versions of iOS devices, including iPad, iPhone, and iTouch.
Your Powerful MDM Removal Tool - iMyFone LockWiper
Video tutorials on how to bypass remote management on iPhone:
Follow the detailed steps to use iMyFone LockWiper:
Step 1. Install and launch iMyFone LockWiper, then choose "Bypass MDM" mode on the screen.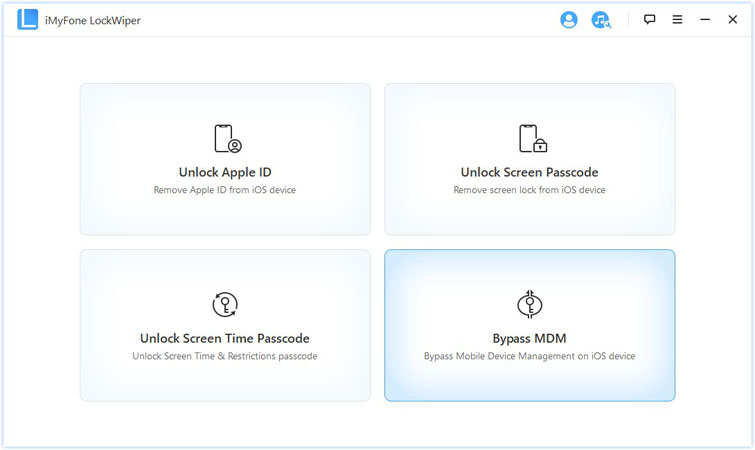 Step 2. Connect your device to PC with a lighting cable, and make sure your device is on MDM Remote Management screen.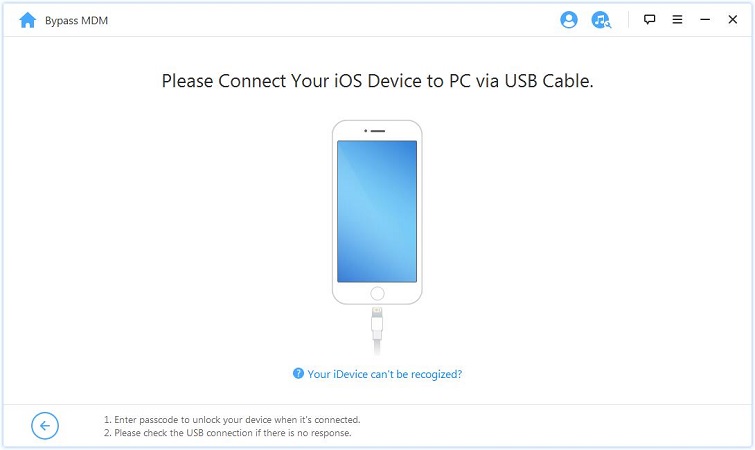 Step 3. Follow the on-screen instructions and continue the process.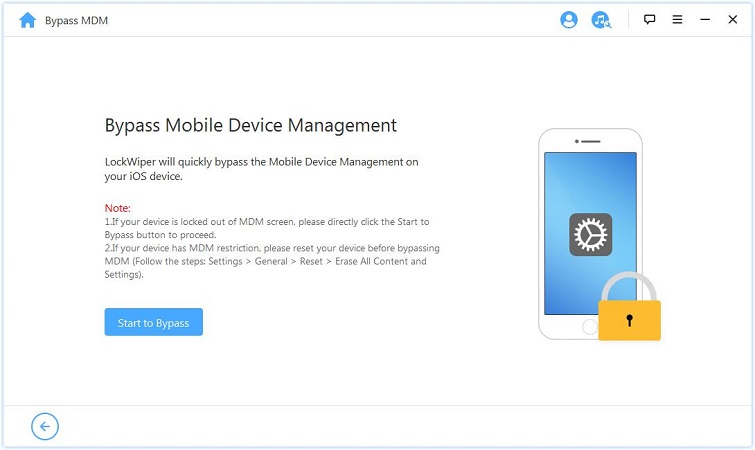 Step 4. Wait for a few seconds. The MDM will be removed successfully!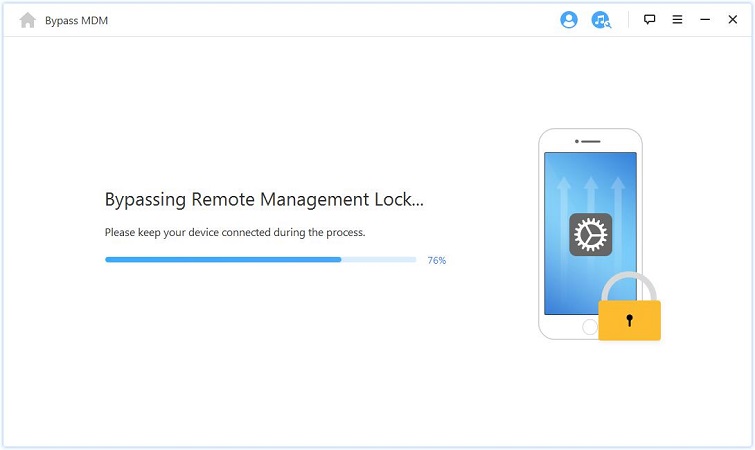 02

LockAway
LockAway is another tool to help iOS users to skip MDM on iOS devices with similar functions. Besides, it will only be restored in case of a complete device reset. In that case, you can use LockAway to remove it again. Let's take a further look at its steps.
Step 1. Search LockAway on the website and have it installed, then launch LockAway and choose the "Bypass MDM" option.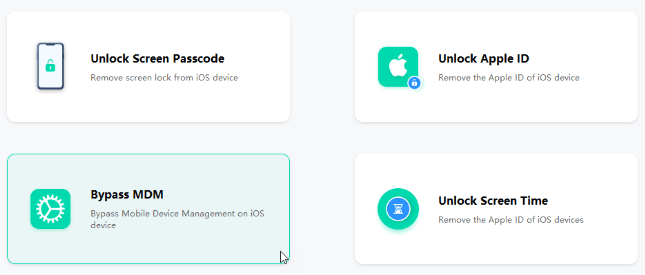 Step 2. Connect your device to the computer via a USB cable and check that whether your device is locked out of MDM screen. If not locked out, follow the on-screen instructions step by step.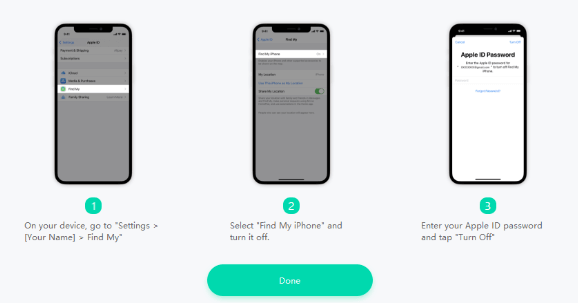 Step 3. Go to "Settings" > "General", then tap "Erase All Content and Settings" and your device will be reset.
Step 4. Restart your iPhone, tap "Don't Transfer Apps & Data" in "Apps & Data" to unlock your MDM screen. Finally, the MDM is successfully removed!
Con
It sometimes gets stuck during the transfer process.
03

iActivate
Apart from the above two methods, iActivate is also a choice for most Apple users. It is able to remove the configuration profile from the Apple device and all restrictions created by MDM Lock. Let's see its further steps.
Step 1. Turn off "Find My iPhone" before getting started.
Step 2. Download and launch iActivate and use a USB cable to connect your iPhone to the computer.
Step 3. Confirm the on-screen information and click "Start MDM Bypass".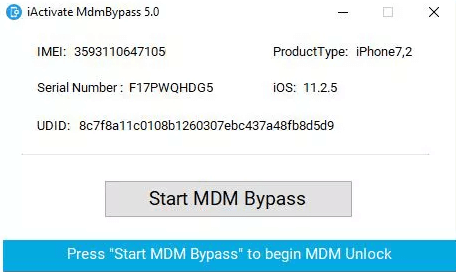 Step 4. Wait for a while. Your iPhone is a brand-new one!
Con
Sometimes you have to try it again as it can't guarantee success rates.
FAQs about Skip MDM on iOS 16
01

Does Jailbreak Skip MDM on iOS 16?
Shortly speaking, jailbreak means you need to break your iOS device out from the jail that the designer has placed on it. It is a common way to skip MDM on iOS 16, but we don't recommend though, as it is a straightforward way to cause damage to your iPhone.
02

Does Factory Reset Remove MDM on iOS 16?
A full wipe will return a device to factory settings. All information will be removed. This includes MDM control, leaving the device completely unmanaged.
03

How to Skip MDM on iOS 16?
If you remember your username and password, you can try official way to skip MDM on iOS 16.
Step 1. Go to "Settings" on your device.
Step 2. Select "General" and tap "Device Management".
Step 3. Move to your MDM profile and remove it.
Conclusion
If MDM has affected your life entirely, now skipping it on your iPhone is no time to delay. Upon comparison, iMyFone LockWiper is undoubtedly the best and most reliable unlocking tool with its high-success rates and stable bypassing process that you can try to skip the restrictions. Just click the button below and enjoy it!