Viber is one of the most popular messaging apps and is widely used as an alternative to WhatsApp. Although both applications offer free messaging and call services, Viber offers better compatibility with other devices, such as laptops which allows you to use features like the Chrome extension that is available to use.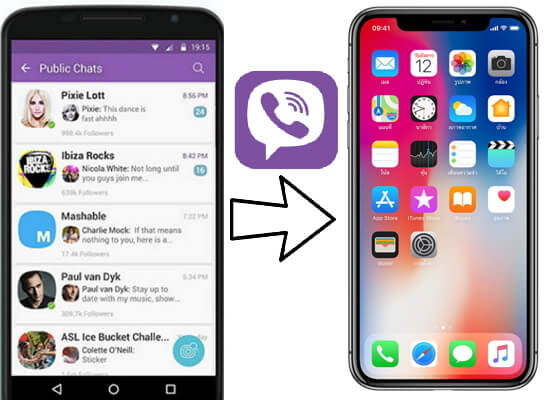 If you have recently purchased a new iPhone, switching from Android, and would like to continue using Viber as your messaging app, you may be wondering how you can transfer your Vibe messages from your Android to the iPhone.
Although it may be great to own a new device, it comes with some inconveniences. Mainly a new operating system means that there are some aspects that are different between the two, making it complicated to adjust to the new operating system, as well as transferring your information.
Q. Is it Possible to Transfer Viber Chats from Android to iPhone?
The short answer to this question is: no. The methods used to back up messages by Viber are different for both Android and iOS. The latter uses iCloud as its backup method and the former uses Google Drive.
Because of the differences in cloud backup services used for backing up chat logs and other data, you cannot directly transfer data between the two operating systems.
In addition to this, the backup service is not available on Windows so if you are using Viber on Windows or as a Chrome extension, it makes it impossible to transfer the data between devices.
Option 1. Email Viber Messages from Android to iPhone
This method is limited because you will not be able to access the transferred Viber messages directly from the Viber app on your iPhone. However, you will still be able to read them because they will be available in a CSV file.
For this method to work, you will need to have an email account (Gmail, Outlook…) set up on your Android phone in order to transfer Viber messages to your new iPhone. Once you have done so, do the following:
Open the Viber app on your Android and click on the three stacked lines at the bottom of the screen.
A menu will pop-up, called "menu". Within this menu, pick the "Settings" option.
From here, tap on "Calls and Messages" and you will be presented with an option that says: "Email Message History". Pick this option.
Choose your preferred email application and send the email to yourself (it can be the same address that you are using to send the email).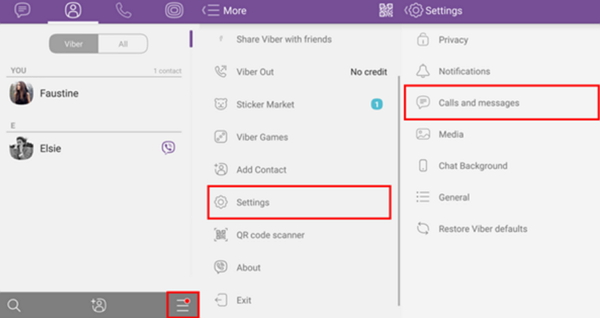 Once this has been done, you will have emailed yourself a zip file that contains all of your messages in a CSV file.
Open the email on your PC and download the attachment from it (it will be a zip file).
Extract the file from the zip folder. You will now have a CSV file with all of your chat histories which can be sent to your iPhone and be used to view your old Android Viber messages.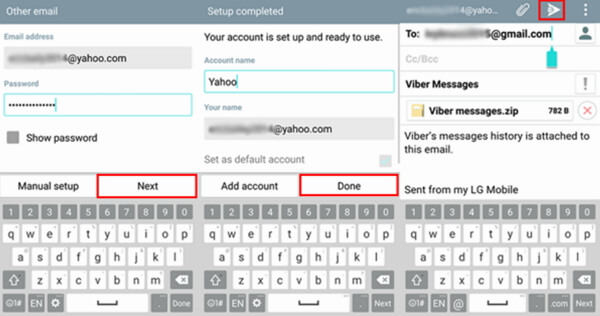 Option 2. Transfer Viber Messages from Android to iPhone via Third-Party Software
When you would like to transfer your Viber messages from Android to iPhone and still keep them within the Viber chat so they can be accessed from there later, you can use the third-party software "Backuptrans". This software needs to be installed on your PC to make sure you meet the following requirements:
PC with sufficient storage to install Backuptrans
High-quality USB cables for both Android and iPhone
If you have everything that is required to do this and would like to keep the same number on both devices, then do the following steps.
Install the Backuptrans software on your PC.
Enable USB debugging on your Android by going into Settings -> activate developer options -> choose the option to turn on USB debugging under developer options. (Please note that the detailed steps on how to enable developer options vary for different device models.)
Connect your Android to your PC and make sure that your SIM card is in the Android phone with Viber activated on it.
On the left-hand side, under devices, you will see your Android phone. Right-click on it and then choose the option that says: "Backup Messages". Wait until your messages have been backed up (the time it takes will depend on how many chats you have on Viber).
Transfer your SIM card to your iPhone and then install Viber on it. Once you have done this, you will be prompted to activate it. Ensure that you do this.
Connect your iPhone to the PC and locate the database that you have recently created from your Android under "Local databases".
Right-click on this recently created database and choose to restore messages to your iPhone. Wait until they have been transferred and safely remove your device.
This is the procedure you should follow if you would like to keep the same SIM card/phone number on your new iPhone and transfer Viber messages to new iPhone. However, if you are transferring to a new SIM card for your iPhone, the method is similar, with some slight changes, which are mentioned below.
You can connect both of the Android and iPhone simultaneously to your PC instead of one at a time.
You will still need to create a backup for the Android phone.
Instead of locating the database that you have created, you can instead right-click on the Android device and pick "Transfer Messages from Android to iPhone" and wait until the messages have been transferred.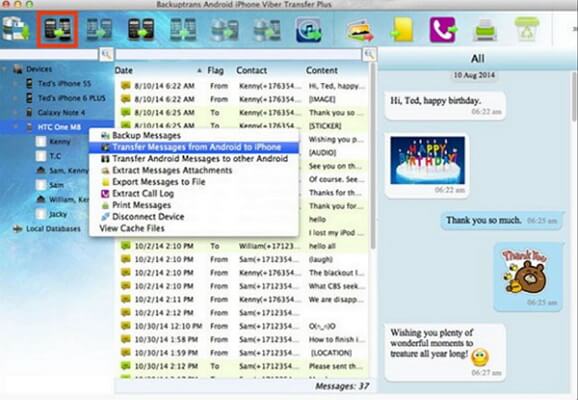 Review of the Two Options
You may have noticed how the methods are listed but no evaluation of each method is made. That is why we will be comparing both methods here.
Security
One of the key features that appeal to the users of Viber is the security it offers, due to its end-to-end encryption. By having all of your messages within Viber itself, your data will be secure due to the end-to-end encryption offered. It will only be seen by either yourself or the person you are chatting with.
However, as a CSV file, it can be accessed by anyone who has access to your PC or email account. Because of this, it is safer for you to use the second method.
Costs
The Backuptrans offers a free version of its software, but if you are going to be using the software for advanced features, you will need to purchase the software.
Although it is a small price to pay for security, it is still more than what you will be paying for if you are emailing the chats to yourself.
Furthermore, you will need access to a PC, something the first method doesn't require.
Convenience
The transfer of Viber messages between devices can be daunting when using the email method because it involves extracting zip files, something not easy to do on Androids without the use of a file manager.
However, the Backuptrans allows you to create a backup (which can also be accessed from the Local Databases later on if required) and then transfer these messages into the Viber app too.
This way, all of your old Viber messages are located within the application and you won't need to switch between different applications to view old messages. Because of this, the Backuptrans method wins on convenience.
Conclusion
Although emailing yourself the chats is fine if you would like to export a small number of chats and be able to access them on another device (such as a laptop). The best way of transferring Viber messages to your new iPhone is to use the Backuptrans method. It also comes with an export function too, so you can export Viber messages to your PC without having to email them to yourself.