What is Bonjour?
Bonjour is a utility program that is integrated into some Apple programs. It is usually used by iTunes to find shared music libraries. Safari also uses Bonjour to find devices advertising web pages on your network. Bonjour is not a program you use directly; you won't see a "Bonjour" icon on your computer desktop. It works silently in the background, automating various low-level network tasks.
Bonjour is usually installed automatically when you install iTunes and it runs a process that starts up and runs in the background when you start your system. All of this is done in the background and, a lot of the time, you don't really know that it's there. So, here comes the question:
"Can I Uninstall iTunes Bonjour?"
Can I Uninstall Bonjour and Still Use iTunes Normally?
Yes, of course you can. Uninstalling the Bonjour service without doing any harm to the computer.
But, uninstalling or disabling the Bonjour service may limit the functionality of iTunes. If you ordinarily use any of the services provided by Bonjour, then the apps through which you use those features need Bonjour to work. Removing Bonjour from your device will cause those apps to stop working properly.
But if you don't do anything of Home Sharing, remote app or syncing to Apple TVs, you can uninstall bonjour. iTunes will remind you once next time you open it. It will work fine.
Besides, you can also uninstall Apple Software Update if you don't want that running. But don't uninstall Apple Application Support because they are absolutely needed for iTunes to function.
How to Manually Uninstall Bonjour
If you have any Apple software on your device, there's a high probability that you have a Bonjour folder in your program files. It starts up automatically and runs a process named mDNSResponder.exe. This process cannot be stopped by the Windows task manager. So if you want to get rid of it, you have to remove Bonjour.
Way 1: Uninstall Bonjour from Control Panel
Generally, you can remove Bonjour from your Control Panel. You can ordinarily do this by going to Control Panel and clicking "Programs and Features". Find the program called "Bonjour" and right-click on it to choose "Uninstall". However, this process may fail to completely remove Bonjour from your device and it may cause operating problems for your iTunes.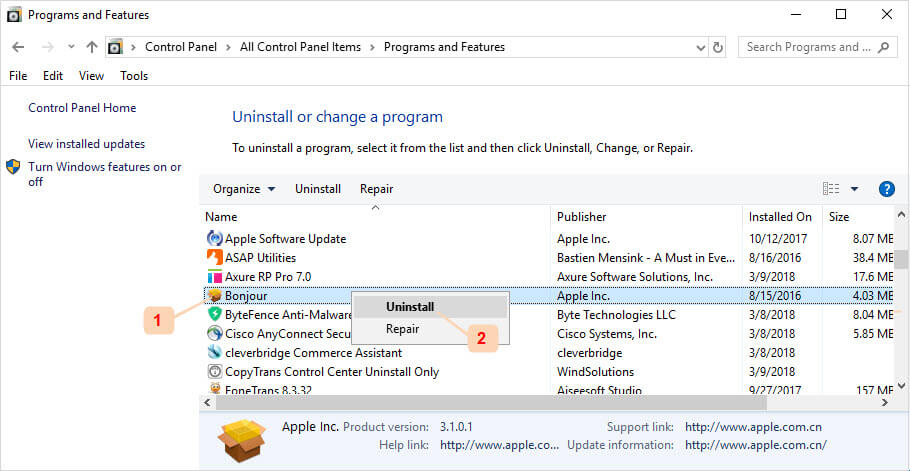 Way 2: Remove Bonjour Service and Files
Another method you can use to remove Bonjour from your device as well as its files – mDNSResponder.exe and mdnsNSP.dll – is as follows.
Step 1: On your PC, go to C:Program FilesBonjour.
Step 2: Find the "mDNSResponder.exe" file. Right-click on it and choose "Delete".
Step 3: Find the "mdnsNSP.dll" file. Right click on it and choose "Delete".
Note: If you receive a notification "This action can't be completed because the file is open in Bonjour service", restart your computer and try to delete them again.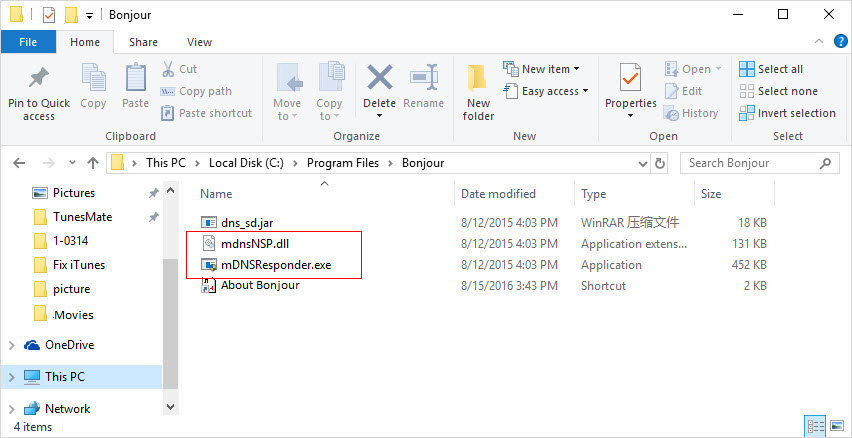 Step 4: Once done, restart your computer, go to "C:Program Files" and delete the Bonjour folder.
This process allows you to fully remove Bonjour from your device. However, it obviously takes time and more than a little bit of know-how. There's a better and safer way to remove Bonjour from your device in an even safer, quicker manner. In addition, it can fix 100+ iTunes errors including the bonjour issue. Let's find it the following part.
A Better Way to Delete Bonjour by Apple in Just One Click
Chance would happen when you failed to uninstall bonjour, or you ran into iTunes unknown errors or issues. You may find yourself no way to fix it. Many users reported that it's too complex to delete iTunes bonjour manually. For this issue, if you want to delete bonjour in iTunes, there is no need to implement it in such a difficult way mentioned above. There is a high-tech tool for the uninstallation of iTunes and it's components.
iMyFone TunesFix is a comprehensive iTunes repairer and uninstaller that helps you get your iTunes in tiptop shape. It is helpful in fixing all kinds of iTunes errors and uninstalling iTunes & its components from Windows 10. So, it can provide the super easy steps for you to delete iTunes bonjour.
Key Features of iMyFone TunesFix
1 click to completely uninstall iTunes and related components (including bonjour) without leaving any leftovers which would cause issues.
Fix 100+ known and unknown iTunes errors and problems, like failed device connection, iTunes install/update errors, restore/backup issues, etc.
Clean iTunes data such as media files, old backups (including backups made by 3rd-party software) and used software update files either all at once or you may select as you want.
Remove all useless iTunes files like installer cache, cookies, logs and junk files in one click, to run your iTunes at optimum.
1

Simply Tutorial to Uninstall iTunes Correcttly and Reinstall a Perfect One
Using iMyFone TunesFix, you can effortlessly remove iTunes and related components. To do this, you need to follow these steps:
Step 1: Launch iMyFone TunesFix and it will automatically detect your iTunes. If your iTunes is normal, you will be directed to the home interface. If your iTunes is damaged, TunesFix will help you repair it before directing you to the home interface.
Step 2: On the home interface, just click on "Full Uninstall".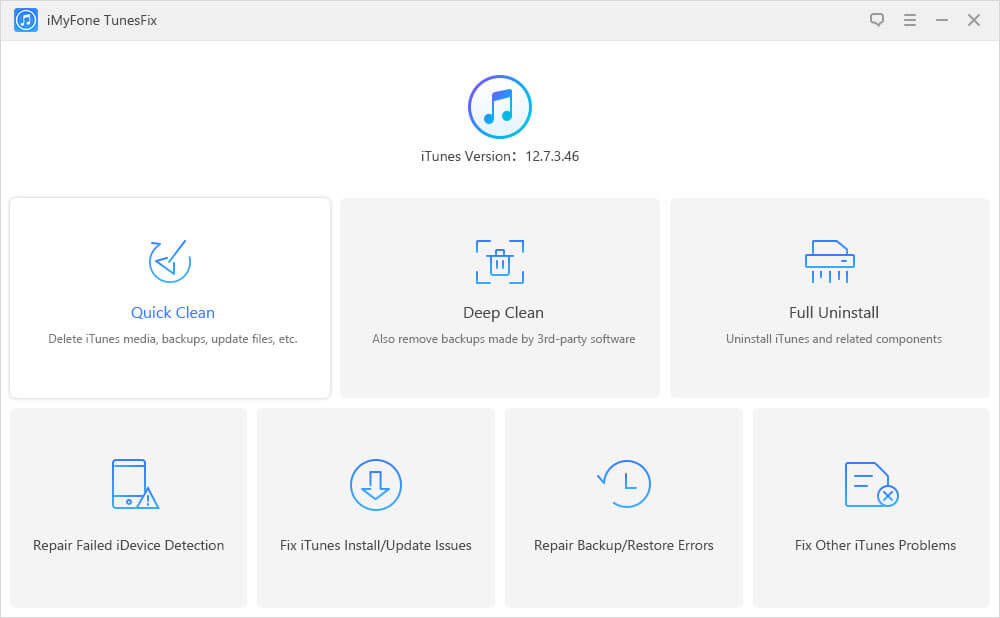 Step 3: If you want to delete your iTunes user data like media files, backups, and software update files, check the option before you click uninstall. Then click the uninstall button.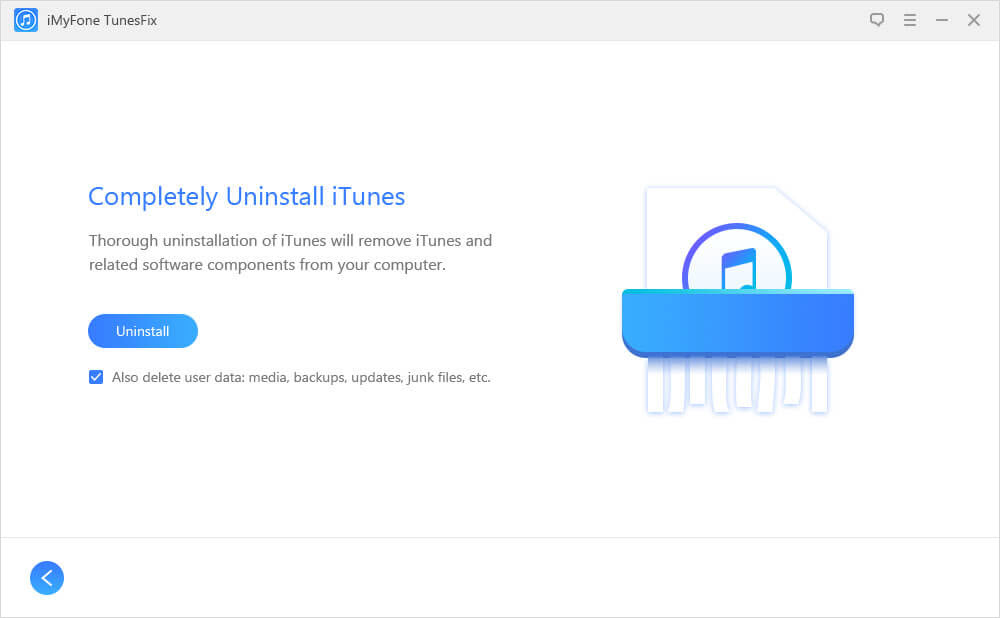 The uninstall process will begin and it can finish with 2 minutes. Not only the iTunes app but also its components are deleted with the correct order. So easy!
2

Guide to Fix iTunes Known/Unknown iTunes Problems
Step 1: Run TunesFix on your PC and it detect your iTunes and components. If there is an issue with the components, you can click "Repair" to fix it. Once done, you can check your iTunes to see it runs fine or not.
Step 2: If your iTunes is fine, it will guide you to the home interface. There you can see 4 repair modes: Repair Failed iDevice Detection, Fix iTunes Install/Update Issues, Repair Backup/Restore Errors and Fix Other iTunes Problems. Tap one mode.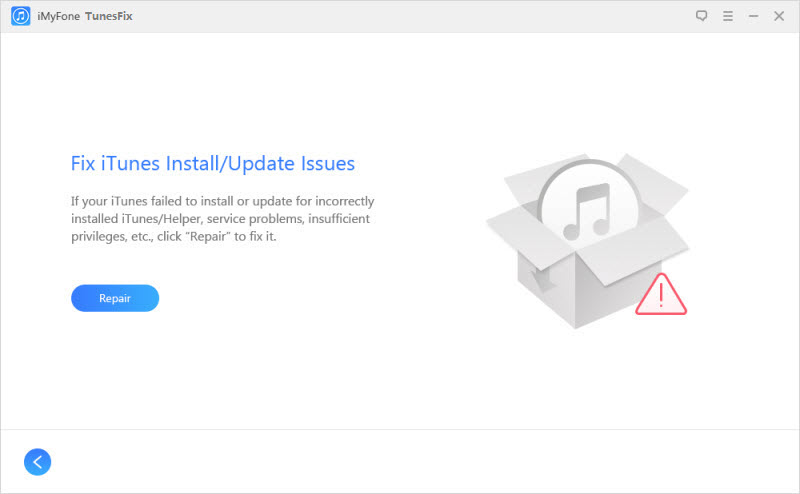 Step 3: Click on Repair button to start the process. It will download and install the repair drive for your iTunes.
Final Words:
Don't give yourself the stress of deleting Bonjour manually from your device. With iMyFone TunesFix, you can easily fix any issue with iTunes or completely uninstall iTunes and related components to successfully reinstall iTunes again. You can do all you want in little more than one click.