iTunes Error -18/18 usually occurs when you are restoring your iDevice via iTunes. The error stops the restoration process prompting that the device could not be restored and an unknown error occurred. Error -18/18 can occur when you start the device restore process as well as after the restore process has begun.
The Main Reason of iTunes Error 18/-18
There could be a number of reasons behind this error:
One of the primary reasons is that the activation server goes down at the time you start the device restoration process.
Sometimes this error occurs if your iDevice is jailbroken. This is because jailbreak sometimes causes memory confusion issue which leads iTunes to believe that the device doesn't have sufficient storage for restoration.
It has also been said that iTunes error -18/18 occurs due to the corrupted media library on the iDevice.
Last but not least, the error can also sometimes occur due to an issue with Find My iPhone feature.
How to Fix iTunes Error 18/-18
Try the following solutions:
1. Use iMyFone TunesFix
One of the best ways to solve iTunes issues such as iTunes error -18/18 is to use a professional iTunes repairing software. iMyFone TunesFix is a recommended choice in this regard. TunesFix can help you quickly fix error -18/18 as well as any other issue that you may be encountering when using iTunes. This is because the software is equipped with advanced and powerful iTunes scanning and repairing features. Apart from iTunes repairing, you can use this tool to completely uninstall iTunes, clean junk/temporary files of iTunes to free up disk space, boost iTunes' performance, and more.
Key Features:
Scan and fix 100+ iTunes issues conveniently.
Many manual iTunes repair modes to quickly solve wide range of common iTunes problems.
Completely uninstall iTunes and its related components in the correct order as well as remove traces of iTunes' install files.
Boost iTunes' performance as well as free up plenty of disk space by cleaning junk/temporary files of iTunes.
Convenient one-click solutions to virtually all iTunes' problems.
Steps to Fix the Issue:
Step 1: Launch iMyFone TunesFix on your computer. It will start the automatic iTunes scanning process. Fix the issue (if detected) by using the Repair button when it is prompted. After that, the home interface of the software will open.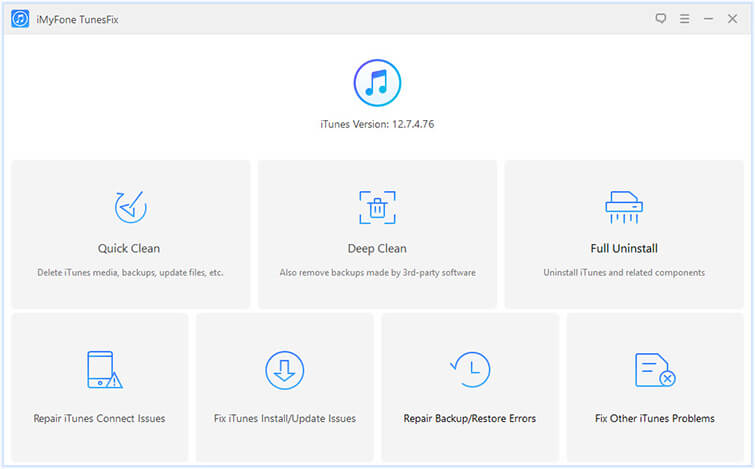 Step 2: Now click on Fix Other iTunes Problems mode.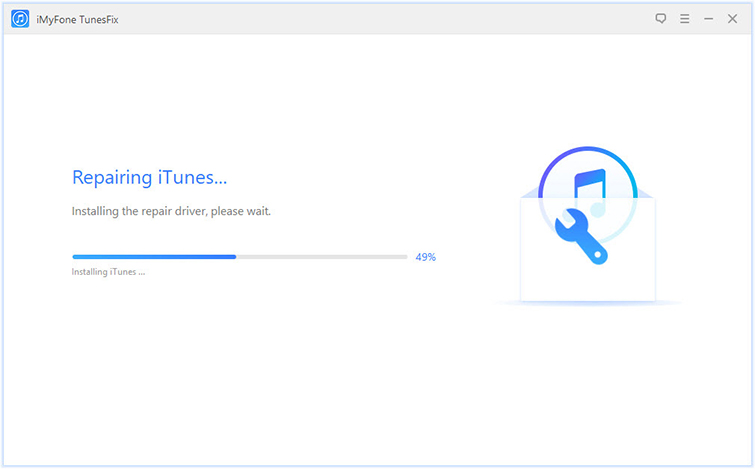 Step 3: Click on the Repair button shown on the next screen. The software will now start the repairing process. Internet connection may be required during the repairing process so make sure that your internet is stable before proceeding.
2. Deactivate Find My iPhone
As mentioned before, iTunes error -18/18 can occur due to a conflict with Find My iPhone. So, it would be a good idea to deactivate this feature before attempting to restore your iDevice via iTunes. You can deactivate this feature on your iPhone as well as on Mac/Windows PC.
Follow these instructions:
Step 1: Open Settings app on your iPhone.
Step 2: Navigate to your account [Your Name] > iCloud.
Step 3: Now look for Find My iPhone feature and disable it using the switch shown in front of the option.
3. Restore Via Recovery Mode
If you are encountering iTunes error -18/18 while trying to restore your iPhone via the standard method, then it is recommended that you put your iPhone into Recovery Mode and then start the restoration process. It is likely that your iPhone will be restored without any issues via the Recovery Mode.
Follow these instructions:
Step 1: Turn off your iPhone.
Step 2: Plug it into your Mac or Windows PC while it is still off.
Step 3: Now turn on your iPhone and press and hold the Home button as well as the Wake/Sleep button simultaneously while it is turning on. Your iPhone will boot into Recovery Mode and iTunes will recognize it.
Step 4: Next, simply restore your iPhone via iTunes. It should get restored now without any issues.
4. Other Useful Tips
Following are some useful tips that will help you prevent iTunes error -18/18 from occurring:
Reset Your iPhone. Backup all your iPhone data via iTunes, then open Settings app and navigate to General > Reset > Reset All Contents and Settings to reset your device.
On iTunes, navigate to Help > Check for Updates section to update your iTunes to the latest version.
Use a professional registry cleaning tool to clean out the Windows Registry.
Update your graphics driver to the latest version.
Make sure your iPhone has significant free storage before proceeding to restore.