Question
I recently bought a Samsung mobile phone and I want to transfer the backup of WhatsApp from iCloud to Google drive. What should I do?
Although most Android phone brands provide data transfer solutions from iPhone to Android, such as Huawei Phone Clone and Samsung Smart Switch, they can't transfer your WhatsApp chats or media due to the different operating systems of iOS and Android.
Hence, in this post, I will provide a detailed guide of transfer WhatsApp backup from iCloud to Google Drive, let's see how it works.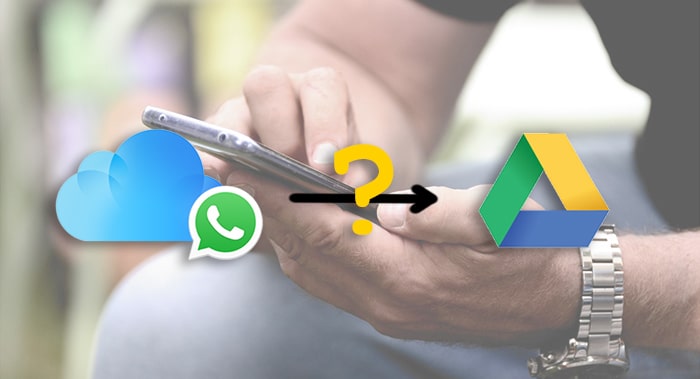 Any Direct Way to Transfer WhatsApp Backup from iCloud to Google Drive?
Unfortunately, there is no direct way to transfer WhatsApp backup from iCloud to Google Drive because both iPhone and Android use different end-to-end encryption methods for safety and privacy measures.
As a result, we come up with this alternative method that can somehow make it possible to transfer messages and media files.
3 Steps to Transfer Backup Data from iCloud to Google Drive
As we mentioned above that there is no direct method to transfer WhatsApp from iCloud to Google Drive, but you can still use some workaround to help! Just take a look at this method below, we are going to divide it into 3 major steps.
1

Restore Backup from iCloud to iPhone
You need to acquire this step when the WhatsApp backup you want to transfer to Google Drive is on iCloud. Open WhatsApp > Settings, and head to Chat Settings to confirm your last WhatsApp backup on iCloud.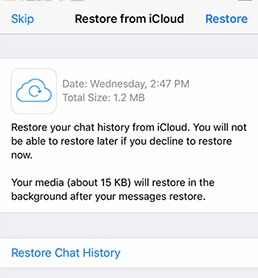 Then reinstall the app on the iPhone, and as you set up your account again, you have a chance to "Restore Chat History" to get back all messages and attachments you want.
Note
If you restore the previous WhatsApp backup to your iPhone, the present chat history will be erased. If you don't want the present chat history overwritten, backup WhatsApp to your computer first.
2

Transfer WhatsApp Data from iPhone to Android
No official methods are offered to help transfer WhatsApp from iPhone to Android directly, so you need a third-party tool. iMyTrans, a useful tool designed to help preview, transfer, restore WhatsApp data.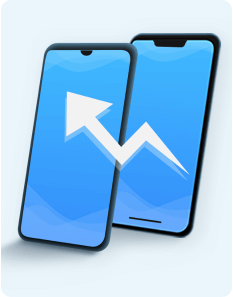 3 simple step to use iMyTrans to transfer from iPhone to Android:
Step 1.Connect both the Android device and iPhone to the system and specify the source and destination.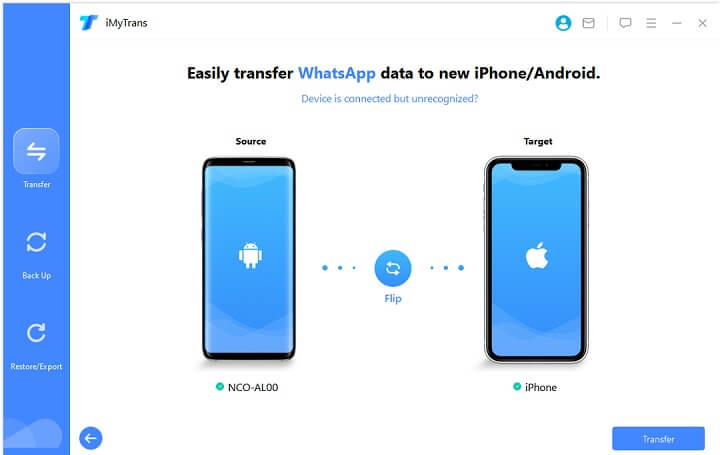 Step 2.Click on the "Transfer" button, and the software will prepare both devices and import all your data from iPhone to Android.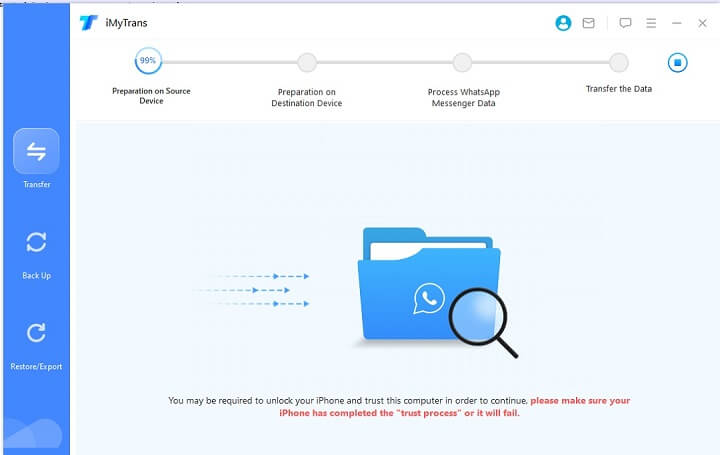 Step 3.Finish the transfer, and your device will restart and reflect the newly found attachments and messages.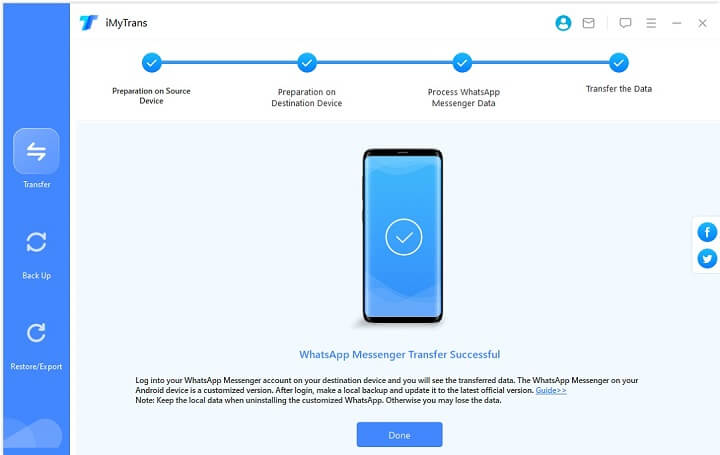 Once your Android phone restarts, you will be able to see the messages and attachments that were present on the iPhone.
What's New
Both WhatsApp and WhatsApp Business backup can be transferred from iCloud to Google Drive in this way. With this tool, you can
backup WhatsApp chat
regularly on your computer. In addition, if you lost your mobile or change your phone again, it supports
WhatsApp data restore
to a new phone, even iPhone backup to Android or Android backup to iPhone.
3

Backup WhatsApp on Google Drive
Now, the last step will be creating a backup using Google Drive on the Android phone. After the Android phone restart, open WhatsApp and go to Settings. Again open Chat Settings, and you will see the "BACK UP" option on the screen.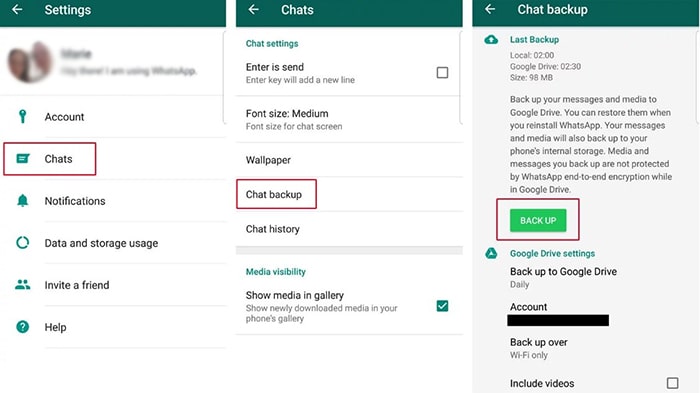 Before you click on the option, scroll down and specify the Google account, backup over, and the frequency of backup as per requirement. Then, hit the Backup Now button, and a new backup of the WhatsApp application will be created on the device and Google Drive. And this is how you can transfer iPhone data from iCloud to Google Drive.
Transfer/Backup WhatsApp Photos to Google Photos on iPhone via "Save to Camera Roll"
Since there is no direct way to transfer WhatsApp data from iCloud to Google Drive, we derived another method that helps you with media files. So if you need to backup/transfer media files, this tip will be perfect for you. We know that Google Drive is also available for iPhone users. So, we can save the files on Google Drive directly and create a backup of the image files.
In order to do this, you need to follow the steps below:
Step 1.Launch WhatsApp, and go to "Settings" > "Chat settings", and there you will see the "Save to Camera Roll" option. Make sure this option is enabled.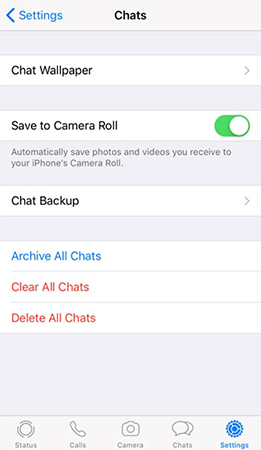 Step 2.Download Google Drive on your iPhone. And open "Settings> Backup> Photos & Videos", and toggle the option to enable automatic backup of images and videos to Google Photos.
Go back to the Backup page and click on the "Start Backup" option.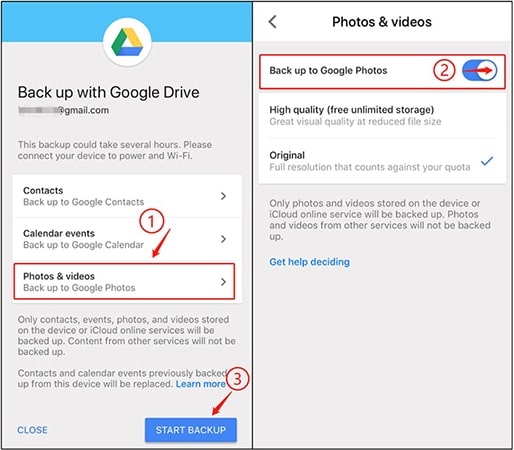 Step 3. When the Google Drive backup is in use, all the files save in the Camera Roll folder will back up on the drive!
If you need to backup other media files from iPhone to Google Drive, you can manually upload them, and they will be stored on the drive as well.
Bonus Tips: Easy Way to Download WhatsApp Backup from Google Drive Directly
iMyTrans recently released a new feature. You can download WhatsApp backup data from Google drive to your computer directly without installing any applications on your phone.
iMyFone iMyTrans
You only need to access your Google account to download WhatsApp backups from Google Drive. Downloaded WhatsApp backups will be encrypted.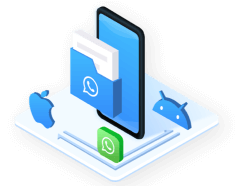 See how to transfer WhatsApp data from iCloud to Google Drive now!
Step 1.Download and install iMyTrans on your PC and click "Restore/Export WhatsApp Backup" > "Import Google Drive Backups".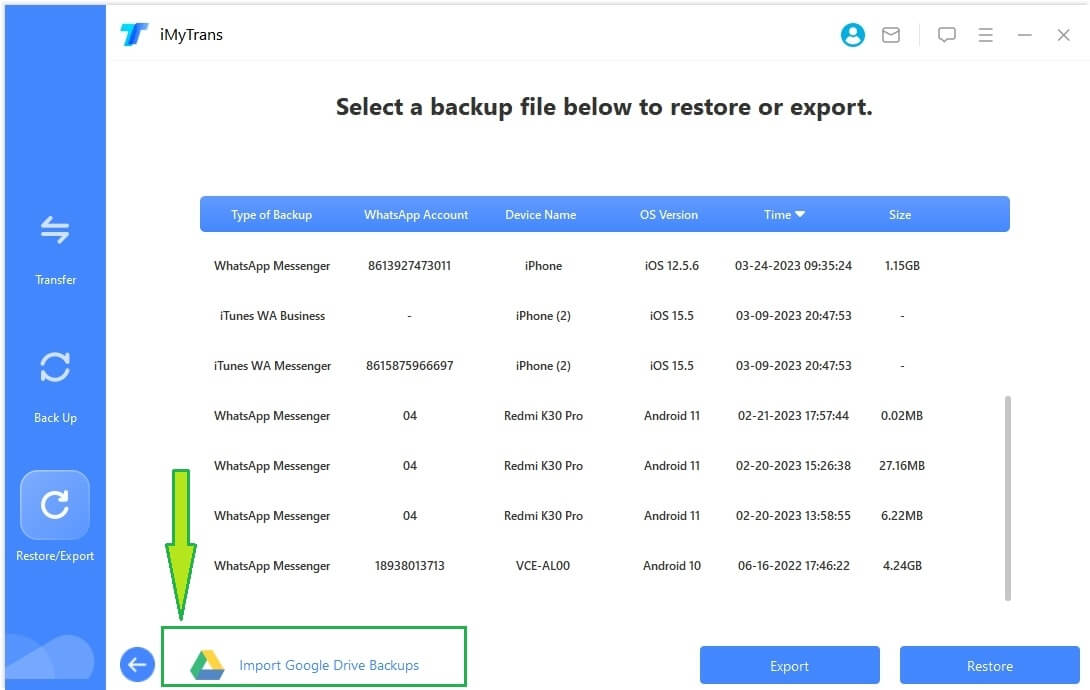 Step 2.Then sign in to your Google Account, and then you can see WhatsApp Backup in your Google Drive. Then click "Export to Computer".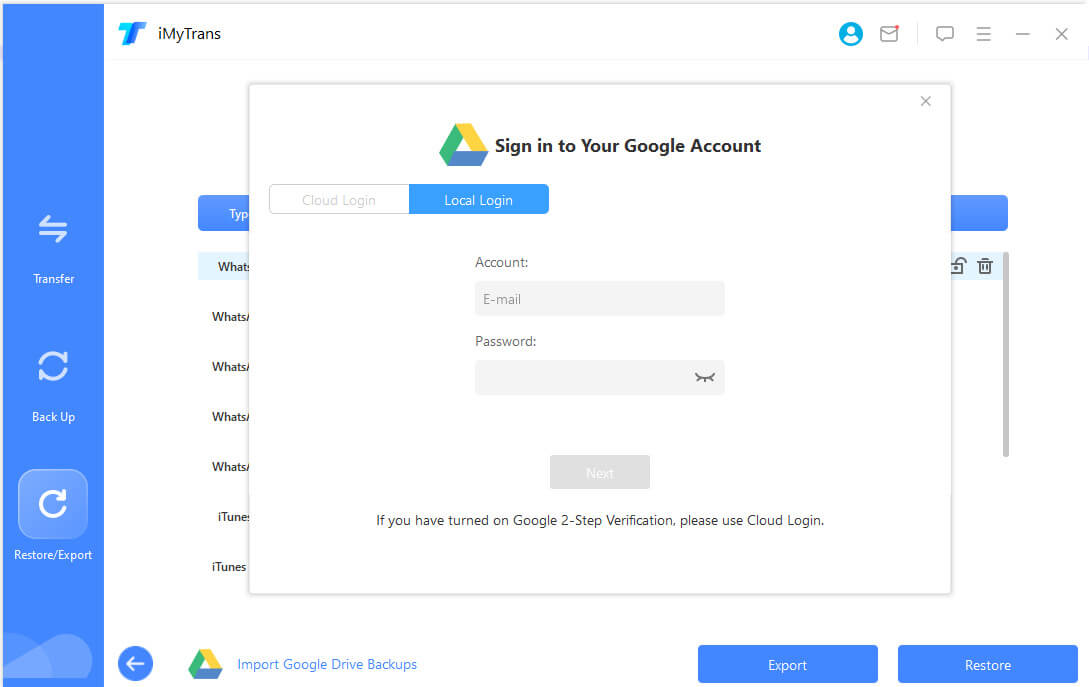 Step 3.The process will start. Wait until it finish data analysis.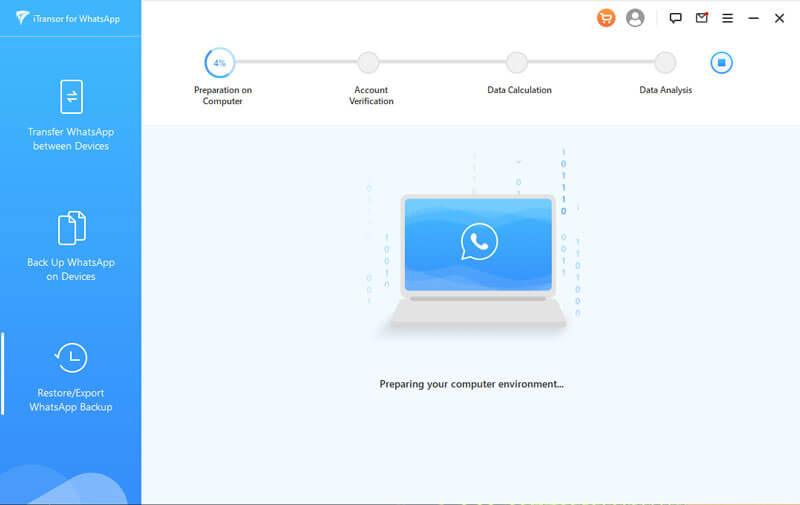 Note
In this step you need to enter the SMS verification code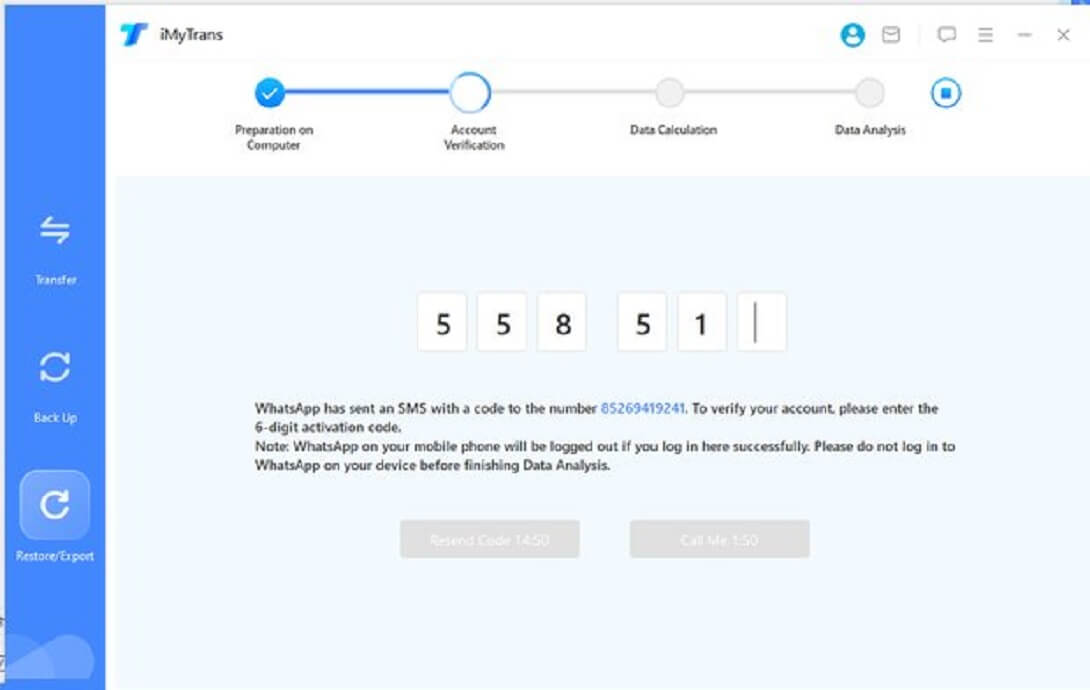 Step 4.After it finish, you can choose the data you want and export to your PC.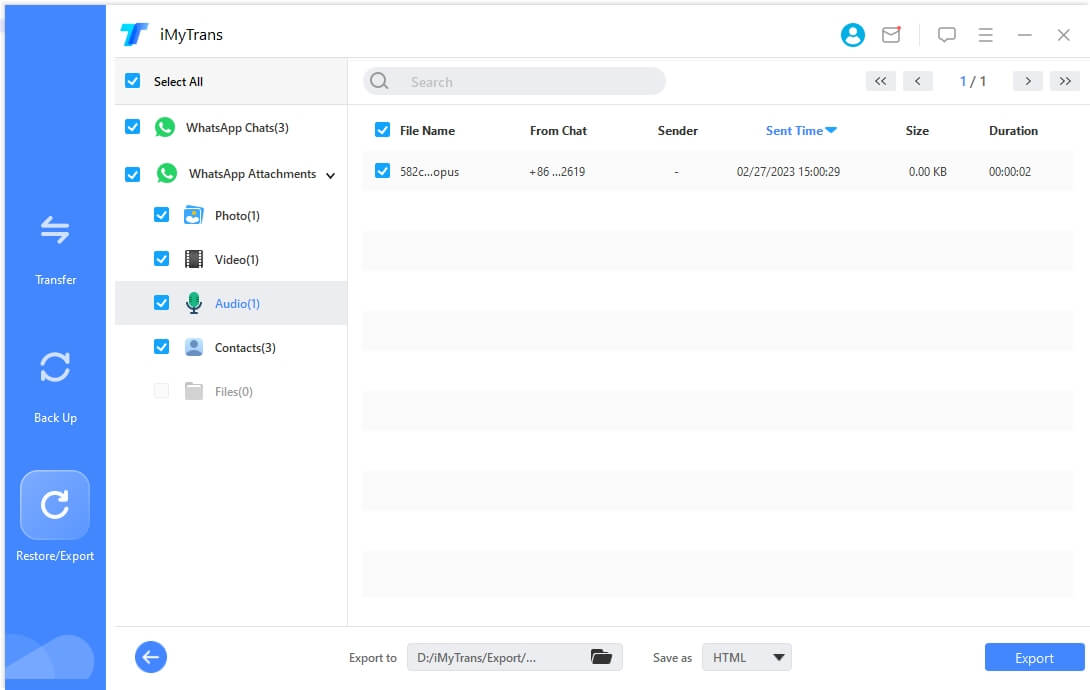 Conclusion
As we talk above, we can't transfer WhatsApp backup from iCloud to Google Drive directly. So it is better to use the third-party tool to help!
iMyTrans is a great helper that can transfer your backup data easily. And now it can help you export WhatsApp backup from Google Drive without installing any application on your phone! What are you waiting for? Come and try now!