Xiaomi has built a reputation in the market for creating a device that has good value without compromising the features. That's why users are switching from iPhone to their phones. If you are also one of those people who are switching to Xiaomi, then you must be wondering if you can transfer WhatsApp from iPhone to Xiaomi or or Xiaomi to iPhone 14 or not.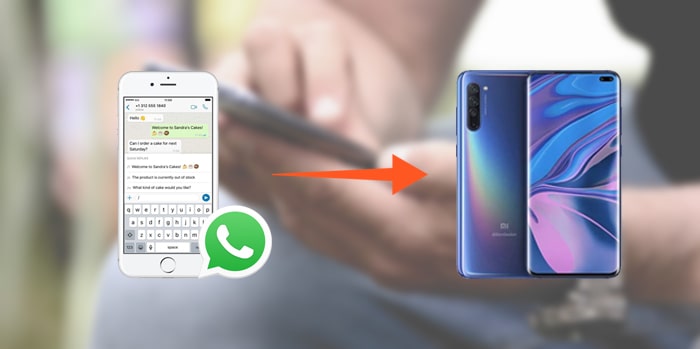 So, here we will explore if Xiaomi has provided us with any feature that will allow cross-platform data transfer and if there is another straightforward way to transfer WhatsApp from iPhone to Xiaomi or Xiaomi to iPhone 14. Here we will use the newest Xiaomi Mi 12 to make an example.
Does Xiaomi Have Data Transfer Tool?
In order to strengthen users mind to switch to a new phone especially from iOS to Android, famous phone brands such as Samsung and Huawei, have developed a tool to help with the phone data migration, so does Xiaomi. Xiaomi have launched the Mi Mover application, to help transfer contacts, messages, photos, music files, video files, and even installed applications if you are changing from an Android device. There are also Mi Mover alternatives in the market.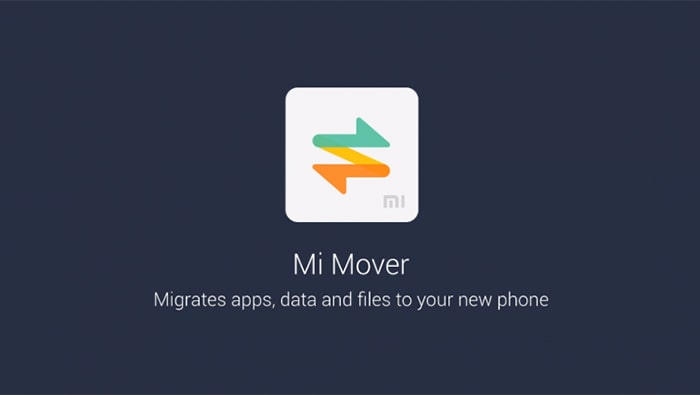 For iPhone to Xiaomi transfer, the Mi Mover app only supports contacts, photos, calender, reminders and notes. This means you cannot transfer WhatsApp from your iphone to the new Xiaomi Mi 10 with this app.
However, the app will have a transfer speed in the range of 6 MB/sec to 50 MB/sec. So you can quickly export and import data that Mi Mover support from your old phone to your new Xiaomi Mi 10. As a result that it cannot help to transfer WhatsApp data from iPhone, we will have to rely on third-party software to carry out the task.
Direct Way to Transfer WhatsApp Data from iPhone to Xiaomi Mi 12 / Mi 12 Pro or Xiaomi to iPhone 14?
If you are wondering whether you'll be able to find a direct way to transfer WhatsApp from iPhone to Xiaomi or Xiaomi to iPhone 14, today's your lucky day. We are introducing you to iMyTrans. This is an application that is specifically designed to manage WhatsApp data across different platforms. You can rest assured cause this tool is highly praised by many reputable review sites such as APPKED, Cult of Mac and etc.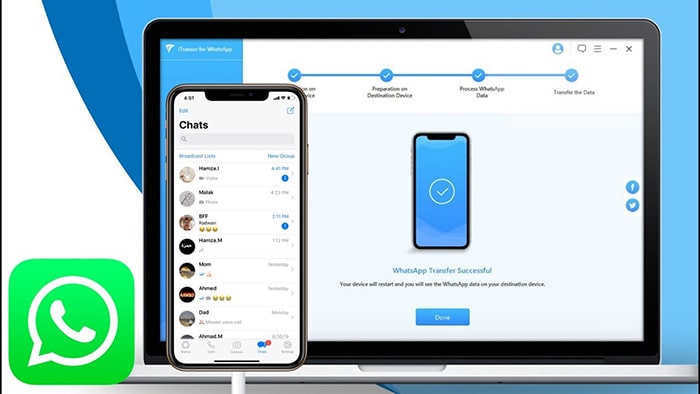 Here are some key features that will help you understand the function of this tool.
Transfer WhatsApp from iPhone to Android and vice versa.
Backup WhatsApp data of iPhone/Android and store every backup on PC separately without erase the previous backup.
Restore WhatsApp backup anytime on any device.
A wide array of support for both Android (Android 2.0 to 10.0) and iOS (iOS 9.0 to iOS 13.3) devices.
When there is a separate tool designed especially for WhatsApp data, it will be easier for everyone to use the tool. And you don't even need to uninstall or reinstall the app manually for data transfer.
How to Transfer iPhone WhatsApp Messages to Xiaomi Mi 12 / Mi 12 Pro or Xiaomi to iPhone 14 Directly?
Now that you know there is a direct way to transfer WhatsApp from iPhone to Xiaomi or Xiaomi to iPhone 14. This tool is available for both Windows and Mac systems. Once the program setup is complete, it will be ready for use.
Here is the systematic guide that you can follow to transfer WhatsApp data. The steps are easy, still we recommend you to follow them carefully to avoid any data loss.
Step 1.

Run iMyTrans

Launch the program and choose the Transfer mode from the left panel. Connect both your devices with the system using the original USB cable. In order to connect the devices, you will have to follow a simple procedure.
For iPhone, unlock the device and click on the "Trust This Computer" option to establish a connection and allow the software to access device data. It is required to make sure that the iPhone turn off the Find my iPhone feature if it is the destination device.
For Android, enable the USB debugging option so that the software can access storage.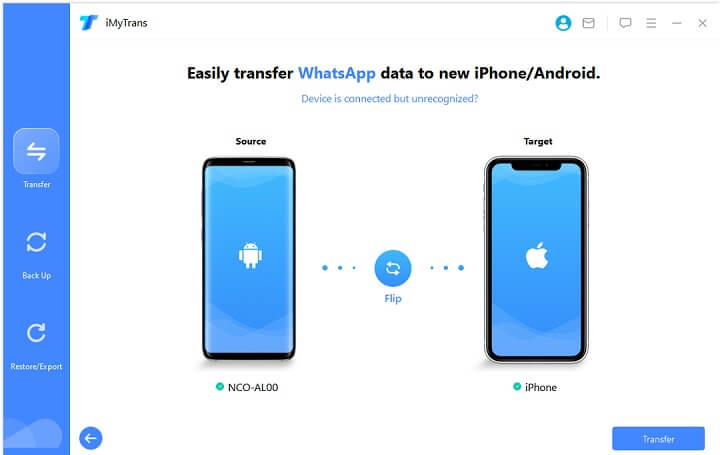 Step 2.

Start the Transfer

Make sure that the devices are correctly listed under Source and Destination. In this scenario, the iPhone will be the source, and Xiaomi Mi 10 is the destination device.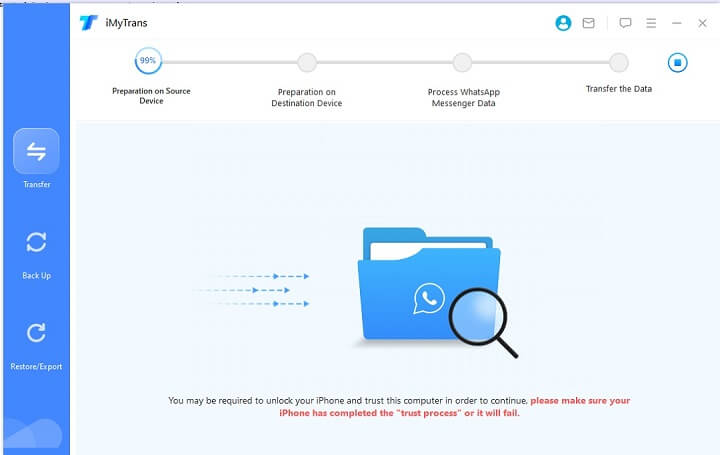 Hit the "Transfer" button in the center to initiate the data transfer sequence. The software will install a customized app on the Android phone to replicate the WhatsApp data. Don't worry, the app is completely safe.
Step 3.

Transfer Success

Keep the devices connected with the computer as the destination device is prepared, and WhatsApp data is processed. When the transfer is complete, the software will notify you. If you have a large size of WhatsApp data on your iPhone, then the transfer might take some extra time.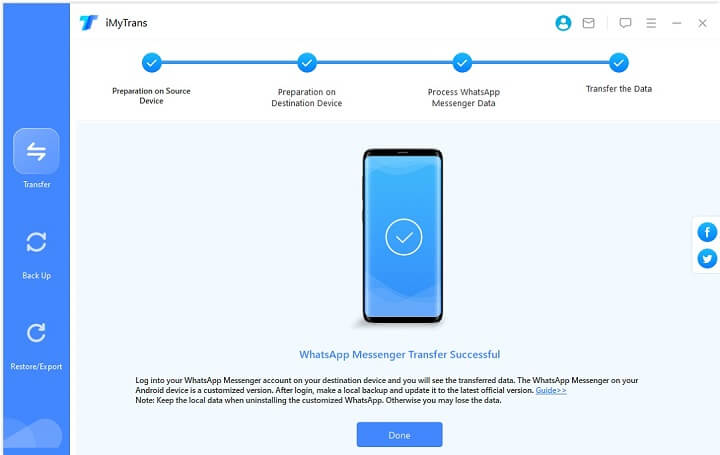 Wait patiently, and you will have your messages, attachments, voice notes, and every other piece of data on the target device. If you like, you can also create a backup of the iPhone and restore the data on Android later.