In the age of technology, we are constantly snapping photos and videos on our phones. WhatsApp is a popular messaging app that allows us to share these memories with our friends and family. However, sometimes we accidentally delete these precious moments.
If you've also faced this situation, then don't worry. There are a few different ways to recover WhatsApp photos and videos. In this article, we'll guide you on how to restore WhatsApp videos from google drive easily.
Part 1. How to Restore WhatsApp Videos/Photos from Google Drive
If you're an Android user, you must have an option to backup your data on Google Drive. This data helps you to restore your data when you lose it. If you also have the backup available on your Google Drive, follow the steps below to restore WhatsApp photos from Google Drive.
Step 1: Uninstall your WhatsApp and again install it. It will ask for some verifications.
Step 2: Once the number and details are verified, it will scan for the available backup from your Google Drive.
Step 3: To start the process, click on the Restore button. When it's completed, just click on the Next button.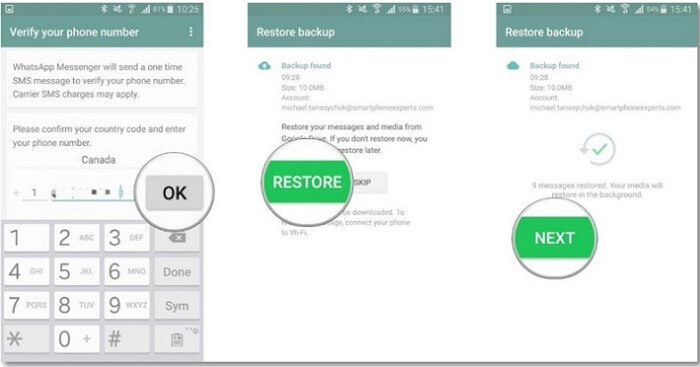 This would be the perfect solution if you were looking to restore WhatsApp photos from Google Drive.
Part 2. Better Alternative Ways to Restore WhatsApp Videos/Photos
If you have no backup available, and can't access your old WhatsApp videos and photos, here is a simple and professional solution. You can use iMyFone ChatsBack. It doesn't matter if you're using an Android or iPhone; this software will help you in both cases.
Before we move on the steps, check out its features:
Features of iMyFone ChatsBack:
It's available for Windows as well as MAC.
It offers you to preview the files before you recover.
The tool can allow you to restore your videos and photos from the device directly, from Google Drive and iTunes backup.
It allows you to export WhatsApp data to your PC in CSV, Excel, and PDF format.
You can restore your WhatsApp data without uninstalling the app on your device.
Now that you know the features of iMyFone ChatsBack. Let's explore how to restore WhatsApp photos and videos using this tool.
Step 1: Launch the software on your Windows or MAC. Select the Device Storage.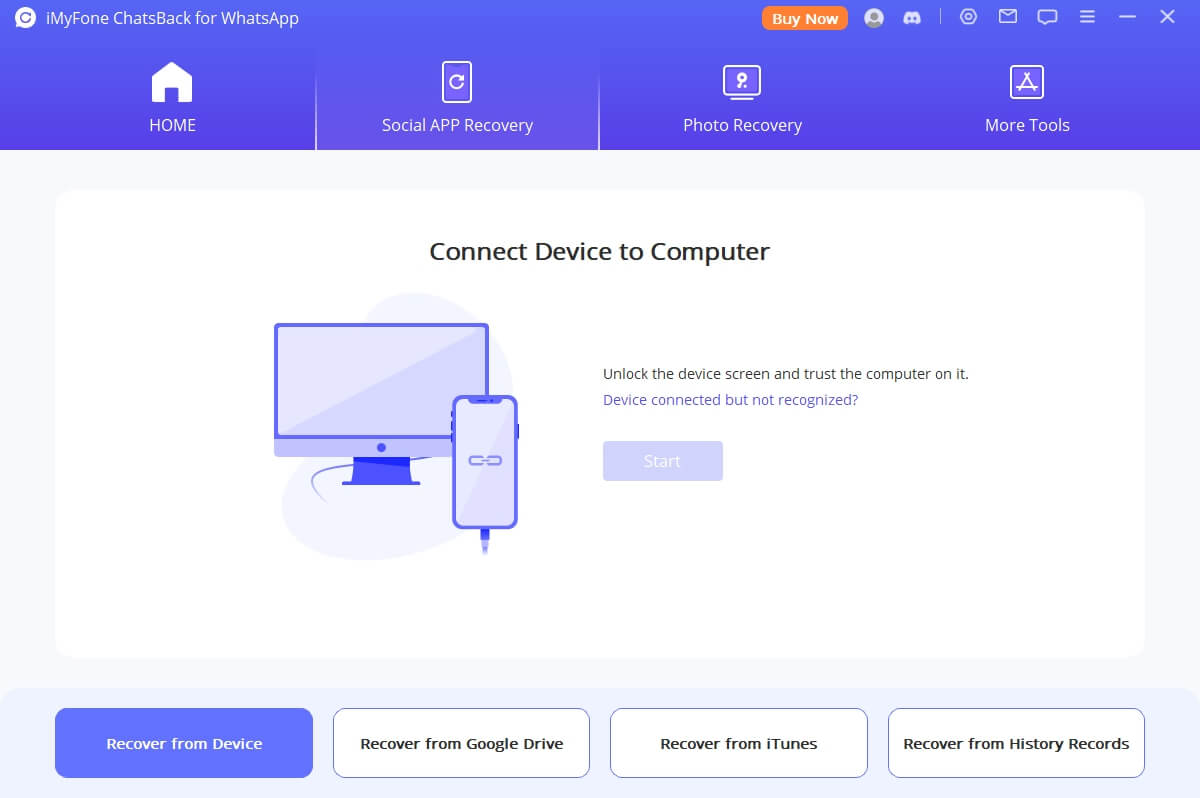 Step 2: At this point, you'll have to verify some details. Kindly provide the correct details, so it's verified in the first go. Once the details are verified, it will start scanning and will analyze the database.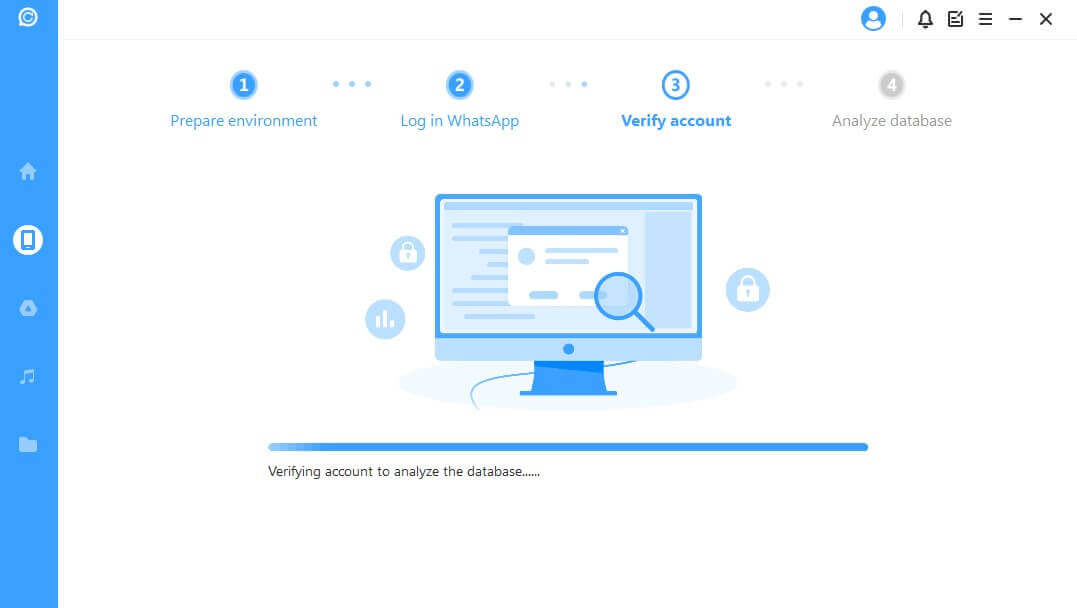 Step 3: Once the scanning process is completed, it will show all the files that can be restored. You can select your required photos and videos and click on the Restore to Device option.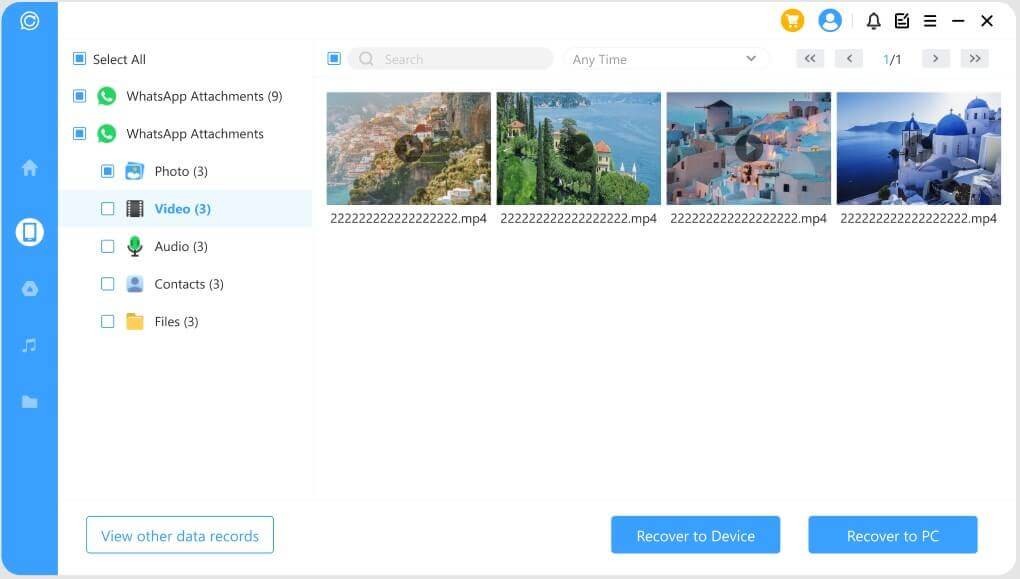 Note
If you're using Google Drive or iTunes backup option, you'll have to provide the login details of these accounts in step 2. Once it's provided, then the software will scan the device and show the available backup data. You can then restore the latest backup.
Part 3. FAQs
1

Why can't I restore my WhatsApp backup from Google Drive?
If you've been searching ;"i can't restore my WhatsApp backup from Google Drive," then there could be the following reasons:
To restore your Google Drive, you've to make sure you're using the same Gmail account. If the backup is taken on one email account and if you're using another email account to restore the data, then it won't work. The email account should be the same for both processes.
A virus or malware can also create an issue. If there's been a virus in your internal device or SD card, it may also create an issue while restoring the videos and photos.
If you've changed the name of WhatsApp media folder, you may not be able to restore your backup properly. Even if you change the locations of the WhatsApp data from your device, it won't restore in a correct way because backup won't be performed in the correct location.
While taking a backup, when there's an internet disconnection, it may also not back up the data correctly, and eventually, you'll face problems in the restoration process.
2

How can I read WhatsApp backup in Google Drive on a PC?
You can access the data but can't open it on your PC. You'll have to restore your data from the backup, and then you can read it on your phone. This is the only option to read WhatsApp backup data.
If you want to access data from Google Drive, you can follow the below steps:
Step 1: Open Google Drive on your browser. Click on the Gear button. Now, click the Settings option.
Step 2: Go to the Managing Apps and click on the WhatsApp section.
Step 3: From here, you can access the backup.
3

How to restore my WhatsApp chat from Google Drive?
You can restore your WhatsApp chat from Google Drive using the same method we mentioned in Part 1. The process will restore photos, videos, and chats. This is the correct answer to your question: how to restore my WhatsApp chat from Google Drive.
4

Where is the WhatsApp backup stored in Google Drive?
There's a specific location where the app's data is being stored in Google Drive. To see where the data is restored, follow the below steps:
Step 1: Open Google Drive, click the Gear button, and select the Settings option.
Step 2: Click on the General option from the left menu. Now click on the view items taking up the storage option.
Step 3: Click on the Backups option. Then click on the Storage option.
Step 4: Here, the WhatsApp data is stored. You can also turn off or delete the data.
Conclusion
Google Drive is the most convenient and easy way to restore your lost WhatsApp videos and photos. But, this requires you to take backup of your data regularly. Sometimes, we may forget to take the backup; if we lose the data at that time, it's an unfortunate situation.
If you've also deleted WhatsApp videos and want to restore them, we recommend using iMyFone ChatsBack. This program is easy to use and can recover your videos quickly. It also works with various devices, so no matter what type of phone you have, you can use one of these programs to get your videos back.
Have you tried this program? Let us know how it went in the comments below!