"Hello, Good day. While going through my audio list today, I discovered a few of my audio files were missing. I can't recall deleting them. These files are vital, please how do I recover lost audio files on Android? Thanks in advance."
—— Jane
Losing important files is often disheartening, especially when you can't get them again. Audio recordings, for example, are audio files that may not be easily gotten back. 
They may have been lost due to phone formatting, accidental deletion, or many other reasons. Nevertheless, if you are looking for a way to recover deleted audio files on Android, we have you covered.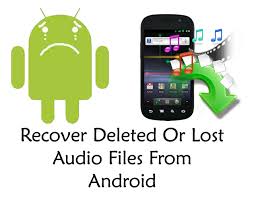 Common Reasons For The Loss Of Audio Files On Android
Often, we aren't entirely responsible for the loss of our audio files. It is maybe due to a glitch on our Android phones, below are possible reasons or scenarios that may make you lose your audio files. 
When you factory reset your phone, you wipe out every data present on it, audio files are part of these data that will be removed.
Formating Android Memory Card may lead to the loss of your audio files.
Your storage device where your audio files are saved may get corrupted.
A virus or malware attack may automatically delete your audio files.
Accidental deletion is another primary reason you may lose your audio file.
When transferring your audio between your android device and PC, if an interruption happens, you may lose them.
Where Will Audio Files Go After Being Deleted?
Unlike Mac and Windows computers, Android devices don't come with a recycle bin. The reason is Android phones aren't always equipped with much space as compared to computers, so what happens when we delete our Audio files?  Where do they go to? 
When your audios are permanently deleted, the file is then marked as useless and taken away to give space for new data to be written. However, you still have a chance of retrieving your lost audio files from Android with any of the methods in this article. 
How To Recover Lost/Deleted Audio Files From Android
We are aware Android phones don't come with Recycle Bins. Nevertheless, don't panic your Audio file isn't completely gone. Using any of the two methods stipulated here, you could successfully retrieve your Audio, keep reading to see how.
Method 1: How To Retrieve Lost Audio Files On Android From Google Drive
Nothing beats having a good backup. A backup is excellent for all devices cause you always have something to fall back on in case of any file loss on your device. 
Google Drive is one of those means to backup your device. It offers free cloud storage of up to 15GB to save your files. To be on the safe side, ensure you enabled the sync option to allow your Drive to automatically backup your device. Still, you can backup your device manually. 
Steps on how to recover lost audio files on Android with Google Drive
Step 1. Locate and open the Google Drive application. It is pre-installed on most Android phones. Alternatively, visit your browser and open the Google Drive web version. If prompted, sign in to your Google account.
Step 2. From the list of items there, select your Audio file and click on "Download."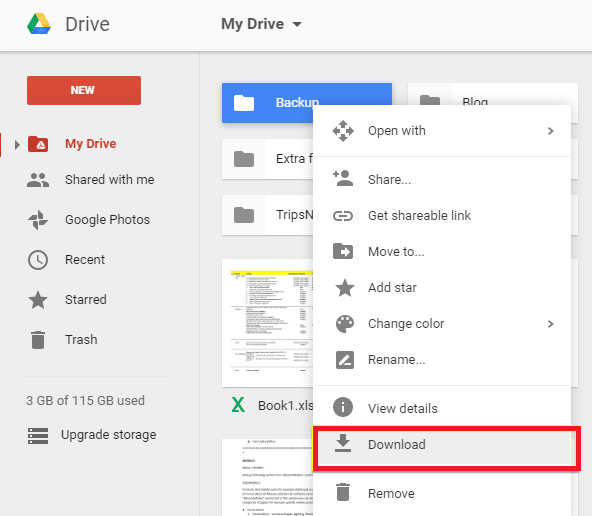 Note
As simple as this may sound, there's a downside. Google Drive only has a backup of files that were present on the device when the backup occurred. That is, if your audio files weren't on your device when the backup was taken, you can't get it from your Google Drive.
When you start the restore, you can't choose a particular file to restore, Android restores everything.
Method 2: Use D-Back For Android To Recover Lost/Deleted Files On Android
The above method has one critical limitation or the other. In most cases, it may help recover lost audio messages on Android. This method, which involves using a third-party app called D-Back Android is the best with little or no limitations. 
iMyFone D-Back Android is a data recovery tool for Android devices. This software can retrieve deleted or lost data on most Android phones irrespective of how you lost the file. Below are more features D-Back possesses. 
Key Features:
With D-Back Android, you can recover lost audio files from Android Phones and Tablets which are broken or not.
This tool can recover different file types, including audio files, photos, messages, contacts, videos, WhatsApp data, call history, etc.
D-Back can recover audio files lost due to a virus attack, system crash, water damage, blank screen, etc.
D-Back Android adopts top-notch technology to achieve a high success rate.
It is 100% safe and protects your privacy.
iMyFone D-Back allows you to preview your audio files before full recovery.
It works on rooted and unrooted Android phones.
[Step] How To Recover Lost Audio Messages On Android
Step 1. Visit the iMyFone D-Back website to download and install the D-Back Android program. After the installation, launch the program.
Step 2. In the welcome window, you'll be prompted to select any of the three options there, click the "Android Data Recovery" mode then go on.
Step 3. Click the "Start" button then from the list given, select your device information Device Name and Device Model. Ensure you choose the right information for your device. D-Back automatically starts downloading the matching data package for your Android phone. Your internet speed will determine how fast the download will go.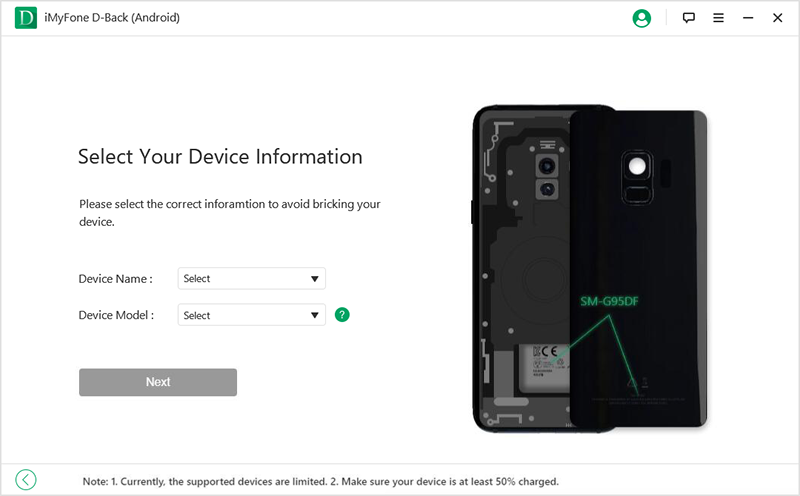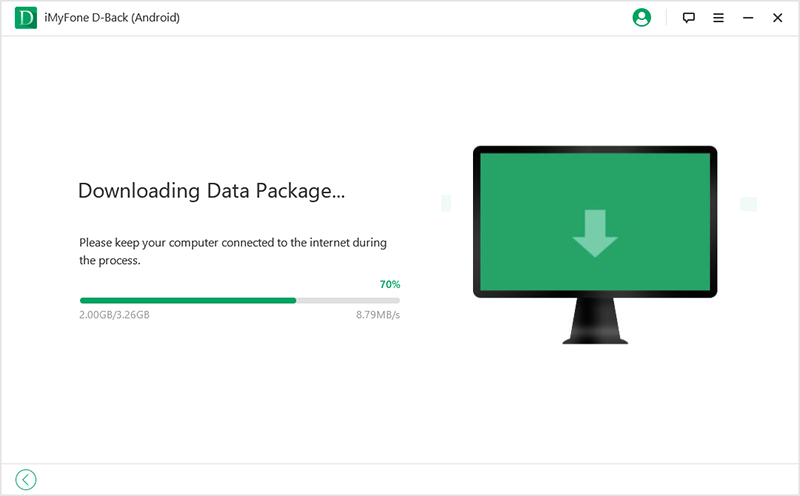 Step 4. After downloading the package, connect your Android phone to your PC using a USB cord. Follow the on-screen instructions to enter the "Downloading mode."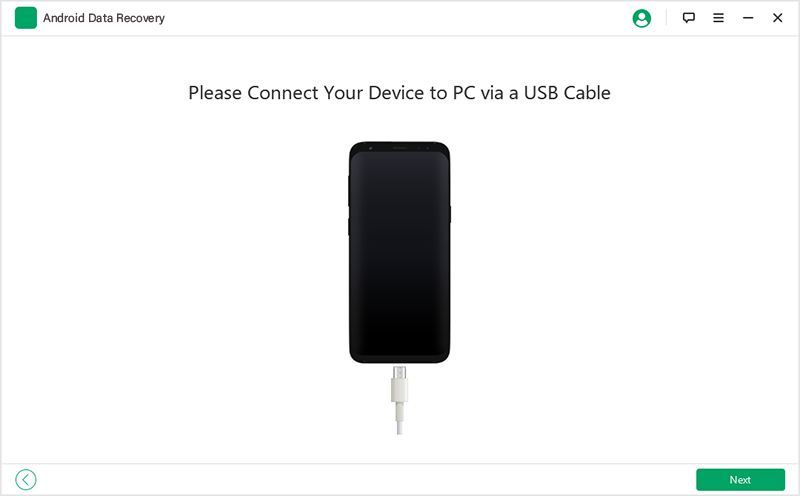 Step 5. From the list given, select Audio as the file type you want to recover, then click "Next" from the bottom right of your screen.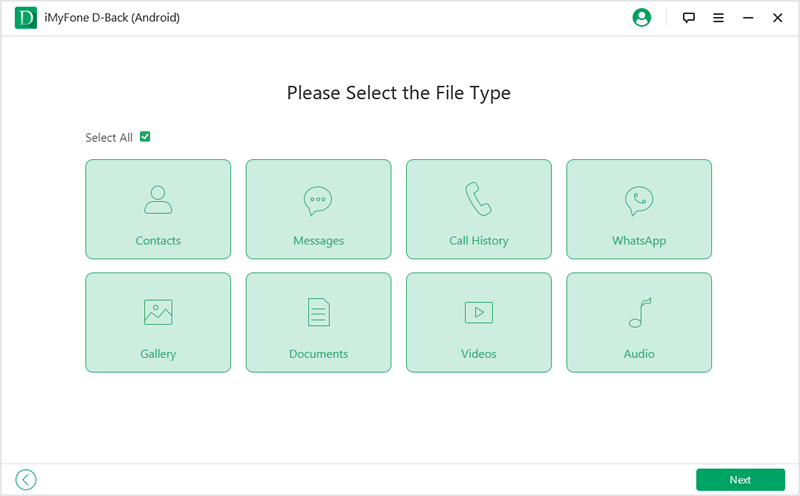 Step 6. D-Back then scans your device for your missing files then gives you a preview of all lost audio files. Mark the files you want to retrieve then click "Recover" from the lower right of your screen. The audio will be saved on your PC. Conveniently, you should copy the recovered files to another device.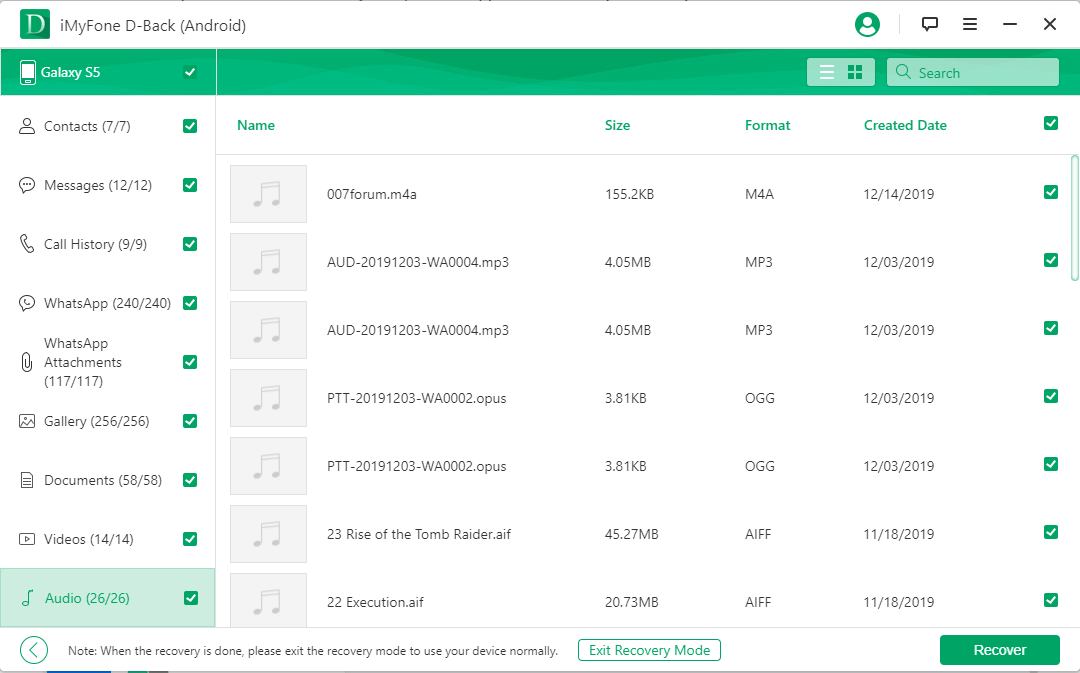 And that's it. By following this simple process, you can recover your files of any type that were accidentally lost or deleted on Android.
Conclusion
Losing your essential Audio files is annoying. Though the files may seem deleted, it is still possible to recover them on Android. We showed you possible reasons that may make you lose your Audio files and gave you two methods to help retrieve lost audio messages on Android.
The former method has limitations. We then introduced  D-Back Android, a pro Android data recovery tool with high success recovery rate. We hope you were able to successfully restore your lost audio file. Thanks for reading.