Google Drive is a fantastic cloud storage platform, and it's one of the most dominant in the industry for lots of different reasons. Best of all is that it's free to use (with paid storage upgrades available), which is what prompts many users to choose it for storing their data. But because you are limited to how much you can store on your account, you'll routinely have to delete some data, which can lead to accidental deletion. Under these circumstances, knowing how to find backed up photos on google drive can go a long way, and this guide will be teaching you how.
Part 1: What Happens When Your Photos is Deleted on Android
On an Android device, although it depends on your specific settings, much of your data will be synced with Google Drive (or Google Photos). So, if the data is deleted on Android, it will also be deleted from the cloud storage. There are plenty of reasons why this happens:
Rooting an Android device will wipe all of the data stored locally.

Installing third-party apps with malware in them can cause data loss.

Factory resetting deletes all of the device's data.

If your Android device is damaged and doesn't work properly, the data may be inaccessible.
The list of reasons goes on and on, but the good news is that you aren't going to struggle with the recovery process because we've got a variety of solutions to help you get the data back.
Part 2: How to Find Backed Up Photos on Google Drive for Personal User
When you address the situation and want to learn how to get deleted photos from Google Drive, you can try some of these simple solutions below first. These solutions will work for users who use Google for personal use.
Option 1. Find Deleted Photos from Trash within 30 Days After Deletion
The most straightforward way is to find deleted photos from the Trash folder. After you delete something in Google Drive, it isn't completely lost yet – it is moved to the Trash folder for 30 days before it is permanently deleted.
Step #1 – Log in to your Google Drive account and go to the Trash folder.
Step #2 – Select the photos file that you want to restore.
Step #3 – Right-click on the photos and select "Restore."
Step #4 – Go back to the main Drive folder, and the photos will now be available.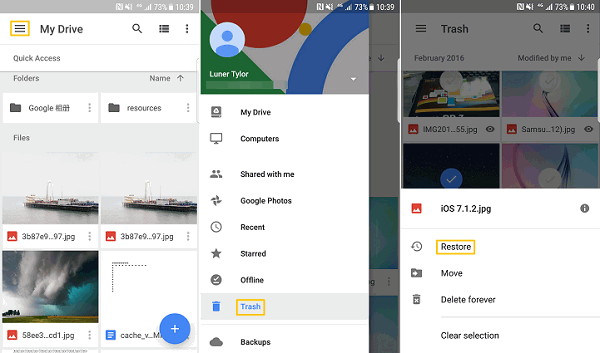 Option 2. Other Common Ways to Find Backed Up Photos File from Google Drive
Aside from the manual restoring method, there are two other common ways you can find backed up photos files from Google drive.
2.1 Find Missing photos via Viewing User Activity in Google Drive
Whenever you make a change to a file in Google Drive, the change is logged, and you can see it from the Activity log. By checking this log, you can see who deleted the file or where it is located.
Step #1 – Go to your Google Drive folder and navigate to the photos file.
Step #2 – Select the photos file and click the "i" icon at the top-right, then the "Activity" tab.
Step #3 – On this tab, you'll be able to see if the file was deleted and who deleted it.
Step #4 – If you go to the "Details" tab, you can see the current location of the file and recover it.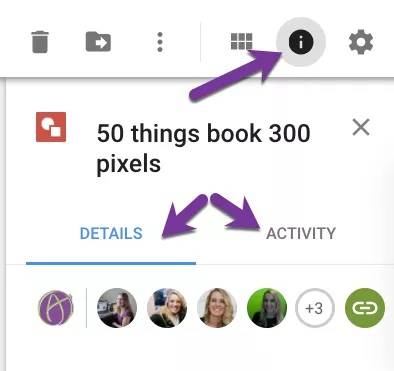 2.2 Find photos on Android via Advance Search
Google Drive's advanced search will also aid your understanding of how to retrieve photos from Google Drive. This search function allows you to get incredibly specific so that you can narrow down the search and locate a file with ease.
Step #1 – Go to the Google Drive homepage, and at the top of the page, type the name of the photos you want to recover.
Step #2 – Click the downward arrow next to the search bar.
Step #3 – Adjust the "Type" to "photos" and change the rest of the search settings accordingly.
Step #4 – Once you click "Search," you should find the photos very quickly.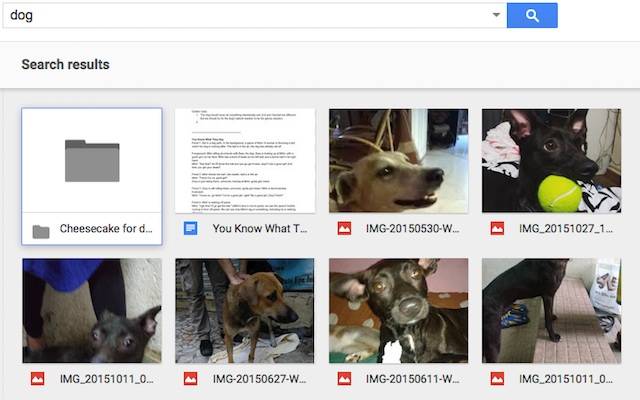 Part 3: Photos on Android Missing? How to Find It If You're a G Suite User
On the contrary, if you're not a personal user and are instead a G Suite user, you can try the following two solutions on how to find permanently deleted photos from Google Drive.
Option 1. Find Using Google Vault
With the help of Google Vault, users can restore deleted photos as long as they have a backup available. Google Vault is an online app, and here's how to retrieve photos from Google Drive.
Step #1 – Sign in to your Google account on the Google Vault page.
Step #2 – Navigate to "Matters" and select "Search" on the left menu.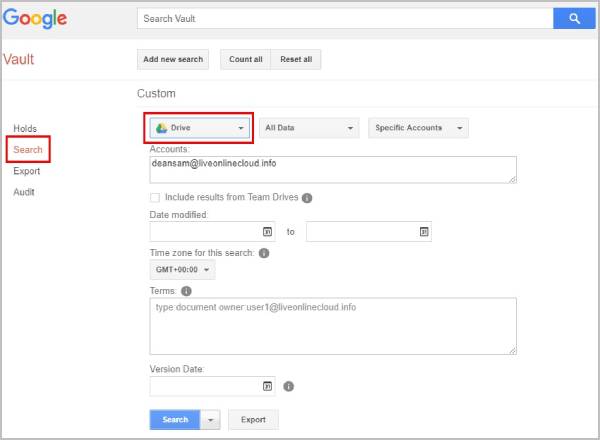 Step #3 – Choose the "Drive" folder and under "Accounts" type your email address.
Step #4 – After you click "Search" you will be shown all the search results and must click "Export Results."

Step #5 – Lastly, click the "Download" button, and all of the files will then download. Browse these files to locate your lost photos.
Option 2. Ask for Help from the Administrator
For this last solution where you will be asking the administrator for help, you are required to either be the owner of the photos you are trying to recover or have file permissions to access it.
Step #1 – Go to the Google Drive homepage and click on the help (?) icon.
Step #2 – Choose "Send Feedback" and write a brief description explaining that you need their help restoring a lost photos file.
Step #3 – Click on "Send" and the administrator will be notified, and they will be able to help.
Part 4: The Best Way to Find Backed Up Photos on Google Drive Using D-Back for Android
For the best chance of successfully recovering your data from Google Drive, you should direct your attention towards iMyFone D-Back for Android. This software is developed with an intelligent algorithm allowing for users to recover data in any situation where it has been lost. Here are some of the best features that include: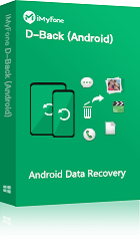 1,000,000 Downloads
Features of D-Back Android
photos can be previewed and selectively restored from the Android device.

Any data type can be scanned and recovered, including photos, texts, call logs, and WhatsApp data.

Users can find photos from any Android device regardless of if it is rooted or not.

Safely extracts the photos from the Android device to a computer to ensure secure recovery.

Easy to use and doesn't require the user to have any knowledge or experience with data recovery.

Applicable to forgotten password, virus-attacked, crack screen, and system crash Android phones.
Downloading D-Back for Android is definitely the best way you can learn how to find backed up photos from Google Drive. To prove this, check out the guide below on how this software can be used.
Step #1 – Download and install iMyFone D-Back for Android on your computer, then run it.
Step #2 – Once the main menu appears, click on the "Android Data Recovery" option.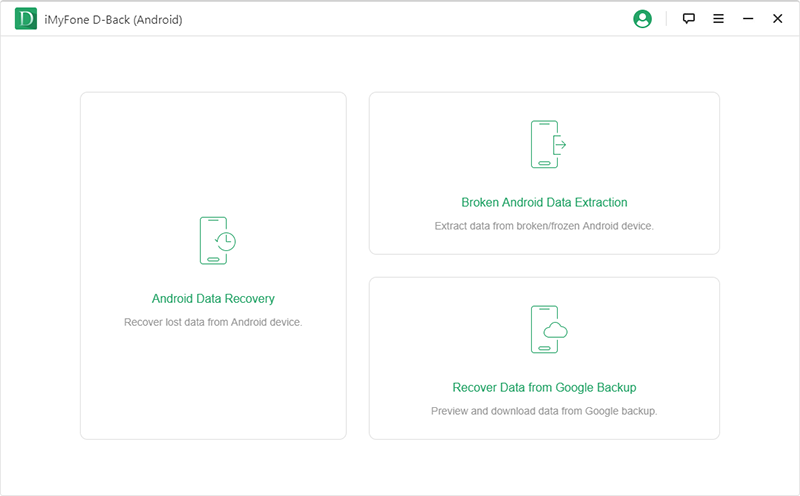 Step #3 – Select your Android device's name and model using the lists, then click on "Next."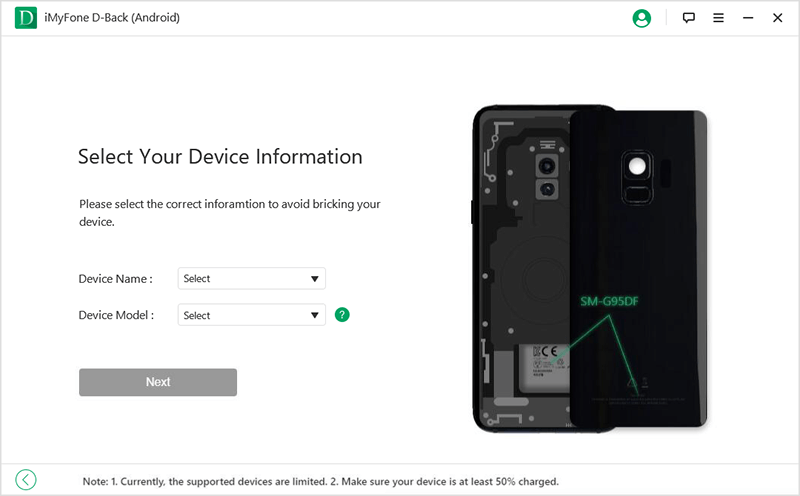 Step #4 – Wait patiently as the program downloads the necessary firmware.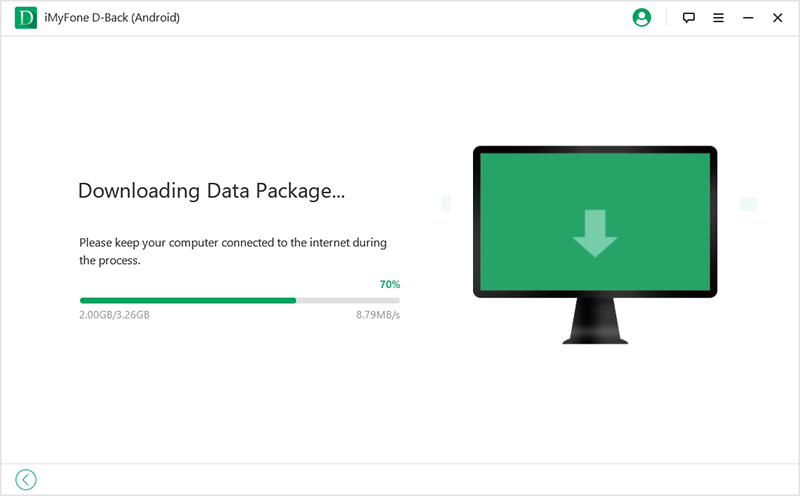 Step #5 – After the download is complete, connect your Android device with a compatible USB cable and press "Next."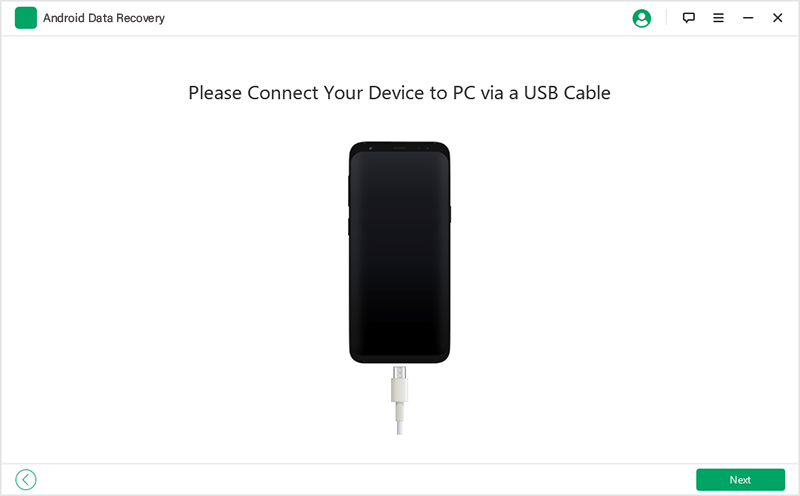 Step #6 – The following menu will let you choose specific data types to search for and recover. For this method, select "photos" and click "Next."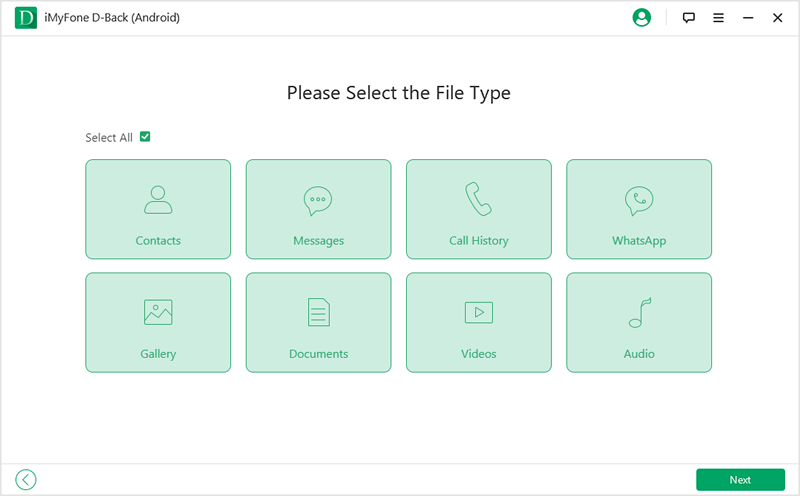 Step #7 – Once the quick scan is run, you'll be able to browse the recoverable photos, preview and select them, and finally click "Recover" which will save them to your computer.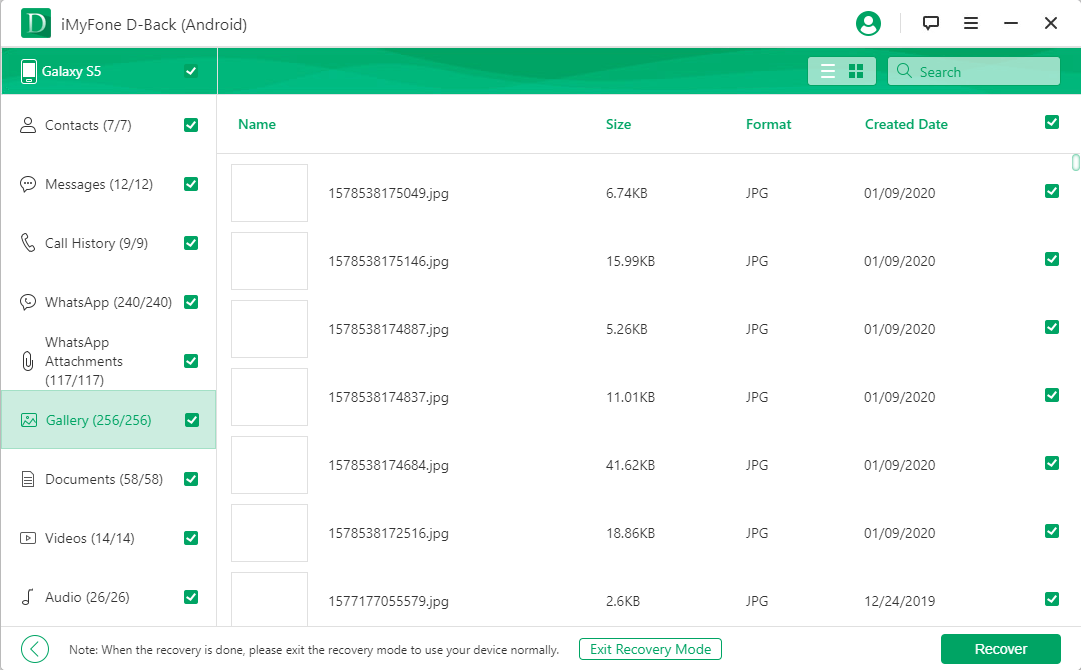 That's how to get deleted photos from Google Drive, but as we said, this software works for recovering any other data type from Android too.
Things You Should Know: The Limitations of Using Google Drive
Before we wrap up this guide, there are some important limitations that users should know about when they decide to use Google Drive.
Google Drive does not offer support for recovering files that were shared with you.
Advanced searches do not detect shared files.
You can only recover files from the Google Drive trash folder within 30 days of them being deleted.
Final Thoughts
Using the techniques that we've shown you in this guide won't just help you learn how to retrieve photos from Google Drive, they can also be applied to recovering other data types. In particular, if you want to skip straight to a guaranteed recovery, consider iMyFone D-Back for Android. This software has a reputation for having a high success rate and getting back data in its original state.