Many Apple TV users have had to deal with their Apple TV not playing sound issue a couple of times. Usually, how this happens is that while they are watching movies or videos, they will not get any sound. This is a problem that comes up once in a while, and quite often, it is caused by wrong configuration and settings. You must also be going through this which is why you are reading this article. If you are getting frustrated by your Apple TV not playing sound issue, there are effective solutions to the problem. Continue to read this article so you can know what steps to take to fix this problem.
1. The Easiest Method to Fix 'Apple TV No Sound' Issue
Apple TV not playing sound is a frustrating issue and the need to resolve it as quick as possible will be paramount on your mind. If you have attempted all of the methods and steps mentioned above in this article, don't give up yet. There is a very easy way to fix this problem - iMyFone Fixppo.
This is a tool that has proven to be incredibly useful for fixing various issues with your Apple TV. This tool is compatible with Windows PC and MacBooks so you can use it with your computer running on any of the two operating systems. It also has 3 different modes which you can use to fix problems with your Apple TV depending on how severe the problem are. Besides Apple TV, this program also supports to fix all iOS issues for iPhone, iPad, iPod touch without data loss.
100% Success Rate: All the iPhone, iPad and Apple TV issues can be fixed with good results.
It can also be used to downgrade the tvOS version and iOS version without data loss.
You can fix the problem of your Apple TV not playing sound by using the Standard Mode on iMyFone Fixppo tool. Here are the steps:
Step 1. Install iMyFone Fixppo on your computer and Launch.Three modes will come up on your screen; choose Standard Mode.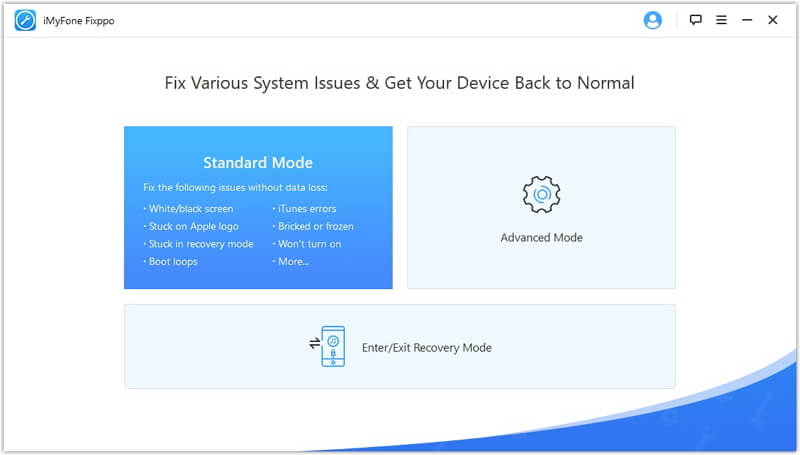 Step 2. Connect your Apple TV to your computer. iMyFone Fixppo will detect your Apple TV. Click on "Next".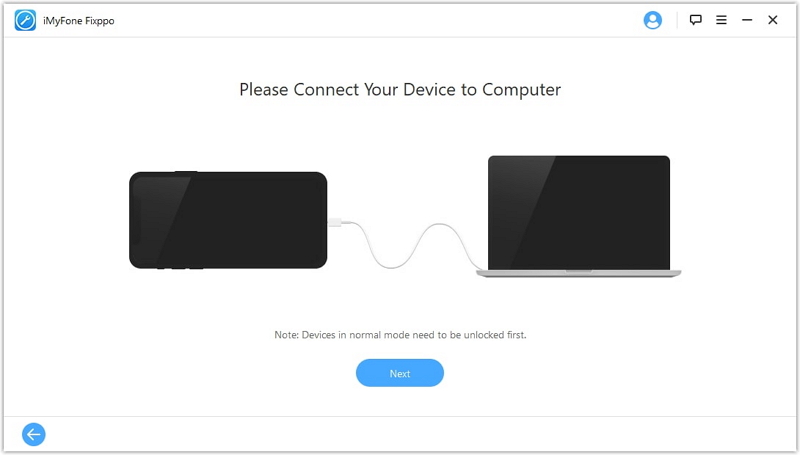 Step 3. Download the latest tvOS version for your Apple TV. Once you have downloaded the tvOS, it will verify the OS version and extract the software.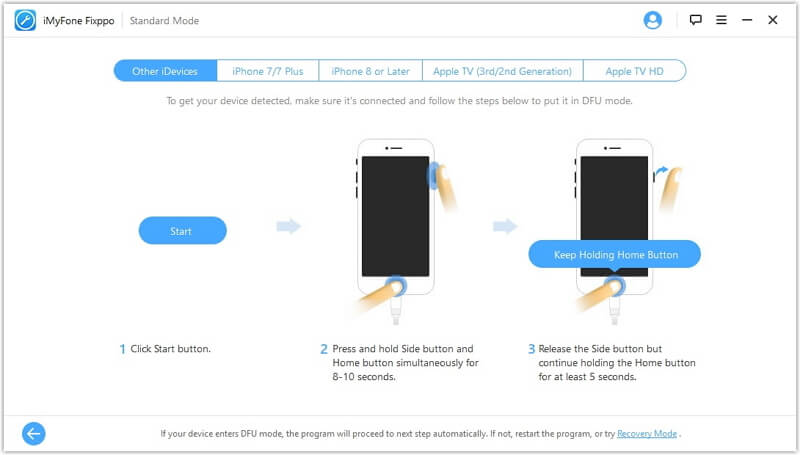 Step 4. It will also attempt to fix the issue with your Apple TV may be experiencing. Keep your Apple TV connected to power till the process is complete.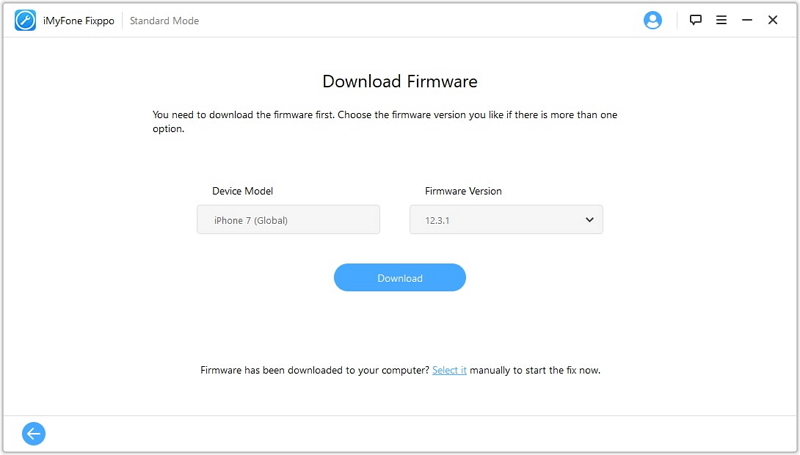 Step 5. After the process is complete, your Apple TV not playing sound will be fixed.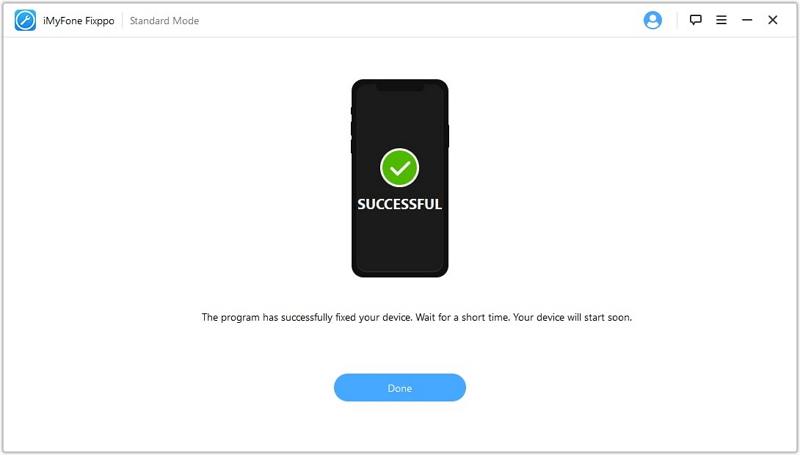 2. Check and Use Siri Remote to Ddjust the Volume
First off, check the TV volume control to ensure that the volume is set to the lowest or in mute mode. If it is and you are still not getting sound, you may have to look at other methods like using the Siri Remote to adjust the volume.
How to adjust volume with Siri Remote
If you are watching a video on your Apple TV and you realize that you are not getting any sound, you can use the Siri Remote to adjust the volume. The volume up and down buttons are represented by the "+" and "-"signs. Pressing them will either increase or decrease your Apple TV volume respectively. Press "+" to increase the volume.
You can also swipe down on your Siri Remote for more audio options if you are not getting sound on your Apple TV. Swipe down from the top of your Siri Remote to see more information, Audio options, and subtitles for the video you are playing. Once these options come up, swipe to Audio where you will be able to tweak your Speaker, Sound and Language settings.
3. Check Cable Connections
If adjusting the volume of your Apple TV does not work and adjusting the sound options does not work either, you may have to inspect the cable connections on your Apple TV. Check out the connection between your Apple TV and Home Theatre System as well as your Television. You will have to make sure all the cables are securely in place and plugged to the appropriate parts of your TV. You should also confirm if each of the devices is connected to the power source and see if the audio receiver is set to the Apple TV. You can check your Apple TV for further details.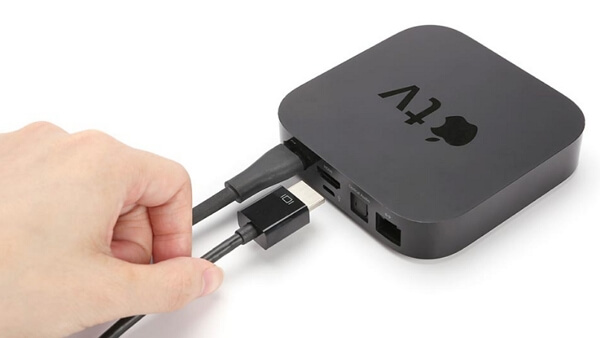 4. Reboot Apple TV
If the above options do not solve the problem, you can also restart your Apple TV. To reboot your Apple TV, press the Menu button and Down button simultaneously for about 6 to 10 seconds. Your Apple TV will, and hopefully, will solve the problem of not producing sound.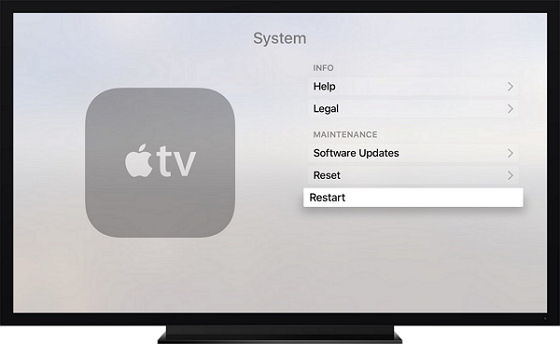 5. Change Apple TV Screen Resolution
Changing your Apple TV Screen Resolution is also another way to fix Apple TV no sound.
Below are the steps to do this;
Open Settings.
Navigate to Audio and Video and click.
Click on "TV Resolution" and select "1080p HD – 50HZ".
Check if your Apple TV is giving sound after following these steps.
Apple TV screen resolution is set up in such a way that the screen resolution automatically matches that of the display of the device connected to it. You can also set your preferred resolution to reduce the amount of bandwidth you consume or to increase the quality of the picture shown on display. If you are choosing a high resolution, you will need a faster internet speed and more data.
To adjust the output resolution of your Apple TV manually, follow the steps below;
Go to settings on your Apple TV.
Select "Audio and Video".
Select TV Resolution.
Choose the screen resolution you would like to change to from the options.
If you would like to change your Apple TV back to default settings, choose Auto from the settings.
6. Check Audio Settings on Apple TV
This is another method with which you can fix the problem of Apple TV no sound and this process depends on the model of your Apple TV.
If your Apple TV is 4th Generation;
Navigate to "Settings".
Click on "Audio and Video".
Select "Surround Sound".
Select "Best Quality Available".
If your Apple TV is 2nd Generation or 3rd Generation
Navigate to "Settings".
Click on Audio and Video.
Set Digital and Audio Output to AUTO
7. Change the Audio Output to 16bit
If you are experiencing Apple TV no sound and you are using a third-party home theatre with your Apple TV, then you can try connecting your Apple TV directly to your television via an HDMI cable. If this does not yield any positive result, change the audio output mode for your Apple TV using the remote.
Open your settings menu and select "Audio & Video".
Click on "Audio Output", you should see that it is set to "Auto".
Change the setting from auto to 16bit.
8. Turn off Dolby Digital out Setting
Turning off the Dolby Digital Out setting can also help because if your television is unable to pick up signal, it may lead to Apple TV not playing sound.
Use your Apple TV remote to Navigate to "Settings".
Select "Audio & Video".
Go to Dolby Digital Out Setting. Change from On to Off.
Fixing your Apple TV not playing sound does not have to stress you out or have you taking your Apple TV to an authorized Apple Center. With iMyFone Fixppo, you can fix things right from the comfort of your home. Get your copy of the software today.