Apple has introduced a range of excellent electronic devices which are very useful in our day to day life. One such device is, Apple TV. Even though it uses the best technology and has excellent features, it does tend to malfunction at times. What if the Apple TV is not working properly and keeps turning black? This is a common problem most Apple TV users face. You can easily fix the issue of Apple TV black screen using several methods detailed below. Follow any of these simple methods to go get the issued resolved now!
Method 1. Fix Apple TV Black Screen with Professional 3rd-Party Tool
One of the best and the safest method to fix any issue on your Apple TV is by using a 3rd party tool called iMyFone Fixppo. It is an iOS repair tool that doubles up as an Apple tvOS repair tool as well. It can fix any type of tvOS stuck issues and it is very easy to use as well. There is no technical knowledge needed to make it work. Some other reasons why we recommend using Fixppo are listed below:
This software is highly rated by well-known sites like PCWorld, Tech Advisor, Payette Forward, MUO and more.
It works efficiently in fixing iOS and tvOS problems. Till now, thousands of users have been benefited from Fixppo.
Highest success rate in the industry. This is enabled by the exclusive technology it adopts.
The straightforward interface makes it easy to operate the software.

You can follow the simple steps to solve the problem on your Apple TV.
Step 1.Download and install iMyFone Fixppo on your laptop or PC and launch it.
Step 2.Click on "Standard Mode" and then connect your laptop or PC to the Apple TV with the USB-C cable or Micro-USB cable and click on "Next".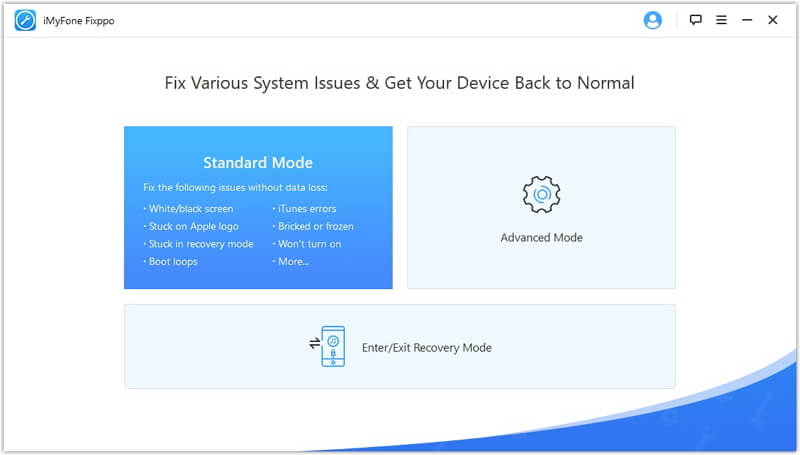 Step 3.Then click on "Download" button to acquire the latest tvOS package for your Apple TV. After the firmware package is downloaded, click on "Start" to start fixing the issue of Apple TV screen going black.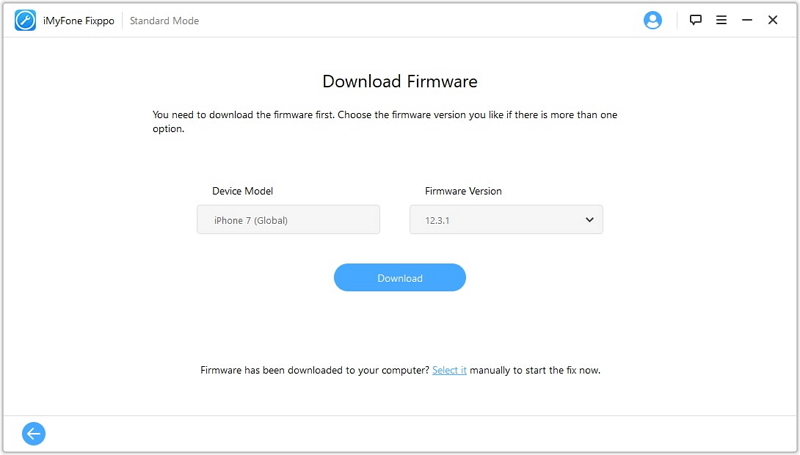 Step 4.The progress of the Apple TV being fixed will be shown on the laptop or PC screen, and You will be notified once the process is completed.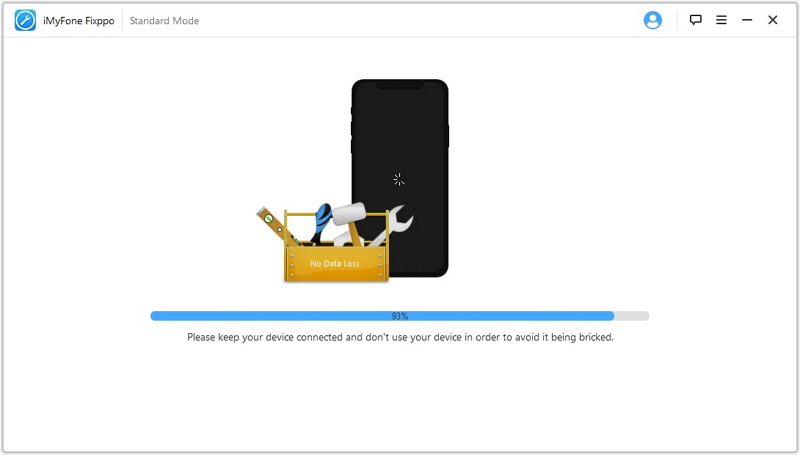 This is a sure shot way of fixing any kind of technical issues with your Apple TV.
Method 2. Check the Power Code & HDMI Cable
The first solution which you should try out before trying anything else is checking the power cord and HDMI cable. Follow the steps below to fix the issue of your Apple TV goes black.
Step 1: Check that your Apple TV is plugged in to the power or not and after that check if the status light is on. Proceed to the next step if it is not turning on even after plugging-in the Apple TV to power.
Step 2: Use the remote and try to wake up the Apple TV.
Step 3: Unplug the power cord connected to the Apple TV and wait for a while before plugging it again.
Step 4: Try using a different power outlet and check.
Step 5: If you are using a power strip to make your Apple TV function, check again if that power strip is on or not.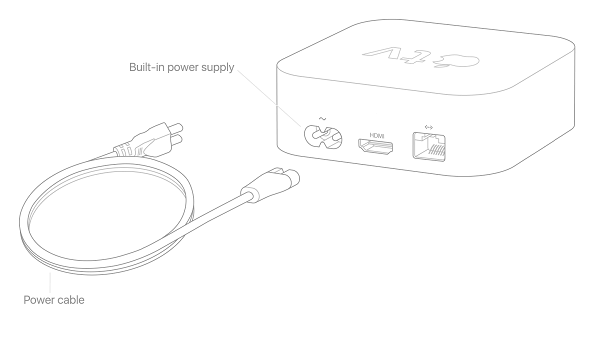 Step 6: If the status light turns on the Apple TV but still the video or sound is not playing, then check the HDMI cable connections if it is properly inserted or not.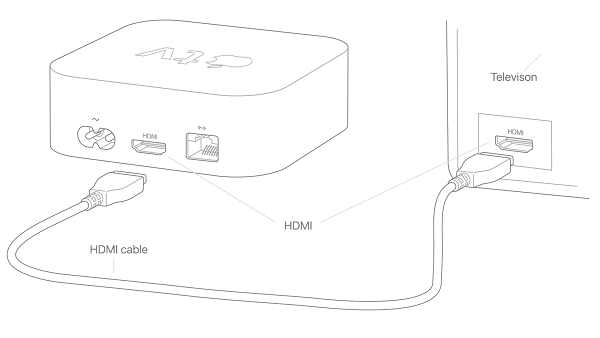 If none of the above methods work, then you can follow the other 3 methods mentioned below.
Method 3. Change Video Resolutions
If the above methods don't prove to be effective in fixing the issue of your Apple TV keeps blacking out, you can try modifying the video resolution on your Apple TV before returning to a black screen. Follow the steps below to know how you can do this.
Step 1: If you have the 4th generation Apple TV, press and hold the "Menu" and "Volume Down" button on the remote for about 5 seconds and then release both the buttons. Every 20 seconds your Apple TV will keep switching to new resolution, select "OK" when the resolution which you require comes on.
Step 2: If you have 2nd or 3rd generation Apple TV, press and hold the "Menu" and "Volume Up" button for about 5 seconds. The Apple TV resolution will start changing every 20 seconds, select "OK" when the required resolution comes on.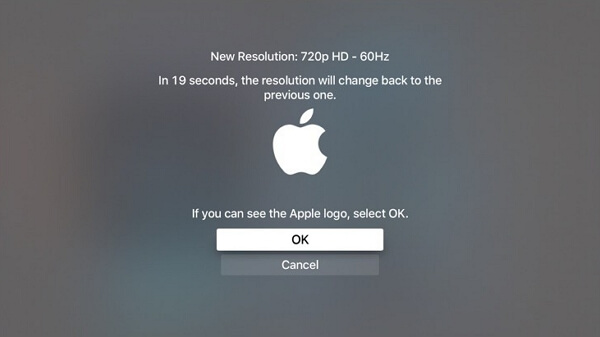 You can select "Cancel" to quit the resolution change.
Method 4. Restart Your Apple TV
As you must be knowing, your Apple TV does not have a Power button to switch it off and on. You would have to use your remote control, switch it off from the "Settings" or just unplug it from the power source. Since your Apple TV screen has gone blank you cannot access the "Settings" option. You can use your remote to restart it by following the steps below.
Step 1: If you have Siri remote or Apple TV remote, press and hold the "screen icon" button and the "Menu" button and let go when the device light flashes on.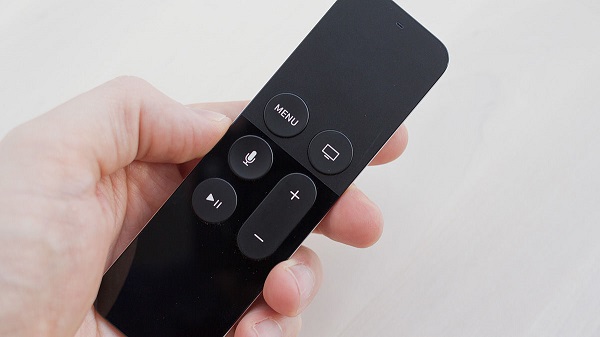 Step 2: If you have an Apple remote, press and hold the "Down" button and "Menu" button and let go when the device light flashes on.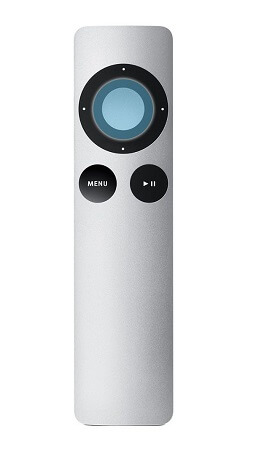 If this does not work, you can unplug your Apple TV from the power source directly and plug it back after a few minutes.
Method 5. Restore Your Apple TV Through iTunes
If in case, the above method does not help you fix the issue of black screen, you can try restoring your Apple TV. Follow the steps below to know how you can do this.
Step 1: Take out and unplug the power cord as well as the HDMI cable from your Apple TV.
Step 2: Open your laptop or PC and launch iTunes on it and make sure that you have installed the latest version of iTunes.
Step 3: Plug in a USB-C or micro-USB cable from the back of the Apple TV to your laptop or PC. 
Step 4: If you have Apple TV 3rd or 4th generation, plug the power cord in, if you have the 2nd generation then leave it unplugged.
Step 5: The Apple TV summary page will appear on the screen.
Step 6: Click on "Restore Apple TV" and wait.

Once the process is done you can unplug your Apple TV from the laptop and then plug it to the power source and plug the HDMI cable in as well and check if it has started working.
Conclusion
Even if Apple is known to produce the best kind of devices, these devices do tend to show some issues over time. Issues like Apple TV screen is black can be easily fixed by the methods mentioned above. The best method and most recommended method would be to use iMyFone Fixppo. This tool not only works with Apple TV but it can work to fix the minor as well as major issues on any kind of iOS device of any version.