Question
Hi! I was backing up my WhatsApp to iCloud yesterday, but was unable to do it and WhatsApp chat backup got stuck in the process. Do you have any suggestions for how to solve it? --Maria M. Lynch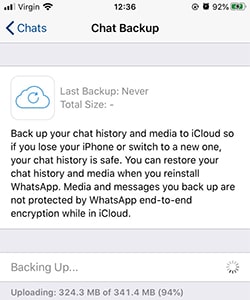 iCloud is regarded as one of the simplest ways to back up iOS data since it doesn't require a PC or connecting devices via USB cable. However, iCloud backup stuck has become a common issue for users. This time we have received a query on a stuck WhatsApp backup to iCloud. Other users have encountered similar problems. Sometimes the WhatsApp backup to iCloud can get stuck at 0%, sometimes at 99%. We have come up with some solutions hoping to help fix this problem no matter whether people are using the newer iOS versions such as iOS 15 or iOS 14, or older ones such as iOS 13.
Part 1: Free Way to Backup WhatsApp - Alternatives to iCloud
If you encounter WhatsApp backup stuck, rather than trying hard to figure out what exactly causes the WhatsApp iCloud backup stuck problem, a better choice for you is to use a free alternative to backup the WhatsApp data.
Use iTransor for WhatsApp to Back Up WhatsApp Free
The one recommended is iTransor for WhatsApp. The WhatsApp backup feature of this tool is free to use, unlike iCloud. You don't need to pay for storage monthly. Take a look at the detailed features of this tool.
The only tool in the market which is available for both WhatsApp Messenger and WhatsApp Business.
Backup and read all your WhatsApp data including chats, media, and attachments for FREE.
Each backup will be made separately without overwriting the previous backup.
Backups made by the program can be exported to Html or Excel (csv for Mac).
Restore the WhatsApp backup to the previous or another phone without OS-restrictions, no matter whether it be an iPhone or Android.
Transfer WhatsApp from Android to iPhone, iPhone to iPhone, iPhone to Android, or Android to Android directly.
iMyFone is well recognized by professional software review sites such as Cnet, Cult of Mac, etc. They have served millions of users in 200+ countries.

Here is how to backup WhatsApp with iTransor for WhatsApp:
Step 1 Download and open the program. Connect the iPhone to a PC with the original USB cable. Click "Back Up WhatsApp on Devices" on the left panel.
Step 2 Follow the instructions to recognize your iPhone. Then click the "Back Up" button to start the backup.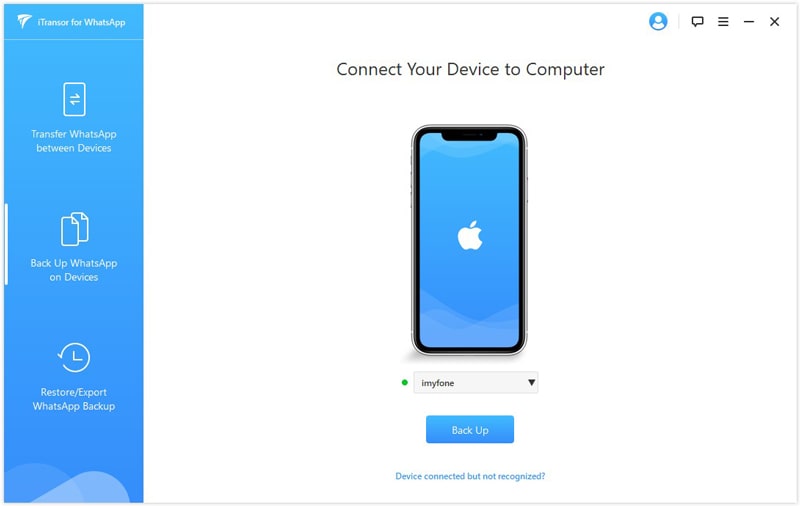 Step 3 Keep the iPhone connected to the PC until the back up is complete. You'll be notified when the backup has been successfully created.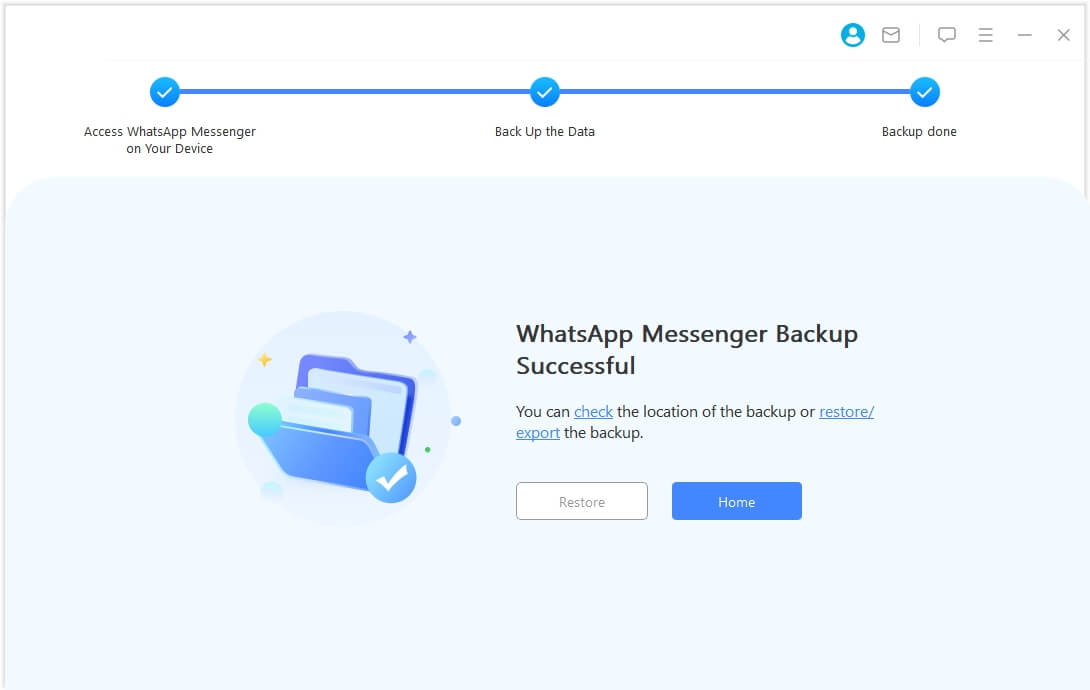 Note
As mentioned above, this tool can also restore WhatsApp backup to your iOS or Android device. The process is below:
Launch the program and choose the "Restore WhatsApp to Devices" option on the left panel. The program will list the WhatsApp backup files. Choose one backup file and click 'Next'.
Follow the instructions to connect the iPhone or Android device that you need to restore the WhatsApp messages on iPhone to and click 'Restore'.
The restore will start. Once it is done, you will be able to check the WhatsApp messages on your device.
Part 2: 8 Tips to Fix "WhatsApp Backup to iCloud Stuck"
When backing up WhatsApp to iCloud gets stuck at 0%, it might be caused by iOS system issues. If the backup gets stuck in the middle, such as at 27 or 44%, the internet to which your iPhone is connected might be unstable. If it gets stuck at the end, the reason could be errors during the backup. Here're the tips you can follow to troubleshoot WhatsApp backup stuck.
1. Update Your WhatsApp
WhatsApp rolls out updates from time to time. If the backup of WhatsApp fails, we guess it is possible that your iPhone has recently installed the wrong build.
Please open the App Store on your iPhone and download the most recent version of WhatsApp.
2. Check iPhone Network Connection
For those who don't know, the key to successfully backing up iPhone data to iCloud is a powerful and stable internet connection. Without it the backup might have problems, which might be the reason for the WhatsApp backup stuck. Hence connect to a Wi-Fi and make sure it's powerful and stable before the backup starts.
To prevent iPhone's Internet settings from going wrong you can reset the network settings on your device first. To perform this method:
tap Settings > General > Reset > Reset Network on your iPhone.
enter the passcode and confirm the reset by tapping "Reset Network Settings".
You will lose all your network data such as Wi-Fi passwords and VPN settings.
Another thing you should know is that you'll lose all your network data like Wi-Fi passwords or VPN settings.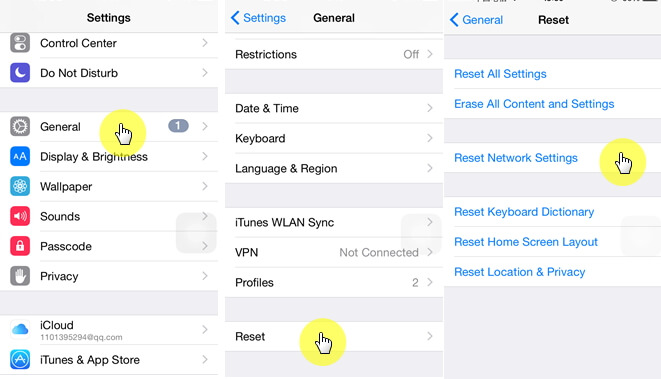 3. Change WhatsApp Auto Backup Settings
If your WhatsApp data are large, the backup can take a long time. And if the backup frequency is set to daily, it is possible that iCloud has to do a new backup when the last one is not complete yet. This would be another reason to cause WhatsApp backup to iCloud to get stuck. Our suggestion is to set your WhatsApp auto backup frequency to weekly or monthly. To do that open WhatsApp, go to Settings > Chats > Chat Backup. Change the backup frequency to weekly or monthly in Auto Backup.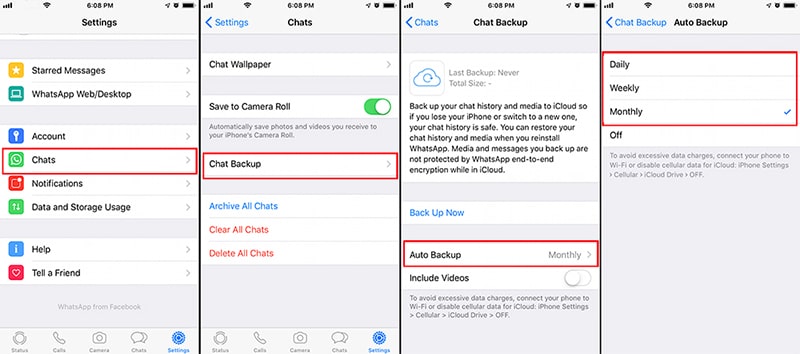 4. Check iCloud Storage
When coming across WhatsApp iCloud backup stuck, check if you have enough storage on the iCloud of your device. iCloud gives 5GB of free space. If you have more than 5GB of data or updated the plan but still don't have enough space, change your storage plan or clear out unnecessary backups. Enable Settings > iCloud > Storage,check and manage space by removing apps that you don't need to back up, or delete large media files. Then check if the WhatsApp messages back up process still gets stuck.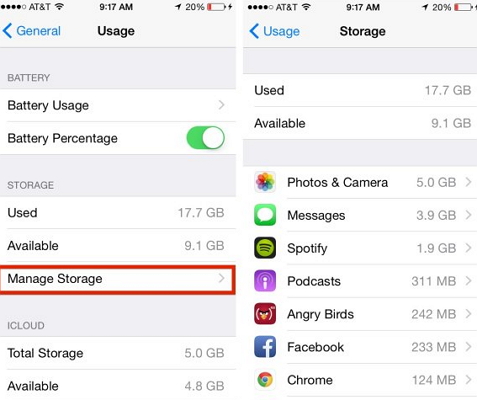 5. Check Apple System Status
Another potential reason for the inability to complete WhatsApp chat backup on iCloud is the occurrence of service outages on the backup server. Therefore it becomes necessary to check the Apple system status on the Apple System page. You can check for any iCloud server issues there. If there is any problem with the iCloud server, try another method to back up your WhatsApp.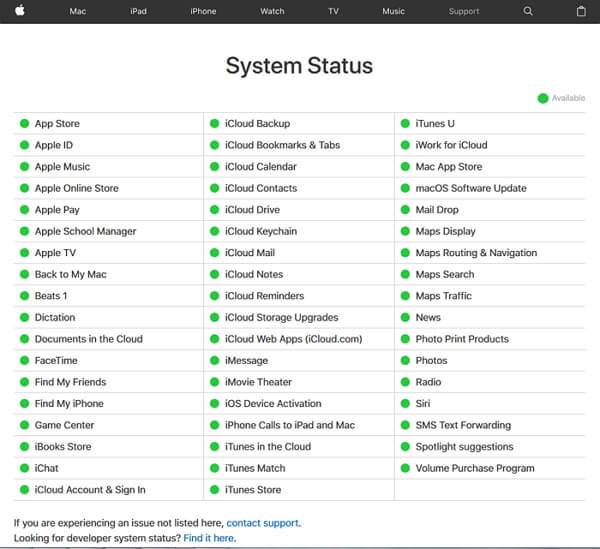 6. Hard Reboot iPhone
No matter what problem you have with your iOS devices and no matter what iOS version you are using (including the latest iOS 15), hard reset can come in handy every time. Here is when you can't complete backup whatsapp iphone. This method will clean the glitch on your device. Follow the steps below to hard reset according to the device you own.
- iPhone 6 and older models:
Press and hold the "Power" and "Home" buttons at the same time for approximately 10 seconds. Release the buttons when you see the Apple logo on the screen.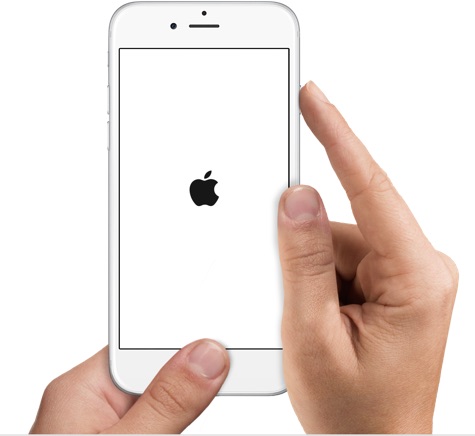 - iPhone 7 and 7 Plus:
Press the "Power" and "Volume Down" buttons simultaneously. Release the buttons when the Apple logo appears on the screen.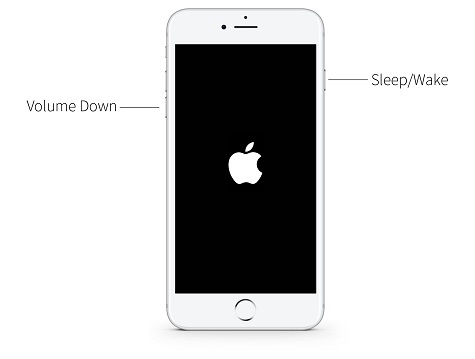 - iPhone 8 and 8 Plus:
Press the "Volume Up" button and release it quickly. Then press "Volume Down" and release instantly. Lastly, press the side button until you see the Apple logo.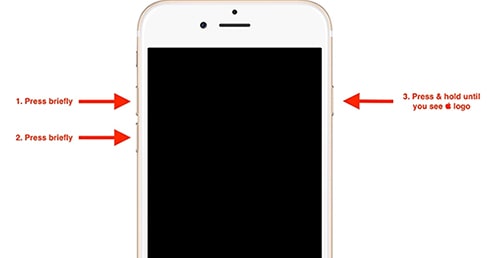 - iPhone X, iPhone 11 and iPhone 12:
Press the side button and volume (+ or -) button and hold them. Once the slider appears, drag it and turn the iPhone off. Now press and hold the side button once again to start the iPhone.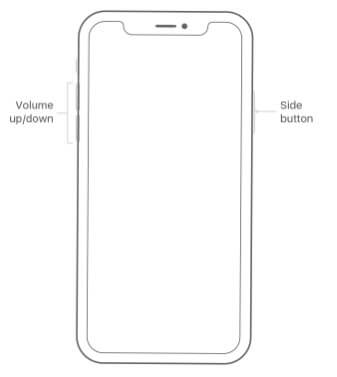 7. Delete the Last WhatsApp Backup and Try Again
Another recommended way to fix WhatsApp Backup stuck is to remove the last backup and try to create a backup again. If the stuck WhatsApp iCloud backup is caused by some error code during the process, this solution will help.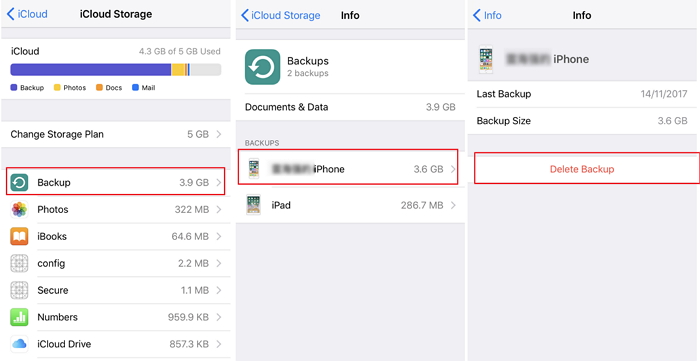 8. Back Up Everything on Your iPhone with iTunes
If you are not focusing on backing up only WhatsApp, try iTunes to back up everything on your phone. Here's how:
Connect your iOS device to PC and run iTunes on it.
Look for the device icon and click "Summary".
Click on the "Back Up Now" in the Backup section.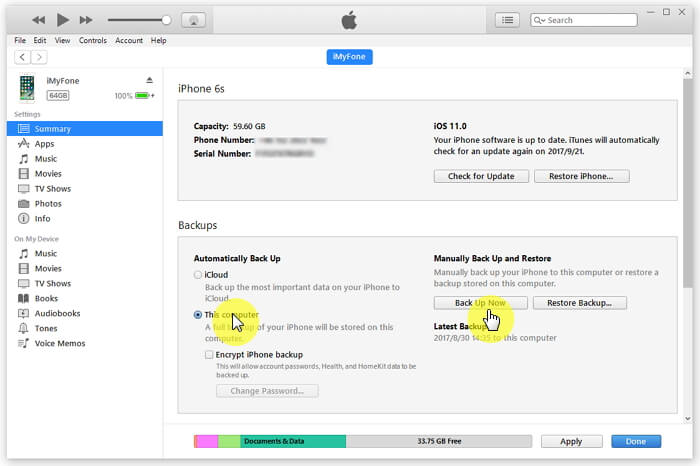 9. Solution from Whatsapp Support Team
Here's a solution from WhatsApp support team to fix WhatsApp Backup stuck:
Open iPhone Settings> tap the username > iCloud > Manage Storage > WhatsApp Messenger > Delete Data.
Open iPhone Settings> tap the username > iCloud > switch the iCloud Drive off.
Launch WhatsApp.
Open iPhone Settings> tap the username > iCloud > switch the iCloud Drive on.
Create a new iCloud backup inside WhatsApp.
---
Botton Line
Every WhatsApp backup failure can be distressing. WhatsApp backup to iCloud stuck may include failure to download messages from iCloud and so on, and the above listed methods will hopefully be helpful for users who experience such troubles. You are also welcome to leave us any suggestions at the bottom of the screen!