WhatsApp provides backup option for iPhone users to automatically backup their WhatsApp data to iCloud, but iCloud itself has a limitation of only 5GB free space for every user.
If you are already a loyal user of WhatsApp, the amount of data can easily exceed 5G, let alone our need for iCloud to back up contacts, photos and other data. What else, when backing up to iCloud, problems like backup stuck or failure can happen.
To help you out, this article will offer some of the best alternative methods to back up your WhatsApp on iPhone without iCloud.
Comparision of 3 Methods to Back Up WhatsApp on iPhone Without iCloud
Before we start, check out the chart below to have a general understanding about the different methods we will mention today to help you do the WhatsApp backup on iPhone without iCloud.
| | via iTransor for WhatsApp | via iTunes | via Email |
| --- | --- | --- | --- |
| Ease to Use | Really easy | Easy | Easy |
| Backup Data Overwritten | No | Yes | No |
| Required Time | Depend on WhatsApp data size | Depend on iPhone data size | Long, because of the manual work |
| Restore Function | Yes | Yes, but restore whole iphone data | No |
Method 1. Use iTransor for WhatsApp to Backup WhatsApp on iPhone without iCloud
It becomes important to backup WhatsApp data (chats, attachments or documents), in case of any physical damage or software malfunction that will cause data loss. iTransor for WhatsApp (iOS 15 Supported) is a flexible tool developed to back up all WhatsApp data including chats, medias and contacts to computer without overwriting the old backups. It is considered as the best iCloud alternative to backup WhatsApp for free.
Features:
Supports encryption and deletion of WhatsApp backups.
Supports filtering photos and videos of WhatsApp backups by date.
It has already been trusted and recommended by many professional websites.

How to get involved in backuping WhatsApp on iPhone using iTransor for WhatsApp:
Step 1 Run the program and click on the 'Back Up WhatsApp on Devices' tab. Then connect your device to the computer and click Back Up to start the process.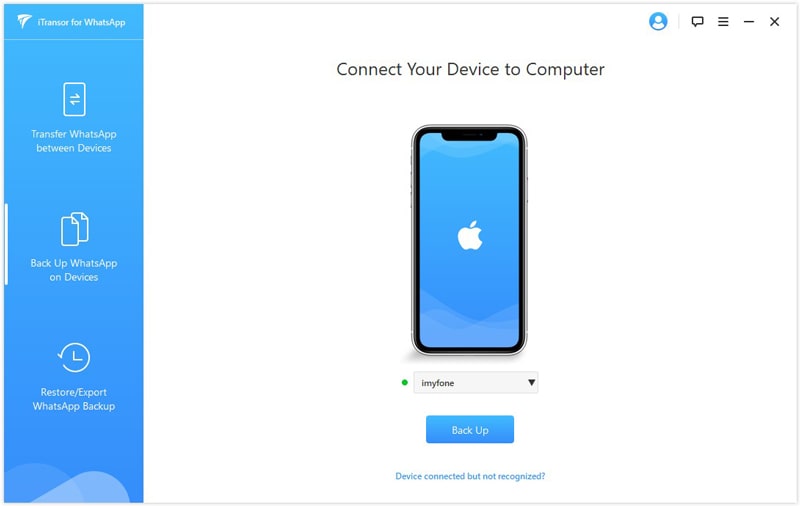 Step 2 You will come to the backing up screen right after you click Back Up. Just wait a while for the backup to complete.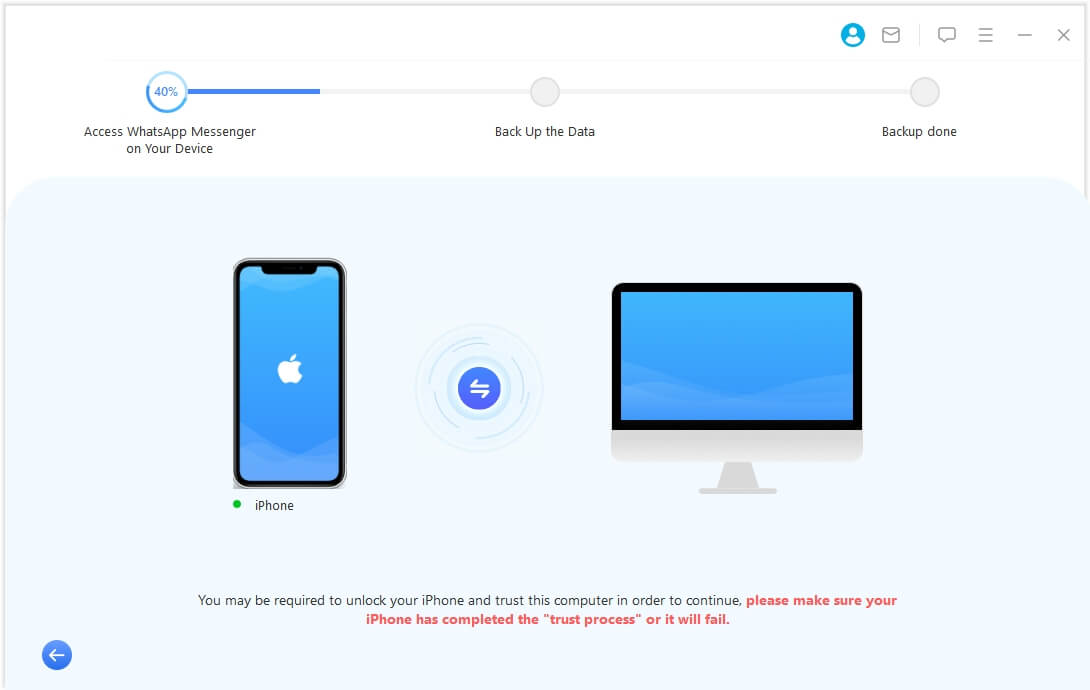 Step 3 When the process ends, you will see the notification about the completion of the process on your screen. It is very simple.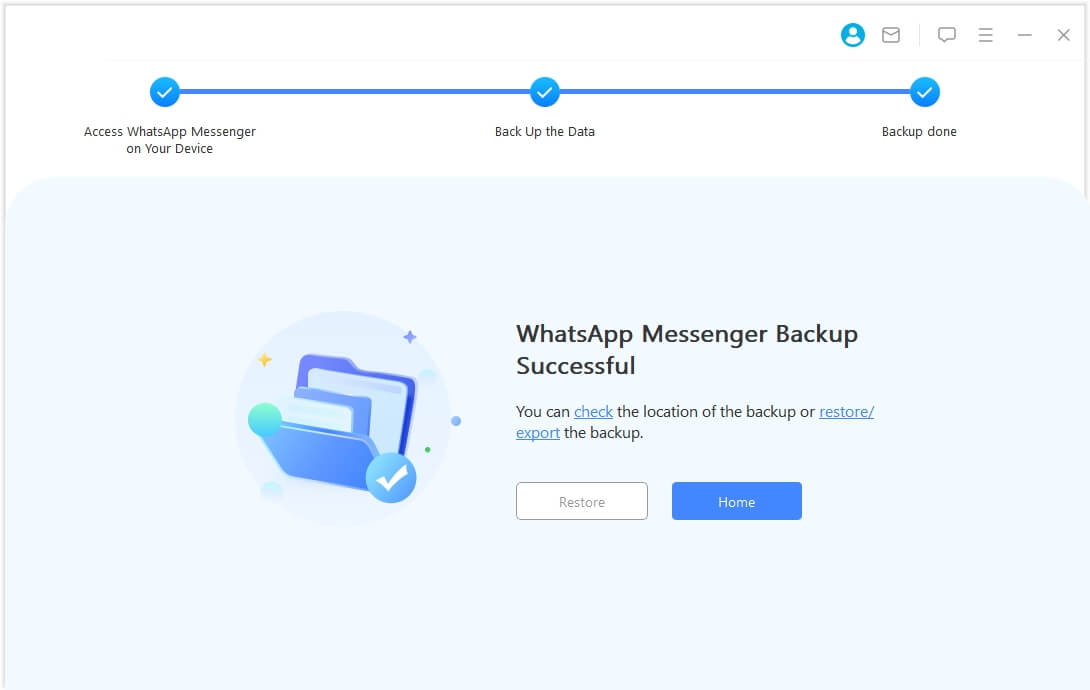 Method 2. Backup Whole iPhone Data Using iTunes
Backing up your iPhone with iTunes is another alternative option. With iTunes, you can backup data from your iPhone/iPad/iPod to your computer but it doesn't enable you to selectively perform the backup. If you hope to selectively restore WhatsApp data from the iTunes backup, try iMyFone iTransor. You can still simply backup all of your data by connecting your device and your computer with iTunes.
Step 1 Connect your iPhone and computer using a genuine USB cable. Launch and open iTunes now.
Step 2 On the top bar an iPhone icon will appear. Click on that icon and then click on "Summary" tab from the sidebar.
Step 3 Click on "Back Up Now" button on the Summary page and then confirm your actions. In a matter of few minutes, you have successfully backup iPhone WhatsApp without iCloud.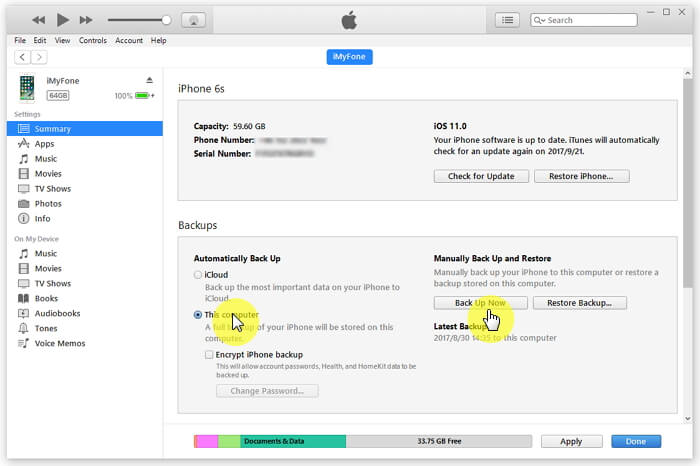 Method 3. Email WhatsApp Chats From iPhone to Yourself
WhatsApp has the feature of emailing the chats to oneself or to anyone else if you wish to backup or share the WhatsApp chat history. You can use this method to backup your WhatsApp chats without iCloud., but this method only allows you to view the chats without the ability to import them to your WhatsApp account. Moreover, through email you can only export one chat for one time. If you have hundreds of chats to backup, we recommend the first method.
These following steps will explain you broadly about how to email your chats to an email address.
Step 1 Open WhatsApp on your device. Tap and open the individual chat or a group chat you want to back up.
Step 2 Tap on the "chat name" on the top of the screen and you can then see the contact information where you need to click on "Export Chat".
Step 3 It will then pop up two options, "Attach Media" and "Without Media". Choose the one suitable for your need.
Step 4 On the next screen, it will then attach the complete chat history of the selected individual or group in the email. Type in your email address and hit 'Send'. Refresh your inbox and then you can view the chats in your email.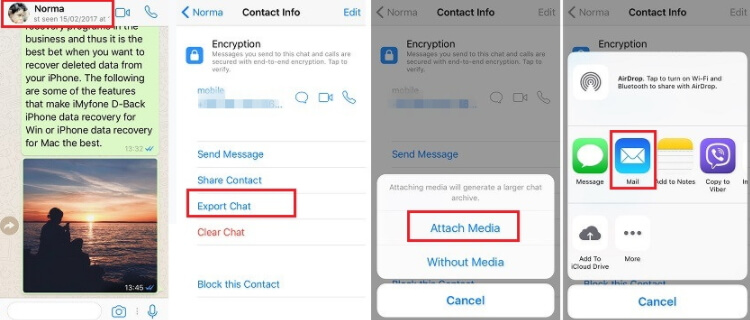 Tip: How to Stop/Turn Off WhatsApp Auto Backup on iCloud
If WhatsApp backup have taken too much of your iCloud space, or the auto backup always stuck or failed, you can choose to turn off the auto backup, and delete the WhatsApp backup in your iCloud. First, let's look at how to stop WhatsApp auto backup on iCloud.
Turn Off WhatsApp Auto Backup on iCloud
You can either stop WhatsApp auto backup on iCloud by turning off the auto backup settings in WhatsApp, or turn off the button under iCloud settings in your iPhone.
To turn off auto backup in WhatsApp, you need to go to WhatsApp > Settings > Chat Backup > Auto Backup, and choose Off.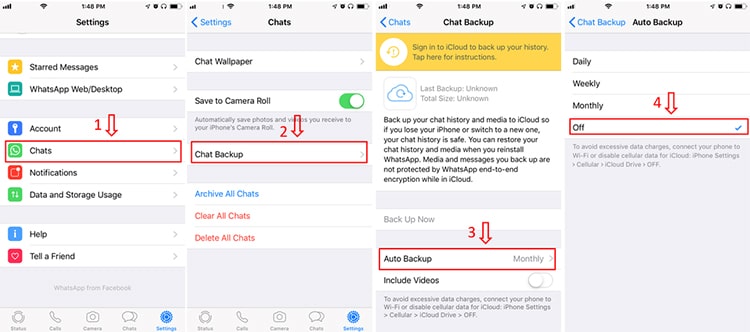 To turn off WhatsApp auto backup in iCloud, go to iPhone Settings, tap on your Apple ID. Choose iCloud, then scroll down to find WhatsApp. Click on the botton to turn off WhatsApp access to backup on iCloud.
Delete WhatsApp Backup in iCloud Storage
If you have found another place to backup your WhatsApp data and hope to clean the iCloud storage occupied by WhatsApp, here is how. Other than that, we suggest you to use iTunes or our free WhatsApp backup function in iTransor for WhatsApp to do a backup first. Otherwise, your WhatsApp data could be long gone if you have accidentally deleted some of your chats. To delete the WhatsApp backup in your iCloud,
Still you need to go to iPhone Settings, tap on your Apple ID and then choose Manage Storage. Here you can see all the apps that have backed up to iCloud.
Find out WhatsApp Messenger, tap on it.
Click on Delete Data and there will be a pop up warning.
Click Delete again and your WhatsApp data stored in iCloud will be deleted.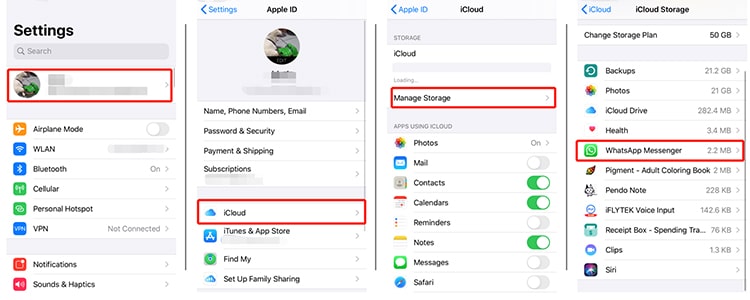 You may also like 6 Ways to Fix "The Download Was Unable to Complete" on WhatsApp
How to Locate Someone Through WhatsApp Without Them Knowing
Transfer WhatsApp from Android to iPhone - Full Guide
FAQs about Backup iPhone WhatsApp Without iCloud
1

How can I backup WhatsApp on iPhone without iCloud?
Here are generally three methods, the first is through iTunes,the second one is Email,the third one is through third party Sofyware.
2

How can I backup my WhatsApp chat to Google Drive instead of iCloud?
There is no Official Way to back up WhatsApp messages on iPhone directly to Google Drive, but there are other ways to do it.
The first one is through Gmail.
The second one is through Camera Roll.
The third one is through a third-party tool.
All three methods can effectively backup WhatsApp to Google Drive.
For more information, please click: https://www.imyfone.com/whatsapp/how-to-backup-whatsapp-on-iphone-to-google-drive/
In Closing
From above free ways, you can find the favorite free ways to backup your Whatsapp data without iCloud. That canensure your worry-free while using Whatsapp. iTransor for WhatsApp will be perfect choice to match your demand. Go and try it!