Want to know how to fake location on iPhone? Ado! Whether you want to appear like you're in sunny Hawaii or the frigid North Pole, here are 6 simple ways to change GPS iPhone location with computer and apps for you!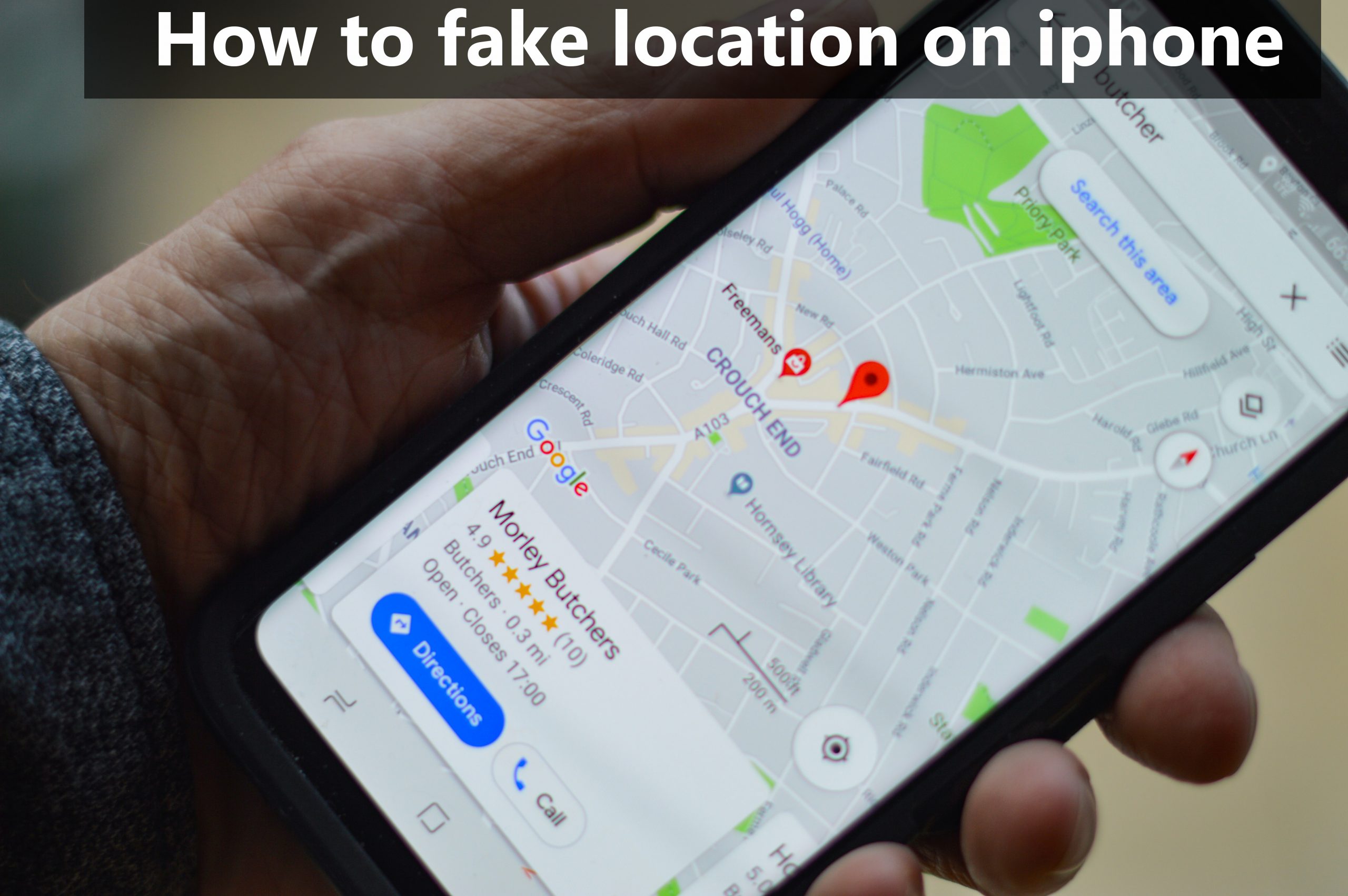 Part 1: How to Fake Location on iPhone with Computer
While we will discuss how to fake location on iPhone. The following will be doable on the device itself. If you're looking for easy way to change your location.
iMyFone AnyTo is one of the best location changer in the market. Just like its name, the software can change iPhone/iPad GPS location to anywhere just by one click. You can also plan a route with setting the moving speed and times. This means you do not have to walk outside when you play AR games.
Changing location is as easy as pie with AnyTo:
Easily fake GPS location on iPhone to every corner in the world.
Hide iPhone location without being tracked.
Change GPS location on iPhone without jailbreak.
Spoof location on all location-based applications on your phone.
Support all iOS & Android versions.
The best video tutorials and text guides on how to use AnyTo to fake location on iPhone are listed below.
Step 1: Download and launch AnyTo on your computer. Choose Get Started.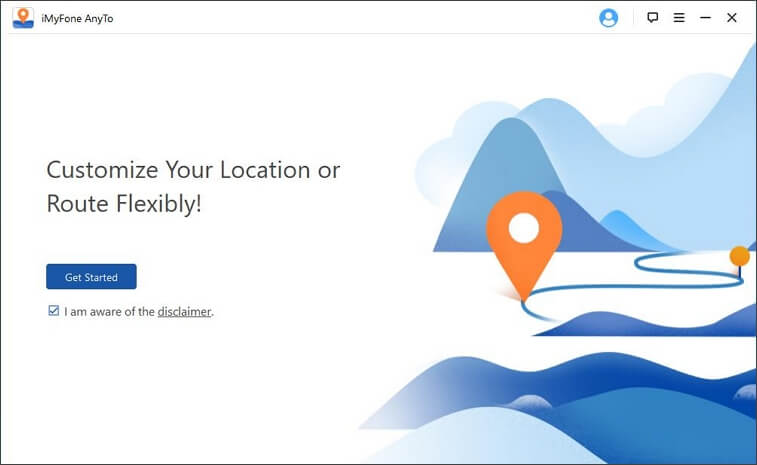 Step 2: Connect your iPhone to PC. Click Trust on iPhone screen. Then enter screen passcode to unlock your iPhone. After that, you will see your virtual location on the map.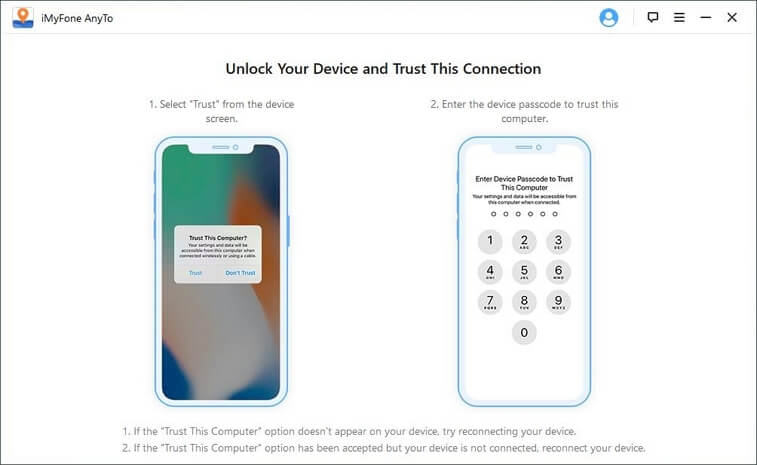 Step 3: The software will start to load the map. Select Teleport Mode at the upper right side. And input the address/GPS coordinates that you want to change.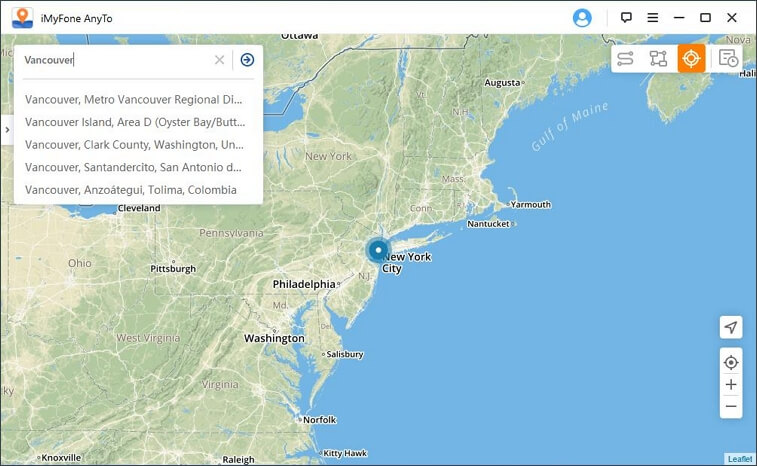 Step 4: Click Move in the pop-up sidebar. Your iPhone location will change to your ideal place. In this case, you can not only trick your friends or family with fake location on your socal apps, but also get access to geo-specific features on location-based applications.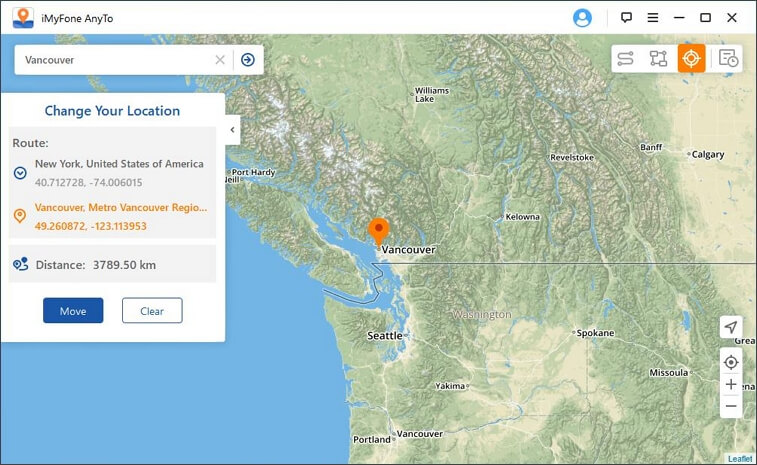 Note
You only need to restart your iPhone if you want to recover your real location.
Part 2: How to Fake Location on iPhone with Computer?
Some hidden developer settings within iOS let you fake the location. However, to access these settings, you need to be able to write to some text files on the device itself. Since iOS is locked, you cannot usually access these internal files.
There is a neat workaround for this, though. By using backup software like iBackupBot, you can back up your phone's data, edit the file, and then restore the backup with an updated version of that file.
To fake your location with iBackupBot, perform the following steps:
Step 1: Plug your iOS device into your Windows PC or Mac and make a backup with it on iTunes (make sure that you do not encrypt your backup). Choose Back Up Now.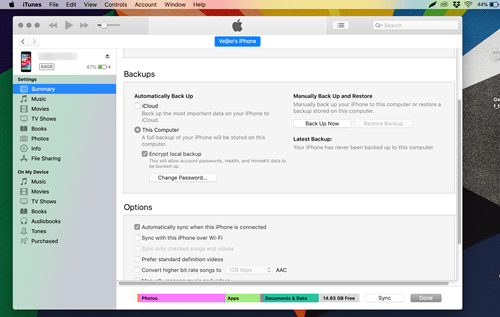 Step 2: Close iTunes and open iBackupBot to locate and open backup files.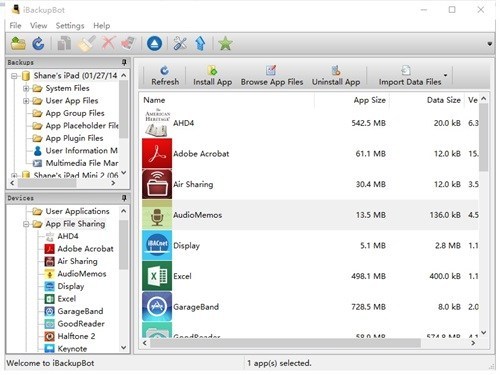 Step 3: Edit the following files within the program to find the Apple Maps' plist file.
System Files -> HomeDomain -> Library -> Preferences
User App Files -> com.Apple.Maps -> Library -> Preferences
Step 4: In the file, look for the (dict) tag and then put the following underneath it.

Step 5: Close iBackupBot. Next disable the Find My iPhone feature on your iPhone Settings after doing this and then restore your backup.
Step 6: Open Apple Maps. You should be able to tap the bottom of the screen to get more information on that location. With this change, you will see the option to Simulate Location. Press that to make Pokemon Go, and other apps think you're in a different place!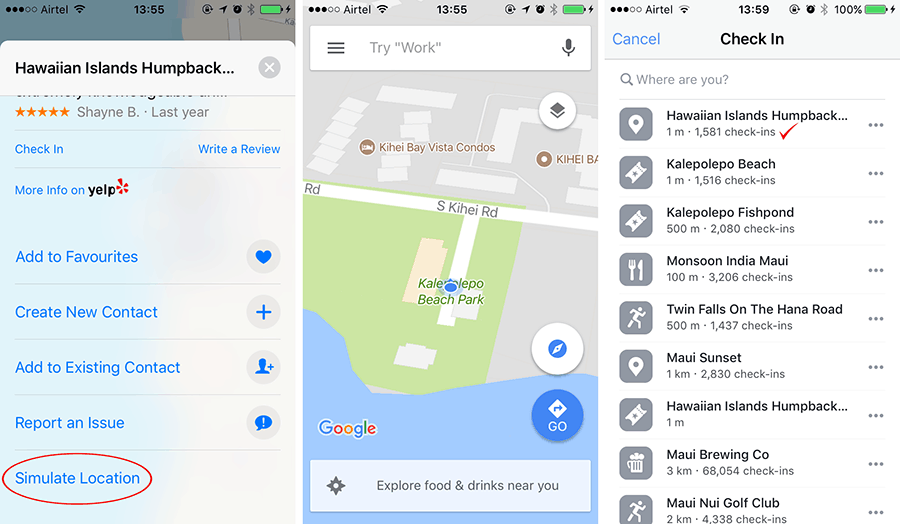 Note
iBackupBot works on iOS devices running on 11 and below. It may not work if your iOS device is updated to the latest version.
Part 3: How to Fake Location on iPhone with an App?
NordVPN will let you change your device's location by making it appear like the network calls your device is making are coming from a different country. VPN stands for virtual private network, and it funnels all your traffic through a server in your desired location. The outside world thinks all that traffic is coming from your device in Germany, for example.
To get started with NordVPN, follow these steps.
Step 1: Find NordVPN in the Apple Store and download it.
Step 2: Open NordVPN and select the country and city where you want to be (as of right now, there are over 5,500 servers in 58 different countries).
Step 3: Connect to that server.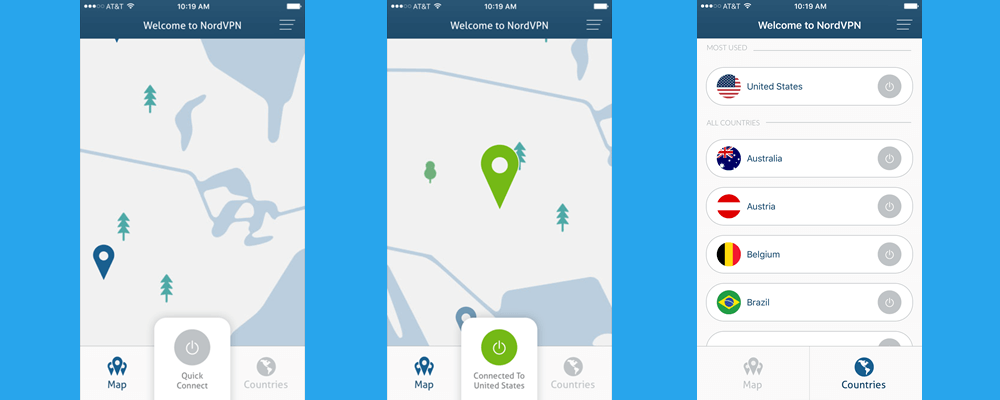 Step 4: Enjoy websites thinking you're somewhere else!
Note
While this will make sites like Google think that you are in another region, it will not fool apps that get GPS location. If you're sharing your location with friends, they will see the correct position, not the fake one.
Part 4: How to Fake Location on iPhone by Jailbreaking Your iOS?
Location Faker is an app in Cydia that will enable you to fake your GPS location on the iPhone. Since it is in Cydia only, you will need to jailbreak your device to access this fun app.
However, once you jailbreak your iPhone and get it installed, you'll be able to fool apps that require GPS location (like the find my friends feature) into thinking you are somewhere entirely different. When used in conjunction with NordVPN, your real position becomes virtually undetectable!
Location Faker is easy to install and use, assuming you already have a jailbroken iPhone. Now learn how to fake location on iPhone with location faker step by step.
Step 1: Download the Location Faker app from Cydia. Install Location Faker if your iOS device is running on 8.0. If your iOS device is running on 5.0-7.0, you have to install LocationFaker.
Step 2: Launch the app and enter the address where you want to appear in the text box.
Step 3: Once you're happy with the location, turn ON the switch in the bottom-left corner.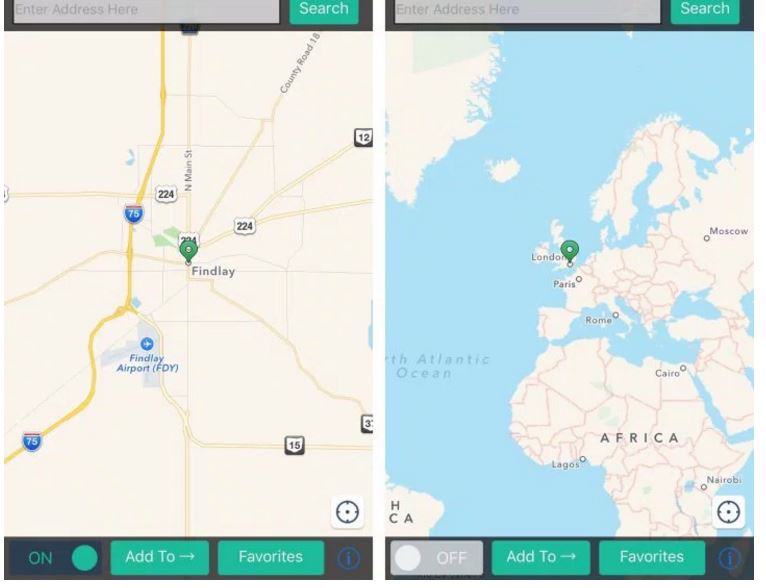 Step 4: Click i at the right bottom corner. Choose White List, then you can choose the apps that you want to fake location. Next Done to finish.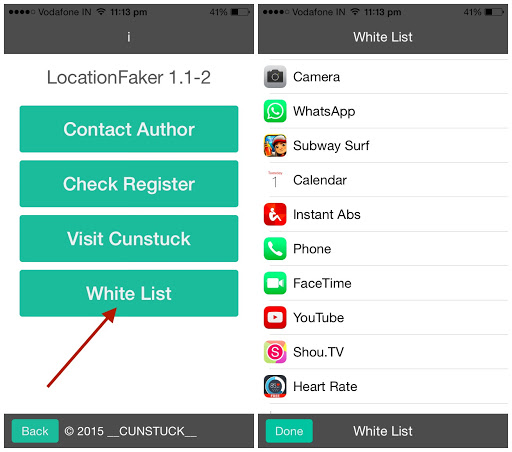 Note
The Supreme Court ruled jailbreaking as legal in the United States and most jurisdictions around the world. However, it will almost definitely void your warranty. If you are concerned about that, the iMyFone AnyTo is probably best for you.
Apps can detect if you have jailbroken your phone. As such, some apps will flat out refuse to run since they know that faking GPS location on iPhone is a possibility.
Part 5: What Will Happen after Faking Location on iPhone?
Faking your location on your iOS device will result in a few essential effects happening, depending, in large part, on what method you used to simulate it.
If you use a VPN to fake your location, you will fool websites and apps that use IP checks. Your iPhone has a unique IP address that allows someone to approximate where your device is (e.g., US, Canada, etc.). Google, video streams on the web, and so on all use this type of check, which will work once you fake the location on the iPhone using a VPN.
If you use a fake GPS location on iPhone, then you will be able to fool apps that use GPS checks. Most apps and games, like Pokemon Go, request to share location data with them. These apps will work with fake data instead. The location-sharing feature of iOS will also think you are at the mock location, so friends and family querying where you are will not know the truth.
If you fake GPS and have a VPN, then you have near-perfect location obscurity. Apps and websites will all think you're in a different place!
To Conclude
As we can see from these six methods, how to fake location on iPhone iOS 16 is not difficult to do. Some of them are more complex than others. But all in all, having a fake GPS location iPhone through iMyFone AnyTo is relatively straightforward. The Good news is that you can try the free version first.
Once you set those, it becomes very challenging for websites and apps (including Google or Pokemon Go) to detect where in the world you indeed are.