Although iOS tabs and smartphone comes with tight security, you have to know the right way to protect yourself from internet tracking. Safari, the default browser in iPhone, macOS, and iPad, works impressively, but the internet tracking issue harms your privacy. All you can do is to protect your privacy by stopping internet tracks on your device. This content will guide you on different ways of how to stop internet tracking on Safari. You must stop Safari from tracking history too for your privacy.
Part 1: How to Stop Internet Tracking on Safari
Prevent Cross-Site Tracking on Safari
Safari is featured with intelligent tracking prevention that works on machine learning algorithms. It is for protecting the privacy of the users by figuring out the sites tracking you. Advertisers keep track of what you are searching on the net, and then they show you the related ads. With this feature, Safari blocks the third-party tracking sites that you did not open in the last 30 days. As you want to prevent cross-site tracking Safari, you need to apply the methods, which are different for iPhone and Mac. This intelligent tracking prevention Safari is great for iPhone users. Let's know how to use it.
On iOS
Step 1: Run the "Settings" application by tapping on its icon on Home screen.
Step 2: Keep scrolling until "Safari" doesn't show up.
Step 3: Scroll down to "Prevent Cross-Site Tracking".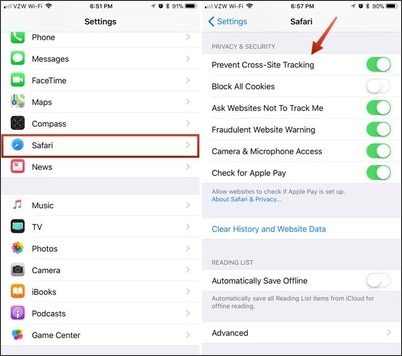 Some of the settings for the Safari will appear that you have a toggle to green for turning it on. Tap on "Prevent Cross-Site tracking" to enable it. Thus, this is how you can learn how to stop internet tracking on Safari.
On Mac
You can check and turn on the cross-site tracking Safari on your Mac by following the given steps:
Step 1: Run the "Safari" browser on your Mac.
Step 2: Open the "Preferences" option then click the "Privacy" tab.
Step 3: Check the "Prevent cross-site tracking" by clicking on it.

---
Clean up Cookies on Safari
Even when Safari offers you a great browsing experience, it does not delete cookies on its own after exiting. The users have to delete cookies manually and stop safari tracking ads.
On iOS
Step 1: Launch "Settings" and navigate to "Safari" browser.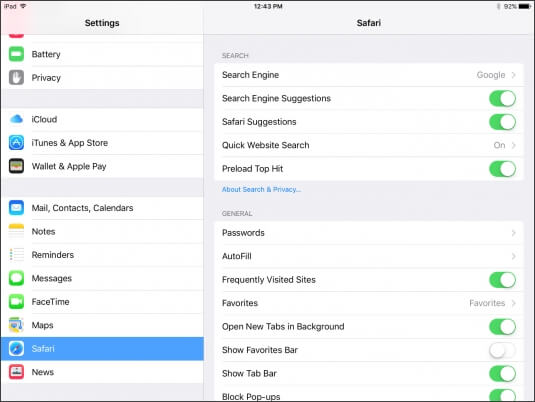 Step 2: Tap "Clear History and Website Data" and the iOS 7 or earlier version user; you need to press on "Clear History" and "Clear Cookies and Data." And, tap again "Clear" for confirmation.

Step 3: Press on "Advanced Back" option under the "Safari Settings" window for clear the data of sites.
Step 4: Tap on "Website Data" and "Remove all Website Data." Click on the "Edit link" given at the top right, and you can delete the data of sites one by one. For this, tap on "minus" sign.
On Mac
Step 1: Launch Safari on your Mac and choose "Preferences".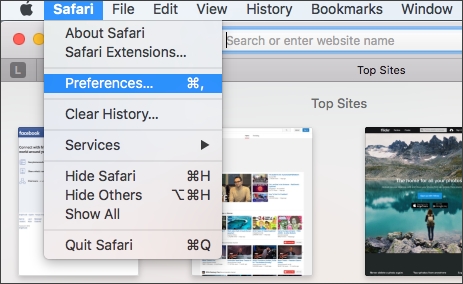 Step 2: Navigate to the "Privacy" tab and hit "Enter".

Step 3: Click on the "Remove All Website Data" button. This will eliminate all the stored site data.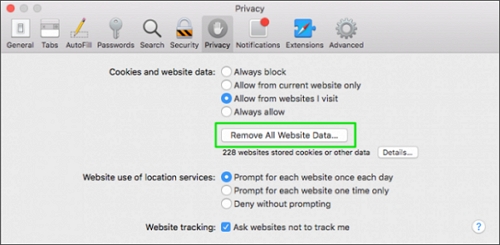 Step 4: Now, click on "Remove Now" for confirmation.

Step 5: For removing stored data of each site, click on the "Details" button.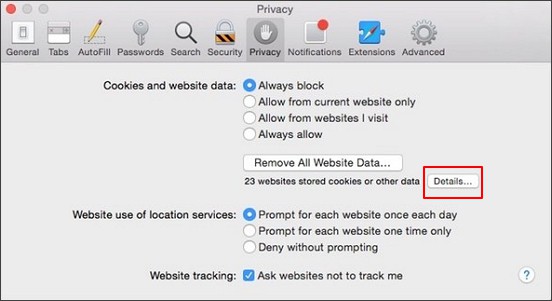 Step 6: Choose the sites that you want to remove and click on the "Remove" option. At last, click on "Done".
If you want to remove all the cookies and stored data at once, click on the "Remove all" button.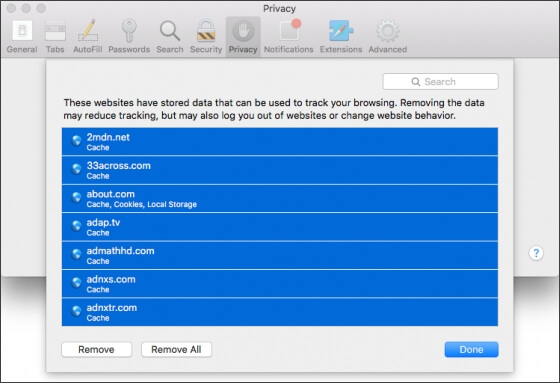 ---
Clean up Browsing History
Clearing browsing history is one of the best ways to stop safari from tracking history. Do not let the third party sites access your browsing history. The recently visited sites, web pages, icon, and many other things will be removed from your Safari browser after deleting the history. One benefit that we saw while deleting the browsing history is that it will not affect the autofill information feature.
On iOS
Step 1: First, open the "Settings".
Step 2: Go to "Safari ">"Clear History and Website Data".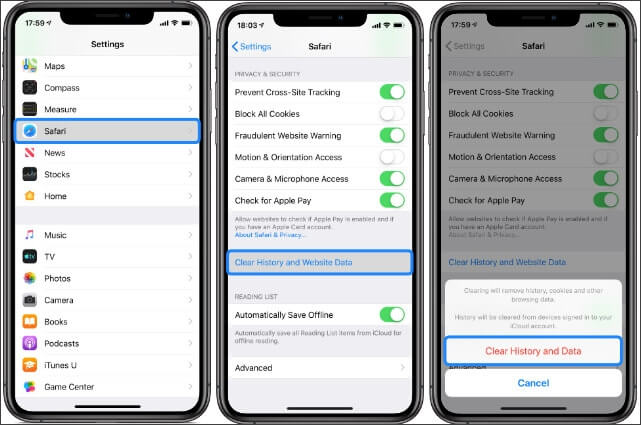 Step 3: The browser will ask you to confirm deleting history and data, give the confirmation.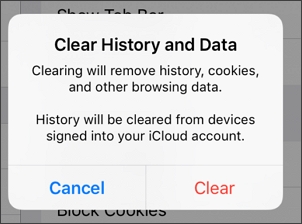 Once the data is cleared, the button changes its color to grey.
If you wish, move to "Advanced" and then to "Website Data" located at the bottom of the "Safari" setting. This step is not important to follow if the above works for you.
On Mac
Step 1: Open the Safari browser on your Mac. See on the top left corner where the "Safari" menu is showing. Click on it for more options.

Step 2: Hit Enter on the "Clear History" option when it appears on the Safari Window.

Step 3: Now, select what you want to remove and click on the "Reset" option. Thanks to the interactive interface of Safari that makes it possible to clear the browsing history easily. Clicking on "Clear History…" will delete cache, cookies, and history altogether for a particular time range.
Step 4: Selecting the default option "all history" will remove every browsing record.
---
Use Content Blockers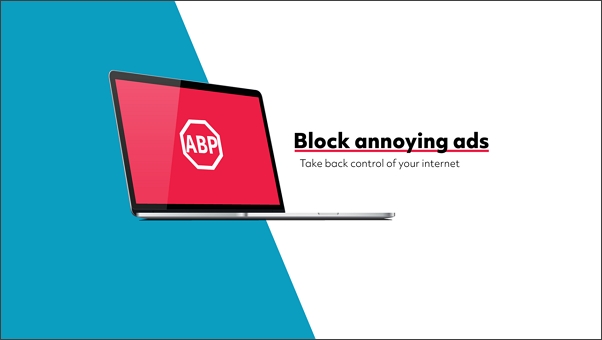 Ads are extremely irritating for any smartphone user. Many hate to pop up ads, and we have a solution for them. Some ads also contain Virus and Malware so it is of utmost essential to block ads. Let us meet the AdblockPlus for the Safari browser. The application is available free to use. It will allow users to block ads on various sites and video channels. You can say that it is an anti-tracking Safari.
Main Features about AdblockPlus
It permits acceptable ads and blocks the rest ones.
With this, you can disable tracking, malware domains, social media button and a lot more.
Can block every kind of ads.
By blocking ads, popups, banners, one can increase the loading speed of a website. Moreover, when apple attempts to stop Facebook from tracking Safari users, intelligent tracking prevention helps to protect it. However, this is not sufficient and helpful in blocking ads. AdblockPlus is a reliable and secure application when it comes to blocking a large number of ads. Besides, so far, we found it as the best content blocker for Mac users. Using this, you can learn how to stop ad tracking on Safari.
Part 2: Spoof Location to Stop Safari Tracking Location on Your iPhone Using iMyFone AnyTo
Have you tried everything that we shared in the above points? Well, these were all about how you can stop internet tracking on Safari. However, what to do when your location is tracked on your iPhone while browsing the net using Safari browser? You can try to spoof your location to restrict the sites and do not let them know your location. For this, you require a powerful and safe location spoofer. One of a kind location spoofer is iMyFone AnyTo. It helps in changing your location to a different region by faking the real-time location.
Features of iMyFone AnyTo:
Helps in planning route in the customized speed as you want.
Really helpful for location-based apps or games like Pokemon Go.
You can easily get the location changed in 1 click.
Simulate GPS between 2 or multiple spots with ease.
Easy to use and works professionally.
Perfectly support all iOS versions, including iOS 15/14/13.
Watch Video Tutorial to Stop Safari Tracking Location on Your iPhone in 2022
(Note: If you have installed iMyFone AnyTo on the computer, drag the video bar to 0:28 to skip the downloading and installation part.)
Step-by-Step Guide on How to Use iMyFone AnyTo to Stop Safari Tracking Location
Step 1: Download the iMyFone AnyTo on your computer/Mac. Install and launch it. Once done, click the "Get Started" button.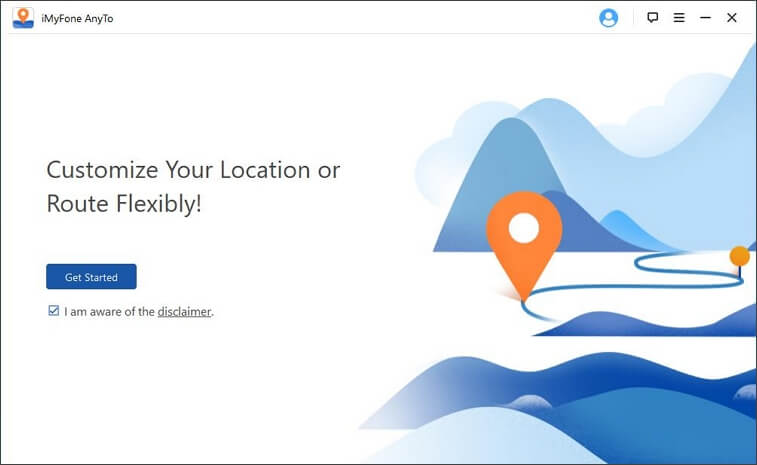 Step 2: Next, connect the iOS device to the computer/Mac using a USB cable. Unlock it and tap on "Trust" when the "Trust this Computer" pop up appears. Type the screen passcode for this process to finish. This will start loading the map so that you can check your location on the map.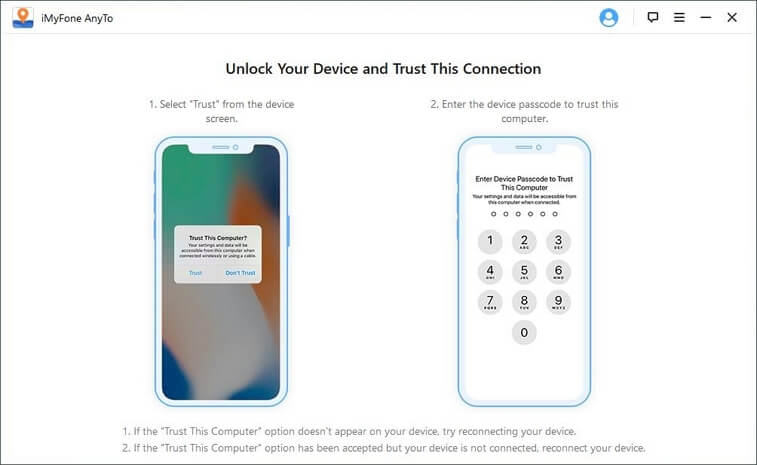 Step 3: Select "Teleport Mode" located at the upper right corner. Check if you can able to zoom in and out on the map using the mouse or not. Now, make the selection of a destination. Type the address or Coordinates on the upper left corner to find a destination. As it is represented, we selected Vancouver as the destination location.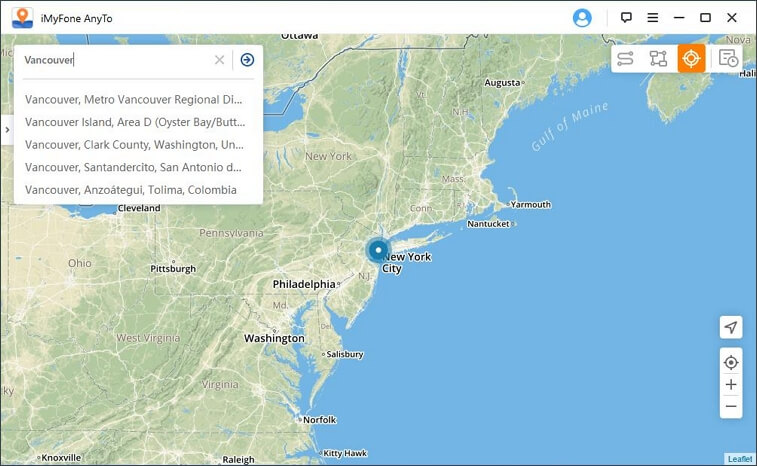 Step 4: After choosing the right location, a sidebar will appear, and it will provide you detailed info of the location. Click on "Move", and this will change your instantly change your location. In case location-based application is installed in your phone, there will be moved to Vancouver.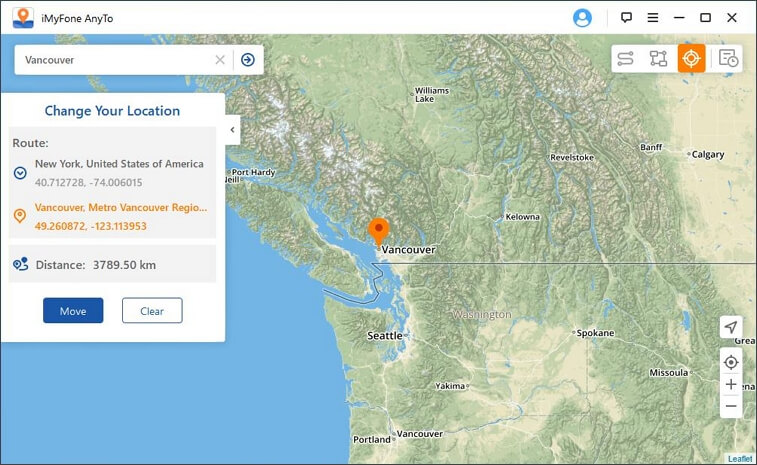 Now, Safari won't be able to track your location on your iPhone anymore. That's really amazing and easy, right? So, what are you waiting for? Click the "Try It Free" button below and try iMyFone AnyTo for free!
---
Conclusion
When the intelligent tracking prevention Safari turns on, you are free to visit web pages without being tracked. This is an ideal way to browse pages with the Safari browser. Besides, there are some other methods shared in this content to deal with stop Safari from tracking history. For more guides like this, stay connected with us.