How to Compress MP4 Video without Damaging Pixels?
Category: Compress Video
5 mins read
Video compression is a process of reducing the size of a video file without significantly affecting its quality. Compression can be useful for several reasons, such as making a video file smaller for easier storage and sharing. MP4 is a popular video format that is widely used for its compatibility with various devices and platforms.
However, when compressing MP4 videos, there is a risk of losing quality and damaging the pixels. In this article, we will explore the best methods to compress MP4 video without damaging the pixels, ensuring that the final product retains its original quality.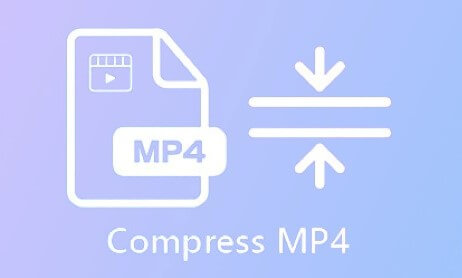 Part 1: Why Compress MP4 File?
If you need to send video files over email, you need MP4 compression, and not only email, you need to compress MP4 video files for countless personal and technical reasons. Here are some situations where you need to reduce the size of the MP4 video file:
Compressing an MP4 video file can reduce its size, making it easier to store and share.
Smaller MP4 files take less time to upload and download, making it easier to transfer the files.
Videos with a smaller file size are easier to stream over the internet。
Some devices or platforms may not be able to play large MP4 files.
Part 2: The Best Way to Compress MP4 Video
There is a trusted tool that we highly recommend for professionals and personal use when you need to compress MP4 files or batches of files within moments, which is iMyFone AnySmall.
AnySmall is a video compression software designed specifically for MP4 files. It offers a fast and easy way to reduce the size of your MP4 videos without compromising the high quality. Within 3 clicks, you can compress MP4 files for different usages. And no worries about what to do if your videos are too large because videos of any size can be easily compressed to the degree that satisfy you.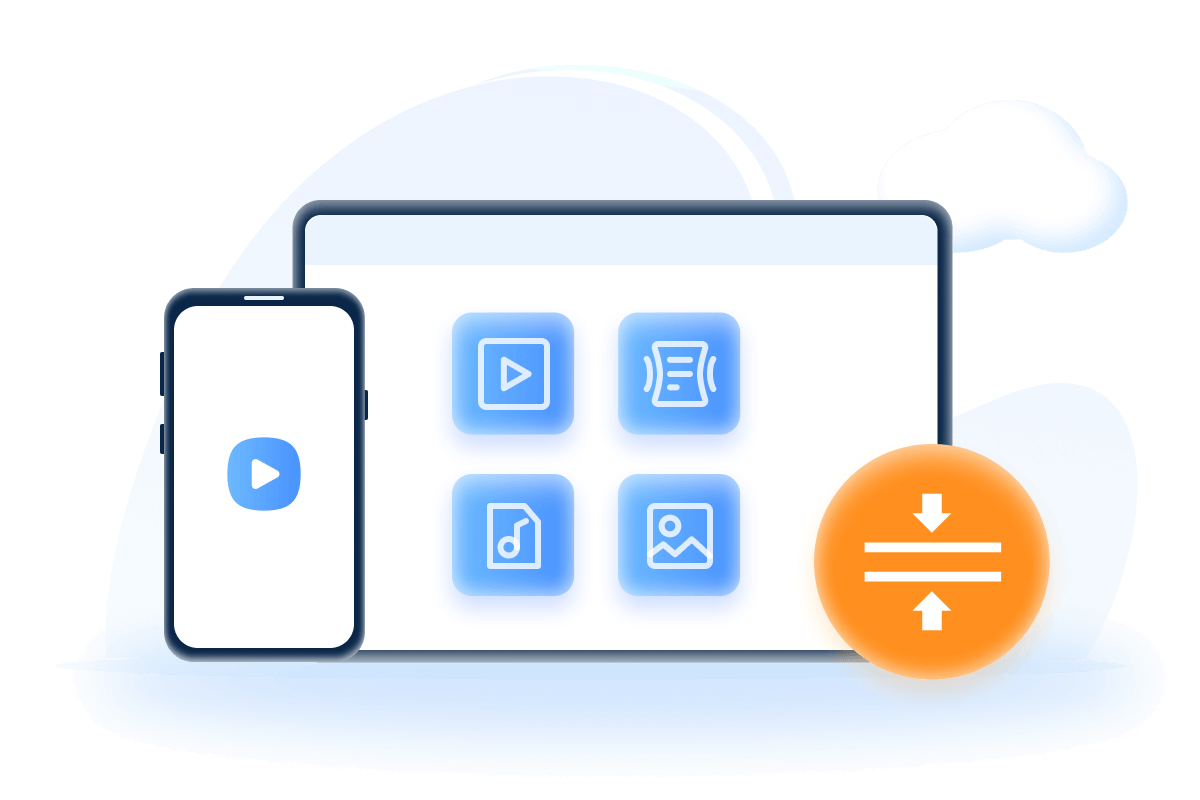 Amazing Features:
It uses a lossless compression technique to shrink MP4 videos.
Unlimited videos can be uploaded and compressed at the same time to save you the most storage space and time.
The compressed videos have no watermark on them.
Step 1

Download and Install

First, you should download and install iMyFone AnySmall to your device. After that, the software will open to the main interface, where you can select the MP4 video files you want to compress.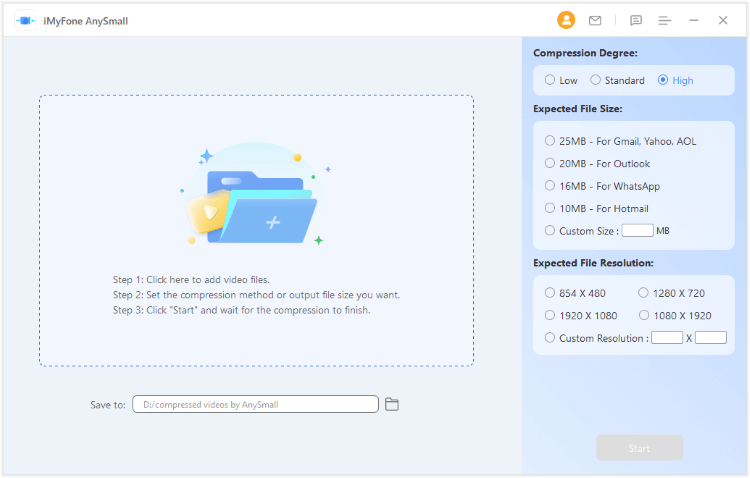 Step 2

Choose a Compression Level to Start

Choose the compression level that you prefer, the higher the compression degree is, the more MP4 file size can be reduced. You can add custom value too. After that, click to start the compression.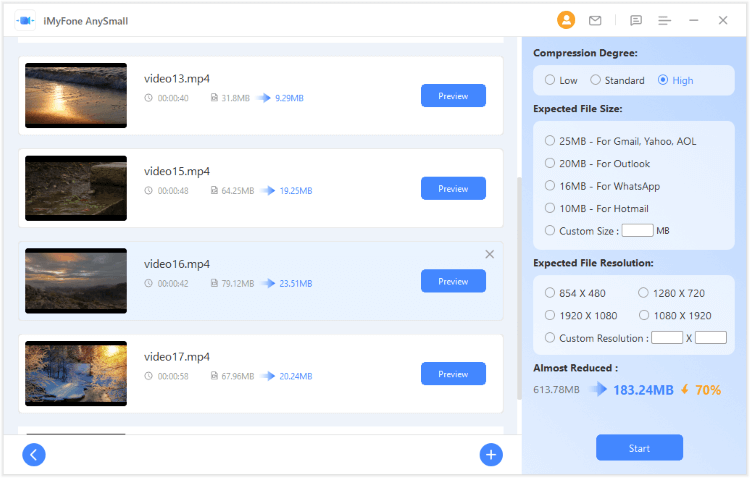 Step 3

Wait for It to Finish

The software will automatically reduce the size of your MP4 video file while preserving the quality, please wait patiently.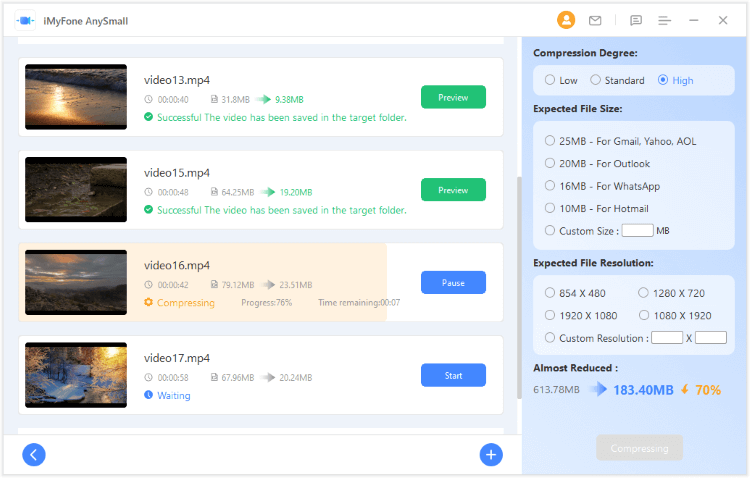 Step 4

Compress MP4 Files Successfully

It's done! Now you can see that all your MP4 videos are compressed and you can check the compressed files from the preview window. If you still need it, just click to try once more.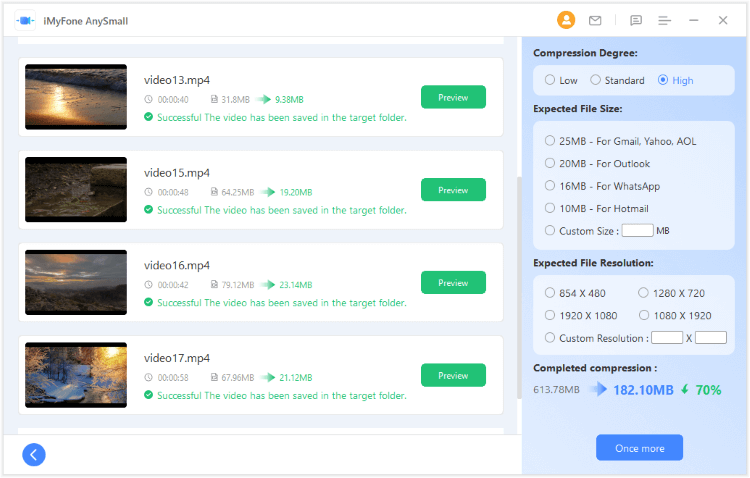 All of the compressed MP4 files are saved automatically for your future use, is it simple? Download this tool for MP4 compression to have a try!
Part 3: 4 Other Ways to Compress MP4 File
Using iMyFone AnySmall can make your job a lot easier. Still, we would like to share some other ways to compress MP4 video.
1

VEED

Veed is an online video compression tool that allows you to compress MP4 files quickly and easily. It is a convenient option for those looking to compress MP4 files with ease, especially for smaller files and for those who don't want to install any software on their computer.

It offers several different compression options to choose from, including quality-based compression.
The batch process is also supported by the tool.
The compression speed is quite impressive if you have a fast internet.
It's an easy-to-use online platform.
There are multiple compression options to choose from.
Limited control over the compression process compared to using dedicated software.
It may not be suitable for very large MP4 files.
Potential security risks associated with uploading sensitive files to an online platform.
It may not be able to compress a relatively small MP4 file to a smaller one.
2

Clideo

Clideo is also a convenient option for those looking to compress MP4 files with a MP4 compression tool. For those who prefer to compress just one MP4 video, this should be a preferred option for you.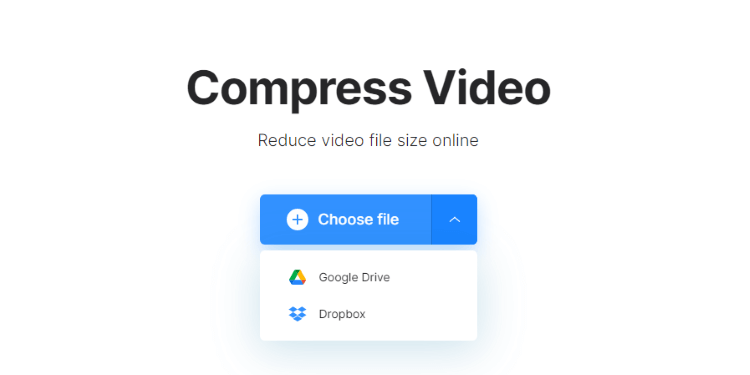 It's quite simple without troubling steps..
It has other features after compression.
You can complete the compression process in just a few minutes.
It can compress videos easily for you.
The compression speed is not slow.
You can compress only 1 video at a time.
The compressed video has watermark on it.
Uploading a video can take significant time.
3

xconvert

XConvert is a good option for those looking for a free MP4 video compression tool with light software. It provides more control over the compression process compared to online platforms and is suitable for large MP4 files.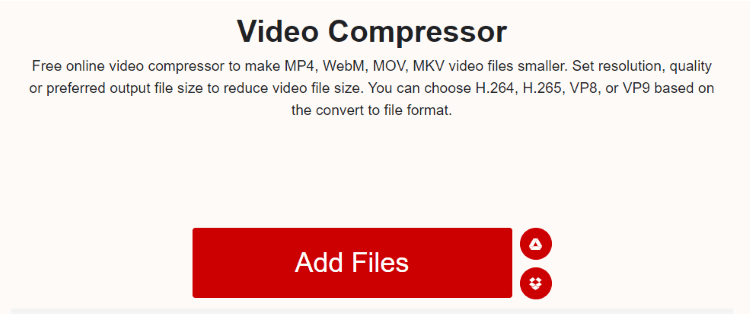 Allows you to compress multiple MP4 files in one batch, making it easy to process multiple videos at once.
It offers several different compression options to choose from, including
quality-based compression, resolution-based compression, and file size-based compression.
It is available for free and offers different similar programs.,
Complete control over the compression process compared to other free sites.
It is suitable for large MP4 files.
It may not have as fast a compression speed compared to some online platforms.
The user interface is not concise, making it hard to identify.
The compressed MP4 videos can't be saved automatically.
The site is outdated with lots of ads.
4

mp4compress

Here is another MP4 compression tool with similar functions but different changes. You can easily use this tool with trust because once you are done, your files are automatically deleted, and this makes it a safe tool when you need to compress MP4 files online.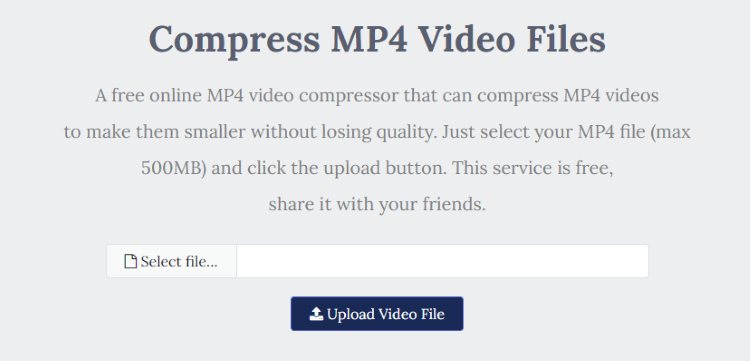 Online platform with secure connection and privacy policy.
Free site with a simple interface and navigation.
No additional features and extra options are added, just compression.
The site is easily accessible from anywhere and offers a quick response.
Make your MP4 file smaller without installing any software.
You can't compress files larger than 500 MB.
The tool is free, so it has a lot of ads.
You can only use very limited options with no flexibility.
You can't preview the compression result.
Conclusion
Now you should know how to compress MP4 in batch easily. And MP4 compression tool like iMyFone AnySmall can facilitate this process even more. With its user-friendly interface and advanced features, you'll no longer worry about the large MP4 file size that may take up much of your space.