I am in this somehow strange state where my touch screen is too sensitive. When browsing and with only one click on the add button opens multiple tabs at a go. Please, guide me accordingly on how to calibrate touchscreen too sensitive iOS 14.
If you're experiencing the similar issue like we described above, then you should not miss this post. In this post, we will take you through 6 remedy workarounds and try getting restore 'touchscreen too sensitive after updating to iOS 15/14' to a normal state. Keep on reading till the end.
Part 1: What You Need to Know before Fixing iOS 15/14 Touchscreen Too Sensitive
However, you must be apprised of the fact that any touch screen should be kept dry to maintain its operation accuracy and normalcy. In case it starts misbehaving, run the following quick checks:
If you had protected the iDevice screen with a screen protector or case try removing it.
Clean the screen; do not use water instead use alcohol-free cleaning fluid with a soft and lint-free cloth.
If you are charging your iDevice with a different charger try using its original charger and cable.
Unplug your iPhone.
Part 2: Potential Solutions to Fix Touchscreen Too Sensitive iOS 15/14
Below are some potential solutions and recommended workarounds you can try to troubleshoot  'touchscreen too sensitive on iOS 15/14' device. Now let's take a look at them.
1. Restart Your Device
As a rule of thumb, when faced with any kind of problem with your smartphone, you are always advised to restart your iPhone before rushing into any other troubleshooting procedure.
Below is how you can restart your iPhone:
Step 1: Start by hold-pressing the "Power" button for a few seconds until the slider appears.
Step 2: Now, slide the "Slide to power off" appropriately to power off the iDevice.
Step 3: Once your iPhone is off, power it on again by pressing the "Power" button until the Apple logo appears.
Usually, the screen will start working normally after it reboots.
2. Lower iPhone's Touch Sensitivity by Enabling Touch Accommodation
This is another effective way to take and get away with touch screen sensitivity issues like touchscreen too sensitive iOS 15/14. Check it out:
Step 1: Navigate to iDevice settings window by clicking the "Settings" icon on the screen then scroll down and select "General" to display a drop-down list.
Step 2: Swipe-up and select "Accessibility" then scroll the displayed accessibility options and select "Touch Accommodations".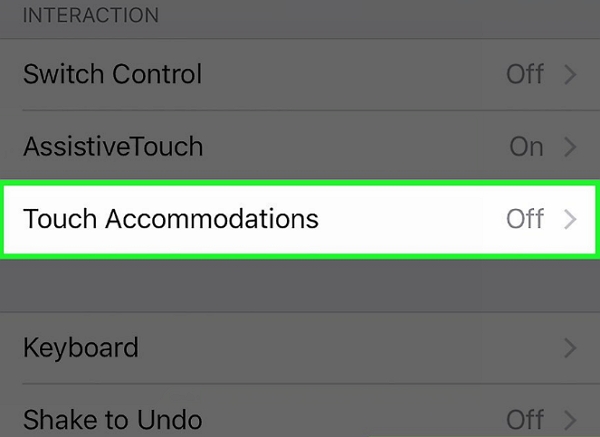 Step 3: Turn on "Ignore Repeat" by sliding right to "On". Turning on this feature ignores all except the first of the multiple taps that are done within a certain time frame say 0.50 seconds.
Step 4: Set a preferred ignore repeat time.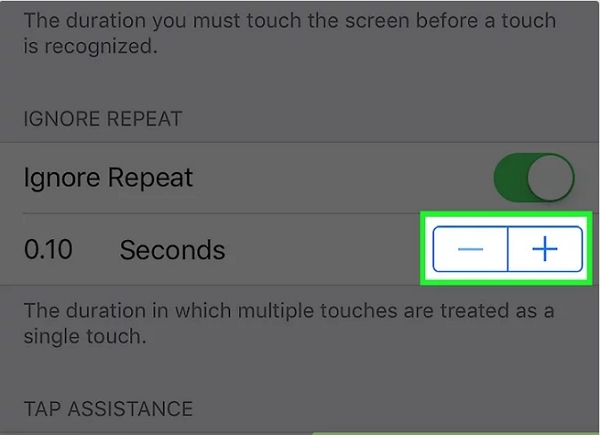 Step 5: Slide to "On" position the "Hold Duration" feature. This will prompt you to have a brief hold of your "tap" for a touch to register. Like ignore repeat, you can adjust hold duration time.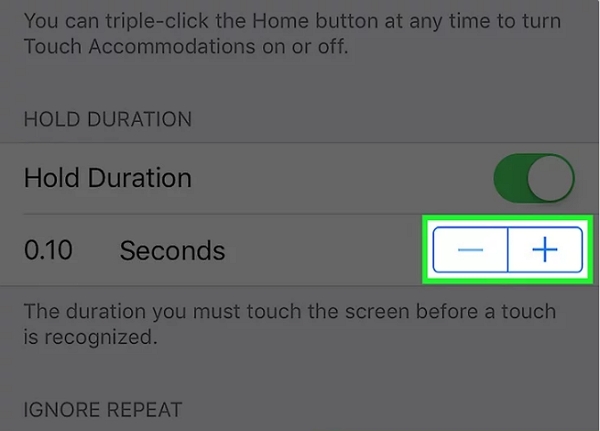 Step 6: At this point, you are ready to turn on "Touch Accommodations" by sliding its button to the "On" position. When it's "On" slide icon will turn green.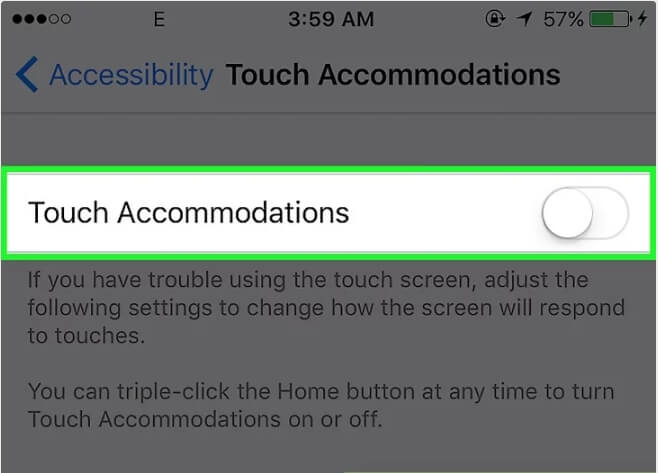 Step 7: Lastly tap "OK" and your iDevice should be less responsive to short/repetitive taps hence touchscreen too sensitive iOS 15/14 solved.
3. Change 3D Touch Sensitivity
3D touch sensitivity feature might trigger touch screen too sensitive problem. When the said issue has come up, check the feature and solve the screen problem.
Step 1: Go to "Settings" on your iDevice and select "General" then "Accessibility".
Step 2: Select "3D Touch" and then either toggle it on or off. Alternatively, scroll down and adjust sensitivity to Light, Medium, or Firm.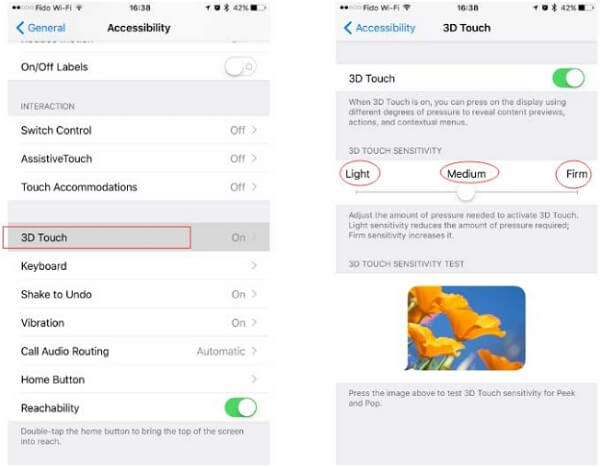 4. Downgrade to Former Stable iOS Version
Upgrading an old iOS to the latest one usually comes with multiple issues. This is because not all earlier iDevice generations are compatible with the new hardware.
The only way to salvage self from all the complications arising from an iOS upgrade is to downgrade to former stable iOS version. To perform downgrade without losing any data on your iOS 15/14 device, you can read the guide: How to downgrade iOS 15/14 to iOS 13 step by step.
5. Reset your iPhone
Retting iPhone can also resolve 'iOS 15/14 touch screen overly sensitive' issue. This is a common practice among smartphone users. Before resetting your iPhone to factory settings, you are required to back up your data because you can end up losing all your data.  Check out the steps below to reset your iPhone and clear touchscreen too sensitive iOS 15/14 problem:
Step 1: Navigate to "Settings" window. Do so by swiping down from the top of the screen and selecting settings icon or simply clicking on the "Settings" icon on the home screen.
Step 2: Select the "General" option from the settings screen.
Step 3: On the General Menu, scroll down to "Reset" and click on it.
Step 4: Several reset options will be displayed on the Reset Screen. Select "Erase All Settings" and reset your iDevice.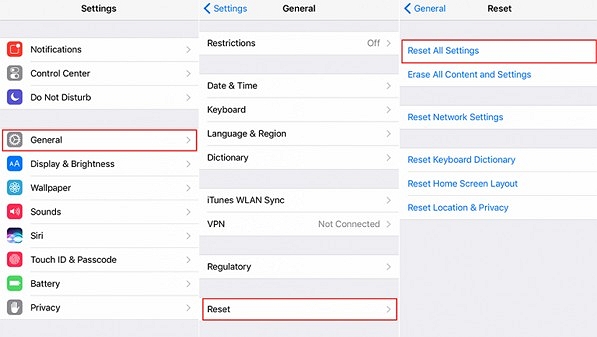 Ensure power is over 50 percent before initiating this process. The process will run automatically and takes a few minutes to finish. This should resolve the screen issue.
Part 3. The Ultimate Way to Fix Touchscreen Too Sensitive iOS 15/14
If the above methods are not workable, we highly recommend you try a professional iOS repair tool like iMyFone Fixppo. This tool is specialized in repairing all kinds of iOS issues like stuck in recovery mode, iPhone won't turn on, touchscreen overly sensitive issues and so on with 100% success rate. More importantly, it won't cause any data loss during and after the repairing process. And this tool is pretty easy to use, within a couple of simple clicks, you can resolve the issue and get your iPhone working normally in no time.
Now follow the steps below to learn how to use it:
First of all, download, install and launch the iMyFone Fixppo on your PC/Mac, then connect your device to computer.
Step 1: After you launch the program, select the Standard Mode from the main interface, and click Next to proceed.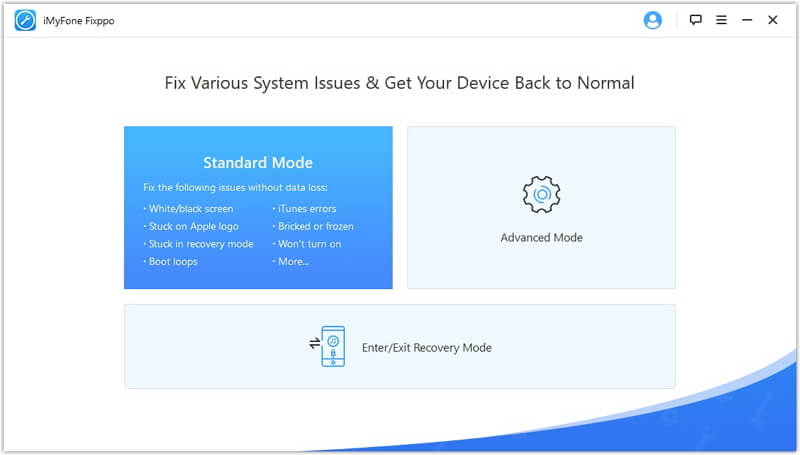 Step 2: Then the program will detect your iPhone and show all the available iOS firmware matched your iPhone. Just choose the appropriate one. Click on the "Download" button to get the matching firmware.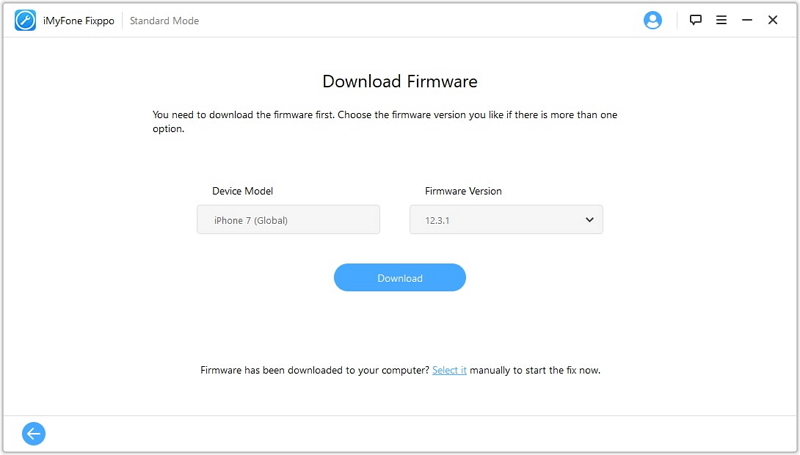 Step 3: After the process is done, click on the start to fix option. Clicking on this button will trigger the device to reboot and go into its normal function, which is what you want.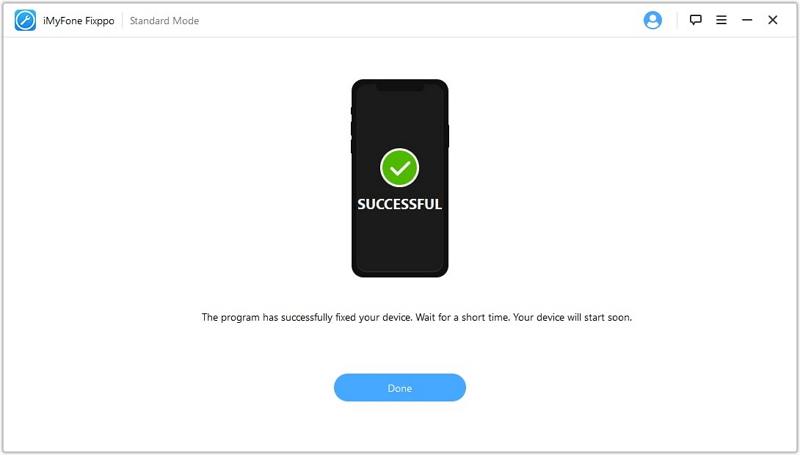 Conclusion
In conclusion, like any other screen problem, solving touchscreen too sensitive iOS 15/14 requires one be apt and keen in inferring what might have triggered the issue to be able to take the right method of solving it. All the solutions highlighted in this article are feasible and safe.