iPhone users will agree that it is not always easy to maintain iPhone as there are things that could happen to it unexpectedly. For example, your iPhone could fall down and have the screen broken or damaged rendering it unusable etc.
In such situations, it is important to get pictures off broken iPhone as soon as possible. This is because not doing so may result in a number of problems related to privacy breaches. Your data including the pictures may get into wrong hands. In addition, a broken phone is best when it can be sold for a reasonable price. Due to such reasons, it is vital that you get pictures off a broken iPhone.
How to Get Photos off Broken iPhone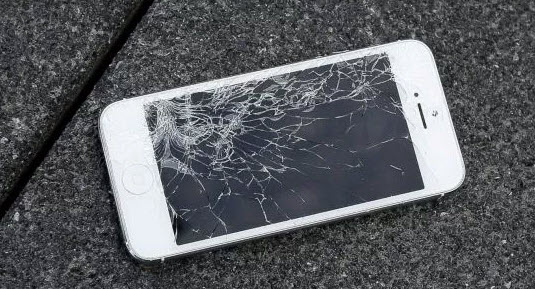 There are many ways that you can use to get photos off the broken iPhone, but the best way to do that is by using the iMyFone Umate Pro or iMyFone Umate Pro for Mac. This system works in such a way that your photos on iPhone are backed up to a computer automatically or manually before it is deleted from your device.
The implication is that you do not lose any photo or its original size as they are well saved on your computer for future use. So in a situation your iPhone is broken, you can use this option to transfer the photos from iPhone to the computer and ensure they are safe.
The following are the steps required to get your pictures off the broken iPhone:
Step 1: Download and install the program and connect your iPhone to the computer.
Step 2: Go to the "1-Click Free Up Space" tab, and choose the "photos" option to scan your iPhone photos.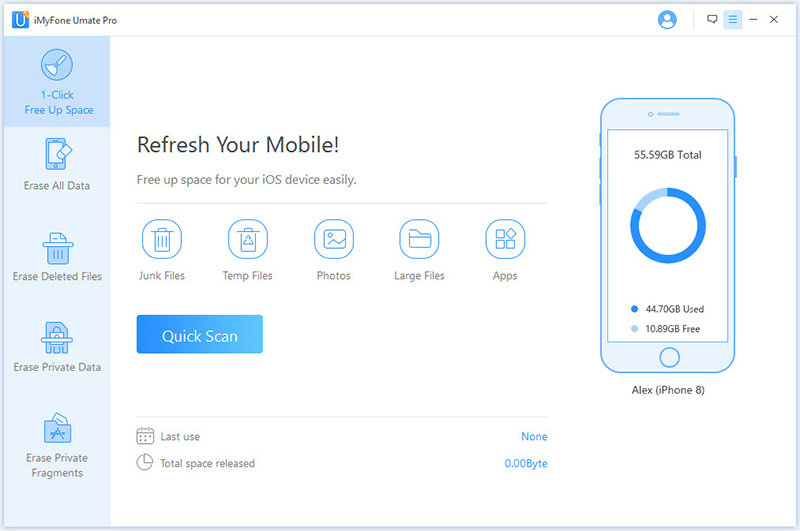 Step 3: Click on "Backup and Delete" button, and your will get photos off the broken iPhone.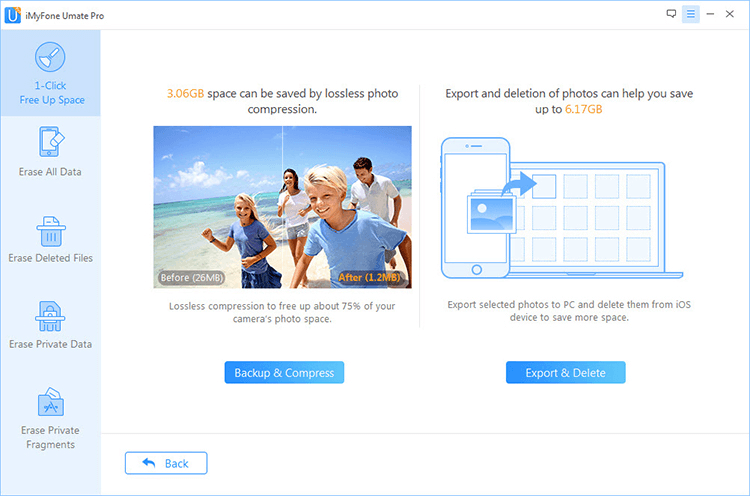 Permanently Get Photos off a Broken iPhone
There is no doubt about how important privacy can be and that is why it must be taken seriously. One important thing to note is that simply deleting photos is just not enough because it can be recovered with recovery tools which can compromise your privacy.
This is why you need to erase photos permanently. Erasing photos permanently will ensure that your privacy is well protected and you are not exposed to data criminals.
So, you are expected to erase these deleted photos permanently in order for it to become unrecoverable and this is what the Umate Pro can do for you. The Umate Pro scans your device for already deleted photos and erase them permanently in such a way that it can never be recovered using the most modern data recovery tools.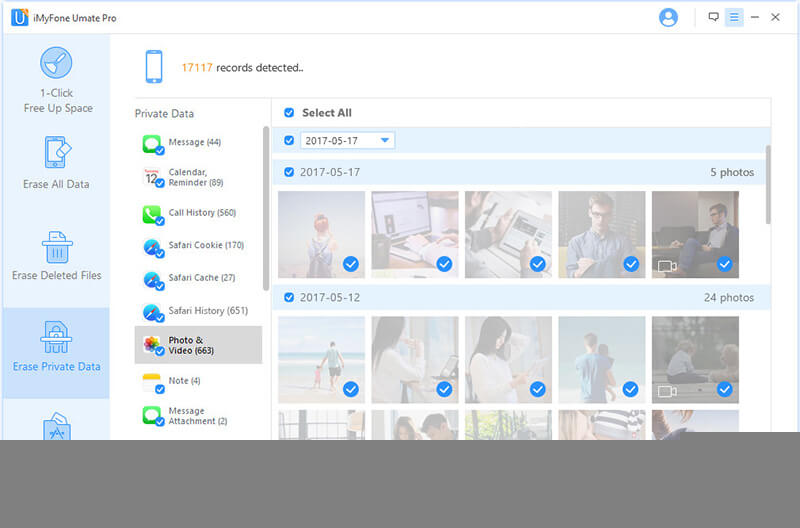 How to Reset Broken iPhone
A picture is worth a thousand words; no doubt. That is why you must not allow your important pictures to go with your locked iPhone device. You must have come across several fixes to unlocking your iPhone device. Though most of them might work, they cannot guarantee the safety of your priceless pictures. The best you can get is an access to your once-locked iPhone device, after initiating an unlocking process. iMyFone LockWiper can help you reset yourbroken iPhone device. How? Let us check it out.
Key features of iMyFone LockWiper:
Supports Multi-Unlocking Options: You can bypass your 4-digit unlock, 6-digit passcode, Touch ID as well as a Face ID security of your device, with the app.
Single-Click Unclock: The software is as simple as that, just few clicks resets your broken iPhone
Factory Reset Disabled iPhone: Reset process just got easier. You can do away with all your data on a disabled iPhone with just a few clicks.
Supports locked, disabled, broken iOS screen: If you have a locked, disabled or broken iOS screen, iMyFone LockWiper is equal to the task.
Impressive Success Rate: iMyFone LockWiper has been tested and proven by several iPhone users out there, with positive reviews all through.
Steps to Reset Broken iPhone
Step 1: Download and install iMyFone LockWiper on your PC, and then launch iMyFone LockWiper on your PC.
Step 2: Choose "Start" and connect your iPhone to your computer using Apples original lightning cable.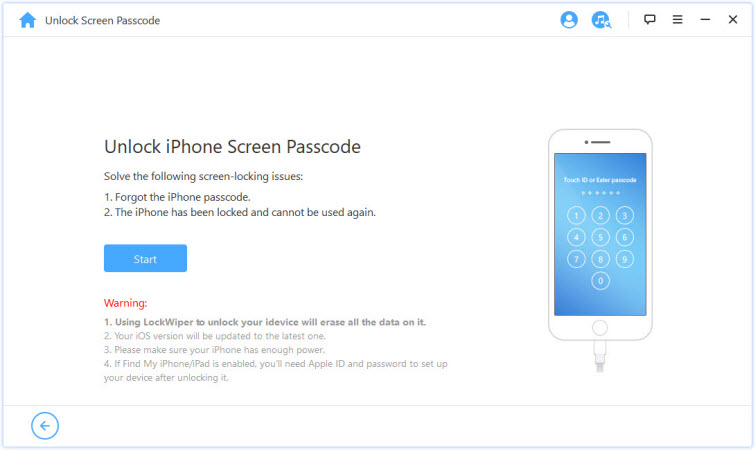 Step 3: Put your iPad in DFU mode by following the instruction below:
Press and hold the Volume Down button and the Power button simultaneously for 10 seconds.
Release the Power button and keep holding the Volume Down button until the device is in DFU mode.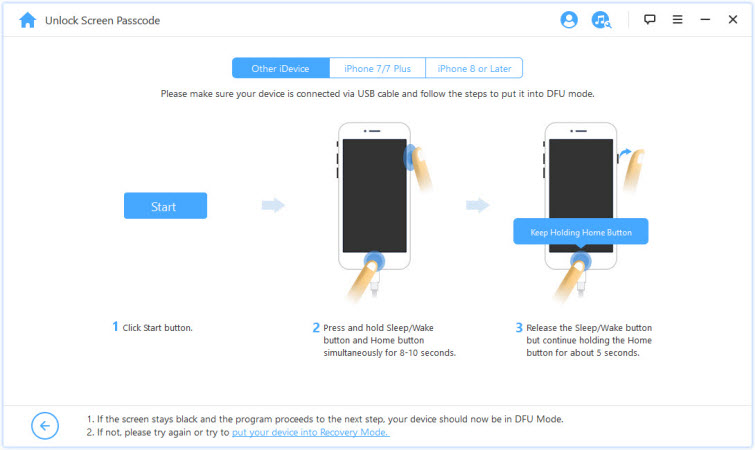 Step 4: Then you can confirm your iPhone device information. Click "Download" to download the firmware package.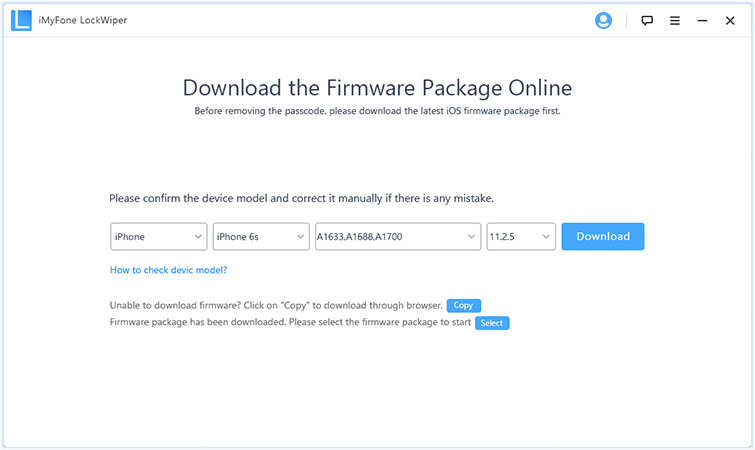 Step 5: Click "Start to Verify" after downloading.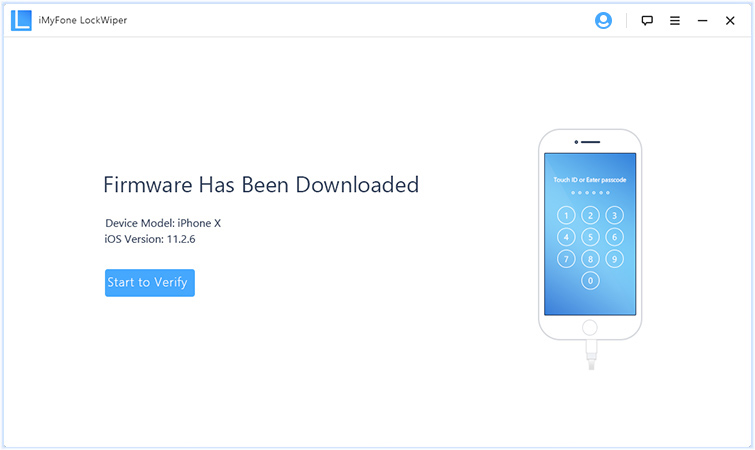 Step 6: When the verifying complete. Click "Start Unlock" to start unlocking your iPhone.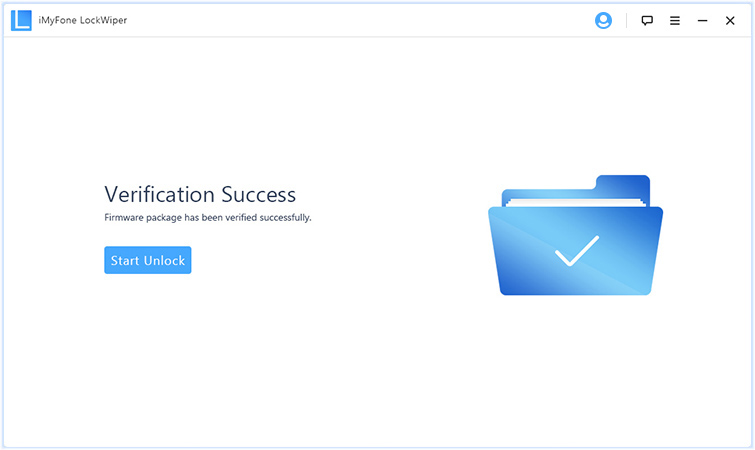 Step 7: Please enter "000000" to double confirm unlocking, then click "Unlock". It'll reset your broken iPhone.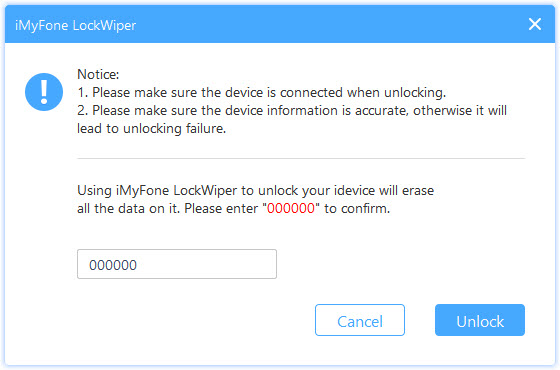 How to Deal with a Broken iPhone
When you have a broken iPhone, there are many options that are available to you to get passed the problem. Below are some of the things you can actually do
Try a DIY Fix: For people who are technically inclined or who are DIY enthusiast, you can actually try fixing it yourself. For example, you can fix the software problems or the screen problem or any other problem if need be. Note that there are many available resources for DIY lovers. You can find DIY information on the internet forums etc. If found, follow the steps required and get the IPhone fixed.
Sell Your Broken IPhone: This is one option a lot of people prefer using when confronted with this kind of issue. However, it is important that you understand that if you must sell your broken iPhone, you need to erase all data before doing that else the new owner can retrieve your data and photos with data recovery tools. The Umate Pro will help you erase all data before selling it.
Send it to Repair: If you still want to use the IPhone you can send it to repairs and get it repaired. However, for security and privacy reasons, it is better to erase all data before sending it to repairs to avoid your data being recovered by unauthorized persons.
Where to Sell After You Reset Broken iPhone
Below we are going to discuss the 4 best places for you to sell your broken iPhone, each of which you can be assured will provide you with a great deal.
1. Sell Your Broken iPhoneat SellBroke
SellBroke have been around for a few years and have become one of the most popular places for not only selling your broken iPhone, but also for selling your broken laptops, MacBooks, tablets, and many other pieces of technology – why keep a broken piece of equipment when you can get money for it?
Get a custom quote specifically for your device.
All price quotes take into account the condition of your iPhone and any broken components.
Create an account to manage each of your sales.
Receive a quote instantly and see how much money you will receive for the broken iPhone.
Sell virtually any piece of broken technology on SellBroke.
2. Sell You Broken iPhone at uSell
uSell is a very similar platform to SellBroke and actually goes a lot further in terms of what you can sell on it. As well as selling your broken iPhone, you can sell old game consoles, video games that you no longer play, or textbooks that you don't need for school anymore.
After you sell your broken iPhone, you can track the sale on your account.
Sell any type of iPhone, from the oldest generation to the newest.
The "Sell in Bulk" feature makes it easy to sell a lot of old technology at once, rather than individually.
Sell gift cards that you've been given but can't use.
Instant quote after inputting the necessary information.
3. Sell My Broken iPhone at Glyde
Glyde is another fantastic website for selling your broken iPhone and any other technology that you have which is either broken or goes unused. This website not only gives you the chance to sell your broken iPhone but also to buy a new one!
All packaging costs are taken into consideration when you first contact Glyde to sell.
Track your shipment after sending it.
Every piece of technology that you send to Glyde is insured.
Multiple payment methods are available, such as cheque or bitcoin!
4. Sell My Broken iPhone at Gazelle
Lastly, we have Gazella – another website that allows you to both buy second-hand technology or sell your broken iPhone to make some quick cash.