"I can't delete individual texts from conversation as the Trash icon disappears. When I tap and hold an individual message on my iPhone, I can tap "More..." and select messages to delete. However, when I do it second time, the Trash icon at the left bottom corner disappears. I need to restart my iPhone and it only works once. The Trash icon still disappears at the second time. How to fix?" -- Bama Breeze
While "can't delete text messages on iPhone" is annoying, there are a few simple solutions that will help you get back to deleting your messages easily. Some of them involve troubleshooting the old-fashioned way and some of them involve using third-party apps.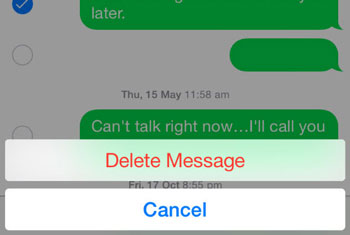 5 Tips to Fix "Can't Delete Messages on iPhone" Issue
The first thing you should try if you find that you can't delete messages on your iPhone 5/6/7 are these basic troubleshooting tips:
Tip #1: Kill and Restart Message
Before anything else, try killing the Message app so that the process has completely ended, and then open the app up again. This is different from just switching to another app and switching back; make sure that it is completely closed before launching it again. From here, check to see if you can delete your messages now.
Tip #2: Reboot Your iPhone
Sometimes rebooting your iPhone can fix a lot of problems. Occasionally, though, the problem of "iPhone 6 can't delete messages" will persist even after you have rebooted.
Software updates often resolve bugs from the previous version, so updating iOS might solve this issue. You can do this by going on your device and tapping Settings > General > Software Update.
Tip #4: Delete Any Non-Official Apps
If your iPhone is jailbroken, there's a remote possibility that non-official apps could be interfering with your iPhone. This isn't likely, but just to be on the safe side, try uninstalling them and see if your messaging works.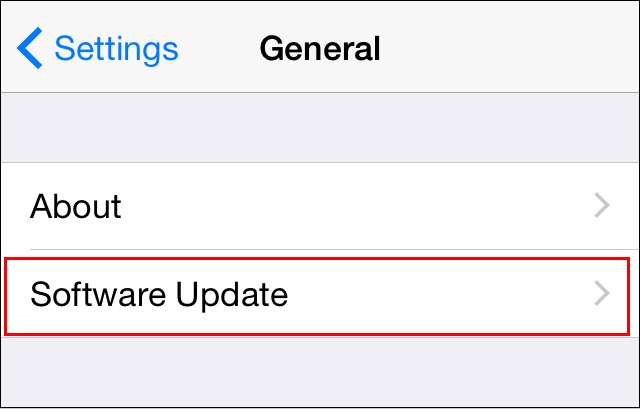 Tip #5: Wait it Out or Contact Apple
Finally, if nothing else works, the issue may be fixed in the next update, so you could just wait for that. Alternatively, you could contact Apple and try to get some answers now.
How to Permanently Fix "Can't Delete Messages on iPhone"
Except the tips above, you can also try iPhone data eraser which you can use to delete messages that iPhone cannot delete. What's more, the deleted data by iPhone data eraser is no longer recoverable. One of such great iPhone data eraser is iMyFone Umate Pro for Win/for Mac which can permanently wipe text messages from iPhone, and be the unique eraser to erase messages of third-party apps, like WhatsApp, WeChat, Line, Kik, etc.
Key Features:
Permanently Delete Messages: You can preview and select text messages to erase, which can make the unwanted messages 100% unrecoverable.
Erase Deleted Messages: Messages that you deleted by hand will be found out and completely erased even from hard drive.
Wipe 3rd-Party Apps Messages: This is the unique feature to completely delete WhatsApp messages & attachments, WeChat chats, LINE & Kik messages, etc.
Clear Message Cache: Clear all the junk, cache, crash logs and other useless files all at once for free. Message cache is inclusive.
Note: Even when iMessage is working correctly, did you know that if you delete your messages manually, that they can still be recovered with recovery software? This kind of spying software is easy for people to use, too, so just about anyone who wants to snoop on your private business can recover your messages.

How to permanently erase messages on your iPhone(including deleted messages)?
Step 1: Download and install Umate Pro.
Step 2: Open Umate Pro. Click Erase Private Data tab and click on "Scan." If you need to Permanently Erase Deleted Messages on iPhone, choose the Erase Deleted Files mode.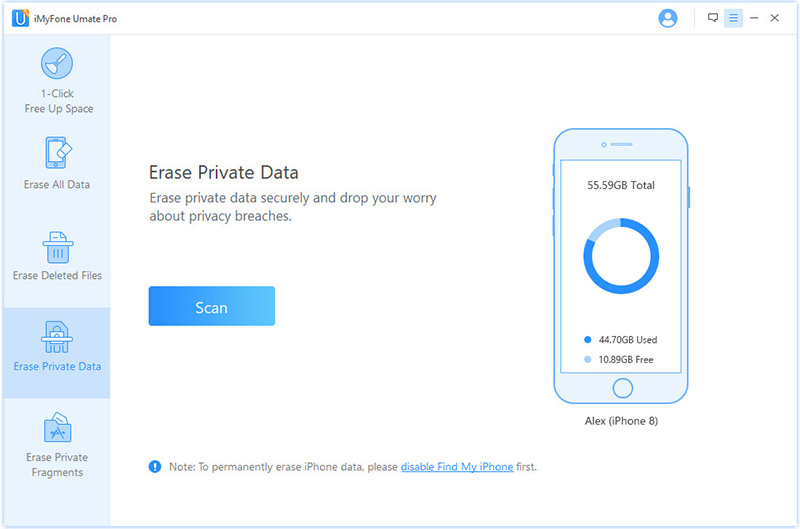 Step 3: After scanning, it will list all your messages. You can click to preview them. Select the data to delete and click the Erase Now button.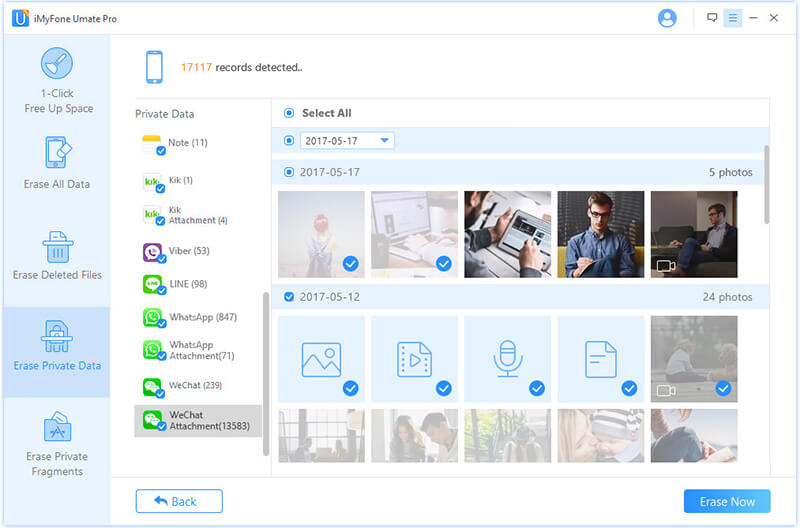 Step 4: Select the security level by typing "delete" into the box to confirm.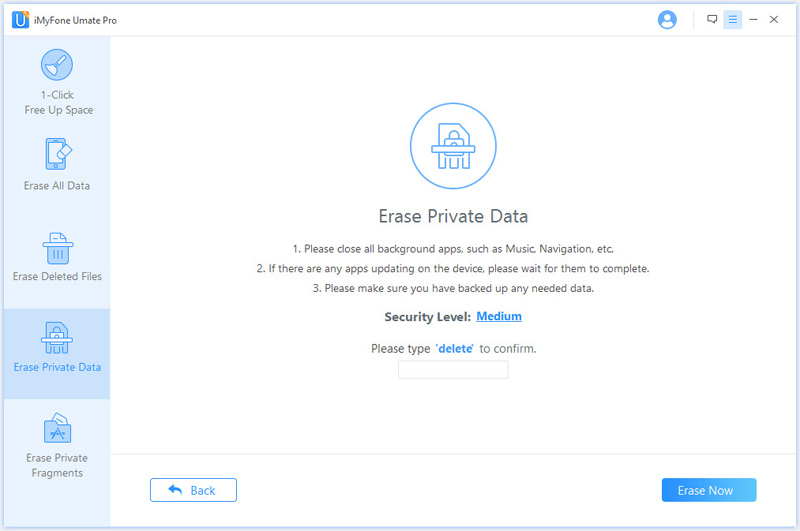 Step 5: After you manually type 'delete' into the box to confirm your action, then click the Erase Now button to erase your messages.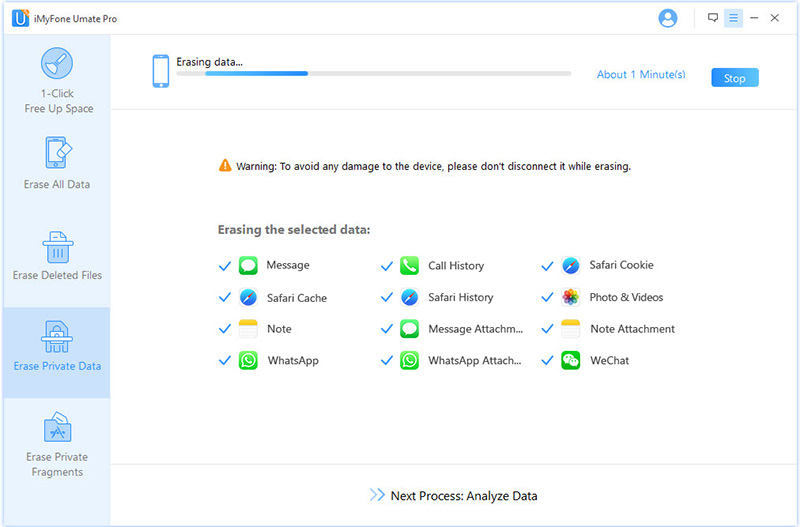 While you can try a few different troubleshooting steps to delete your messages manually on your iPhone when iMessage isn't working right, the best options is to just use iMyFone Umate Pro to fix "can't delete messages on iPhone" or to protect you from privacy leak by permanently deleting messages. It is easier, faster, and you have the added benefit of privacy.