Question
I sent a Kik message to my friend that I didn't mean to send, can I delete Kik messages from my device and also my friend's device?
Kik has become one of the most popular free messaging apps. Not only is it compatible with both iOS and Android devices, but their recent updates have added a lot of exclusively Kik emojis, chat bots which users can easily add to group chats, and even live video chat. One feature which Kik lacks is the ability to take back and delete a message that they had already sent, although, we're going to show you how to delete Kik messages on both phones, so let's get right into it.
Deleted Kik Messages Are Recoverable! Can We Make Them Unrecoverable?
Besides, I suppose you should know that, the Kik messages you deleted manually from your device are not gone forever, which means hackers can easily hack your deleted Kik data. This is why we recommend you the iMyFone iPhone Data Eraser which will permanently destroy the data you don't want from iPhone.
Key Features:
Erase Kik Data: "Erase Private Data" feature allow you to permanently delete Kik text messages, voice messages, video call and more from iPhone to be unrecoverable.
Wipe Kik Fragments: Try "Erase Private Fragments" to scan how many private fragments of Kik are left on your iPhone. You should be astonished! Don't wait to wipe them to secure your privacy.
Clear Kik Cache: 1 click to remove Kik cache and all the apps caches from iPhone (free trial).
Getintopc.com, MacWorld, APPKED, and 50+ more professional software review sites recommend it to all iOS devices users to secure private data, especially to those people who plan to sell or give away the device.
Just 3 Steps Away to Delete Kik Chats from iPhone Forever
Step 1. Your computer should have iMyFone iPhone Data Eraser installed. Let your iPhone connect to the computer.
Step 2. Choose the option to delete Kik data, like "Erase Private Data". Let it scan your iPhone.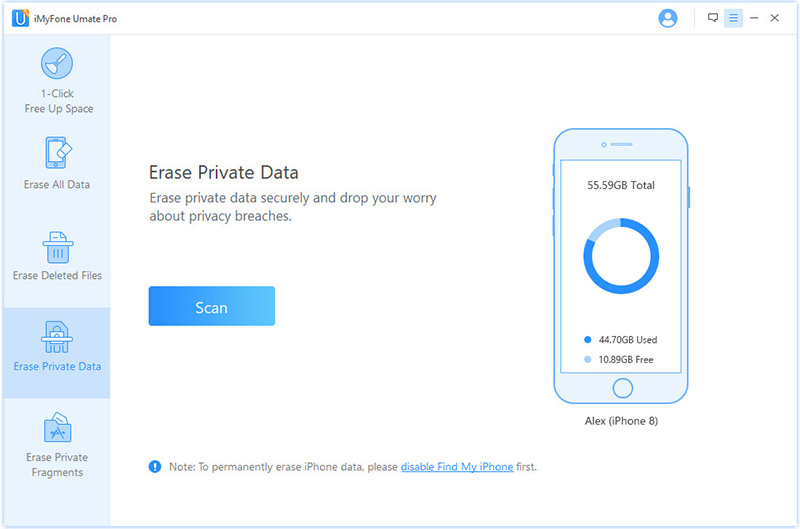 Step 3. All your private data on iPhone will be shown there. You can preview and select data to erase, like "Kik" and "Kik Attachments". If you want to delete saved Kik images, you can go to "Photos & Videos". Click Erase Now after you select the data.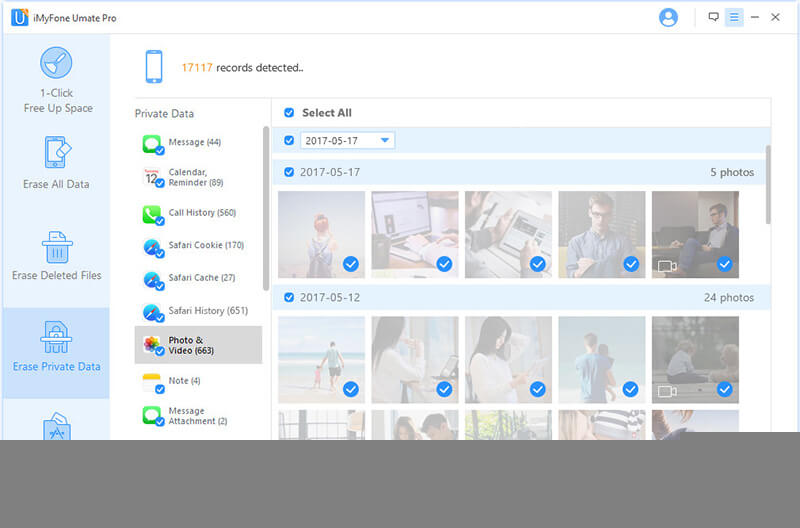 All in all, while you aren't able to permanently delete Kik messages on both ends, you can still use iMyFone iPhone Data Eraser to scrub them from your own iPhone and hope that whoever you sent them to doesn't save them – unless you have access to their phone, in which case you can use iMyFone Eraser to scrub your messages from their phone too.
Can We Delete Kik Messages from Another Phone?
The bottom line is no, we can't delete Kik messages from another phone unless you have physical access to it. When you send someone a Kik message it is stored within the app's cloud service and there's no way for us to remove it from cloud.
Now, one option that you do have is to deactivate your Kik account. By doing this, nobody will be able to message your Kik username, add you on Kik, and all of your chat messages will be "cached" for a few days until they are automatically deleted. This simply means that the messages can be viewed by the person that you sent them to, but after a few days, they'll be removed. To deactivate your account, follow the steps below.
On a computer, go to the Kik temporary deactivation page.
Enter the email address that is associated with your Kik account into the box, then click on "Go!".
Open your email's inbox and click on the link that Kik has emailed you.
To reactivate your Kik account in the future, simply sign back into it on your phone.
Conclusion
There are two deactivation options permanent and temporary and if you plan on signing back into your Kik account in the future, we recommend using the "Temporary Deactivation" option.