At one time or the other, you have been thrilled with videos from friends, and you have shared some of these videos as well. Sadly, the time has come to delete those cherished WhatsApp videos on your iPhone:
Perhaps, this is necessitated by the need to create more space on your iPhone.
Or some videos are so private that you cannot allow anyone to gain access to them when you need to fix a fault.
There could be other reasons as well such as when the videos are no longer needed and deleting them would be a better option. Whatever your reason is, you definitely want to delete those WhatsApp videos on iPhone permanently. But, how can you do this?
Part 1: Permanently Erase iPhone WhatsApp Videos (100% Unrecoverable)
If you want to delete WhatsApp videos or data from iPhone, choose the right tool iMyFone iPhone Data Eraser. This eraser can permanently delete private videos from WhatsApp, leaving no chance of recovery.
Key Features of iMyFone Umate Pro:
100% Unrecoverable: Erased data will be no longer recoverable by any tool or even FBI.
Selectively or One-Stop: Preview and select WhatsApp videos to delete, or erase them all at a time.
Erase Deleted Files: Deleted WhatsApp files which are recoverable will be scanned and completely destroyed.
Wipe Private Traces: Incomplete fragments left by WhatsApp, Snapchat, Facebook, and 10+ 3rd-party apps will be full erased for privacy protection.
Various Data Types: Support messages, photos, videos, docs, etc. of WhatsApp/WeChat/Kik/Viber/LINE and any other iPhone private data.
iMyFone is trusted by thousands of users (every year) and reported by well-known media around the world, getintopc.com, MacWorld, APPKED, etc.

The steps of using iMyFone Umate Pro to permanently delete WhatsApp videos on iPhone are quite easy, just follow these 3 steps.
Step 1: Run iMyFone iPhone Data Eraser on your computer and connect your iPhone to it. Just wait for the eraser to detect your iPhone.
Step 2: Click on "Erase Private Data" at the left panel and click "Scan". . When it finishes scanning, it will show you all the private data on iPhone, such as WeChat, Kik, Viber, etc.
Note: If you want to erase deleted WhatsApp data, choose "Erase Deleted Files" mode.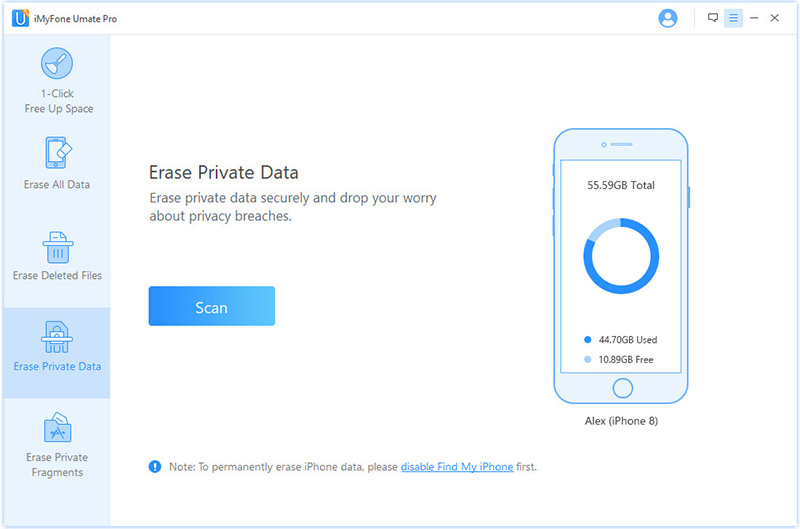 Step 3: You can preview WhatsApp videos, photos, docs, etc. in the "WhatsApp Attachments" or view messages in WhatsApp. Select the unwanted files and tap "Erase Now" button. Then confirm it to get started.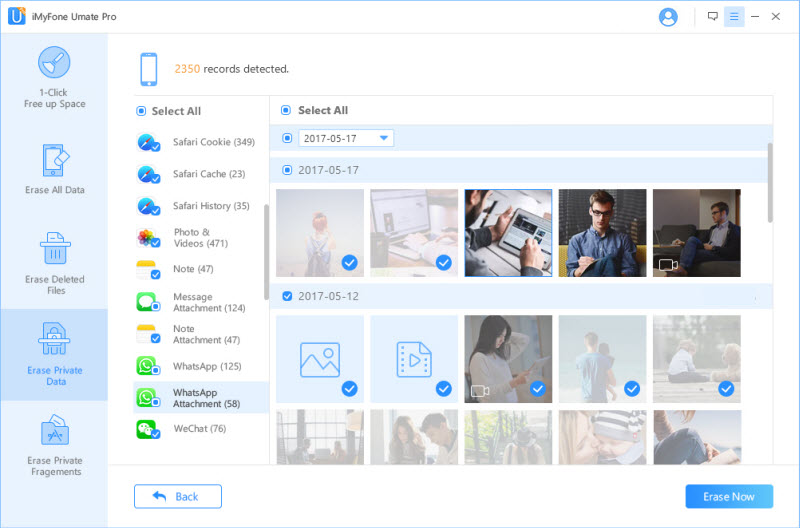 Part 2: 2 Manual Ways to Delete WhatsApp Videos from iPhone (Recoverable)
Way 1: Preview and Delete WhatsApp Videos Selectively
This method allows you to preview all the videos first, you can select just the unwanted videos to delete.
Open WhatsApp on your iPhone. Go to Chats tab at the bottom. Tap the chat where you want to delete videos from.

Tap the header in the chat window. There you will see "Media", "Links", and "Docs".
Your photos and videos in this chat will be displayed there. Those screenshots with an camera at the bottom left corner and showing the time duration are videos. You can click on the video to play it. (You can also tap the "Links" or "Docs" tab from the top to show related items.)
Tap Select button at the top right corner. Select the unwanted videos and click on the trash icon at the bottom right corner.
Tap "Delete X for Me" to confirm the deletion.
Using this way, you need to clear the videos from different chats one by one. There is no one-stop method.
Way 2: Delete All WhatsApp Videos at Once
This way below allows you to delete all WhatsApp videos from one chat all at a time. You get no chance to preview and select here.
Launch WhatsApp on iPhone. Tap on the Settings tab from the bottom.
Choose "Data and Storage Usage" and then "Storage Usage".
Choose the chat where you want to delete videos from. It will show you how much space has been occupied by this chat's text, photos, GIFs, videos, etc.
Click on "Manage..." and check "Videos" (you may also want to check "GIFs").
Click on "Clear" at the bottom and confirm it. When it's done, tap "Back" icon at the top left corner and repeat the actions for other chats if you need.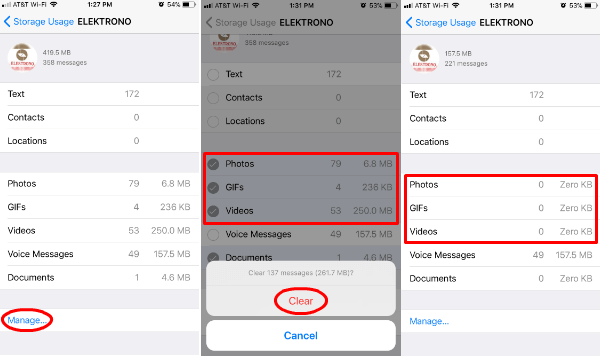 Note
Since there is no option to delete all unwanted WhatsApp videos at a time, it's time-consuming. Besides, the result is not completely clean, that means traces are left for the possibilities to recover deleted data. If you pay much attention to the privacy, it's bly recommended using the ultimate iPhone data eraser iMyFone Umate Pro. It's your best choice to wipe data and secure your privacy.
Part 3: How to Save More WhatsApp Storage on iPhone
Tip 1: Stop WhatsApp to Save Media to Camera Roll
You may not notice that all the WhatsApp media will be automatically saved to your camera roll. This setting is set up by default. However, you can cancel it.
Head to your WhatsApp on your iPhone.
Tap on the "Settings" tab at the bottom. Tap on "Chats" there.
If you find "Save to Camera Roll" is on there, simply turn it off.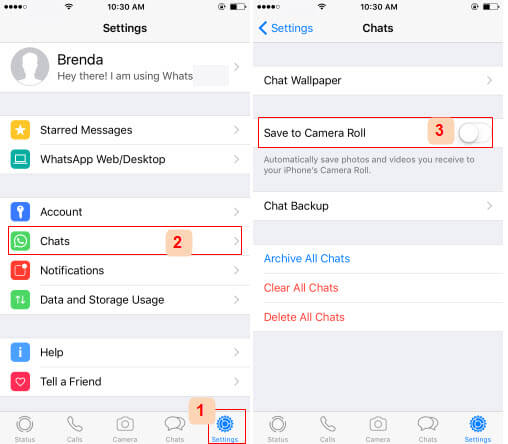 Tip 2: Clear WhatsApp Cache
WhatsApp storage space is occupied not only by messages, photos, videos, documents, etc., but also by useless cache, temporary files, corrupted files, etc. Cleaning the useless files won't influence WhatsApp performance but will keep your WhatsApp clean. Here is a video tutorial for you.
You can simply remove and reinstall WhatsApp to make it. But most of you may not like this way. So you can take advantage of iMyFone Umate Pro, it also works as an iPhone cleaner to save huge space. It's "1-Click Free Up Space" feature allows you to
Clear junks, caches, temporary files etc. and WhatApp cache is inclusive; It is for free trial.
Compress iPhone photos and this is surely going to reclaim over 75% of your photos storage space.
Mass deletion of apps/photos/videos that occupy unnecessary space
Export iPhone photos and videos to PC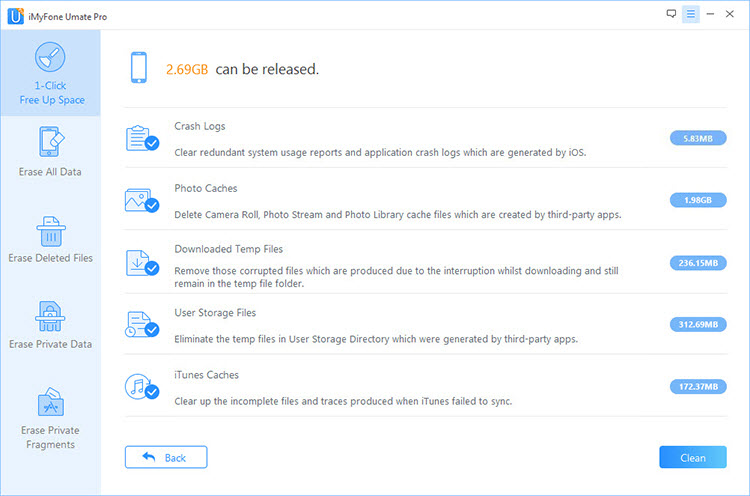 Using following steps to clean app cache on iPhone.
Step 1: Run iMyFone Umate Pro and connect your iPhone.
Step 2: Tap "Quick Scan" and it will start scanning your iPhone. Once done, it will show you how much space can be released.
Step 3: In this case, tap "Clean" button beside "Junk Files" or "Temporary Files". Just wait for it to clean your iPhone. It won't take long.
Final Words
The methods discussed would help you in everything you need to do with cleaning WhatsApp videos. Keep in mind that, as for those sensitive videos, you'd better permanently delete them without chance of recovery. You can take the advantages of iMyFone Umate Pro. It is worth trying!