Imagine misplacing your iPhone with important information that could get stolen in it? In this case, deleting your phone's data could be the only solution for you. You may know that if "Find My iPhone" feature is turned on, you can use Find My iPhone Erase function to remotely erase your iPhone data. So, this article will help you out on the right methods to use to erase iPhone data. Let's see how it going!
What's "Erase iPhone" Feature in "Find My iPhone"?
Erase iPhone is a feature in "Find My iPhone" that enables you to completely erase your iPhone data remotely. It is a great feature that can help you when your iPhone is stolen or gets missing. When you remotely erase your iPhone, activation lock remains on it to protect it. To reactivate the device, your Apple ID and password will be required.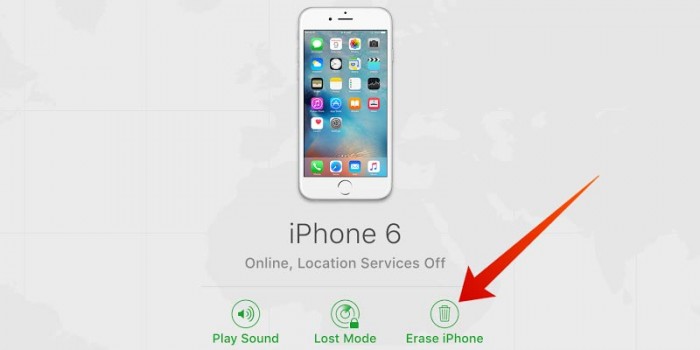 Can I Cancel the Erase?
Yes, of course Find My iPhone Erase function can be canceled. It operates only if your device is online. That is, if your device is offline, the remote erase will no begin until it's online. You can also send a cancellation request, if you find your iPhone before it's erased. To do this, you'll have to tap the device in the Devices list, then tap "Stop Erase Request", and enter your Apple ID password.
How to Use Find My iPhone Erase iPhone Function
Step 1: Sign in to "Find My iPhone" on another iDevice using your Apple ID.
Step 2: In the Device list, click on the device you want to remove its data.
Step 3: Click "Actions" -> tap "Erase iPhone" to erase your iPhone.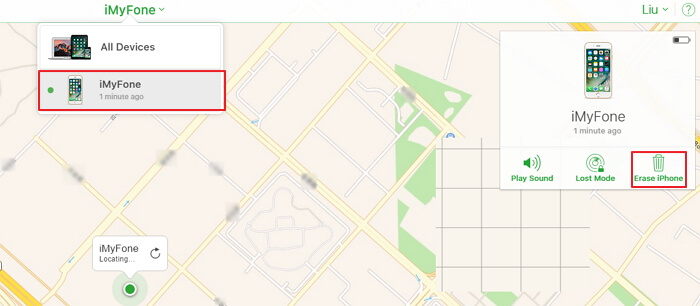 Note: Erase iPhone will take effect only if the iPhone is connected to the network.
How to Erase iPhone Data Permanently, 100% Unrecoverable
An alternative way to totally erase your iPhone data from "Find My iPhone" is to use iMyFone Umate Pro. It is one of the most effective software to erase all your personal data on your iPhone without leaving a trace.
In addition, when you use Find My iPhone Erase on your iPhone, the data won't be permanently erased. Hence, iMyFone Umate Pro is a better alternative to the first one earlier discussed. If your plan is to keep some vital information off the reach of bad people, then you should consider iMyFone Umate Pro.
Key Features:
iMyFone Umate Pro has lots of features which are much more convenient and fully functional than Find My iPhone Erase iPhone function.

It permanently erases private data on iPhone/iPad/iPod Touch.
It can erase all data without any recovery, such as messages, contacts, call history, photos & video, browsing data, etc.
It provides 100% wipe of 3rd-party apps: WhatsApp, WeChat, LINE, Kik, Viber, and so on.
You private data are secure when selling, recycling or donating your iPhone.
iMyFone Umate Pro Quick Erasing Steps
Not having any complicate operations as Find My iPhone Erase function has, iMyFone Umate Pro provides you the easiest way to erase all your iPhone data. Please follow the steps below:
Step 1Download and launch iMyFone Umate Pro, then connect your iOS device to your computer via cable.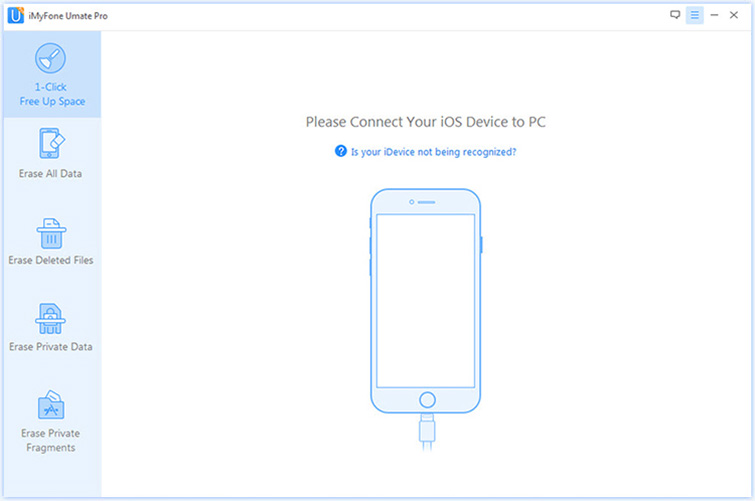 Step 2When your iPhone or iPad connects successfully, choose the "Erase All Data" tab, then click the "Erase".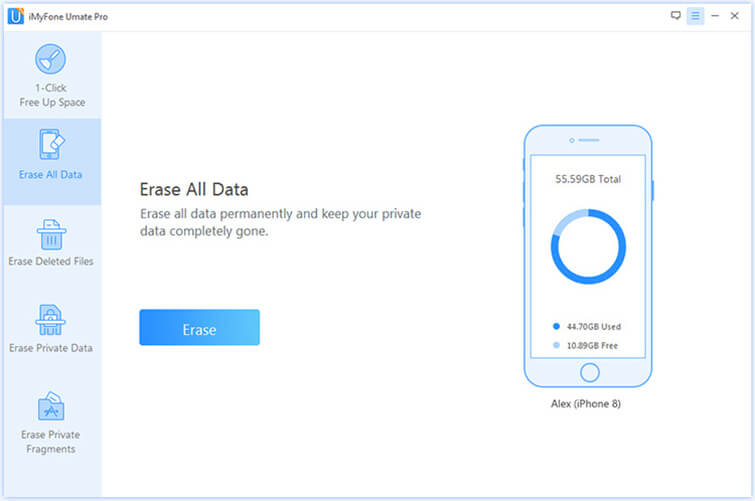 Step 3Select "Security Level" and you will be asked to type "delete" into the box to confirm.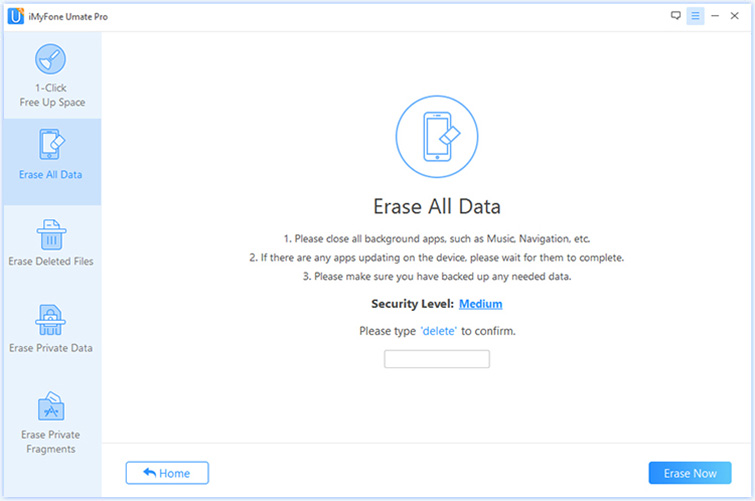 Step 4Click "Erase Now" button to erase all data on your device.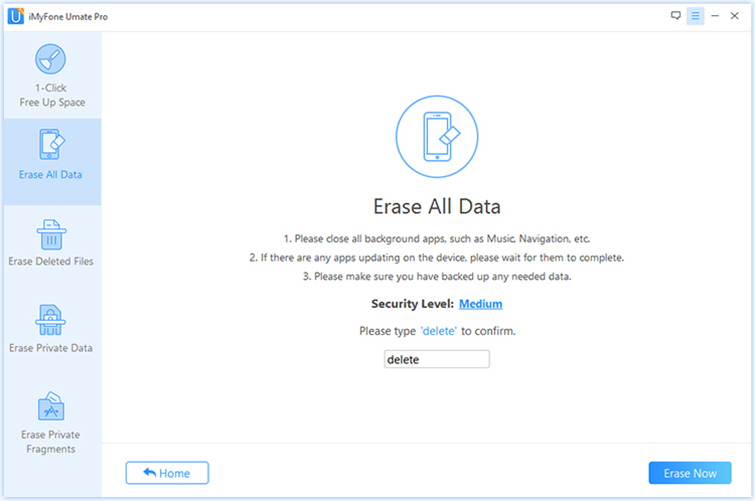 Extra Functions of iMyFone Umate Pro
The "Erase All Data" function of iMyFone Umate Pro is of powerful features. In fact, compared with Find My iPhone Erase function, iMyFone Umate Pro has other processional functions which meet the needs of different users.
1-Click Free Up Space - It is a function which can instantly delete all hidden junk files, trash, caches, temp files etc.
Erase Deleted Files - It can previously deleted data is actually still saved on the device without any recovery chance.
Erase Private Data - It provides a reliable solution to preview and selectively erase personal data like it never existed.
Erase Private Fragments - It can erase the incomplete fragments constantly stored by 3rd-party APPs.
---
In summary, if you've lost your iPhone, then it's cool to erase iPhone from Find My iPhone Erase function. But if you want to permanently erase your iPhone without worrying about someone stealing your important information, then iMyFone Umate Pro is the best tool for this job.