You can also read this guide in Français.
So far, iPhone's popularity has extended to every corner of the world. In recent years, Apple has added more and more useful functions to iPhone in order to enhance the user experience. The loyal Apple fans can't even live without iPhone. People's dependence on it has reached an unimaginable level. They use it to make phone calls, send messages, and search for information online.
As we know, iPhone can track everything you do on it, and this leads to some serious problems, such as privacy disclosure which wake users as a alarm bell. Now, Some users are looking for ways to clear recent actions on the iPhone, such as recent calls, private messages, or browsing history of web pages. So how to delete recent operation on iPhone? You may need a specifically designed software to clean up iPhone. Or you need an effective way to clear the operations on various iPhone Apps. Here are some methods for you to choose from. You can certainly find a solution to help you.
How to Permanently Clear All Recents/Histories on iPhone? (Unrecoverable)

There are many reasons why people need to delete recent histories on iPhone. Some may want to clear files to keep privacy safe before giving or selling iPhone to others while others may want to clean up their iPhone to release more space . Whatever it is, you need to find a reliable method to do that. It is not easy to permanent clear histories on iPhone. The best an safest way I want to recommend you is iMyFone Umate Pro or iMyFone Umate Pro for Mac. As the world's number one iPhone iOS 15/14/13 cleaner and privacy protection tool, it is specially designed to delete various histories and cache.
Umate Pro helps Clear Recent/All Histories:
Clearing all Current Histories: It clears all your current histories like recent safari history, messages with ease with the utilization of just one touch clean up mode.
Clear all Previously Deleted History: For example, if you have deleted your call history, safari history, messages or other files manually, that is not enough. Umate Pro has the ability to fish them out and erase them permanently.
100% Unrecoverable: Umate Pro erases data leaving it 100% unrecoverable even if the most modern data recovery tools are used. Therefore, using it to delete your call history renders it irrecoverable and this is good for your privacy and data security.
Few Steps to Delete Recent/All Histories with Umate Pro:
Step 1: Run the program on your PC and connect your iPhone iOS 15/14/13 to it via a usb cable.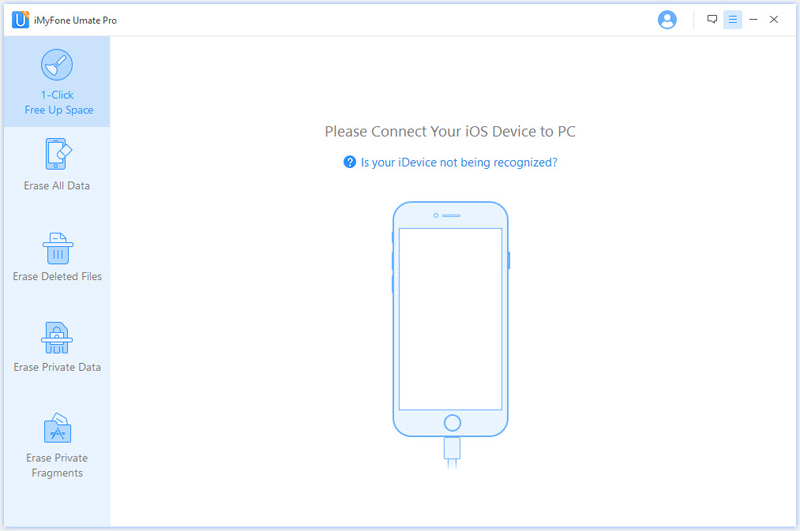 Step 2: Choose the Erase mode for the clean up, to erase iPhone histories, you should choose "Erase Private Data" or "Erase Deleted Files".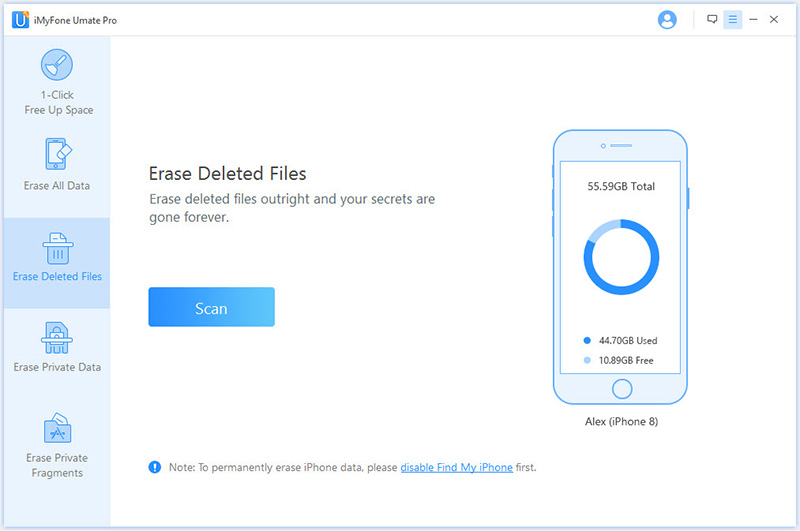 Step 3: Click "Scan" and wait for it to scan your iPhone files.
Step 4: After that, choose the files you want to clear like call history, recent messages, recent safari history and then click on "Erase Now" button to erase them permanently.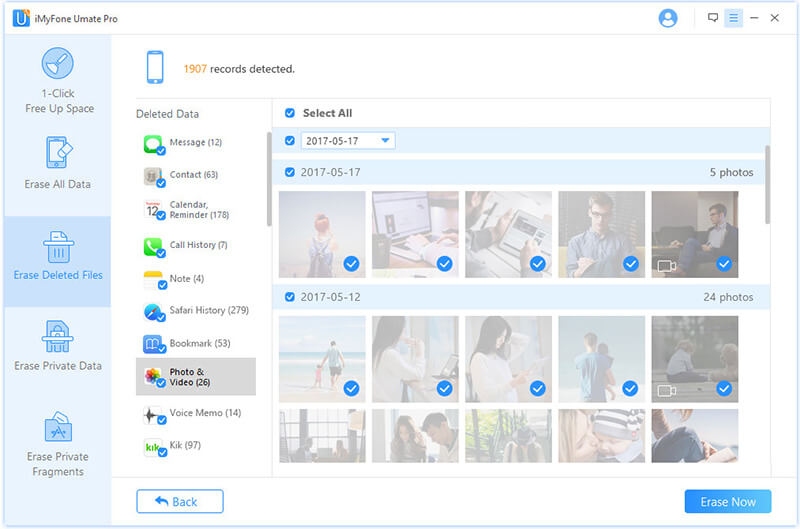 Umate Pro is fully compatible with iOS 15/14 and receive lots of positive reviews from macworld.co.uk, Makeuseof.com, Cultofmac.com etc.
Other Key Features of the Umate Pro:
The Umate Pro boats of other important key features and that is why every iPhone should have it
Erases app junk files like caches, cookies etc
Erase deleted messages, photos , videos, Whatsapp messages and temporary files
Erases all data permanently without leaving a chance of recovery
Erase Private iOS 15/14/13 data
Preview and Selectively Erase private files
Backup and delete photos and videos
How to Manually Delete Recent Call History on iPhone? (Recoverable)

You can manually clear call history from iPhone but it's not secure for your data. Unfortunately using this means will not clear your call history permanently because they can be recovered using top data recovery tools.
Therefore, for privacy protection and security reasons, using the common way to clear your call history is not enough and hence will require a better method which we will see next. Clearing your call history using the common method will involve deleting it from your phone app using the following steps:
Step 1: Go to Phone App, it will automatically show you all the recent call history. If it isn't, click "Recents". Tap on the "Edit" button on the upper right corner.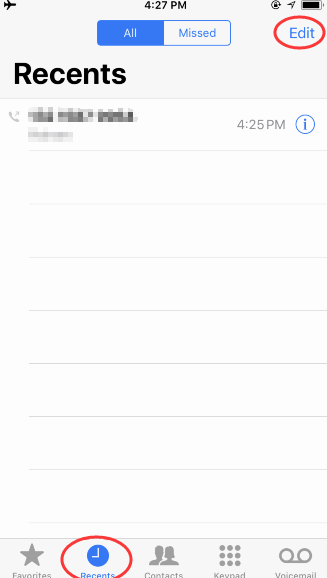 Step 2: Then tap "Clear" on the upper left corner.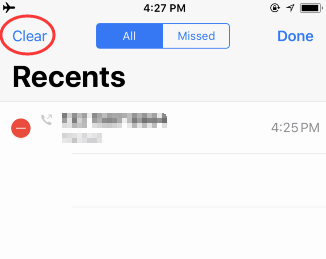 Step 3: On the pull up options, select "Clear All Recent" to confirm.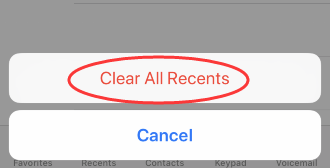 How to Manually Clear Recent Contacts on iPhone? (Recoverable)
1. Hide Recent and Favorite Contacts from the Multitasking Screen
Your favorite and recent contacts can also be found in the iPhone/iPad Multitasking Screen. Double-click the home button and you can see them at the top. But what if you don't want your contacts to appear there? What If you want to keep your personal contacts from being peeped? Fortunately, you can turn it off!
Step 1: Go to your iPhone Settings app.
Step 2: Tap on "Contacts, Mail and Calendars".
Step 3: Then tap on "Show In App Switcher". You can find it right under the contacts session.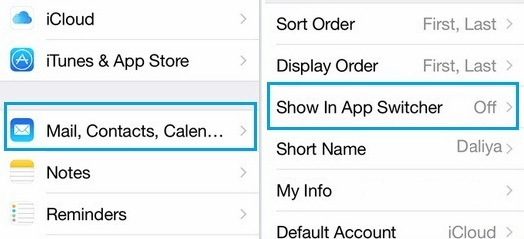 Step 4: Toggle Off the options for "Recent" and "Phone Favorites".

2. Remove Recent Contacts from Your iPhone's Messages App
At the point of typing text messages, typing the first letter of the name in the "To" field will bring out recently contacted lists and the current list and unfortunately the list could be occupied by some unwanted contacts. This slows down messaging but there is a way to clear these unwanted contacts from recent lists as seen below.
Step 1: Open your message App on iPhone. Firstly, click to create a new message.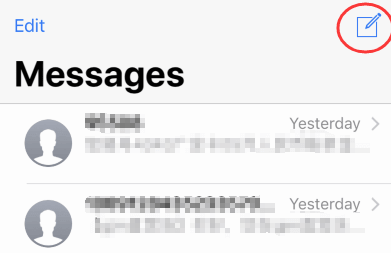 Step 2: Start tying a message with the letter of the alphabet you want to remove.
Step 3: Look for the contacts that has the "i" symbol to the right.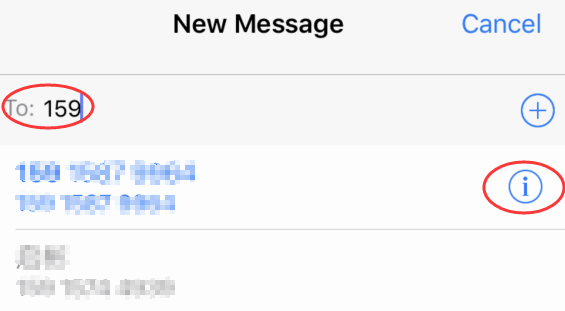 Step 4: Click on that symbol, when it show you the new interface. Choose "Remove from Recents".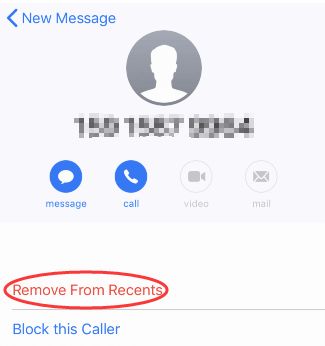 This solves the problem and you have to repeat the process for other unwanted contacts you want to remove.
How to Manually Delete Recent Safari Search History on iPhone (Recoverable)

Your iPhone Safari stores a lot of data about what you have searched. Usually this makes things easier for you, you can track down a website you've visited when you want it next time. But if you're worried about someone seeing something private on your Safari, you can clear the history. Easy steps like below:
Step 1: Open the Settings app. Clearing your history through the Settings app will ensure that everything is deleted.
Step 2: Scroll down to find and tap "Safari".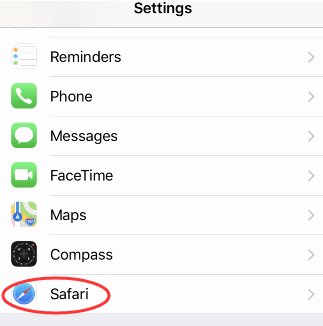 Step 3: Scroll down again in the Safari menu and find "Clear History and Website Data" Tap on it without hesitate.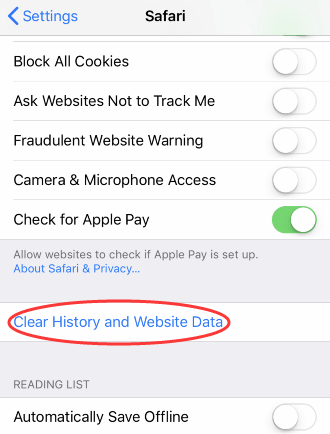 Step 4: On the pull up options, just click "Clear History and Data" to continue. Your Safari browsing history, cache and cookies will be deleted.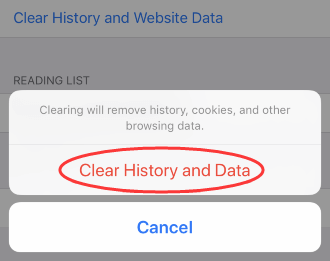 You should know that delete Safari histories from iPhone directly may not clean them completely. It can be recovered with professtional software. So I we suggest you to use iMyFone Umate Pro to delete recent safari search history on iPhone. It makes sure that these safari history won't be recovered anymore. Click the button below and have a try.
How to Manually Clear Recent Search History and Destinations in iOS Google Maps (Recoverable)
Most people will not like their search and destination history to get snooped in map and that is quite understandable. However, if that is the case, the following steps should help you delete recent search and destination history in Maps.
Notice: Once you delete your search history, it's gone forever.
Step 1: Open Google Maps on your iPhone or iPad.
Step 2: Tap the "Menu" button (looks like three stacked lines).
Step 3: Then Tap "Settings".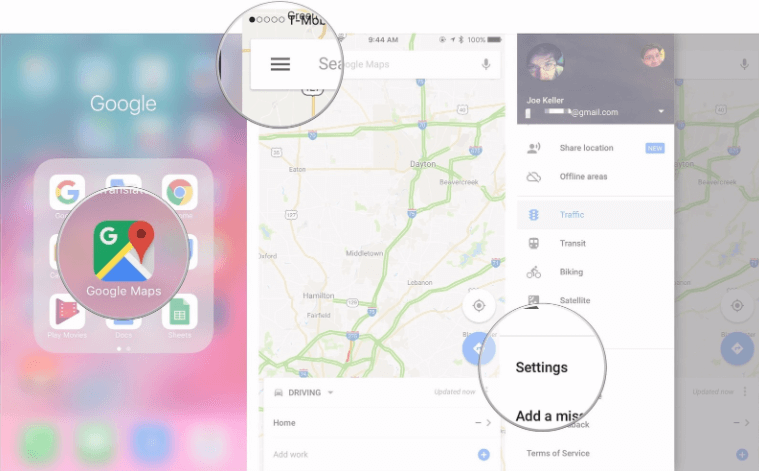 Step 4: Slide down to find the "Maps History" option. When you can see your maps history. Tap the "x" next to the item that you want to delete.
Step 5: At last, just tap "Delete" to confirm.