A look into internet searches will reveal a high number of people looking to know the best way of erasing iPod Touch. This is not surprising because iPod can develop a fault and you may need to erase it so that you can continue to enjoy your favorite music. Also, if you are going to sell your iPod Touch or you want to give it out, it may be necessary to erase your personal contents on iPod Touch. But, how to erase your iPod touch?

How to Erase iPod Touch with/without Password (iOS 14 Supported)
How to Completely Erase iPod Touch
The first way to erase iPod Touch is using a professional software. iMyFone is the right tool that can erase various iOS data on iPod Touch, both erasing all data and erasing just some files are accessibile. And you really need it if you want a tool that can erase and reset your iPod with no chance of recovery. Whats's more, you won't need to active your device after erasing your iPod Touch with iMyFone Umate Pro (also work for iOS 14).
iMyFone Umate Pro is strong and reliable, and it will do just what other erase tools out there cannot do. You can use iMyFone Umate Pro to erase permanently any file and the three modes below aptly explain what you can with Umate Pro.
Erase Deleted Files: This gives you the option to erase your previously deleted files permanently. Any content deleted with this mode cannot be recovered. There is absolutely no chance of recovering even with latest recovery tools.
Erase All Data: It helps to erase all data completely from your iPod, just like reset your iPhone, but you won't need to active again your iPod Touch this time. This feature should be applied if you want to give the iPod out or sell it.
Erase Private Data: This is another option you can use if you want to delete a particular file from your iPod. This mode will destroy the personal file you selected with 100% unrecoverable.
How to Erase iPod Touch with iMyFone Umate Pro (iOS 14 Supported)
Step 1:Run iMyFone on your computer and connect your device to the PC with a cable.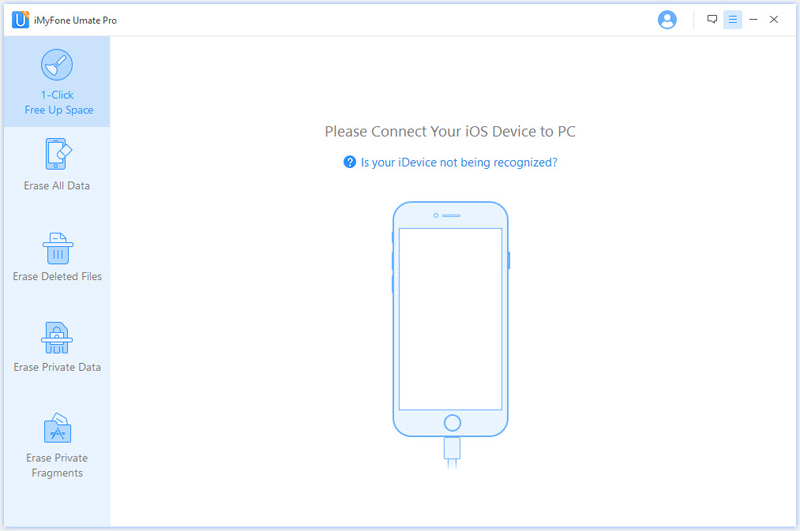 Step 2: Select applicable erase mode and scan your device.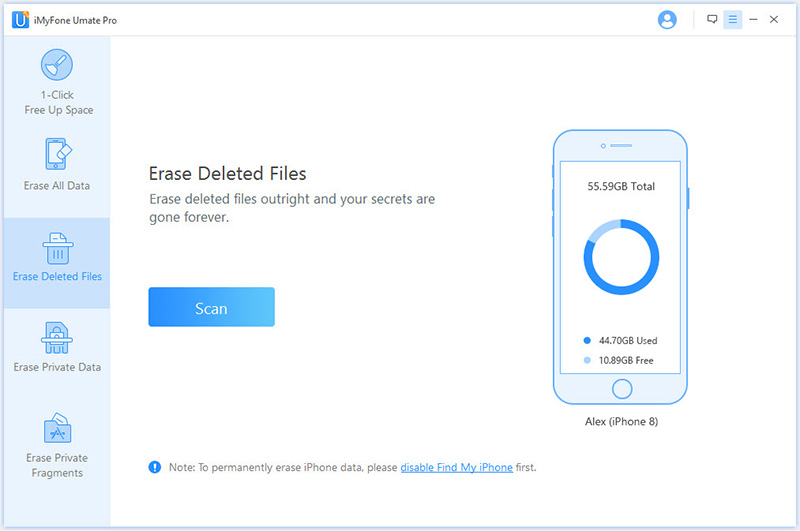 Step 3:When the scan analysis appears, click on a file to be deleted. Then click "Erase Now".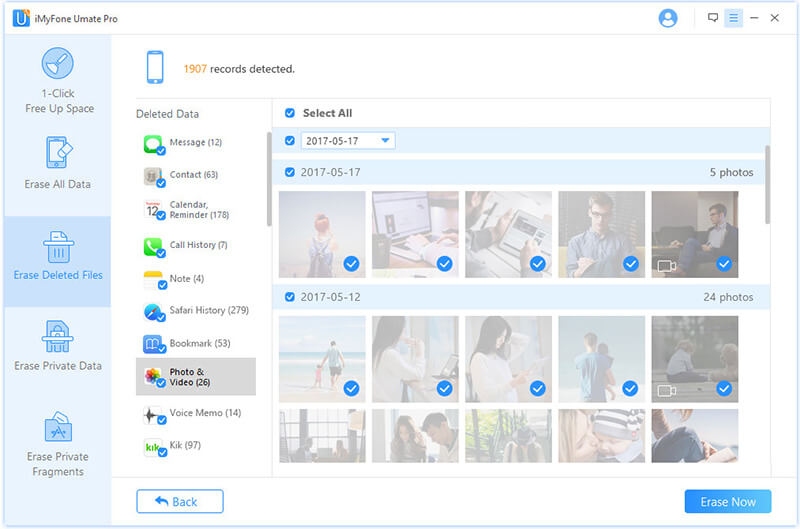 Step 4:Type 'Delete' into the box that appears and confirms your intention. And the file will be permanently erased.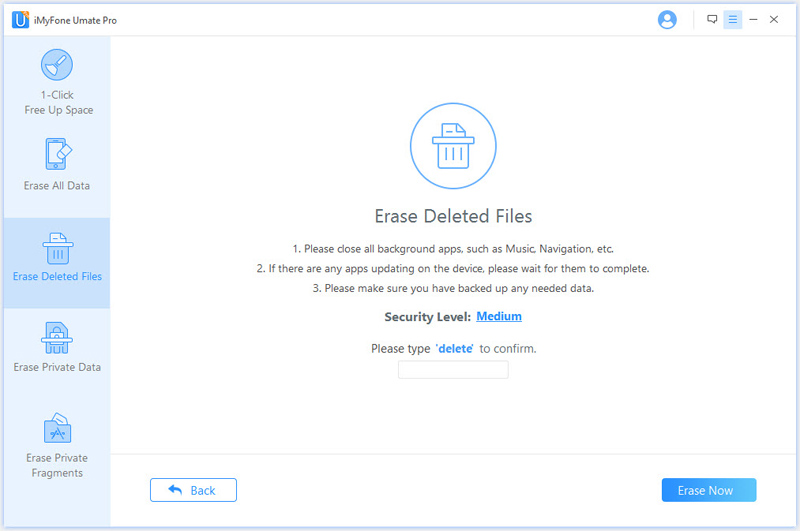 Advantages of Erasing iPod Touch with Umate Pro
Support All iOS Files: Umate Pro supports all files on ios device.
Completely Unrecoverable:Once a file is erased, it cannot be recovered again. In the case of iPod, all music and other contents you erased cannot be recovered once iMyFone is used.
Preview and Choose: The software also gives you an opportunity to preview a file and choose any erase mode that applies. It is not possible to delete by accident.
Erase Current and Previously Deleted Files: iMyFone can delete previously deleted files. It can also be used to erase a current file permanently.
Easy to Use: You can easily master how to use Umate Pro. It has no complexity. It has a detailed guide as well that new users can follow to delete files.
Steps to Erase iPod Touch with Password
Connect iPod Touch to your computer.
Launch iTunes.
You will be asked for a password. Give it.
If the password is correct, iTunes will sync your device and make a backup.
When the sync and backup are completed, click Restore.
You have successfully erased your iPod.
Steps to Erase iPod Touch without Password
Launch iTunes on your iPod device.
Connect the device to your computer with a USB data cable.
Press and hold down the "Home" key and the "Power" button on your iPod Touch.
At this stage, the screen will go black and the device will powers off.
Now, release the "Power" button, but continue to press the "Home" key down.
A prompt will open in iTunes, asking if you want to restore your iPod Touch.
Click "Ok" and your iPod will be erased.
Note
This methods will help erase your iPod Touch either with or without a password. However, resetting iPod Touch will erase all data on your iPod, but what if you just want to erase several personal files for privacy protection? And you need to active your iPod again after resetting it, and there is the possibility that we cannot active the iDevice successfully again.