Many iPhone users enjoy the many features the Apple company provided them. However, your device can go dead suddenly. What will you do in this case? Of course, you would not want to throw away your iPhone quickly without getting your data off it. So, how to get data off a dead iPhone? Let's check!
Situation 1

If The Dead iPhone Can Still Be Connected to iTunes
#1. Use Umate Pro to Get Data Off Dead iPhone
If your dead iPhone are still able to connect to iTunes, this is great. You can easily get your data off the dead iPhone by using iMyFone Umate Pro or iMyFone Umate Pro for Mac - powerful software that makes your task easy.
Using Umate Pro can help in various ways when your device is dead. You have options as to what you want to do regarding the data on your iPhone. If you want to retrieve them and keep using the data, Umate Pro will allow you to do that. The software can get those data and place them on your computer for your use. But, like we said, you have other options to choose from.
1

If Not Need The iPhone Any More
Do you still need your iPhone or you no longer need it? If you feel that you do not need it, you should make sure that all the data are erased using Umate Pro "Erase All Data".
This is important because you need to get all data off your dead iPhone for protecting your privacy. Do not think that someone cannot recover your data when your iPhone is dead. You should ensure that all data are permanently erased and are unrecoverable.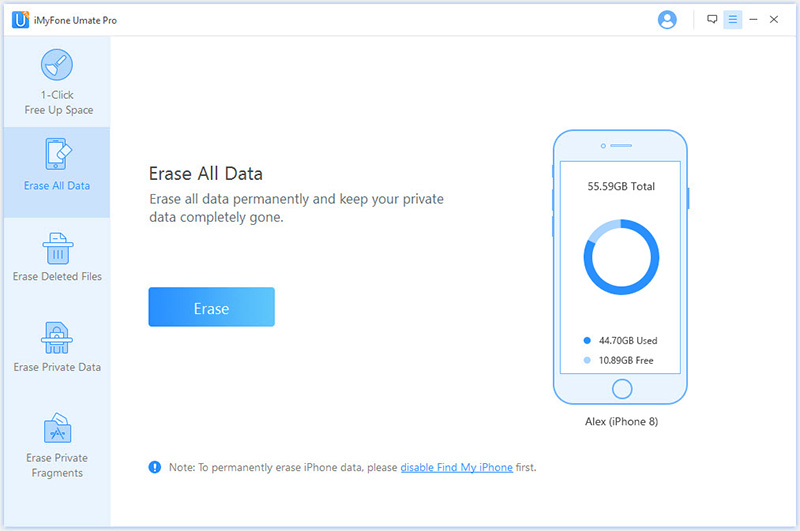 2

If Still Want to Keep Your iPhone
On the other hand, if you still want to keep your iPhone, Umate Pro gives options to select erase mode that matches your intention. You may choose "Erase Private Data" or "Erase Deleted File" modes of Umate Pro to get rid of sensitive data so that no one gains access to them.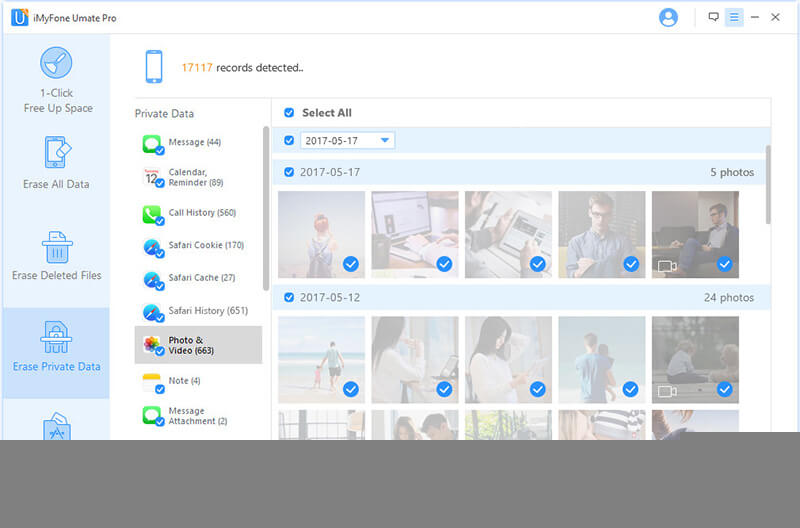 3

Get Back Meaningful Photos & Videos
In addition to the above, Umate Pro "1-Click Free Up Space" mode enables you to transfer your photos and videos from your dead iPhone to your computer. You can also delete them or back them up to your computer for future access. So, this means that you have nothing to worry about regarding the safety of your photos, videos, and large files. Umate Pro can help preserve, delete, or transfer them to safety.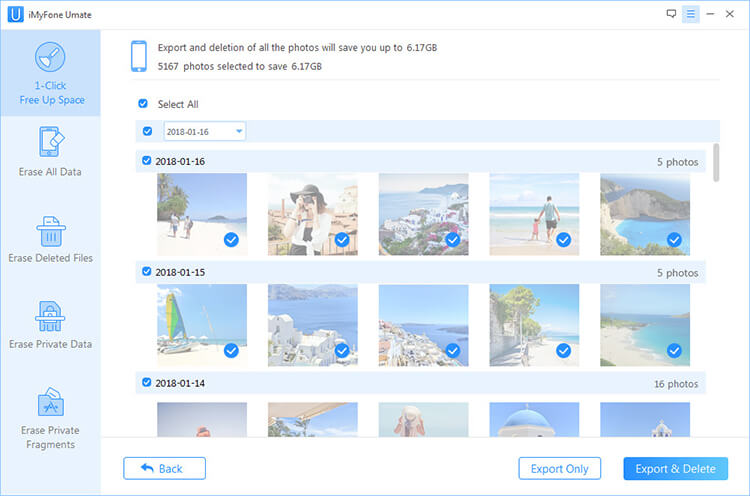 4

Get Data off Dead iPhone with iTunes
Step 1: Open your iTunes on the PC that you used to back up your iPhone.
Step 2: Use a cable to connect your device to the computer.
Step 3: Select iPhone touch when it appears in iTunes.
Step 4: Choose Restore Backup in iTunes. Your device will be restored.

Using steps of Umate Pro
First download the software to your computer to begin using it.
After Umate Pro is installed, connect your dead iPhone to your computer system via a cable.
You will be presented with erasing modes. Choose.
After this, your device will be scanned.
After you see your scan analysis, click on the file you want to erase.
Select "Erase All Data" and tap on Erase.
You will be prompted to confirm the deletion. Type Delete.
That is all.
Advantages of Umate Pro
100% Unrecoverable: Once you apply Umate Pro to erase anything from your dead iPhone, you or anyone cannot recover it.
Erase Deleted Files: Deleted files might seem gone, but until you use Umate Pro to erase them, you are still exposed to privacy leak. This is because somebody can recover your deleted files with a recovery tool. So, Umate Pro ensures that your deleted files are permanently erased.
Preview Data: You can also preview your files, data, photos, etc. before you erase them. If your iPhone is dead, Umate Pro will enable you to view your files on your computer screen.
1-Click Photo and Video Transfer: As the name suggests, you can transfer photos and videos in just one click.
Situation 2

If The Dead iPhone Cannot Be Connected to iTunes
Wipe Data from Dead iPhone with iCloud
Step 1: On iCloud.com, locate My iPhone.
Step 2: Select All Devices, and then choose the device you want to delete.
Step 3: Click Erase and you are done.
---
Situation 3

Tips to Fix Your Dead iPhone

You can use the following three methods to fix your dead iPhone.
Reboot: You can bring your dead iPhone to life by rebooting or restarting it. Simply press and hold the Sleep/Wake button down. Then slide it across to off it. The same process will turn the device back on.
Rice Solution: If your iPhone dropped in water and went dead, open it as fast as possible and stick it in a bag of rice for 12 hours before turning it on.
Fix with iTunes: Upgrade to the latest version of iTunes and connect your iPhone to your computer. Select iPhone when it appears under "Devices." Click on Restore from the Summary tab.