Are you worried about your most private pictures not getting completely deleted from your device? Well, you should be. The good news, however, is that with the aid of an advanced permanently deleting application, you can be sure of having all your deleted pictures permanently gone from the phone.
How to Permanently Delete Photos from iPhone(Unrecoverable)
There are several reasons which might prompt want to permanently delete photos from iPhone iOS 12/11/10. You might be looking to sell the phone, gift it out or recycling it. In order to prevent whomever the phone eventually lands with, from recovering and accessing your deleted photos, it is always best to make use of iMyFone Umate Pro for Windows or iMyFone Umate Pro for Mac, to ensure that a proper erasing has been done. It is an iPhone erasing tool for cleaning iPhone data permanently without any chance of recovery.
The features of iMyFone Umate Pro
It ensures that your iOS data such as; call history, contacts, photos & video, browsing data etc, is permanently wiped with zero percent chance of recovery.
It can help you erase all data from your iPhone when you need a complete factory reset.
It erases already deleted files from the iOS to confirm the deleted files gone forever.
It also ensures that all 3rd-party apps such as; Viber, Kik, WeChat, WhatsApp etc are wiped 100%.
How to permanently delete photos form iPhone using iMyFone Umate Pro:
Step 1: Connect Your iDevice to PC
You need to connect your device to a PC and launch the iMyFone App.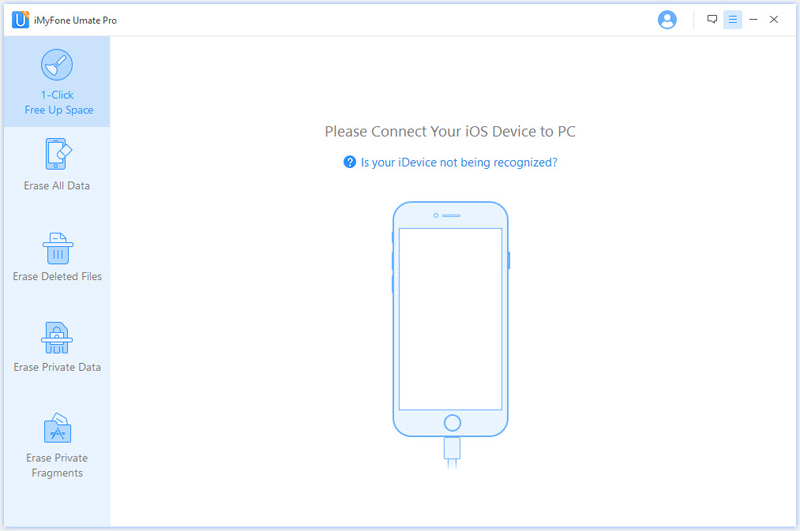 Step 2:Choose Erase Mode and Scan
Once the dashboards open, click on the Erase Private Data tab and scan.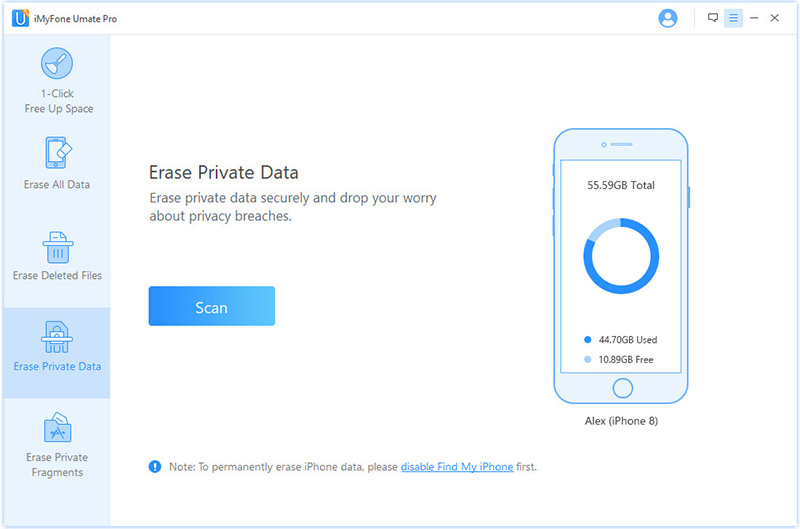 Step 3: Preview and Select Data
A list of all your private data will be shown and you get to delete the one you want permanently.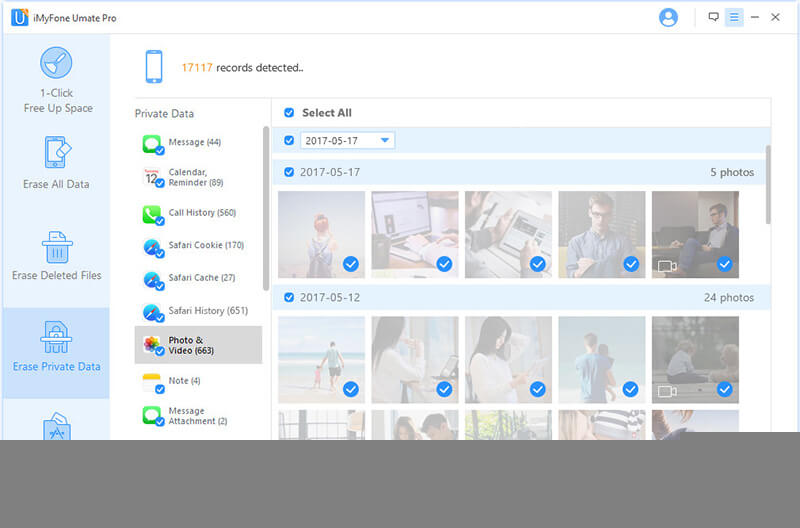 Step 4: Select Security Level and Confirm
The next step is to select the security level, after that you can then type in "delete" into the provided box.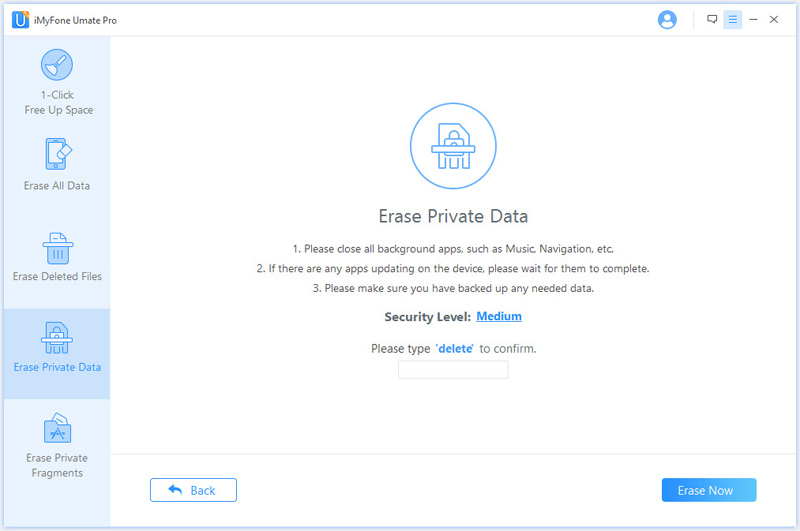 Step 5: Start to Erase
Once you type in "delete" into the tab, you then have to click on the "Erase Now" button for erasing to commence.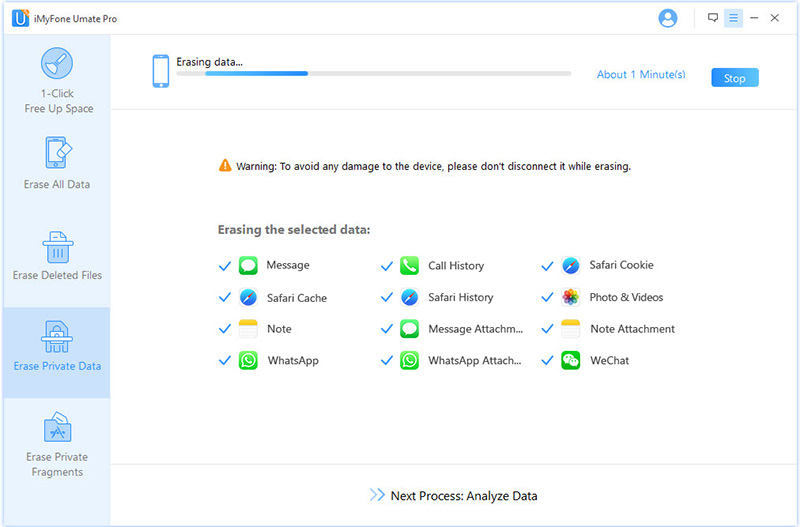 Note: After the process finished, you have permanently delete photos from iPhone iOS 12/11/10. Please not that your devices need to be connected to the PC throughout this process.
What Else Can iMyFone Umate Pro Do For You
Free up space:
The products can help you free up space on your device by simply getting rid of junk files and fragments of 3rd party apps on your iOS device. The deleting of these garbage and junk files will allow your iPhone to run at better speeds.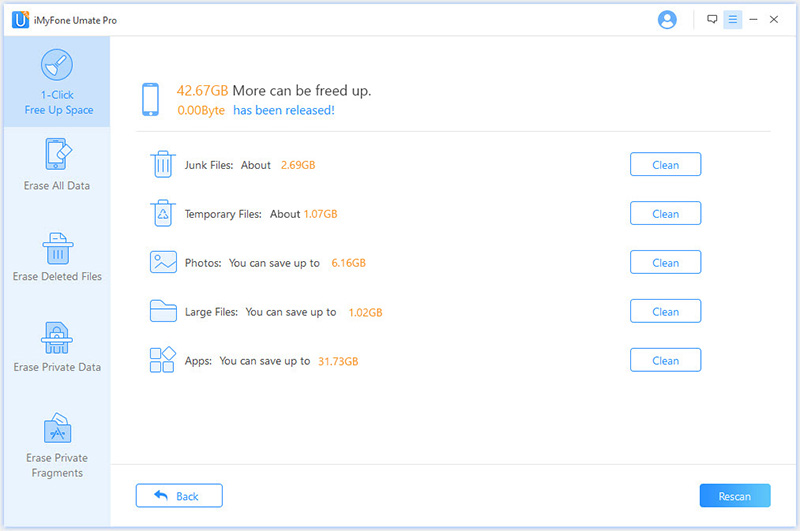 Erase deleted files:
Just deleting a file on your device is not always enough to get things permanently deleted. The file software has features that make it possible to totally remove an already deleted file from the iPhone. With this feature, you are no longer at risk of losing your most important data.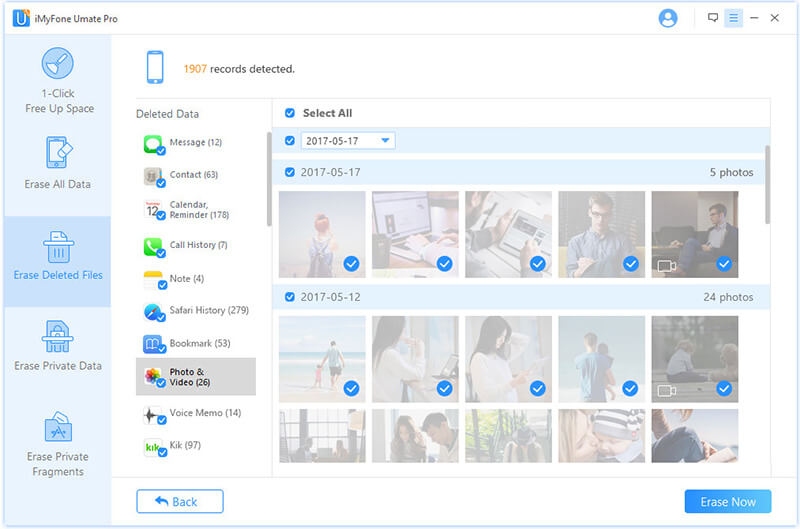 Erase third-party apps: messages, fragments:
Third party messages are usually found even after uninstalling them from the phone. Although encrypted, these third-party apps can be really effective when it comes to storing files for a long term. This way, the files can be easily recovered by someone who knows how to work with it.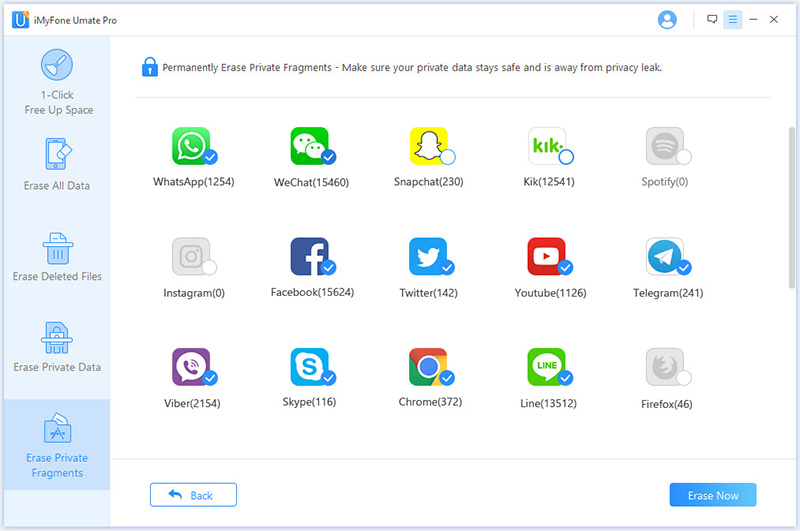 How to Permanently Delete Photos from iPhone(Recoverable)
You might decide to delete a picture from your iPhone simply because you are done with it, or maybe you are trying to hide it from getting viewed by people you do not trust. Learning how to permanently delete pictures from iPhone, is quite easy. The process follows the normal process accustomed to most mobile devices.
Step 1: You need to power on your device or unlock it.
Step 2: Locate the gallery icon on the home screen of the phone.
Step 3: Click on the gallery icon and enter the gallery dashboard. This is where you will find the bulk of your images.
Step 4: Press hard on the image you plan on deleting.
Step 5: Click on the delete button.

Note: However, deleting photos directly from your iPhone is just to delete them from your sight; they are still existed on your storage and can be recovered. So you may better erase them with professional tool to permanently delete photos from iPhone.
---
Whatever your reason for wanting to delete your iPhone photos or other sensitive files on your device, with the help of software like iMyFone, you can be sure of doing exactly what you intended.