While iPhone viruses are rare, the iOS isn't immune to them and is still vulnerable. If your iPhone has been acting weird lately and you suspect that this is because of a virus or malware, then it is recommended that you take measures to get a virus off your iPhone. 
How to Remove Virus from iPhone?
Following are some ways to remove virus from iPhone:
Factory Reset
The easiest way to get rid of the virus is to factory reset your iPhone. Factory resetting will remove all your data, including the virus from your device. Although it is an effective way to get rid of the virus, it should be done as a last resort because your data is wiped in this method and without a backup, you won't be able to restore it. Follow these instructions to reset your iPhone:
Open Settings app.
Navigate to Settings > General > Reset.
Select Erase All Contents and Settings and then input your passcode to start the reset process.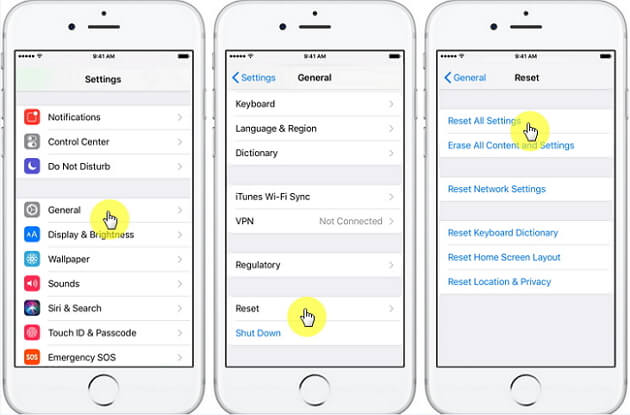 Clear History and Website Data
Increased pop-up ads is a symptom of virus in your iPhone. If you are being redirected to other pages and seeing a lot of pop-ups lately on your Safari browser, then it may be due to the presence of the virus or malware. In this case, it is recommended that you clear history and website data from the browser to remove virus from iPhone. Follow these instructions to clear history and website data:
Open Settings app.
Navigate to Safari > Clear History and Website Data.
Then select Clear History and Data to confirm your action.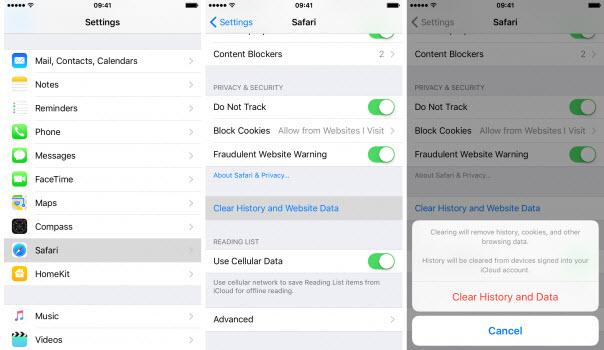 Power Off and Restart
Sometimes restarting the device is enough to clear the RAM of your device and stop the unwanted background processes, including the virus. Follow these instructions to restart your iPhone:
Press the power button of your iPhone until the screen changes. You will see a slider on the screen prompting 'slide to power off'.
Now use the slider to power the iPhone down.
Once it is completely switched off. Use the power button to boot the device.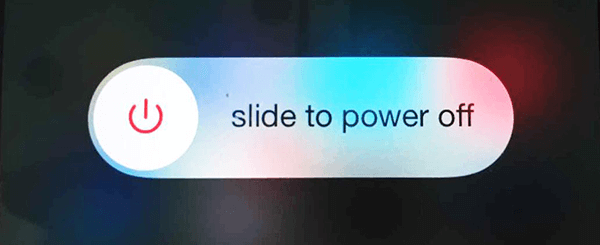 Delete App Suspected of Containing the Malware
Most viruses spread through third-party apps in your iPhone. If you suspect an app misbehaving lately e.g. it is taking a lot more resources than usual, increasing your data usage drastically, or causing battery drain, etc., then it might be because the app is infected with malware. In this case, it is recommended that you delete/uninstall that app from your iPhone.
Restore Your iPhone from a Recent Backup
If you back up your iPhone regularly, then it will be quite easy for you to get rid of the virus on iPhone. You simply need to restore your iPhone to the most recent backup that doesn't contain the virus. If restoring the backup does not remove the virus, then it means your iPhone was infected at the time of creating that backup. In that case, you will need to restore from the second most recent backup. You will need to use iTunes for this purpose.
Step 1. Connect your iPhone to computer and launch iTunes.

Step 2. Select This computer and click on Restore Backup.

Step 3. Then choose a backup and click on Restore.
Upgrade iOS
Firmware updates bring security patches that protect the device from virus or malware attacks. If you haven't upgraded your iPhone's firmware in a while, then your device may be vulnerable to malware attacks. Upgrading your iPhone will help you remove the virus from your iPhone and also protect your device from future malware attacks.
Open Settings app on your iPhone.
Click on General > Software Update > Install Now.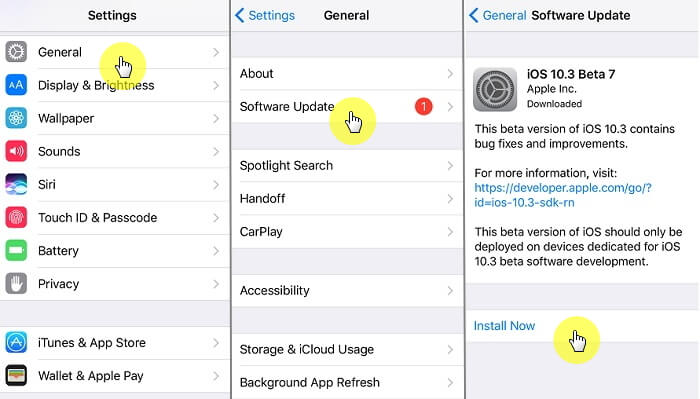 Un-jailbreak an iPhone
Jailbroken iPhone can be installed with apps from various dubious sources. This makes the jailbroken iPhone more vulnerable to viruses or malware. If your iPhone is jailbroken, then it is recommended that you un-jailbreak it to protect it from viruses.
Don't Miss: How to Unjailbreak iPhone, iPad or iPod Touch?
Cons of the Above Methods: Cannot Remove the Stubborn Viruses
While the above mentioned methods are great when it comes to removing viruses from your iPhone, none of these methods are effective against stubborn viruses that revive themselves after some time. You will need a more permanent solution to get rid of such viruses.
Best Way to Remove Virus from iPhone
As mentioned above, a permanent solution is required to remove virus from iPhone for good. iMyFone Umate Pro is a professional software that will help your erase all your iPhone's data permanently without any chance of recovery. By doing this, the viruses will be removed permanently and won't be able to revive/restore after some time.
iMyFone Umate Pro uses US. DoD 52220.22-M standard to make sure that all kinds of data (including viruses) is deleted permanently. To make sure that your device doesn't get infected again, it is recommended that you don't restore your iPhone to a recent backup after completely erasing its data via iMyFone Umate Pro.
Steps to Remove Virus from iPhone
Step 1. Download and install iMyFone Umate Pro then connect your iPhone to your computer.
Step 2. Launch iMyFone Umate Pro and select Erase All Data mode. Then click on Scan button.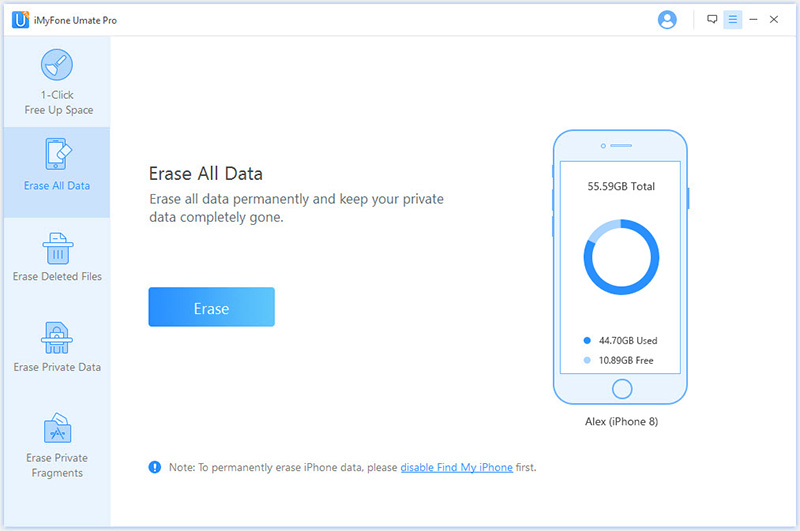 Step 3. Choose High Level and click on OK.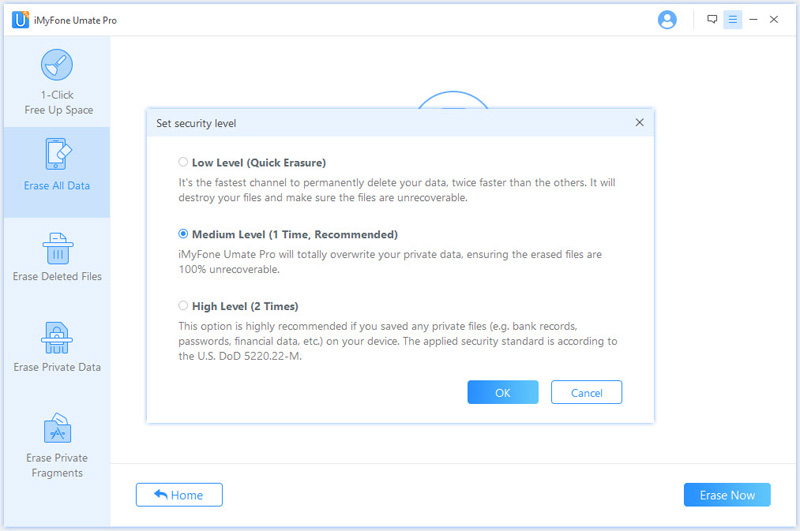 Step 4. Finally, type 'delete' into the box to confirm your action and click on Erase Now button to remove virus from your iPhone permanently.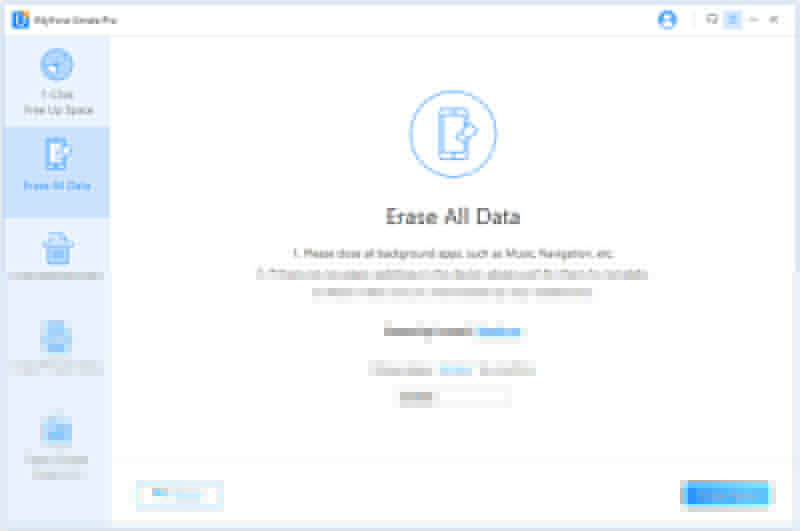 Relatively safer option than ordinary factory reset because all kinds of data will be deleted including some

stubborn viruses

.
Delete your iPhone data permanently. So that no one will be able to recover your private data.
Permanently erase fragments/traces of your already deleted files.
Allows you to preview your private data and erase them selectively.
It's recommended by lots of noted media arround the world: MacWorld, iPhoneinCanada, APPKED, etc.