iPhone cache consists of all your app and internet cache files that build up as you use different apps and browse the web. Caches are normally web or app files that store certain personal information about you so that they can provide you with a better experience the next time you use the same app or website.
Should iPhone Caches be Cleaned?
At the outset, it might seem a bad move. Why would you want to delete something that allows you to have a better user experience?
However, the reason as to why you should remove cache files is because they take up a lot of iPhone storage space and are not safe. Hackers can easily access vital information regarding you from these cache files. This poses a major threat to your privacy and security.
As such, it is important to keep deleting iPhone caches. Here are some of the top iPhone cache cleaners for iOS 15/14/13 that you can use to delete cache files.
Top 5 iPhone Cache Cleaners
There are a number of iPhone cache cleaners for iOS 15/14/13 that you can use to clean up your phone cache. However, there are only a few that come up to the expectations of the market. So here are some of the best iPhone cleaners for you.
1

iMyFone Umate Pro
Most of you might have already heard of this truly incredible data erasing app known as iMyFone Umate Pro or iMyFone Umate Pro for Mac.
It is indeed a work of art with its beautifully designed interface, its ever intuitive navigational capabilities, and unique functionalities that let you do almost anything in terms of erasing iPhone data.
You can use the one-click clean up feature to delete as many caches in a bulk, all at once.
Furthermore, you can use it to perform other functions as well. This may include erasing deleted files so that they become 100% unrecoverable or completely wiping your iPhone clean.
In addition, the Erase Private files feature lets you erase private files so that you are protected in every way.
Other features include iPhone photo compression. You can use it to compress photos so that you do not have to delete them in order to save space. Conversely, you may export the photos to your PC to save iPhone storage space.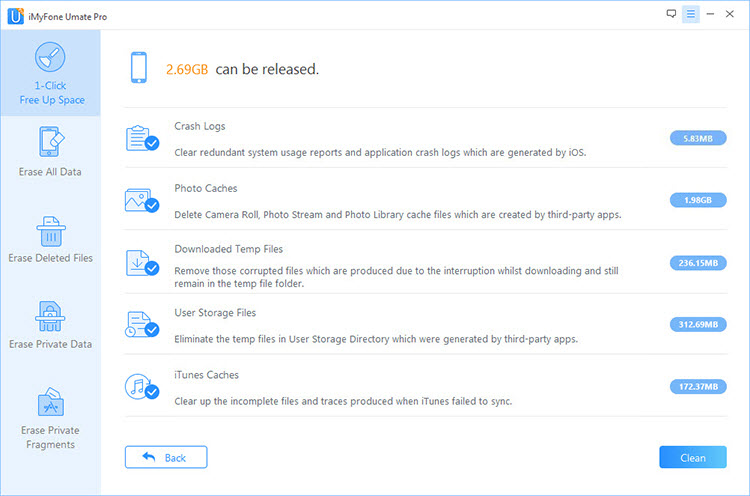 The software is especially useful when it comes to deleting large files. iMyFone lets you delete such files in no time. This means you do have to worry about erasing large files that take ages to get deleted otherwise.
2

PhoneClean
PhoneClean is a very basic app. It is perfect for performing simple tasks such as freeing up storage space by removing redundant files such as app caches, temporary and junk files. It has a very easy to use interface with a well thought-out navigational capability.
The app takes up very less space and as such, serves as a good companion for cleaning up your phone on a day-to-day basis. The cleaning up process is also very simple and quick. Just one tap should do the trick. The app will automatically remove all the junk files.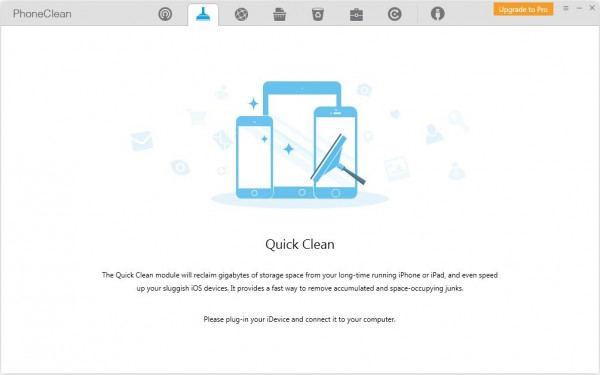 3

iFreeUp
Another effective data cleaning app, iFreeUp is the way to go whenever there are problems within the system. With a very advanced and sophisticated looking interface, iFreeUp will remove everything it deems necessary in order to make your phone work as new.
The best part is that it is completely free to use. All you need to do is download the app and install it on your computer. You can then connect your iDevice and let the software do the rest.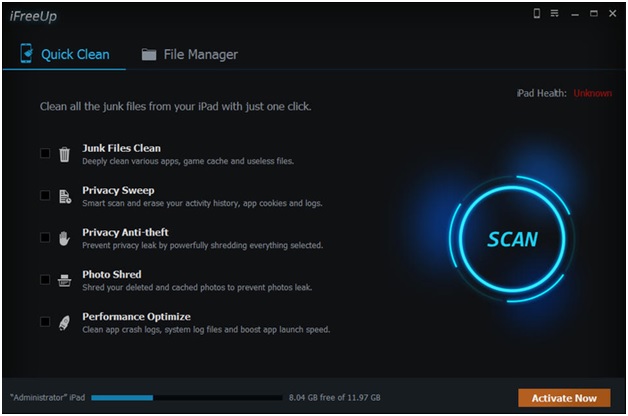 4

CleanMyPhone
As the name implies, CleanMyPhone is a one-stop shop for all your data removing needs. Although it does not have a lot of advanced features, it is still an effective app when it comes to removing junk and temporary files to save up space and protect your privacy.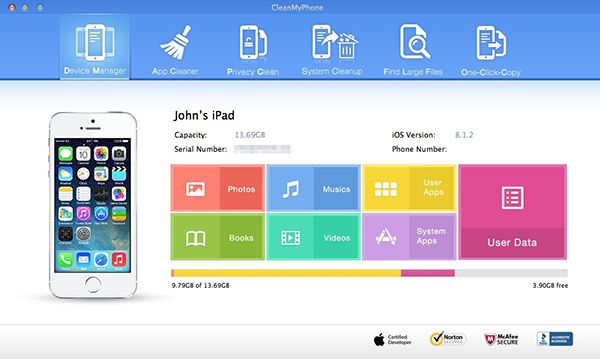 5

Cisdem iPhoneCleaner for Mac
Worried about scam folders building up in your system? Want a quick way to remove them all at once? If yes, then Cisdem iPhoneCleaner for Mac is the option for you.
Being compatible with every iDevice, Cisdem iPhoneCleaner is perhaps the quickest way to get rid of everyday temporary files.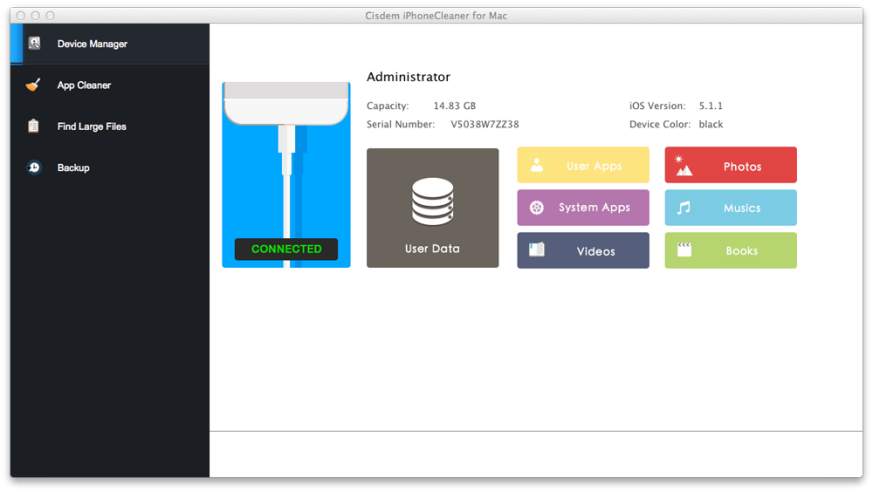 Which One is The Best?
All data cleaning apps may seem similar at first. However, if that were the case, there would not have been so many in the first place. So what is it that makes every app so different? Well, it all comes down to how effectively an app fulfils the user's needs.
PhoneClean may be a quick solution, but it is no good when it comes to cleaning up very large files. Similarly, Cisdem iPhoneCleaner, CleanMyPhone and iFreeUp are all useful only when you have to remove spam files such as junk or temporary data files.
When it comes to providing 100% security along with letting you save storage space based upon different files categories, only iMyFone Umate meets the criteria. Out of all the apps mentioned, it is the only app that allows you preview the files and selectively erase the ones that do not need.
Below are the steps that you can follow to delete iPhone cache from iOS 15/14/13 using iMyFone Umate.
Step 1: Launch iMyFone Umate and connect your device to the computer.
Step 2: Click the "one-click cleanup option" and click "Quick Scan". iMyFone will start scanning for all the files that can be removed in order to save space.
Step 3: The file categories that can be deleted will be displayed. Click the "Clean" button beside the file category you want to remove and iMyFone will delete the files within it.