You can lose important iMessages on your iPhone for a variety of reasons including accidental deletion, update to iOS 15/14/13/12, jailbreaking the device or a damaged iPhone. This is why it is important to regularly back up the messages to ensure the safety of the data. You can choose to back up your iMessages via iCloud or iTunes and this article shows you how to do that and introduces you to a third, less common but highly effective solution.
1. Backup Only iMessage/Text Messages on iPhone for Free
For those times when you seriously need to back up your iMessages on your iPhone separately, iMyFone D-Port may be the perfect option. It's a specialist data exporter tool which has the capability to export over 18 types of different data from iOS devices or iTunes/iCloud backups, but here are some things which truly set it apart from the rest:
Key Features: (iOS 15/14/13/12 Supported)
Allows you to back up iMessages separately for FREE.
Enables you to extract iMessages from old iTunes or iCloud backups without having to restore the backup.
With the pro version of D-Port, you're able to restore iMessages from iTunes or iCloud without affecting any other data on your device.
Steps to Back up iMessages from iOS Device for free
Then how to use iMyFone D-Port to separately back up iMessages on iPhone? Just follow the easy steps:
Step 1. Access the iPhone data exporter tool, select 'Back Up & Export from Device', then hit 'Back Up Messages'.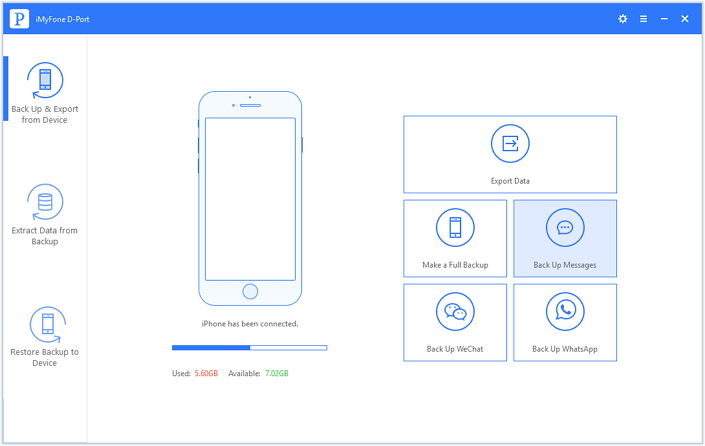 Step 2. You'll then see a screen explaining what will happen, but all you need to do is click 'Back Up' down the bottom.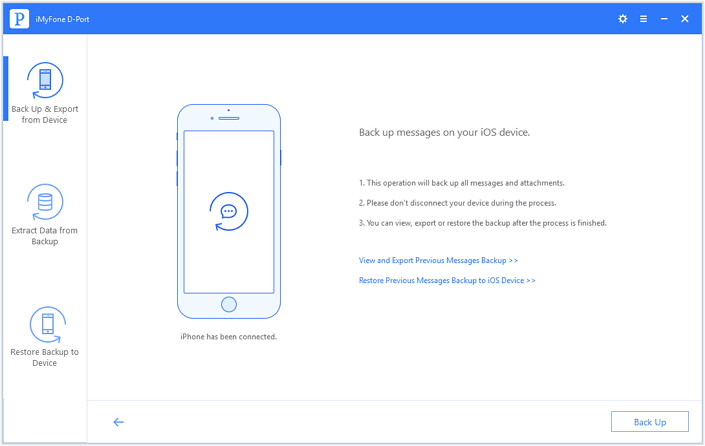 Step 3. The tool will then work its magic, and will notify you when it's complete.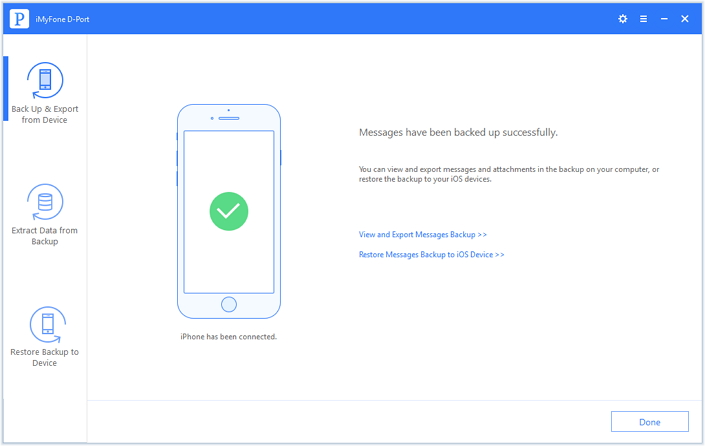 Then you easily backed up your iMessages on iPhone to computer, without any other data you don't need. Don't forget that the backup function of iMyFone D-Port is free and you can just download it and back up data on your iPhone without paying any money.
Read Also:
4 Ways to back up WhatsApp messages on iPhone >>
2. Backup iMessages to iCloud & Extract Them from iCloud
iCloud offers an easy and convenient way to back up your iMessages. The following steps should be followed in order to effectively back up iMessages to iCloud:
How to back up iMessages to iCloud:
Step 1: Tap on the Settings icon on your iPhones home screen.
Step 2: Scroll down until you locate iCloud Hit the iCloud menu.
Step 3: Click on 'storage and backup', Turn on iCloud backup.
Step 4: Click on 'Back Up Now' as shown in the illustration below.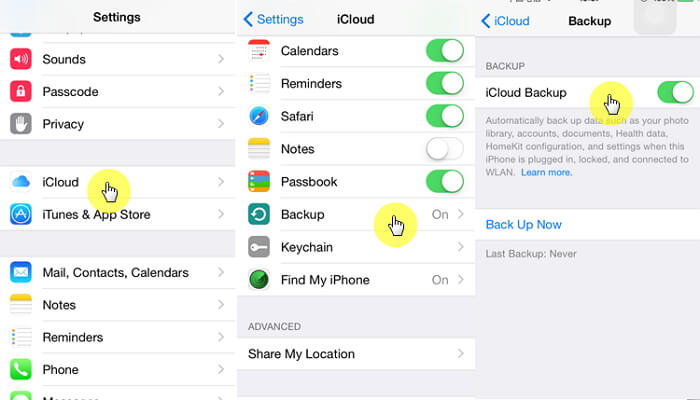 How to extract iMessages from iCloud Backup
Now, if you want to know how to extract the iMessages from your iCloud backup, follow these steps:
Step 1: Once you delve into iMyFone D-Port, you'll see 'Extract Data from Backup' on the left-hand side. Click that, and you'll see all of the backups available for restore.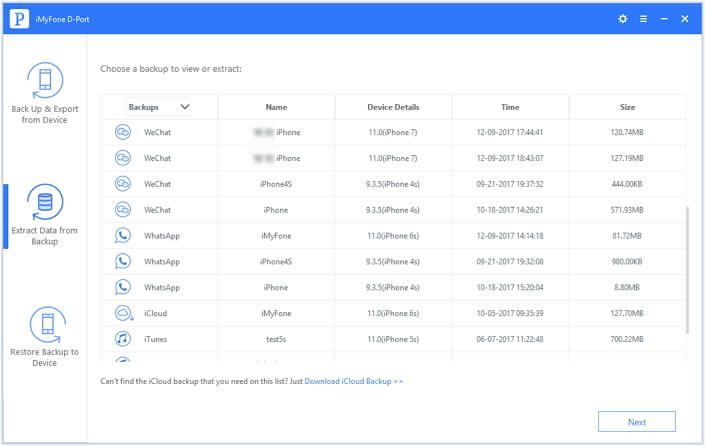 Step 2. When you find 'Download iCloud Backup', select it and then log into your iCloud account. Please note that iMyFone does not record or store your personal information.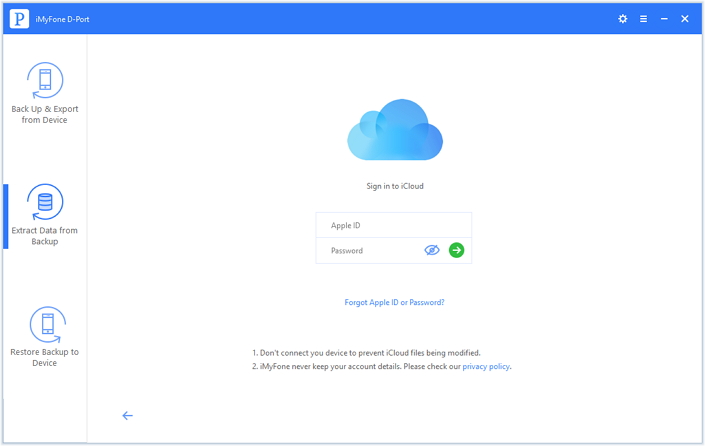 Step 3: When you're logged in, each individual iCloud backup will be displayed – select the one includes the iMessages you need.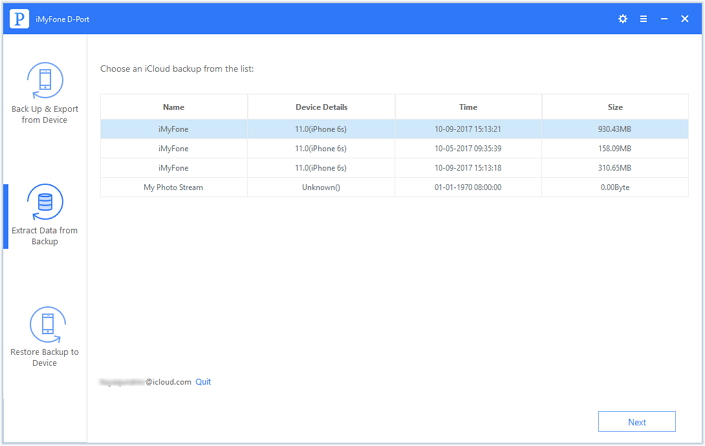 Step 4: Click Next to go inside the backup, D-Port will give you the option to decide which type of data you want to extract, so choose 'Message'. You can choose all the types if you need, of course.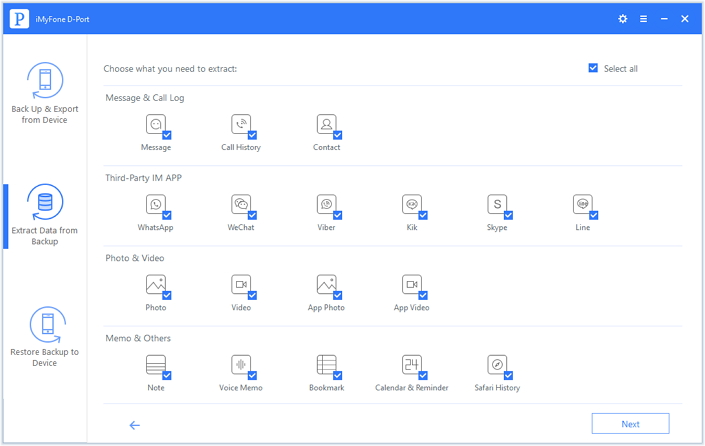 Step 5. Hit 'Next', wait for it to download. Then preview the data and press 'Extract' and then your iMessages will be extracted from the iCloud backup to your computer.
3. Backup iMessages to iTunes & Extract Them from iTunes
Another great way to backup you iMessages is via iTunes. It is easy to operate, all you have to do is connect the iPhone to the computer, launch iTunes and sync the two together. Here's how to backup iMessages in iTunes.
How to back up iMessages in iTunes
To backup iMessages through iTunes, the following steps should be followed:
Step 1: Using one of the available ports of the computer connect the USB to the iPhone.
Step 2: Once it's connected, select your iPhone when it appears in iTunes.
Step 3: Click on 'Back Up Now' under Manually Back Up and Restore.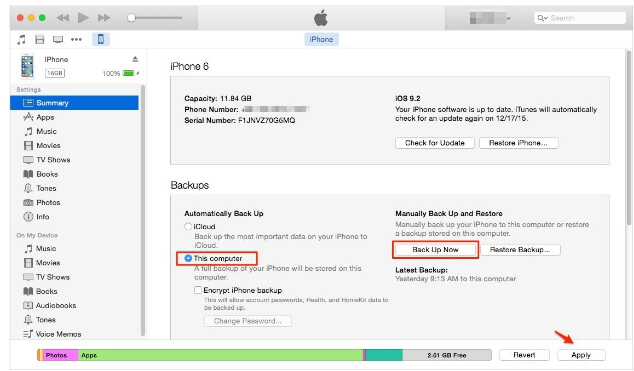 Check more details: How to back up your iPhone, iPad, and iPod touch
How to extract iMessages from iTunes
You can also extract iMessages from an iTunes backup file in much the same way as you would in iCloud in minutes. Check out this detailed tutorial.
Step 1: Enter the D-Port software, and then select 'Extract Data from Backup' from the left panel. Choose the one includes your iMessages.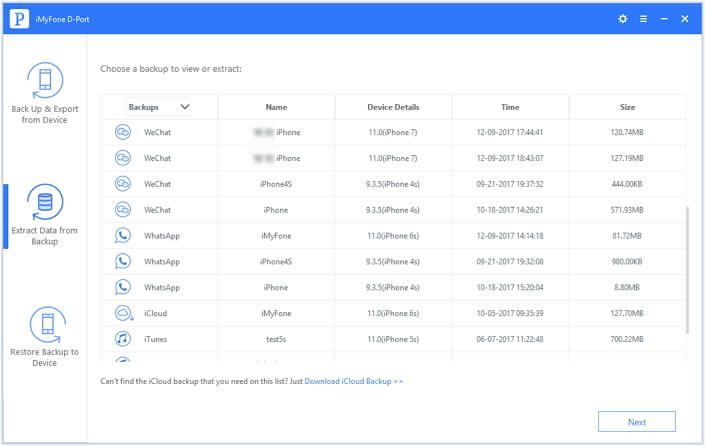 Step 2: Tap 'Next', then the software will display all of the data which you can restore and extract – select Message.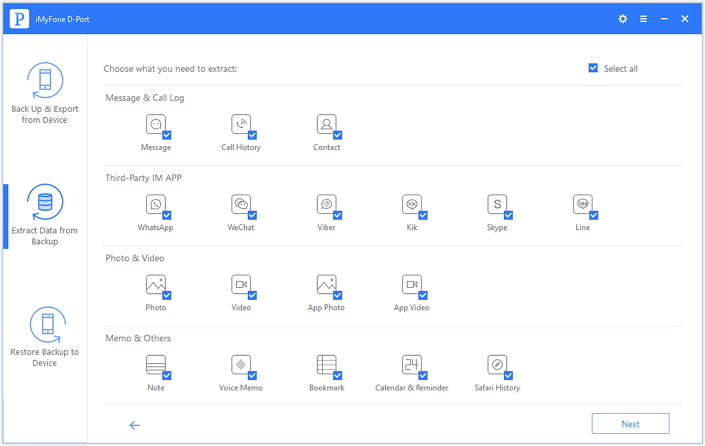 Step 3: You just need to hit next, preview and select the data from the backup and hit 'Extract' and wait for the process to be complete.
Now you know how to back up iMessages on your iPhone - you can easily back up only the iMessages, or, you can back up all the data on your device to iCloud and iTunes and then extract iMessages from backups via iMyFone D-Port. Just download the data exporter tool and back up your iMessages For Free now!