The evolution in the tech industry has made mobile phones a necessity of our lives. It is human's nature to discover easier ways to undertake regular tasks – no doubt humans are as lazy as ever. Now with the advent of the latest smart phones trends, most people have already stopped using printed media, dedicated cameras for taking photos, or physical notes to save important information.
iOS compromises one of the mainstream gadgets people use worldwide. If you're reading this article, there are greater chances you're doing it from your iPhone or Mac.  
You may have broken your phone screen lately, upgraded your iOS device, or accidentally deleted some data that you need to be recovered. Data can also be lost due to factory reset, formatting the iPhone, or due to a virus and malware infection. This is where you might need data recovery software to get back the priceless data & files you lost.
Follow this article and learn more about the best solutions to data recovery problems. As this article talks about the best alternative to MiniTool mobile recovery for iOS, let's get to the point. When it comes to iPhone data recovery, you may have already encountered the MiniTool data recovery app for iOS.
MiniTool Mobile Recovery for iOS
There are dozens of data recovery software available for iPhone and MiniTool Mobile Recovery for iOS has clearly made up to the top data recovery options. MiniTool let its users recover files from iPhone in only three simple steps. Users can recover data from iPhone, iPad, iPod Touch.
The feasibility and easy-to-interface are one of the main reasons why people prefer this data recovery free-ware over other options. Following a few steps, you can easily recover SMS, Contacts, Photos, Videos, Notes, and more. It can recover almost all types of data files available in your iOS device.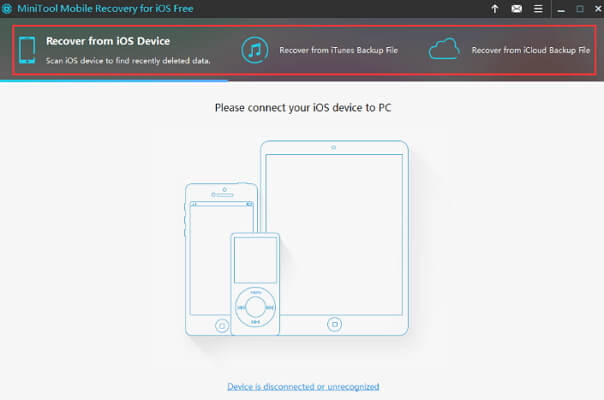 Special Features & Functions
MiniTool Mobile Recovery for iOS offers countless features and accessibility to recover data. Some special features of this recovery software are as follows.
Multiple Recovery Options: You can preview and recover the data directly from the iOS device, iCloud Backup, or iTunes Backup.
Works for Many Data Loss Conditions: No matter if you lose data due to system crash, forgotten password, factory reset, device stuck, virus or malfunction, iOS upgrade, jailbreak failure etc. you can easily recover it through MiniTool.
Compatibility: It is compatible with some iOS devices including iPhone, iPad, iPod touch. It also supports the iOS versions including iOS 11.
However, MiniTool Mobile iOS mobile recovery still comes with some problems that you may want to shift to an alternative.
Pros
Easy-to-use interface and efficient UX.
Can recover data from iPhone directly, iTunes or iCloud Backup.
Supports multiple data types i.e. contacts, photos, call history, WhatsApp Attachments, videos, and more.  
Cons
Do not support all iOS devices and iOS versions.
Scanning takes time.
The Best Alternative to MiniTool Mobile Recovery for iOS
MiniTool Mobile Recovery for iOS is certainly an amazing data recovery software for iOS and looking for an alternative with the same efficiency was no doubt an uphill task. iMyFone D-Back data recovery for iPhone provides 4 easy and fast way to recover data from iPhone, iPod Touch, iPad. iMyFone D-Back is compatible with all iOS devices and latest iOS versions including iOS 12 and iPhone Xs/Xs Max/Xr/X.
There is no doubt that iMyFone D-Back stands right above the well-known MiniTool Mobile Recovery for iOS. Users can recover Viber, Kik, WeChat, WhatsApp, Line, contacts, photos, messages, and more within few clicks using iMyFone D-Back.   
Pros
Can recover 18 types of data from your iOS device. 
Compatible with all iOS versions and devices.
Can view what are recoverable with free trial version before purchasing.
Easy-to-use interface for new users.
Fast scanning time.
Cons
The free version has limitations. 
How to Recover Data Using iMyFone D-Back
Being the best alternative to MiniTool Mobile Recovery for iOS, recovering data using iMyFone D-Back is as easy as ever. Follow the below steps to recover data irrespective of how you lost it.
Download, install and open the iMyFone D-Back.
You can check into "Smart Recovery" and click on the "Start" button.

Now select how you lost the data in the first place.

Next, you can scan and recover the selected files from the list. You can also look for the lost data under the iCloud Backup, iTunes Backup, and iOS device tab. Worry no more, because all these data recovery modes follow a similar procedure to recover data.   
Differences between MiniTool Mobile Recovery for iOS and iMyFone D-Back
Both the MiniTool Mobile Recovery for iOS and iMyFone D-Back are considered as the top data recovery tools for iOS devices. Each one of them has its upside and downside over the other. If we look at the features of both programs, all special features of the MiniTool Data Recovery are included in the iMyFone D-Back.
One downside of the MiniTool Mobile Recovery for iOS is that its free version has more limitations as compared to iMyFone D-Back. Moreover, the scanning time of MiniTool Mobile Recovery for iOS is longer. On the other hand, iMyFone D-Back offers quick scanning and recovering.
Conclusions
Recovering lost data has never been easier than using these two data recovery programs. Both of the data recovery programs offer a higher probability of data retrieval using advanced technologies. Note that all your system and application files remain untouched during the data recovery operations - thus, offering secure data recovery.
We hope you have already decided your favorite iOS data recovery program from the above two. In case of further questions or suggestions, feel free to leave a reply below.