It is a known fact that our iPhone conversations are very important in our life. We engage with a lot of people through text and in fact, some people prefer to share intimate conversations through text. However, messages will be easily lost or deleted, which occasionally happens in daily life.
The very first thing you may wonder after losing messages will probably be - can I get them back free?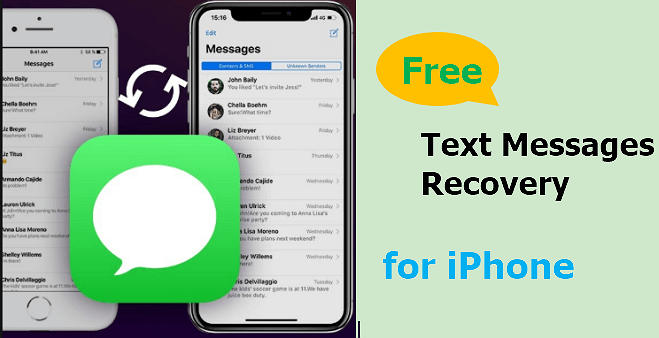 Actually there is no 100% Free iPhone text messages recovery software for now. Luckily there are some free versions of text messages recovery programs for iPhone which allows users to scan, preview their lost data even you are using iOS 15. Now, let's look at a top text message recovery method to retrieve the lost or deleted iPhone messages.
2 Common Ways for Free Text Message Recovery on iPhone
If you've previously made an iTunes or iCloud backup, you can easily restore your deleted messages within these backups. With iTunes or iCloud, you can back up all your existing iPhone data, as well as the deleted data from your device.
However, you won't be able to access the deleted data and therefore, you'll be unable to recover them. So undeleting data from iCloud or iTunes backup for free can be very easy.
Note
You need to have backed up the text messages to iTunes or iCloud.
The process to restore the backup will erase all the data on your iPhone.
The process can't selectively recover text messages from iTunes or iCloud backup. If you have no backup or want preview the text messages and selectively partial messages, you may use the iPhone data recovery tool.
1. Restore iPhone Text Messages from iTunes Backup for Free (Restore All)
Connect your device to your PC with a USB cable and open iTunes on the computer where the backup was made. Select your device and enter your device passcode if you get a prompt.
Select Restore Backup in the Summary page of your device in iTunes. Choose a backup to restore from. It's advisable to choose the most recent backup.
Click Restore and wait for the restore time to finish. Enter the password if you have set for the backup. Do not disconnect your device from computer until it restarts and finishes syncing with your PC.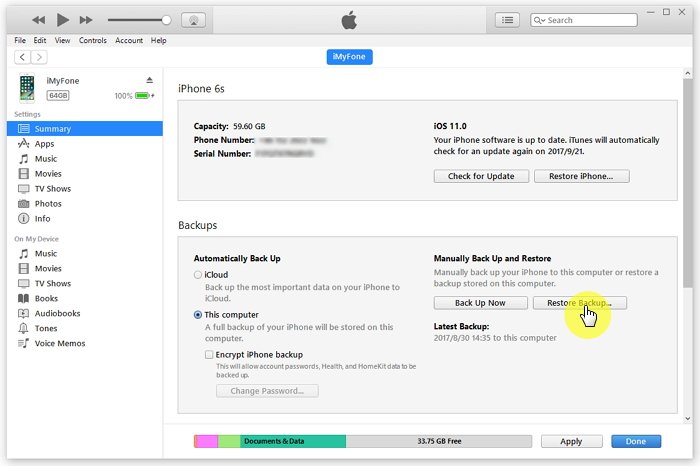 2. Restore iPhone Text Messages from iCloud Backup for Free (Requires Factory Reset)
If your device is already set up, you would have to format all data before you can restore your iCloud backup. After resetting your device, follow the setup instructions till you get to the Apps & Data screen, then tap Restore from iCloud Backup.
You will be asked to log in to iCloud using your Apple ID. Choose a backup from the list of previous backups. After you've selected the backup, the restore process will begin.
You may be asked to log in to your Apple ID to restore your iTunes and App Store purchases. You can skip this step to restore your purchases later if you forget the password.
Keep the internet connection throughout the restore process, until it completes. It may take some time to complete, depending on the size of your backup file and also the network strength.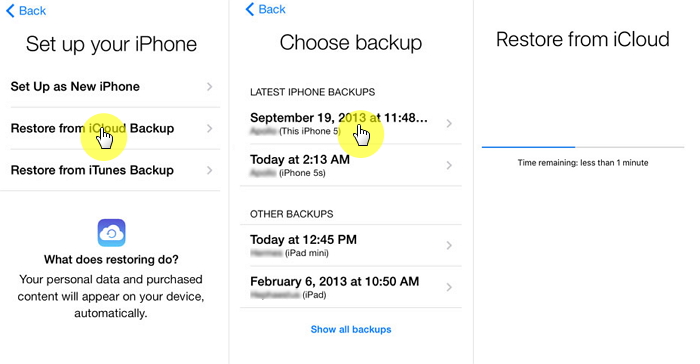 Is There a Free App to Recover Text Message on iPhone?
Yes, of course. Though with the above methods, you are allowed to get back your lost iPhone text messages totally free. However, you won't be able to access the deleted data and therefore, you'll be unable to find and preview them before recovery.
So if you prefer to preview and recover from your iTunes backup, you may probably rely on a professional iPhone data recovery tool. With the help of iPhone data recovery tool like iMyFone D-Back , you'll be able to view and selectively recover both the existing and deleted data in your iTunes and iCloud backup.
It is also a free iOS data recovery tool can help you recover text message without backup.
It supports over 18 data types, like messages, WeChat messages, Kik messages, photos, text messages, contacts, notes and more. You can also fix various iOS issues without any risk of losing your data.
This software has both Windows and Mac versions and it is fully compatible with iOS 15 devices, including iPhone 14/13/12/11, iPhone XS, iPhone XR, iPhone X, iPhone 8/8 Plus, and more.
The program is easy to use and offers a free trial version before purchasing.
1

Free iPhone SMS Recovery without Backup
If you have no backup and are searching for free iPhone message recovery, here are the steps.
Step 1. Connect your iPhone to the computer using a USB cable. Run D-Back and navigate to the Recover from iOS Device tab and press Start.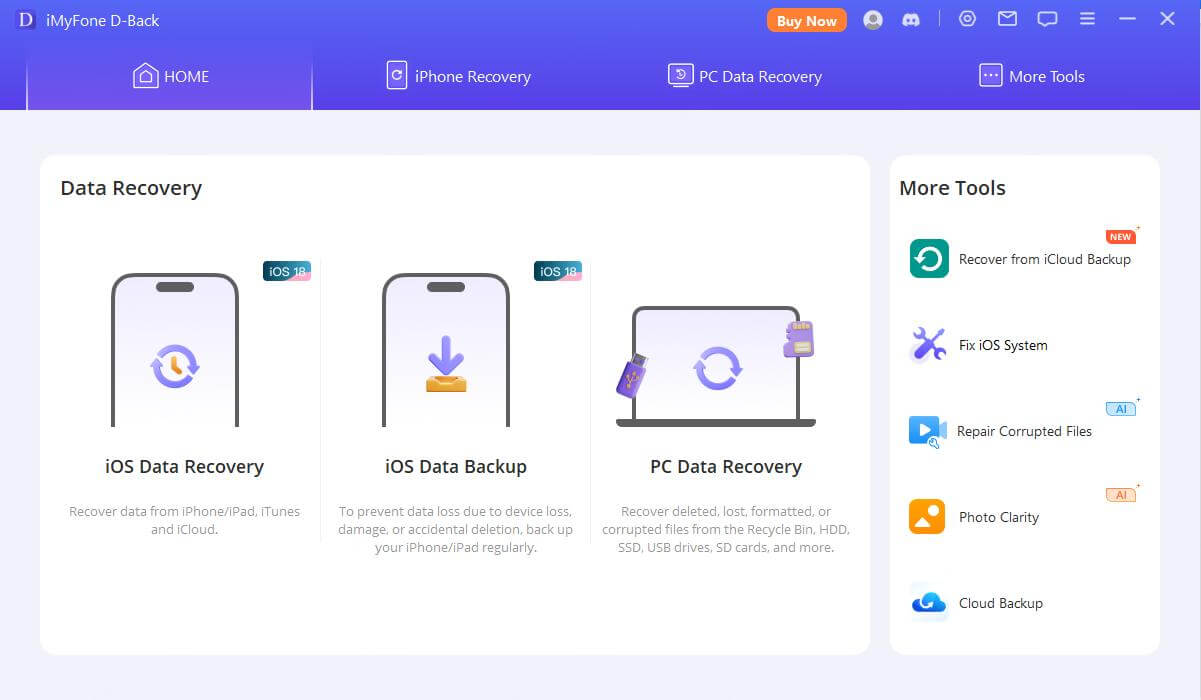 Step 2. Connect your iPhone with your computer using a USB cable. When your device has been detected, click Next to proceed.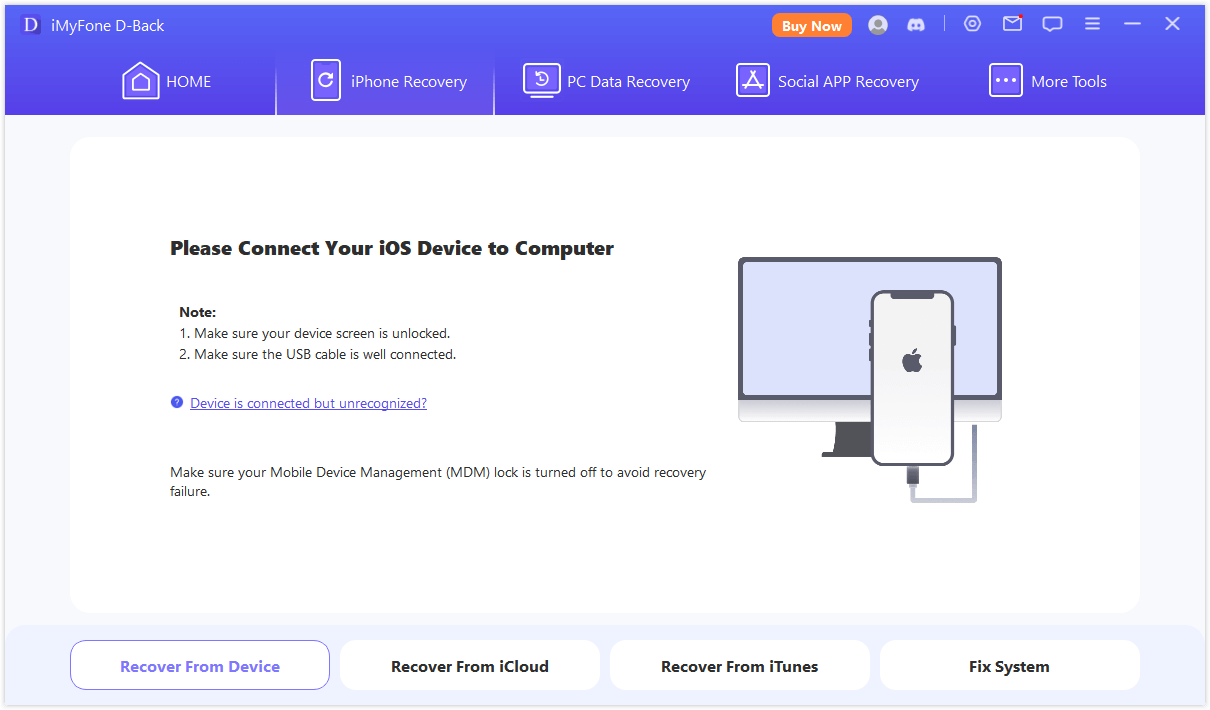 Step 3. Select Message under Message and Call Log section. Click Scan to find the lost text messages on your iPhone.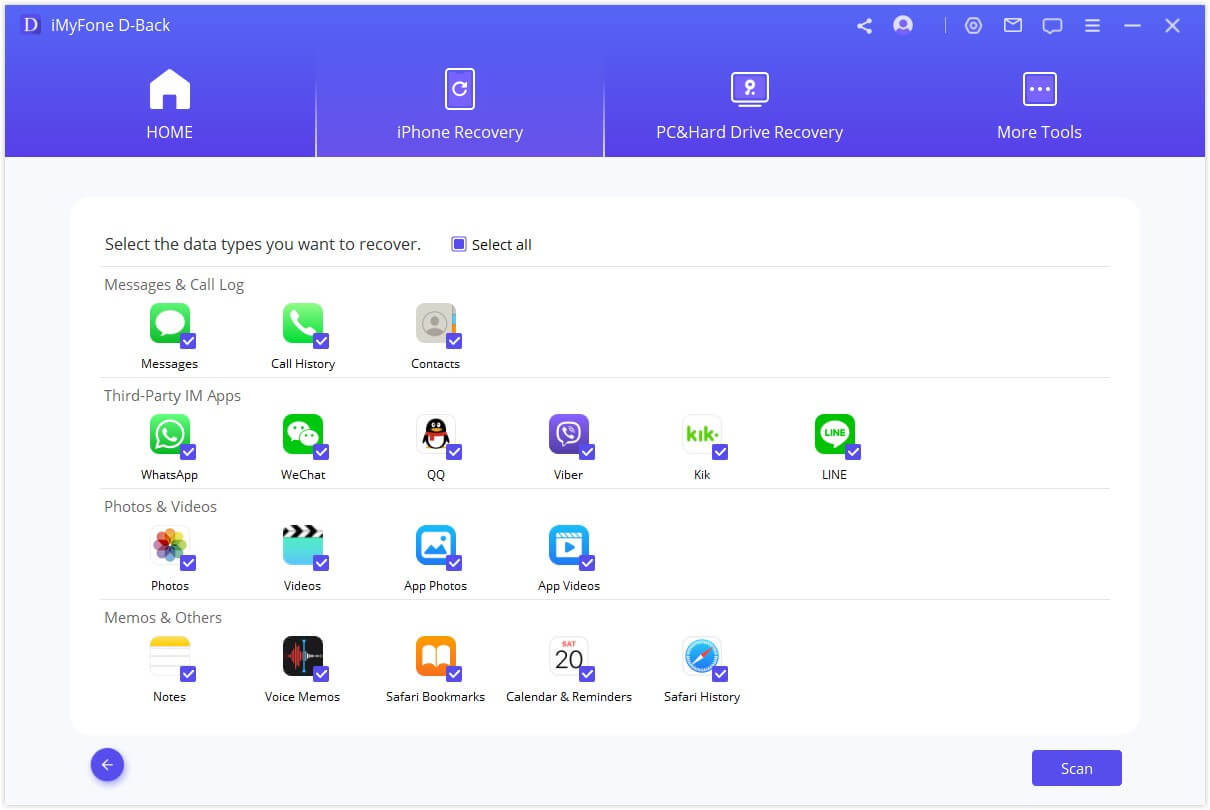 Step 4. Once the scan is complete, all recoverable messages will be organized into categories. You can preview only the deleted items by choosing Show only the deleted files in the sort order. Select the files which you want to recover, and then click Recover at the bottom right corner.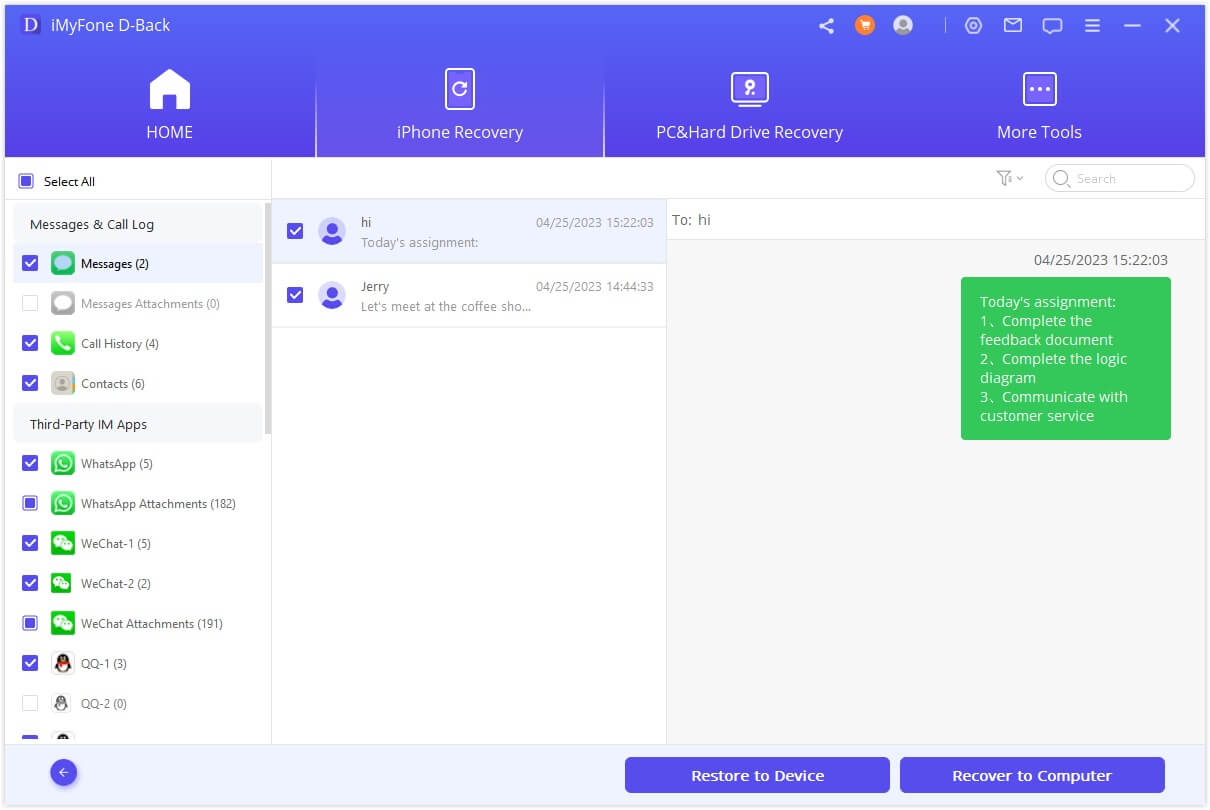 Tip: Why Are the Deleted Text Messages Still Recoverable?
iPhone data is usually stored in an SQLite database. When you delete data on your phone, it changes from "Allocated" to "Unallocated" data. However, the actual data is left untouched on the device, which means only the identification tag changes.
When you save new data to your iPhone later on, the space for the "Unallocated" data will be occupied first and overwritten with new information.
Therefore, if you want to recover lost data on your iPhone, it's important to know that your iPhone should not be used for anything. If you perform any operation (downloading files, installing new apps, taking pictures, etc.), new data will be generated on your iPhone, which may overwrite the deleted data and therefore you won't be able to recover them.
The third-party iPhone data recovery software like D-Back has the ability to access the iOS SQLite database, so they can recover the deleted data.
2

Selectively Recover Text Messages from iTunes Backup
Except for recovering text messages from iPhone directly, D-Back is also capable of retrieving from iTunes backup. Different from official iTunes, you are allowed to restore only text messages, or even choose a specific text message to restore.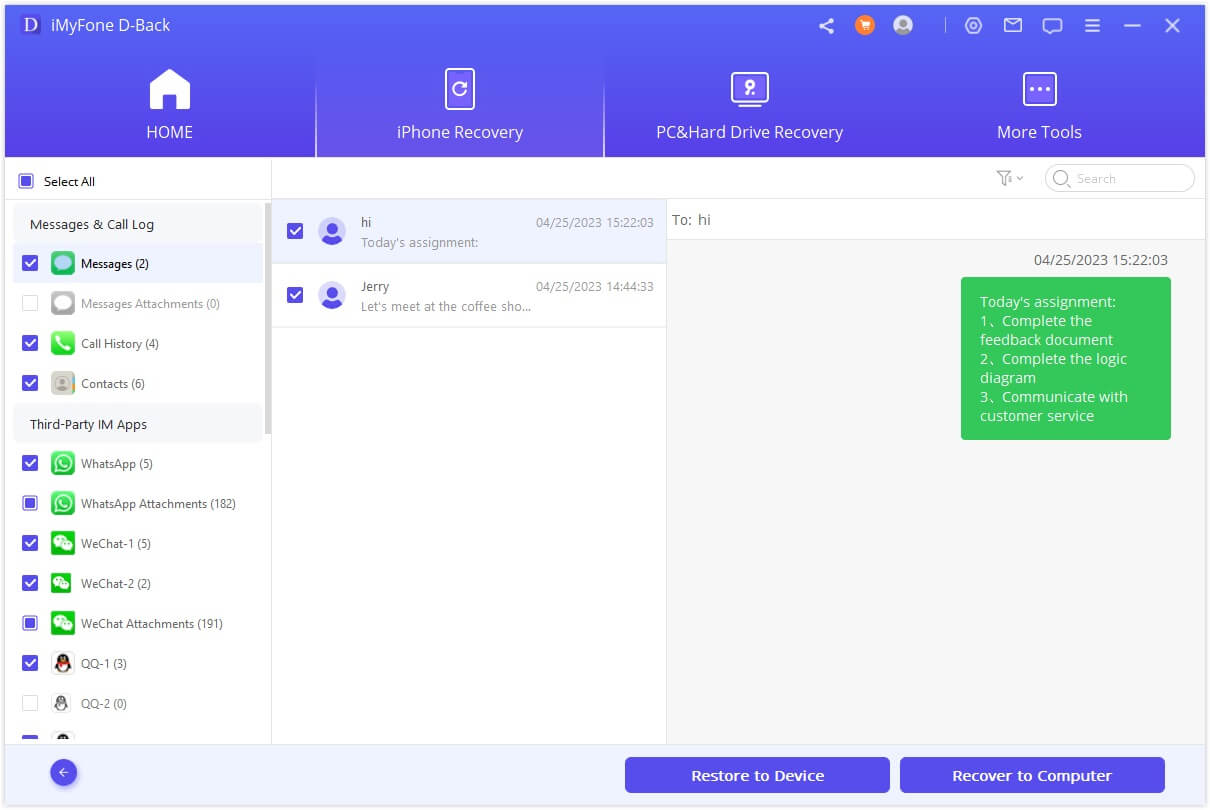 Conclusion
You should always keep a backup of your files and device data to keep them safe, including your messages. Actually, you won't have to stress yourself before getting them back. Although there is no free data recovery software, you can try the free trial version of D-Back if you need.