Question
"Hi there, this is Ben, Help please, how can I restore my husband's iPad running iOS 12, particularly the photos? I have somehow deleted his photos, while I was using it because my MacBook Pro had gone wrong. Hoping someone can help me to recover lost photos on iPad, else i'm DEAD! "
Your photos are our moments captured in time and as such can be a very important aspect of your life. This is why losing some of the photos on your iPad can be quite problematic. But things don't always go to plan and it is quite possible that you could lose photos that you had just taken and as such had yet to include them in a backup. If this is the predicament you find yourself in, you're in the right place. This article will guide you on how to recover the deleted photos from iPad even if you don't have a backup after factory reset. Our editor recommend iMyFone D-Back iPhone data recovery to get back your deleted photos from iPad without backup/computer after factory reset, Download iMyFone D-Back free now.
Part 1: Can I Recover Deleted Photos from iPad Without Backup After Factory Reset?
This is the common question that arises after someone's photos have accidentally gotten deleted, the answer is definitely yes! If you haven't deleted photos in the Recently Deleted album, then Apple will retain these photos for 30 days. However, the chance is slim if the photos you were looking for are not in this folder or you manually deleted these photos from this folder. But don't fret, you have to try a different method. If you have a third-party app, you can still recover specific kinds of lost photos as per your needs. Now let's take a look at the two methods below to recover photo from iPad without backup after factory reset.
Part 2: Check Recently Deleted Folder to Recover Lost iPad Photos without Computer
If you accidentally deleted your photo on iPad, the first place your photo goes to is the "Recently Deleted Folder" – it will show the pictures that are intended to delete. Usually, these pictures will remain in this folder for up to 30 days since it was forever saying goodbye.
Where is "Recently Deleted Folder" on iPad?
Go to the Photos app on your iPad.
Go to the Albums tab, then scroll down to the Recently Deleted Folder.
The album will present all deleted photos from the 30 days.
Tap Select in the top-right corner of the screen.
Tap Recover and select photos you want to restore to your iPad.
This function allows your to restore them before recently deleted photos are gone forever.
Part 3: Recover Permanently Deleted Photos from iPad without Backup After Factory Reset
Before we get to how you can recover the deleted photos from iPad without iTunes/iCloud backup after restore, you should know that the deleted photos are very recoverable even if you don't have a backup. This is because when you delete a photo, the system doesn't get rid of the file entirely. Instead only the file marker is removed to make space for other files to be stored on the device. This means that as long as the data has not been overwritten and as long as you have the right tool, you can easily recover the data.
Your next question may be; What is the right tool? The best tool to help you recover your deleted photos is none other than iMyfone D-Back iPad data recovery. It is the best among many others because of the simple fact that it is very easy to use but also because it is 100% effective in data recovery, allowing you to easily recover deleted photos ipad no backup immediately.
The following are some of the features we are certain you will find very useful when using iMyfone D-Back.
Key Features:
Support to recover deleted photo without backup.
Support other 18 file types from iPhone such as photos, contacts, messages, bookmarks, WhatsApp and etc.
Support to preview the photo within iPad backups for free, which cannot be done with iTunes and iCloud.
It is compatible with all iOS devices and iOS versions including iOS 16.
Even with its numerous features, it remains easy to use and 100% safe to download and use. None of the data on your device will be at risk.
Steps to Recover Deleted Photos from iPad without Backup After Factory Reset
Begin by downloading and installing the program to your computer and then follow these very simple steps to get your iPad photos back after restore.
Step 1: Run iMyfone iPhone data recovery on your computer and then select "Recover from iOS device." Click "Start" to begin.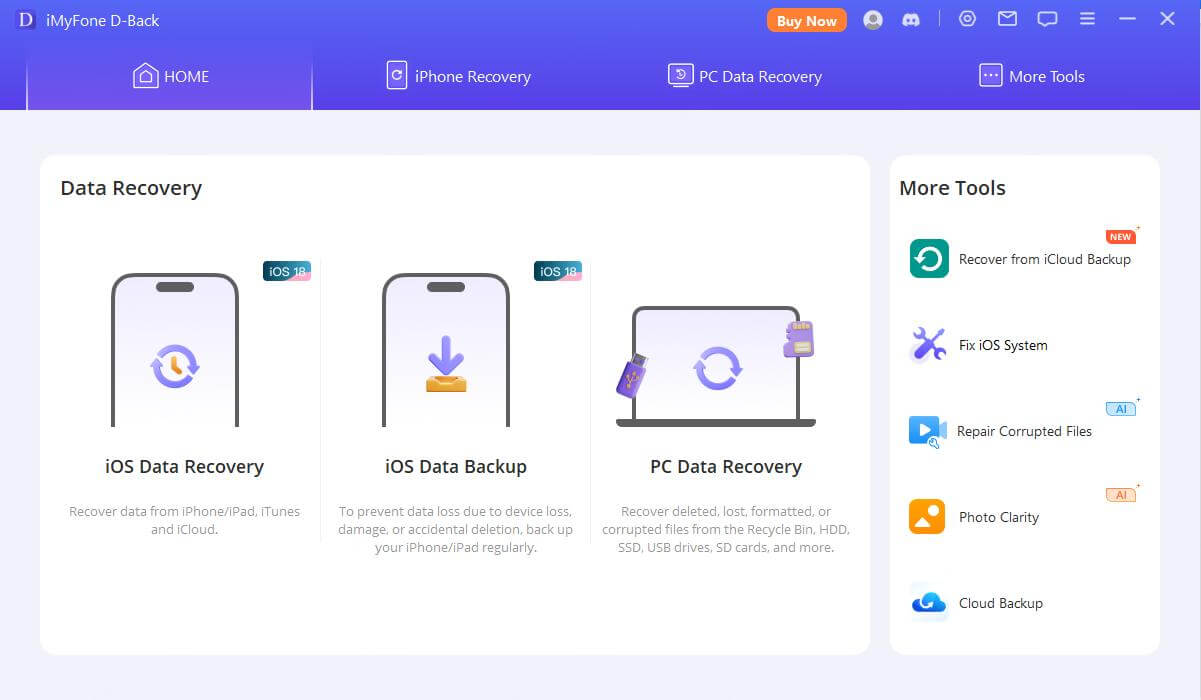 Step 2: In the next window, select "Photos" under "Photo & Video" since this is the type of file we wish to recover. Click "Scan" as soon as the program detects the device.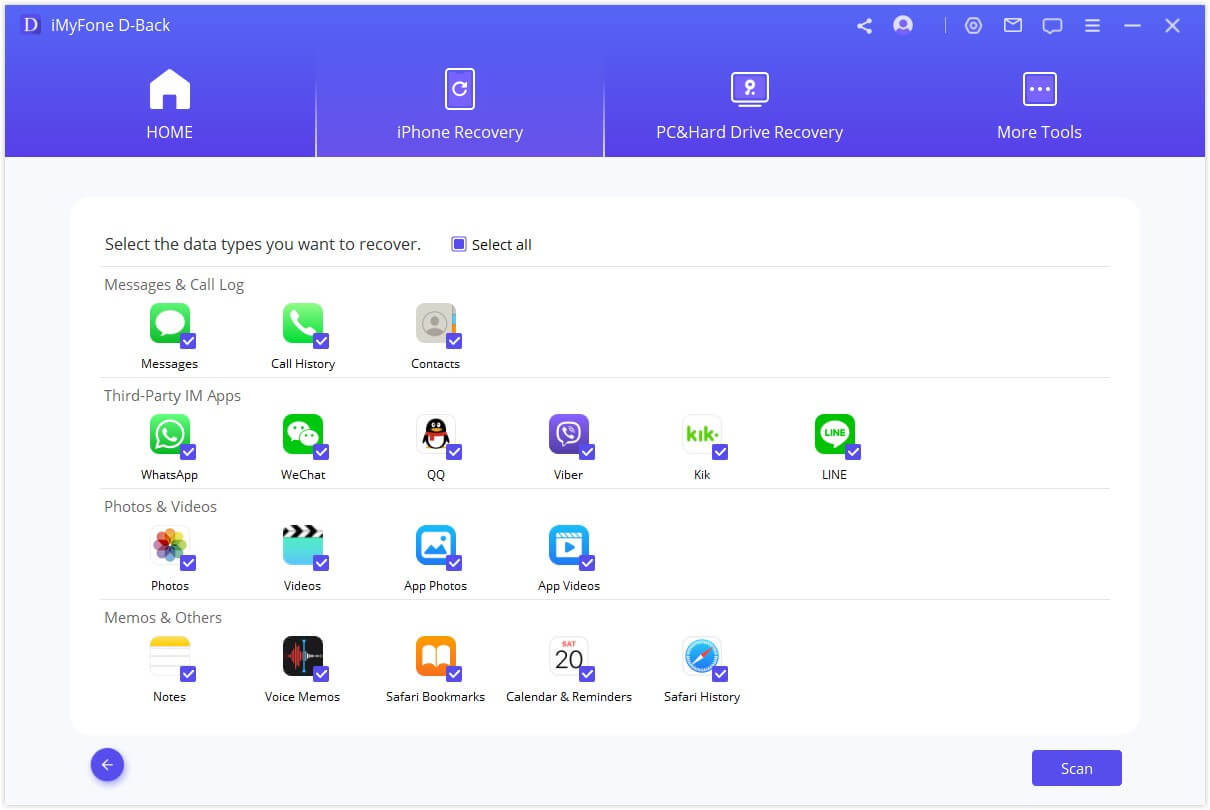 Step 3: Once the scan is complete. Preview the photos and then select the ones you want to recover. Click "Recover" to save the deleted photos.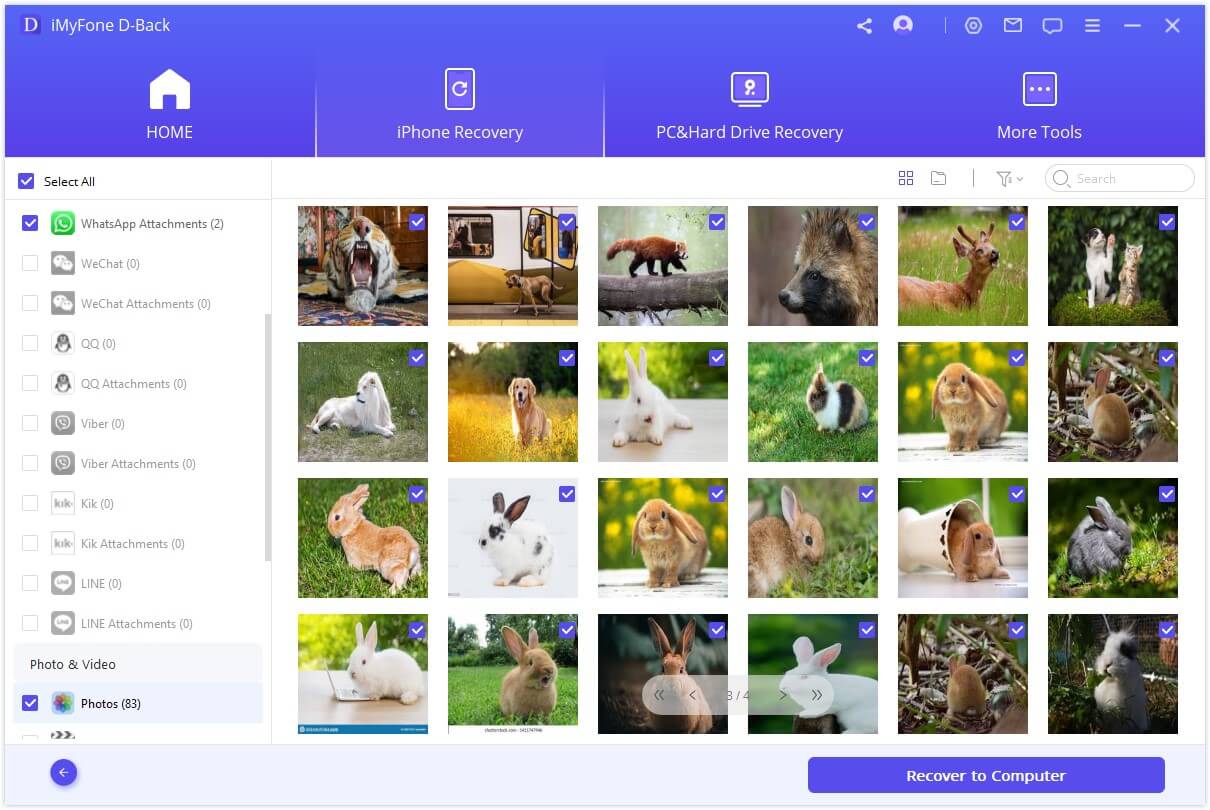 With iMyfone D-Back iPad data recovery , you never have to worry about the recovery of lost data although it is still advisable to always ensure that you back up all the photos on your device either on iTunes or iCloud to prevent this situation from arising again.