WeChat is a powerful app that we can hardly live without today. We use it to communicate, pay, order, and do a lot of other things that are closely related to our daily life. Apart from its various functions, it plays a more and more important role in communication. It does happen to many people that they might accidentally delete or lost some WeChat conversation history. Therefore, transferring the conversations to the computer as a backup is an excellent idea.
It requires a third-party data extractor for you to extract messages from WeChat and transfer them to a computer. iMyFone iTransor Lite - renamed from D-Port (compatible with iOS 14/13/12) is the solution through which you can efficiently transfer WeChat data from your iOS devices, iTunes backup and iCloud backup to computer. In case you want to transfer the WeChat data back to your iPhone in future, you can also use iMyFone iTransor Lite to backup your WeChat data and use the Pro version of the program to restore the backup to your iPhone even it is running iOS 14/13/12.
It supports to extract data from iOS devices, iTunes backup, and iCloud backup.
Supports extracting 18+ types of data such as messages, contacts, videos, photos, notes, WeChat, WhatsApp, Kik and more.
You can check the iTunes backup and iCloud backup without having the device at hand or restoring it to iOS devices.
Works with nearly all the iOS devices such as iPhone 11/XS/XR/X/8 (Plus)/(Plus) and the latest software iOS 14/13/12.
The pro version of iMyFone iTransor Lite supports to selectively backup and restore your iOS data.
1

Transfer WeChat Messages from iPhone to Computer
Step 1: Download and install iMyFone iTransor Lite on your computer. Start the software and tap "Backup & Export from Device" then "Export Data".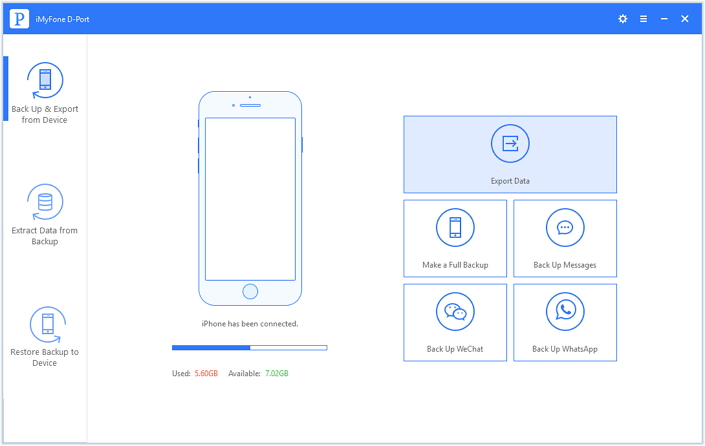 Step 2: Connect your device to the computer. Select "WeChat" in the next screen that will pop up after you hit the "Next" button from the main window.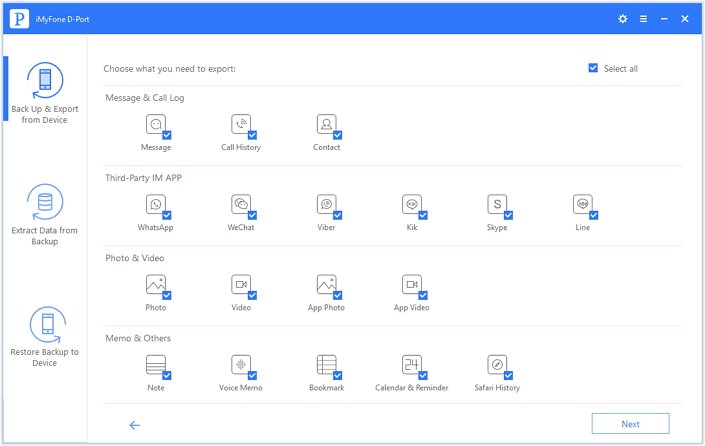 Step 3: When your device is connected, the program will start scanning your iPhone.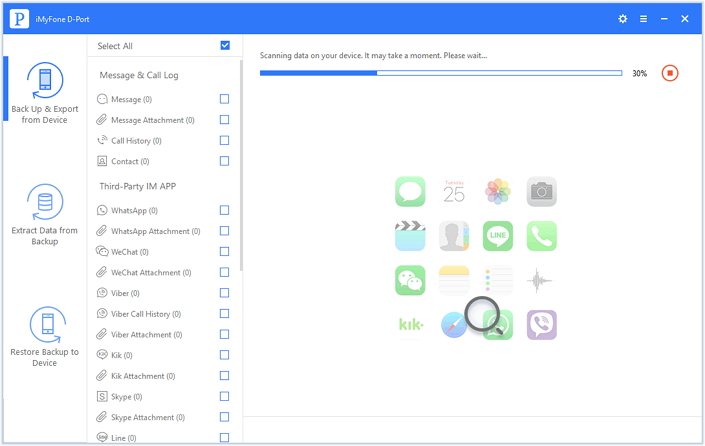 Step 4: When the scan is completed, the preview screen will show you the WeChat history. Check the content that is important and click "Export" at the bottom and select a folder to save the data from the next window.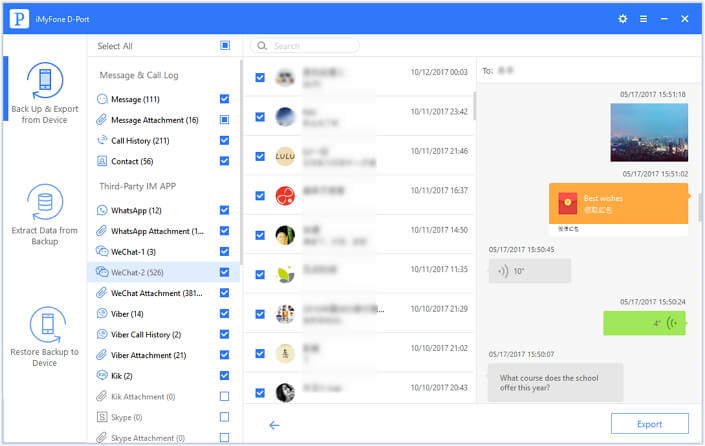 If you want to backup all your WeChat data, you can skip to Part 4.
2

Transfer WeChat Messages from iTunes Backup to Computer
Step 1: From the main interface select "Extract Data from Backup" tab. Choose iTunes from the backup list. Pick the right iTunes backup file and click "Next" button.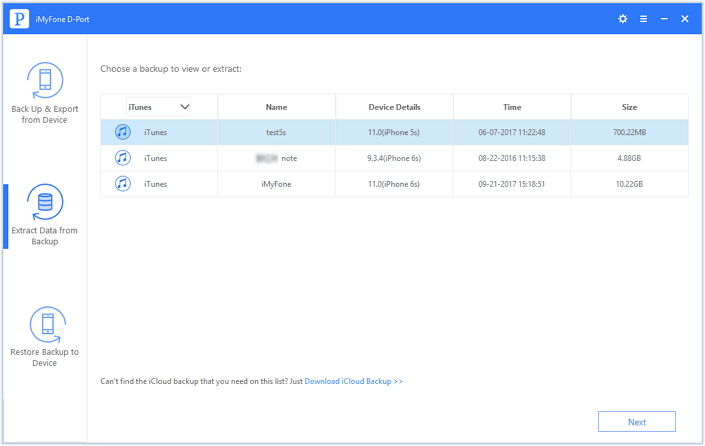 Step 2: Select WeChat as the extractable file from the next window.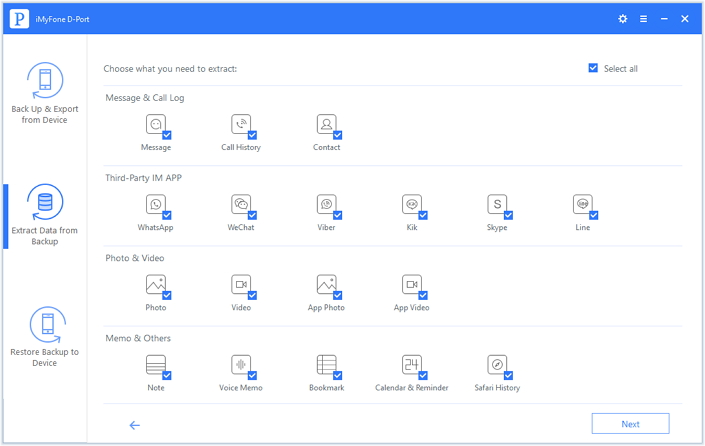 Step 3: iMyFone D-Port will start to scan your iTunes backup files for the WeChat messages. Please wait for a second.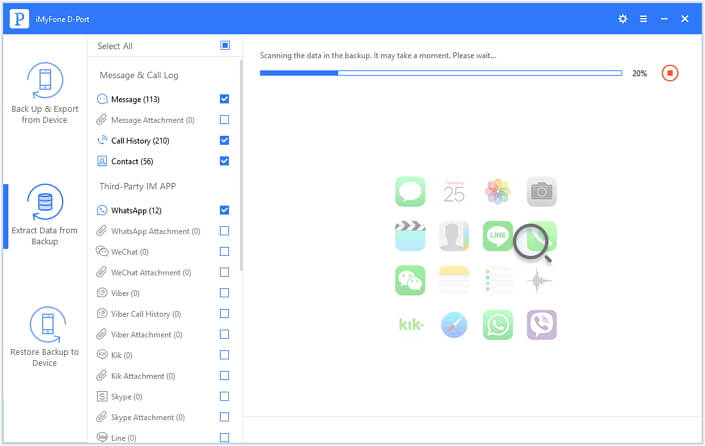 Step 4: In the next window, you will preview the WeChat messages that you can extract. Mark those you want to transfer and click "Extract". After completing the extraction, you have to choose the place where you want to save the data. Pick a destination on your computer and allow the program to complete the process.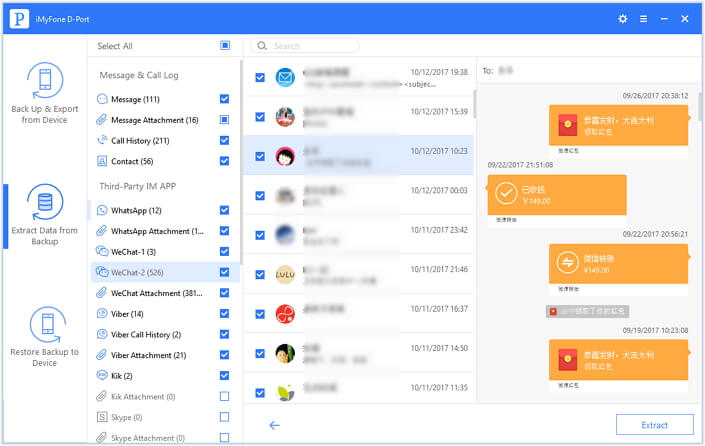 3

Transfer WeChat Messages from iCloud Backup to Computer
Step 1: Press "Extract Data from Backup" option from the interface of iMyFone iTransor Lite. Then click "Download iCloud Backup".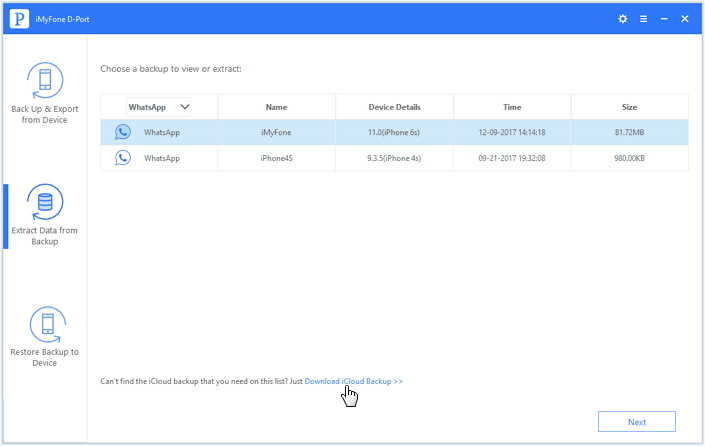 Step 2: Enter iCloud login details on the next screen that appears after you click "Next". (Please rest assured that iMyFone D-Port will not record your login details.)
Step 3: The program will show you the available backup files. Choose the file from which you want to extract and transfer data to a computer.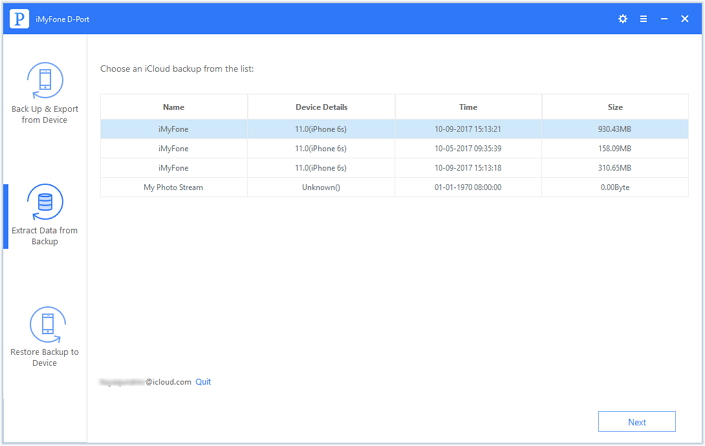 Step 4: You have to select WeChat as the file from the next screen so that you can transfer the data.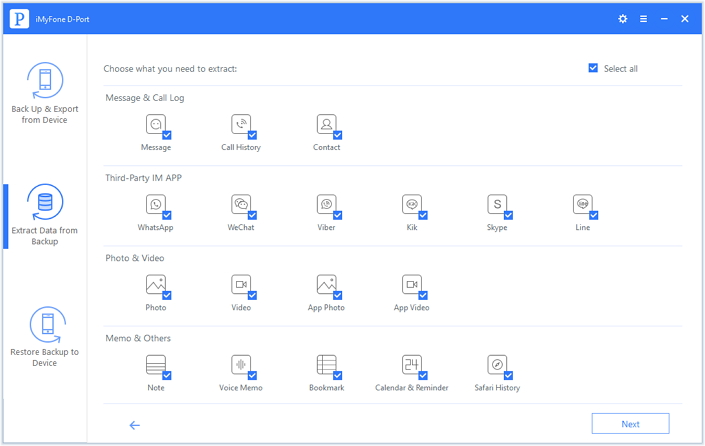 Step 5: The program will start to download the WeChat data from the iCloud backup. The time to complete the process depends on the size of the WeChat data. Please be patient.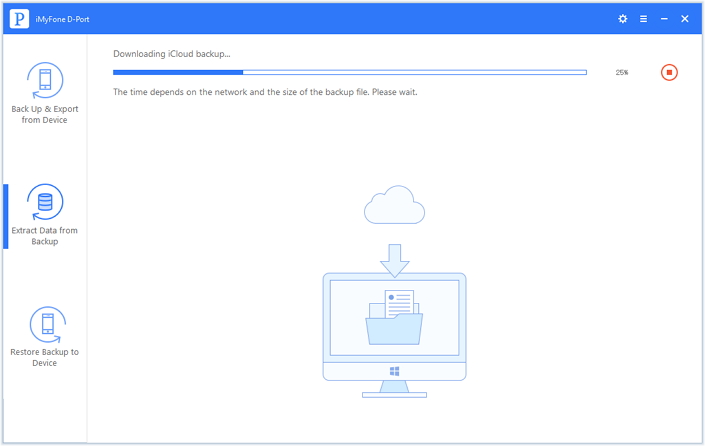 Step 6: See all the extractable WeChat data in the preview screen and pick those that are valuable. when the downloading is finished. Hit "Extract" button to begin extracting content. In the small pop-up screen, pick the location where you want to store the exported WeChat history.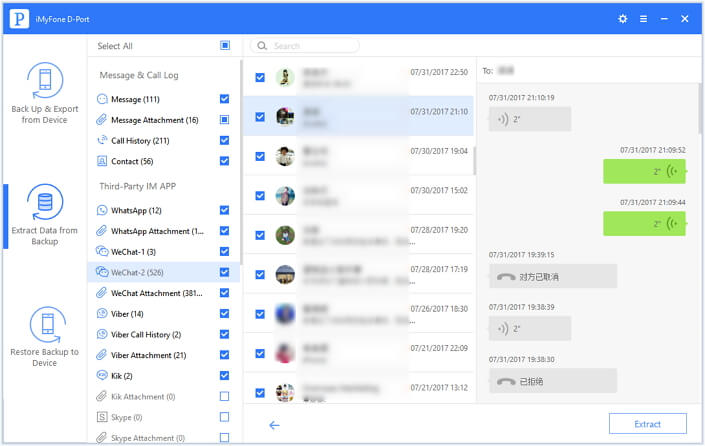 4

Backup Only WeChat Messages on iPhone to Computer (Free Way)
Step 1: Connect your iPhone to the PC and click on 'Back Up & Export from Device' located at the left panel.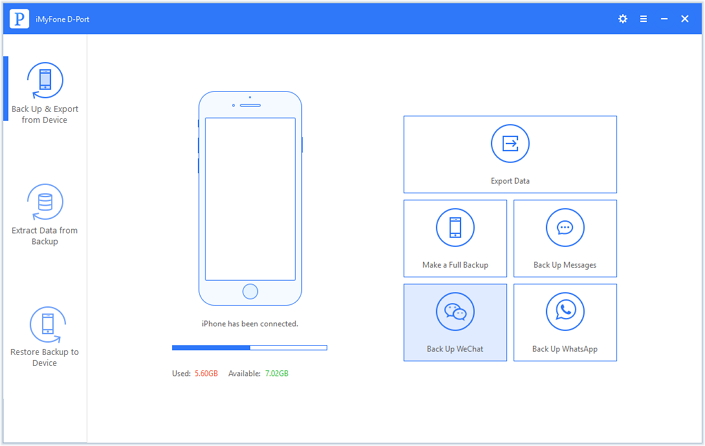 Step 2: After this, choose 'Back Up WeChat' option from the right side of the screen. The next screen will ask your confirmation. Just hit on 'Back Up' to continue the process.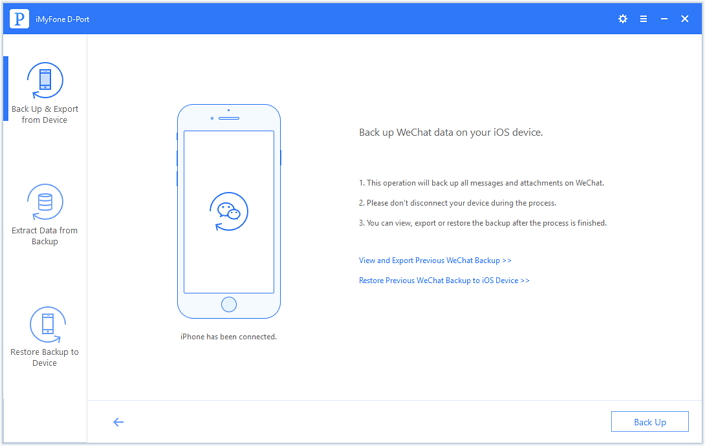 Step 3: The backup of WeChat will start and you will be notified at the end of the process. Also, please don't forget that the device should be connected during the process.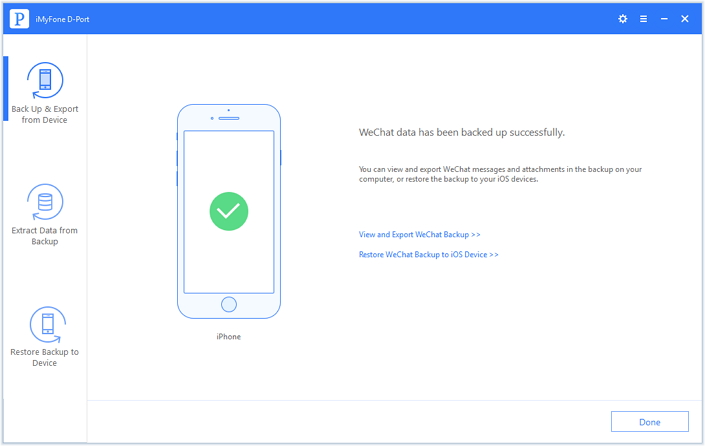 iMyFone iTransor Lite is the right choice to transfer WeChat history from iPhone running nearly all iOS versions including the latest iOS 14/13/12 to a PC/Mac in a few simple steps. Its powerful features also allow you to backup iPhone selectively and extract data from iTunes or iCloud backup. Download the Free Trial now to check out if it is a suitable tool for you.
5

Restore Only WeChat Messages from iTunes or iCloud Backup to iPhone
If you want to transfer the above WeChat backup to your iPhone in future, you can employ the Pro version of iMyFone iTransor Lite, namely iMyFone iTransor (supports iOS 14/13/12) which has all the features that iMyFone iTransor Lite supports and also the feature that iMyFone iTransor Lite doesn't support, which is selectively restoring data such as WeChat, WhatsApp, Messages (more will be supported in the new version) from iTunes/iCloud/iMyFone backup to iPhone. That means you can transfer the above WeChat backup to your iPhone or transfer WeChat messages from iCloud/iTunes backup to iPhone without affecting the other data on your device. Let's see how to do it.
Step 1: To begin with, open the program that you downloaded earlier. Click on 'Restore Backup to Device' and then you will receive a list of backups (iTunes, iCloud and iMyFone backup files) on your screen. Now you are required to choose the desired backup file and hit on 'Next'.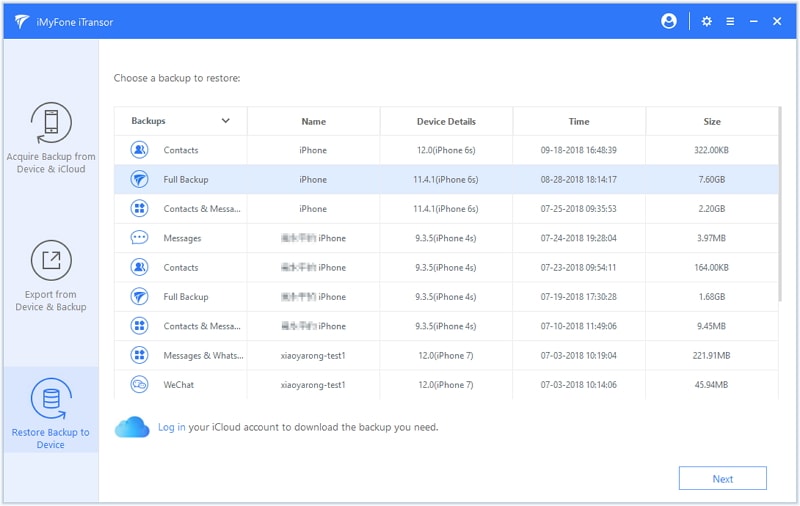 Note: In case you are unable to find iCloud backup (if you are restoring from an iCloud backup) in the list, you can see an option of 'Log in your iCloud account to download the backup you need' just below the list. Click on it and you will be able to get your iCloud backup.
Step 2: On choosing one backup file, hit on 'Restore Partial Backup' option available on the screen.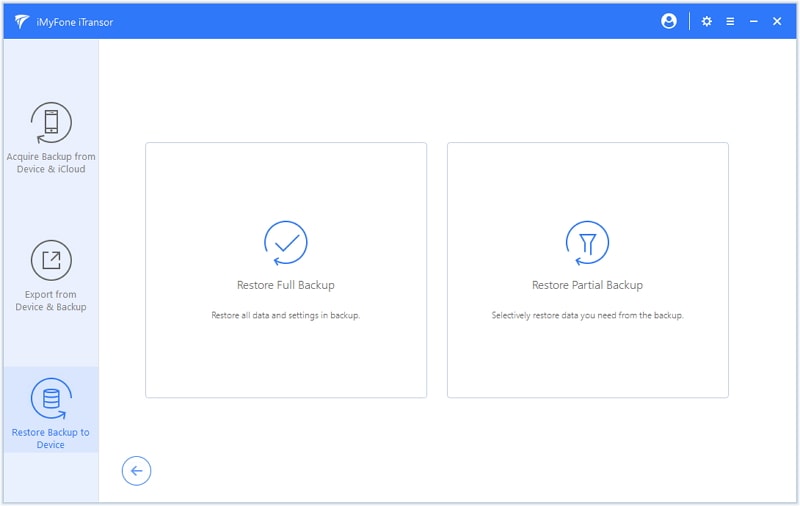 Step 3: When you choose partial backup, you will need to then select the file type you wish to restore. Check the box next to 'WeChat'. Then connect your device with your computer. Once it is detected, you can choose to preview the data and then restore to your device, or you can just click "Directly Restore" without preview.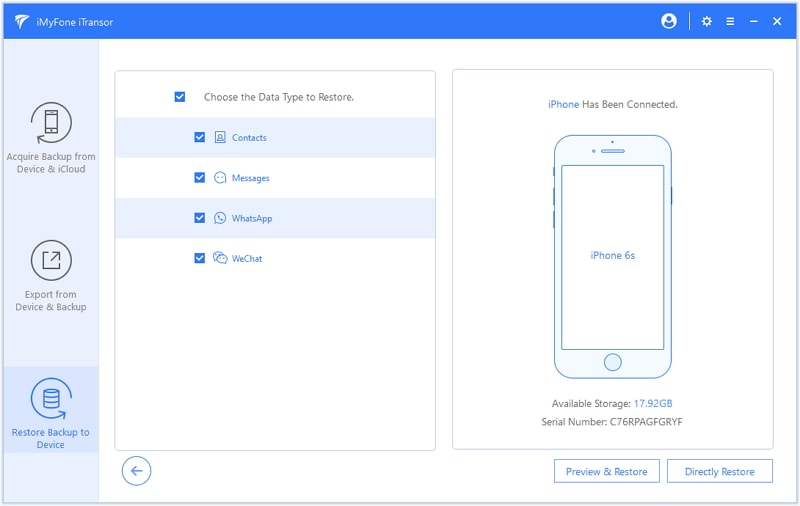 Step 4: If you choose Preview & Restore, you can preview your WeChat messages when the scanning gets finished. After confirmation, click on 'Restore'.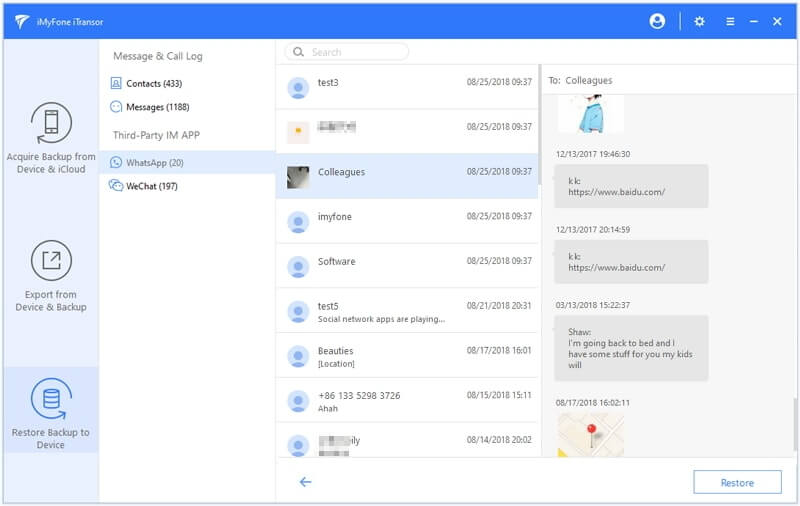 Now you can choose from Merge and Replace options. Once you have made a decision, you are good to go now. iTransor (compatible with iOS 13/12) will do the rest for you and you will be able to view the WeChat messages on your iPhone soon.