I'm a songwriter and recored a few hundred of songs and stored on my phone. Last night I was about to record something only found that the voice memos app was missing. After I get it back through siri, all the records were gone. Is there any solution to get them back?
Many people have been reporting the iPhone voice memos disappeared. This problem goes way back to the iOS 15 upgrade and has been happening for a while now.
A lot of reasons can cause your voice memos to disappear. Before that, however, it's important to know how to get back your memos. This is also what we are going to be dealing with in this article. Now keep reading and learn 3 ways to easily retrieve voice memos from iPhone with or without backup.
Part 1. Why Voice Memos Are Not Saved on iPhone?
This issue is mainly caused by the following three reasons:
Reason 1. Limited by free storage
The longer you record a voice memo, the larger the audio file will be. That may cause such kind of issue when there are not enough free storage to save your audio file.
Solution: Check your free storage before recording a voice memo.
Reason 2. Affected by iCloud sync & unstable network
iCloud will automatically sync your voice memo over WiFi connection. While you're recording a large file and the network is unstable, your voice memo will fail to being saved.
Solution: Temporarily turn off the iCloud sync function: Go to Settings > Apple ID > iCloud > Turn off Voice Memos.
Reason 3. Unexpected interruption
The recording is accidentally interrupted, such as a FaceTime call.
Solution: Change to air mode before recording/saving.
Part 2: iPhone Notes Disappeared? How to Get Back Voice Memos without Any Backup via D-Back
The worst situation we can image so far is that the voice memos disappeared and there is no backup file either on iTunes or iCloud. Well, there is still hope for you yet, because iMyFone D-Back (iOS 15 compatible) can help you get the data back directly from the iOS device. It applies the advanced technology to access the iPhone SQLite database and retrieve your deleted voice memos. More features about iMyFone D-Back can be found below:
Key Features:
The exclusive technology ensures a great chance that you can get back voice memos from iPhone.
No matter how you lost voice memos from iPhone, D-Back can recover for you.
You can preview and selectively recover the files you need, like voice memos in this article.
This wonderful iPhone data recovery software has been recommended by Cult of Mac, CNET and other famous technology sites.
It can also extract data from iTunes backup and iCloud backup.
Fully support iPhone 11 Pro Max/iPhone 11 Pro/iPhone 11/iPhone XS Max/iPhone XR/iPhone XS running iOS 15.
Note
Stopping using your iPhone when you realized that the voice memos have gone will increase the chance to get them back.
Steps to recover missing Voice Memos directly through D-Back
Step 1.Launch the program. From the primary window, click on "Recover from iOS device" and then click on "Start."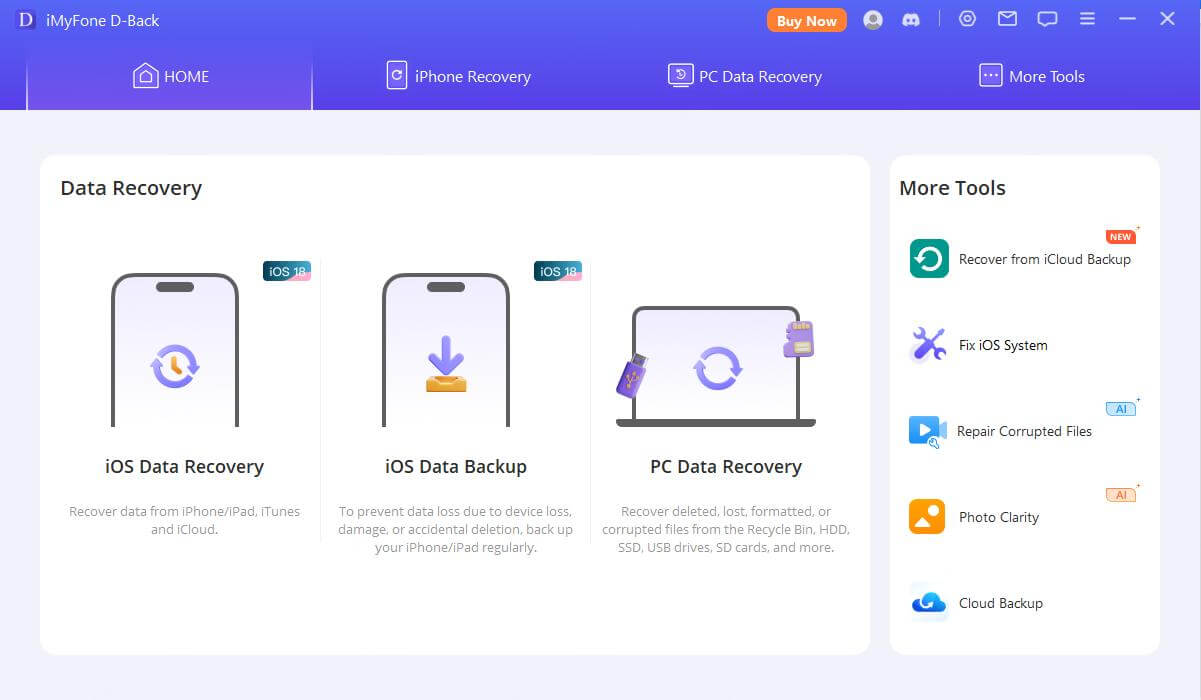 Step 2.Connect the device to the computer using USB cables. You will be required to choose the type of data you want to recover. (In our case, choose "Voice Memo" under "Memo & Others")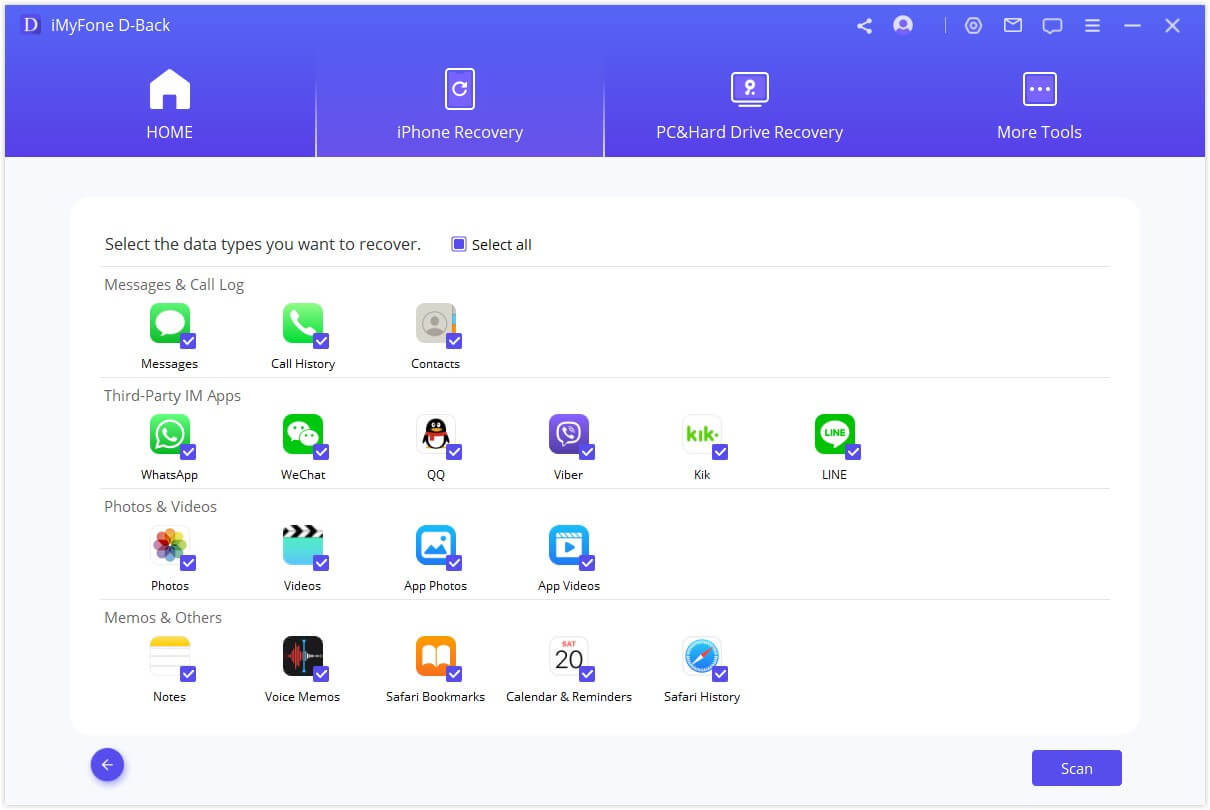 Step 3.Wait for a few minutes to scan your device.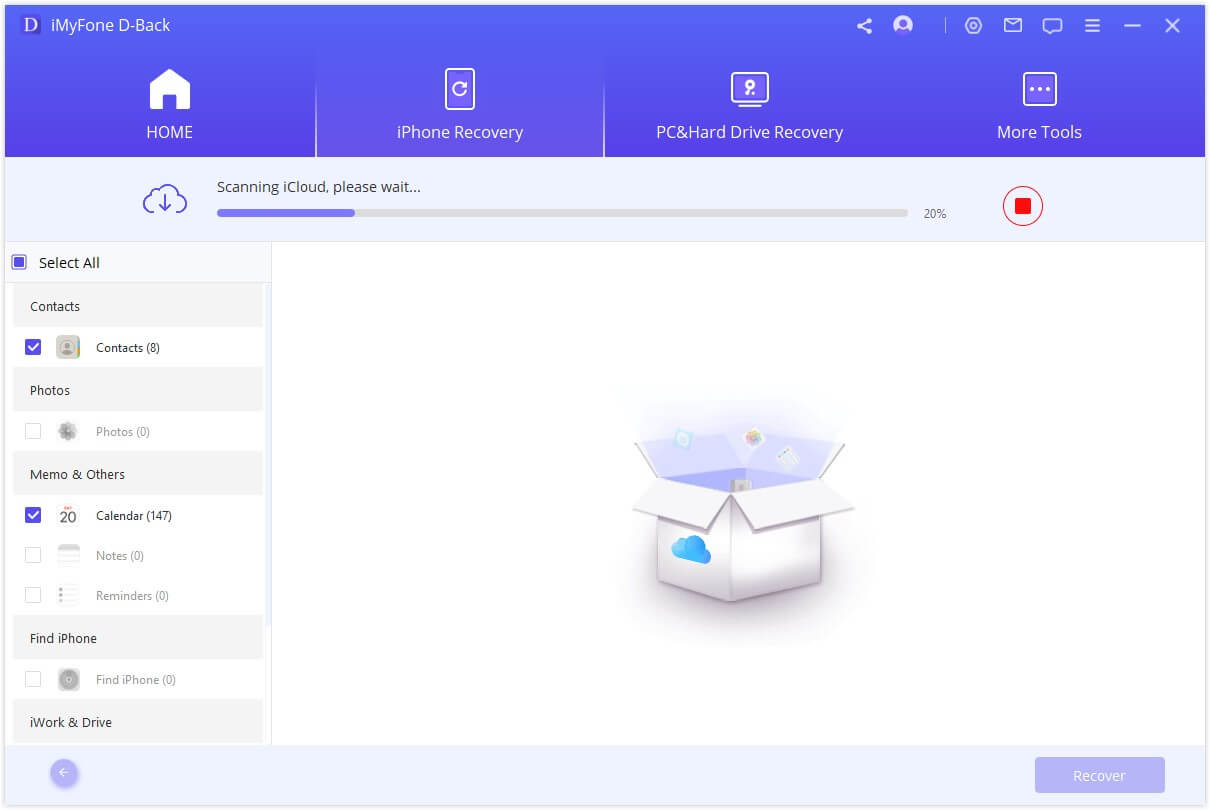 Step 4.When the scan is complete, preview the recoverable voice memos and select the missing voice memo. Click "Recover" and select a file path in the popup that appears.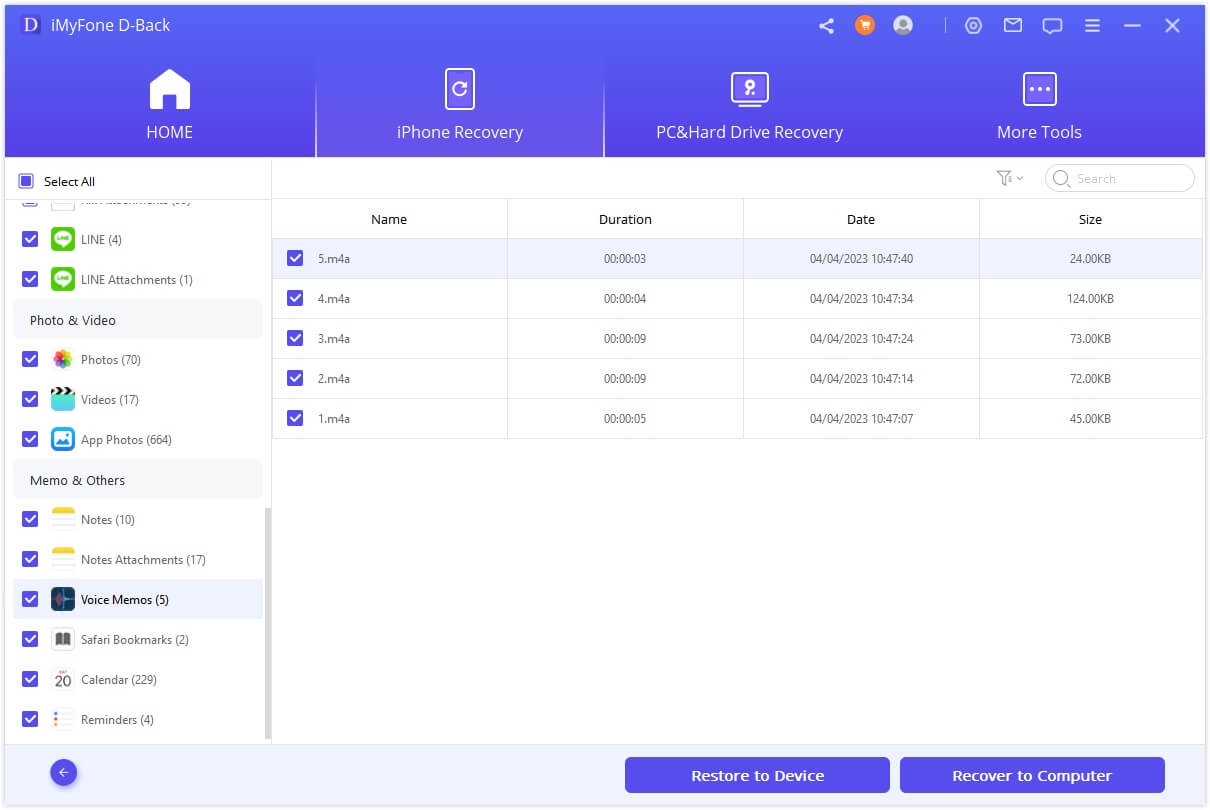 Part 3: Regular Solutions: How to Retrieve Voice Memos from iPhone
If you are lucky to have backed up voice memos in iTunes/iCloud, things will become easier. All you have to do to get them back is simply restore the device. To do this, you can either use the official way to restore voice memos to the iPhone or use iMyFone D-Back mentioned above. Each method stands out for reasons, and in the following part, we will discuss in detail.
3.1. Get Missing Voice Memos Back by Restoring the Device
First, make sure you have backed up voice memos with iCloud/iTunes, then follow these simple steps to do it.
iTunes Restore Voice Memos:
Step 1: Launch iTunes on your computer and then connect the device using USB cables.
Step 2. The select device when it appears in iTunes and then selects "Restore Backup" in iTunes.
Step 3. Choose the most relevant backup and click "Restore" to finish.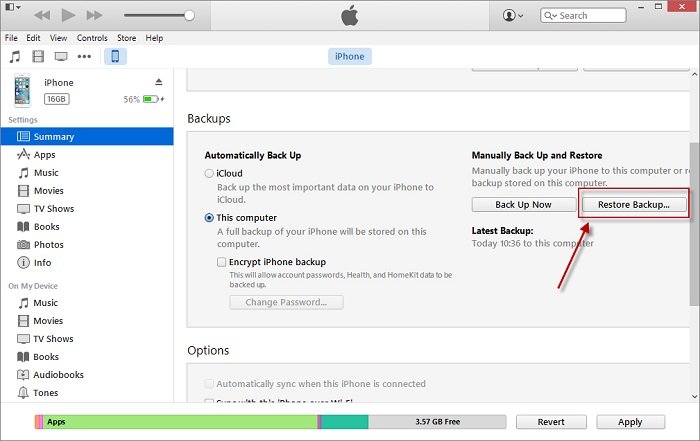 iCloud Restore Voice Memos:
Step 1. Go to Settings > General > Reset > Erase All Content and Settings.
Step 2. Enter the passcode and confirm to erase iPhone.
Step 3. Then select Restore from iCloud backup. Log in to your iCloud account and select the backup file. Wait for the whole restore process finishes.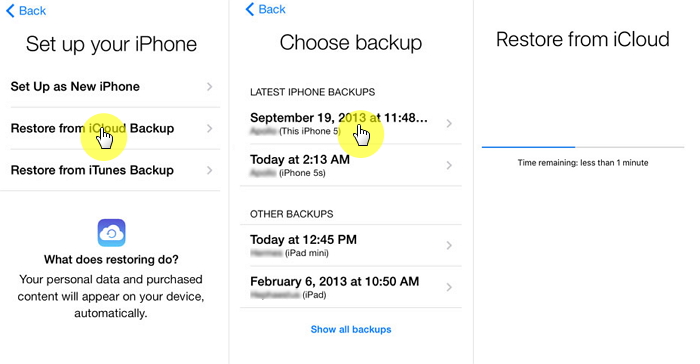 Note
You may notice that both iTunes and iCloud will erase the current data on your iPhone and replace it with the backup files. If you don't want to lose the data and just need to get a few voice memos back, you might as well employ the services with the iPhone backup viewing tool iMyFone D-Back.
3.2. Restore from Recently Deleted folder
Fortunatelly, the deleted voice memos are not erased permanently, they are stored in Recently Deleted folder alternatively for up to 30 days. Thus, you can find them there within this period:
Find Recently Deleted in Voice Memos app.
Choose a voice memo that you want to recover.
Tap Recover Recording.
Tips
In the version of iOS 15, you can manually set the duration to delete voice memos from Recently Deleted folder. Go to Settings of Voice Memo > Clear Deleted, you can change it to Immediately/After 1 Day/After 7 Days/Never.
3.3. Restore from synced devices
If you have synced voice memos to other devices before the deletion, you can restore missing voice memos from those devices.
Part 4: Ways to Protect Voice Memos in iOS 15 from Loss
Duplicate Voice Memos
Here's how to duplicate copy of a voice memo:
Open Voice Memos app and choose one that you want to make copy.
Tap the three dots.
Select Duplicate.
Share a Voice Memo
You can share the voice memo recording with other devices as a backup. Share via AirDrop, Message, Mail, is actually very simple. It is also a good way to backup your voice memos.
Final Verdict
"iPhone Voice Memos Disappeared" issue can be caused by various reasons. Make backups regularly is the best way to avoid any data loss including voice memos. If the same thing occurs on your iPhone unfortunately, have a try for some pro data recovery tools such as iMyFone D-Back.