WhatsApp is optimized for sharing different types of data such as pictures, videos, documents, location etc. in addition to the textual contents. In particular, sharing pictures over WhatsApp is an exciting experience for many users. Every minute, a massive number of pictures are being shared over WhatsApp platform to accomplish various tasks. However, in certain cases, some users become utterly disappointed to notice that their WhatsApp picture disappeared.
If you notice that your WhatsApp picture disappeared and need to have them back from iPhone, this article comprises several methods to solve it. Please read on!
General Overview of the Top 3 Methods
In fact, we offer three surefire solutions that helps you recover the lost WhatsApp pictures. What below is a general overview of those three methods.
Using iMyFone D-Back
Recovering disappeared WhatsApp pictures using iMyFone D-Back is our first solution. We consider this method to be the most effective and convenient way due to various reasons. One of the most notable benefits associated with iMyFone D-Back is that it lets you recover selective files instead of everything. We will discuss more on this method in the next paragraphs of this article.
Using iTunes Backup
iTunes is a default service provided by Apple themselves. This specific tool can be used to retrieve data in the form of backup files. To perform this method, you should connect your device to the computer using a cable. However, you don't have the ability of recovering selective files using this method. In addition, the current data on your device will be replaced.
Using iCloud Backup
iCloud is another standard service offered by Apple. To recover data from an iCloud backup without a computer, you should have an internet connection. iCloud doesn't offer the option of recovering selective files and overwrite your current data either.
Recover Disappeared iPhone WhatsApp Pictures Using D-Back
In this part of the article, we explain how to use iMyFone D-Back to recover disappeared WhatsApp photos. As a matter of fact, iMyFone D-Back is considered to be one of the most effective tools available to recover WhatsApp data from iOS devices.
It can recover data selectively and bring back your disappeared WhatsApp images easily.
Highly convenient user-interface. 
This software supports all the iOS devices and iOS versions including the latest ones.
It can recover data even from damaged or broken iOS devices by viewing and relying on backups. 
Steps to Recover Data using iMyFone D-Back
Step 1. You should download and install iMyFone D-Back on your computer as the first step. Then, start the program and select the option "Device Storage".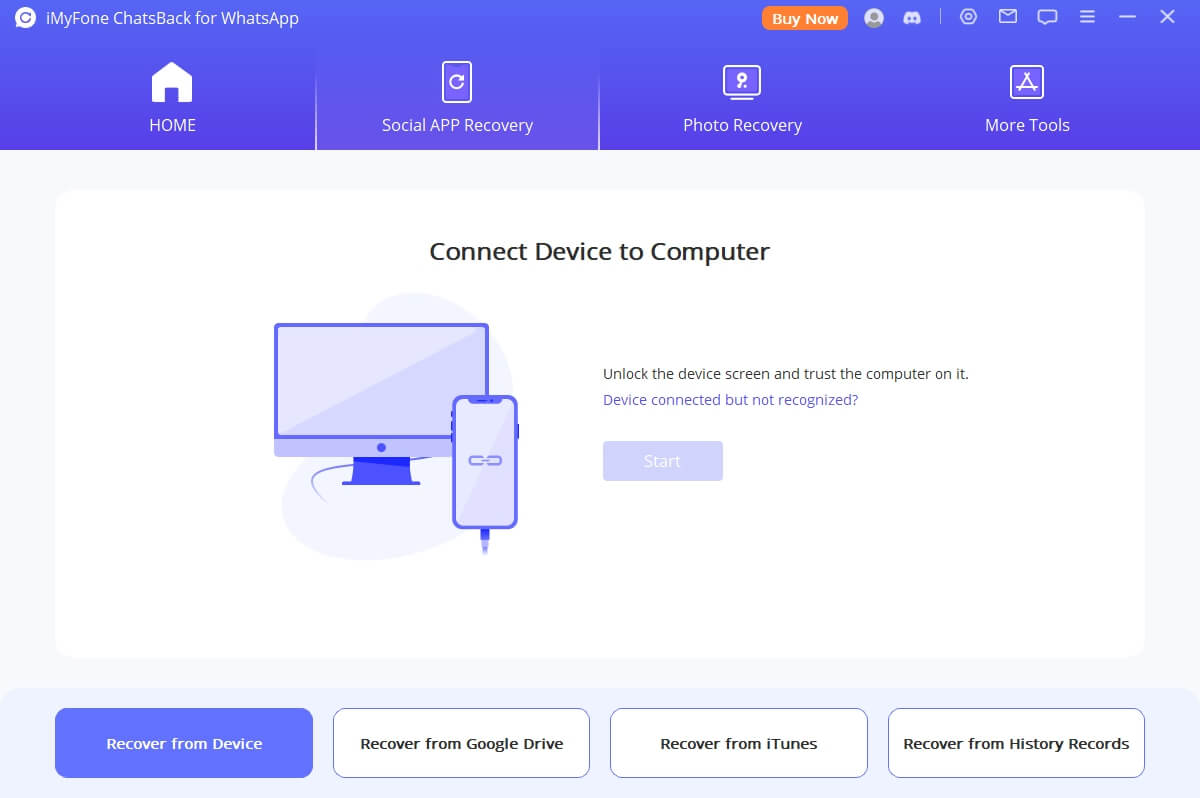 Step 2. Then, trust the computer on your device and you should wait for the program to detect the iOS device. Choose WhatsApp Messager / WhatsApp Business and click Start to scan your iPhone.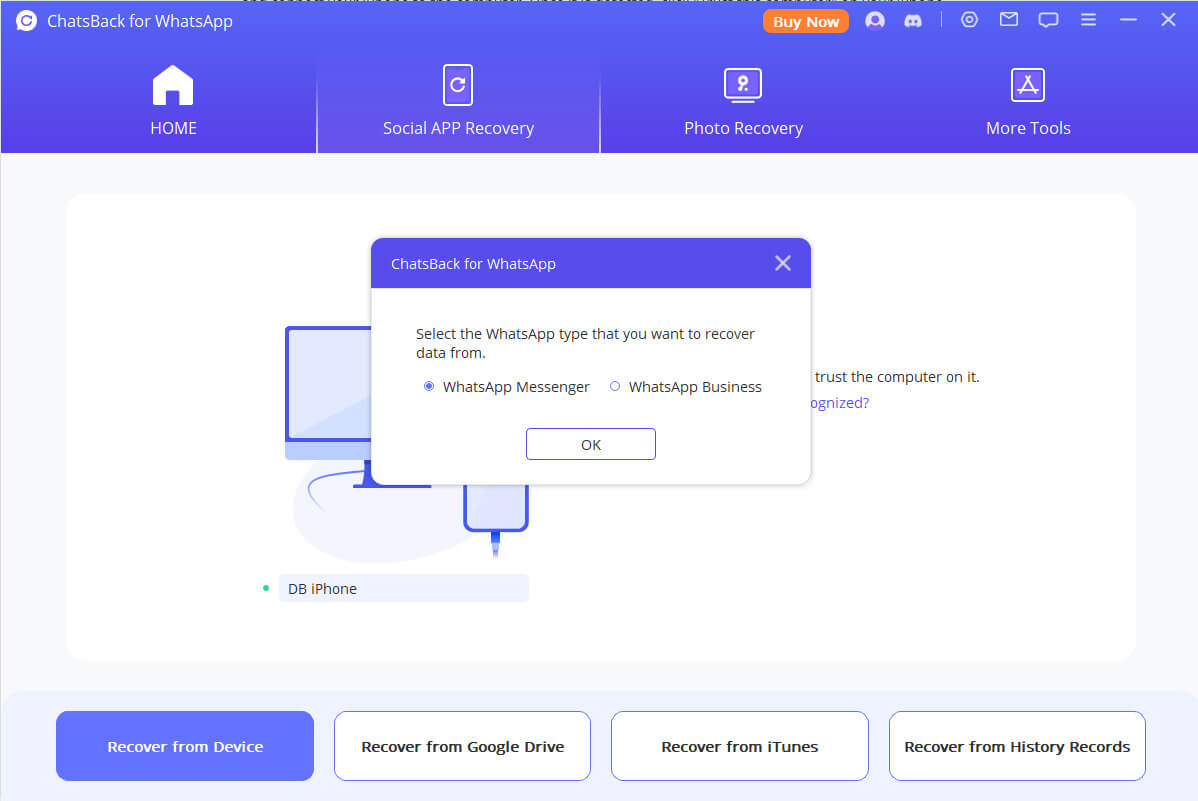 Step 3. Select the WhatsApp pictures that you wish to recover after scanning. Choose recover the WhatsApp pictures to your computer or restore them to your device and click the corresponding button.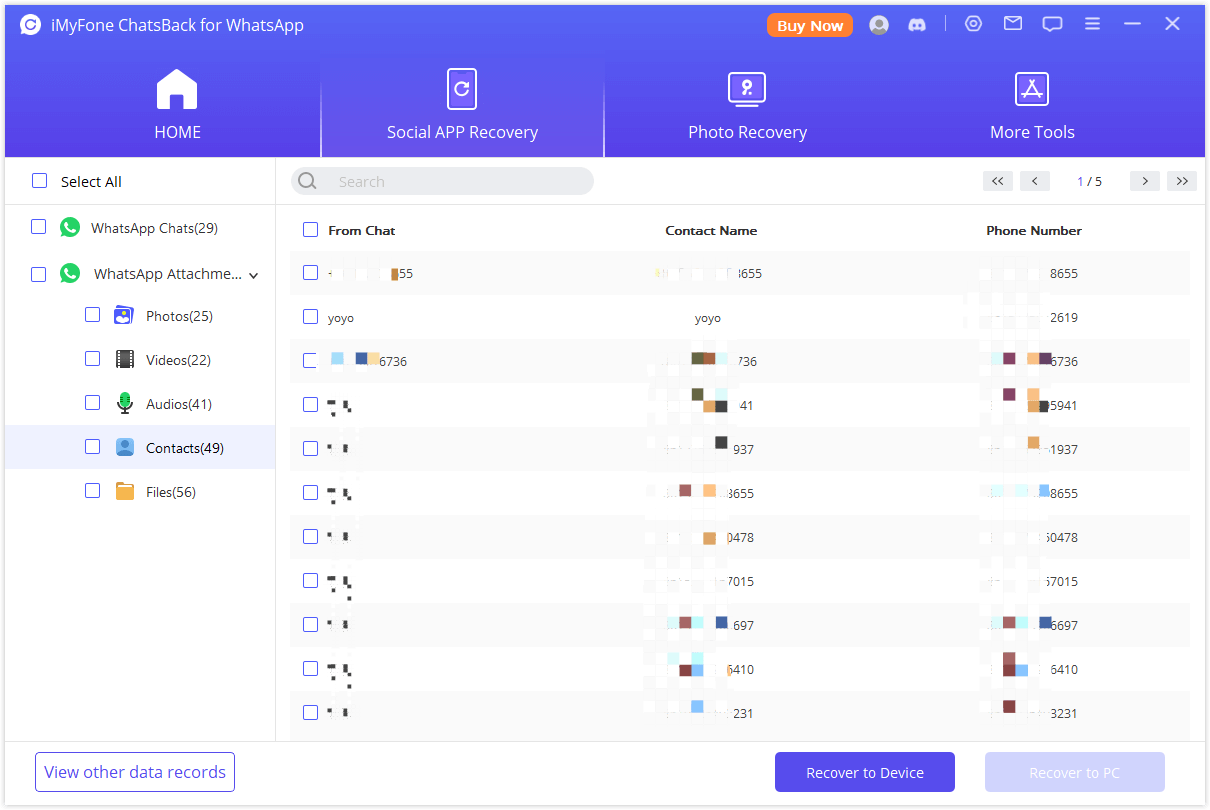 Recover Missing WhatsApp Pictures with iTunes Backup
In this section, let's see how to recover deleted iPhone WhatsApp pictures using iTunes.
As the first step of this process, you should open iTunes on your computer. Then, you should connect the iOS device to your computer with a USB cable. If prompted, provided the passcode or trust the computer according to the onscreen steps.
You should now select the iOS device when it appears in iTunes. Then, select Restore Backup in iTunes. Be sure that your iOS version is up-to-date to proceed.
You should now select the backup you need to restore simply by looking at the data and size of the backup. Click on "Restore" option and wait for the process to be completed. If prompted, provide the password for your encrypted backup.
Be sure that the device stays connected to the computer until the process is completed.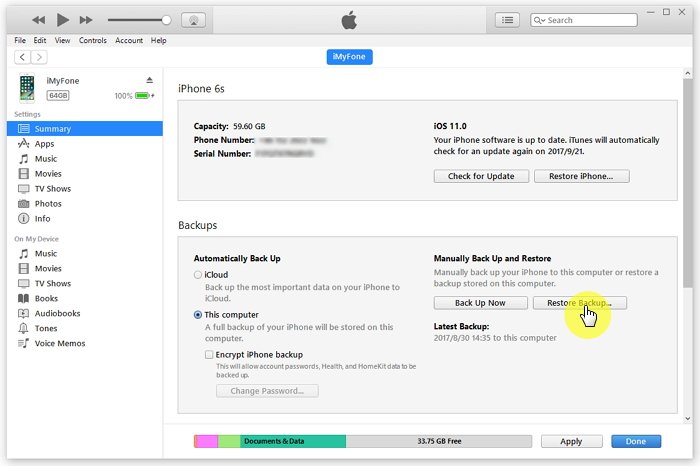 Recover Disappeared WhatsApp Pictures with iCloud Backup
If you need to recover data like deleted WhatsApp data from your iCloud backup, here's how to do it.
Turn on the iOS device and then you will notice a welcome screen. If your have configured the device already, you should erase the contents of the device before proceeding to the next level. Now, you should do according to the onscreen setup steps and reach "Apps & Data Screen". You should then tap Restore from iCloud Backup.
Use your Apple ID and sign into the iCloud account. Now, you should select a backup simply after referring to the data and the size. The transfer will then start. However, if it requires a newer iOS version, you must update the existing version.
Sign in to the Apple account in order to restore the apps.
Now, you should wait until the process is completed.
Finish the setup on the device. If you have a large backup to restore, the process may continue as a background process.
Comparison Table of the Top 3 Methods
| | | iTunes | iCloud |
| --- | --- | --- | --- |
| Recover WhatsApp pictures selectively | Yes | No | No |
| Find WhatsApp pictures disappeared without backup | Yes | No | No |
| Find missing WhatsApp pictures with iTunes backup | Yes | Yes | No |
| Find missing WhatsApp pictures with iCloud backup | Yes | Yes | Yes |
| Overwrite existing data on device | No | Yes | Yes |
| Can be recovered to iPhone | Yes | Yes | Yes |
| Free | No, but has free trial version | Yes | Yes |
| Storage | Free | Free | Free up to 5GB Only |
As you can see, iMyFone D-Back doesn't cause any affect on existing data on your iOS device when recovering. However, on the other hand, both iCloud and iTunes backups overwrites your existing data. Also, iMyFone D-Back lets you recover files selectively instead of recovering an entire backup file. In this case, if your purpose is to recover just the disappeared WhatsApp photos, iMyFone D-Back is the best option.
Conclusion
We hope that now you have a thorough understanding about all three methods that can be used to recover lost WhatsApp images. You can go through all the methods once again and apply the most convenient, suitable and efficient way to recover your lost data. Also, we really appreciate if you can leave us a comment about the experiences with recovering data using the method you selected.