Question
"Okay so here it goes,My iPad has finished updating the iOS again but to my horror, it restored to factory settings. I lost all 60GB worth of photos and videos all the memories I had for the last two years. I know it's stupid of me not to back it up in iTunes or iCloud. Is there a way where I can recover all my data at least? I heard there are third party software who can do the work.. Please help I'm desperate. "
This sounds familiar to us. Have you ever imagined a scenario where you wake up one morning and all the data you have accumulated on your iPad is suddenly not there? This may sound like a nightmare to you but it does happen and believe it or not it can happen to you. But this is why we have backups right? Except that sometimes you can forget to back up your device. And before you ask, yes this does happen too.
So what do you do when you forget to back up your iPad and then lose some or all of your data? At first glance, it does seem like an impossible situation to fix, yet the very fact that you are looking for a solution can only mean that there must be one. Yes! You can perform iPad data recovery without backup even if you don't have a backup either on iTunes or iCloud and this article is here to show you how you can do that.
Part 1: What You Should Know after Losing Files on iPad
To increase the success rate to recover your lost files on iPad, there are few tips you should look out for:
Please immediately stop using your device after a file deleted on your iPad. If you continue using your iPad once you discover that you've lost some data, it will overwrite the deleted data and make data recovery impossible, the point is to find a reliable data recovery software quickly. With the right tool, you'll have a high chance of restoring deleted files. Rather than let you aimlessly search for the tool, we 're going to show the best iPad data recovery software.
Part 2: Perform iPad Data Recovery without Backup using iMyFone D-Back
If you are thinking that you will need a data recovery tool to recover data from your iPad, you are partially right. You, however, won't need just any data recovery tool, you will need a tool that is effective, safe, and efficient. That data recovery tool is none other than iMyFone D-Back iPad data recovery . We recommend this tool for the simple reason that it makes data recovery a simple operation, eliminating all the fuss that usually surrounds data recovery programs.
The following are just some of the reasons we think you will find iMyFone D-Back a great solution to all your data loss related problems.
Key Features:
It is also very easy to use and quick. You can recover your missing data in just few minutes and in a few simple steps as we shall see below.
It can be used to view and extract more than 22+ types of data from your device including messages, photos, videos, Wechat, Whatsapp messages and more.
Its preview function allows you to see the files you want to recover and hence makes selective data recovery very easy.
It comes with 4 recovey modes, you can freely choose from them according to your needs.
Aside from being highly effective in data recovery. It is also 100% safe, none of the data on your device will be altered in any way nor will the program damage your device in anyway.
Work perfectly with all iOS versions (new iOS 13/12/11 included).
Steps to Perform iPad Data Recovery without Backup
As long as the data on your iPad has not been overwritten, here's how to easily recover the missing data.
Step 1: Begin by downloading and installing the program to your computer. Launch the program and from the main window, select "Recover from iOS device." Click "Start" to continue.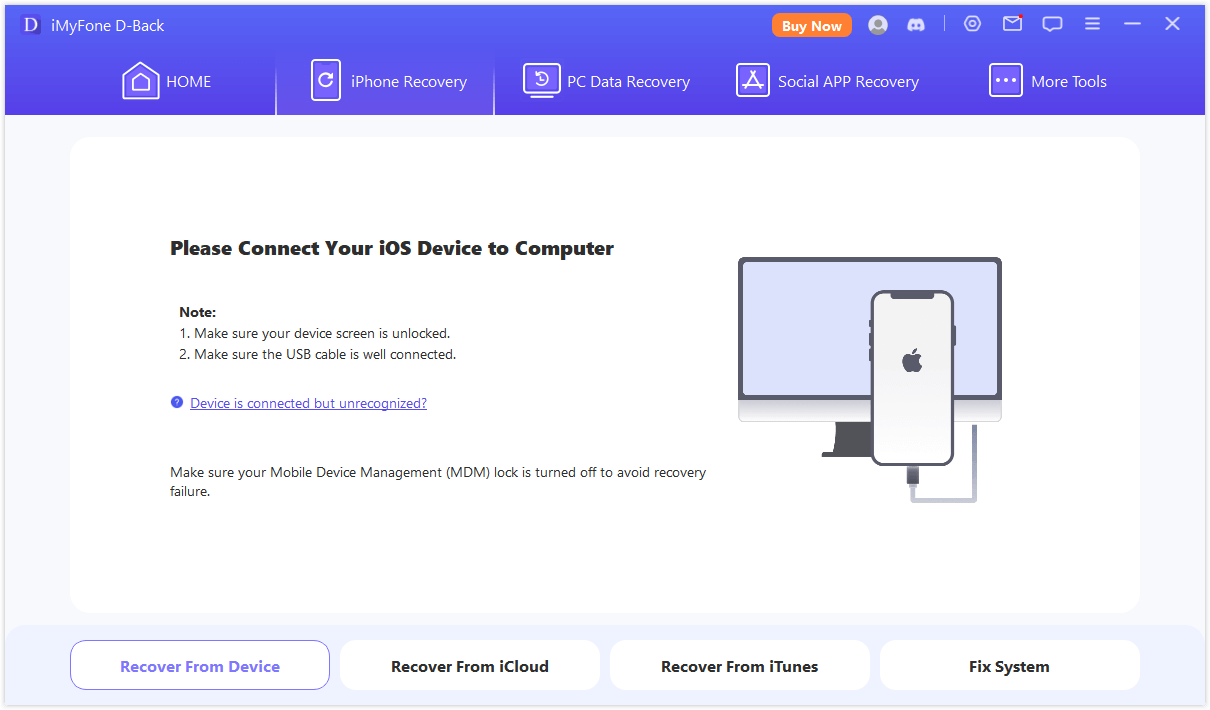 Step 2: In the next window, select the type of data you want to recover. If you have lost all file types, check "Select All" and then click on "Scan" to continue.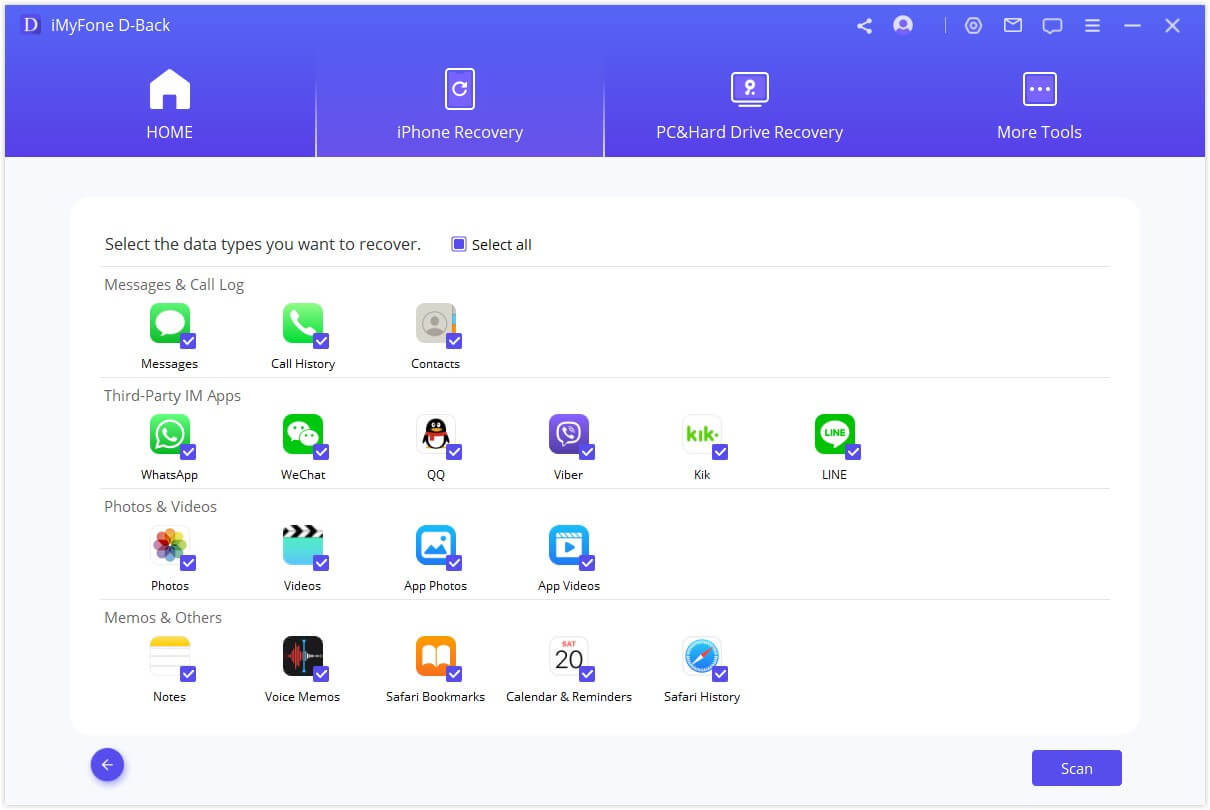 Step 3: Depending on how much data you have on your device, the scanning process may take some time. Once it is done, preview the results and select the data you would like to recover. A popup window will appear allowing you to choose a storage location for the recovered files.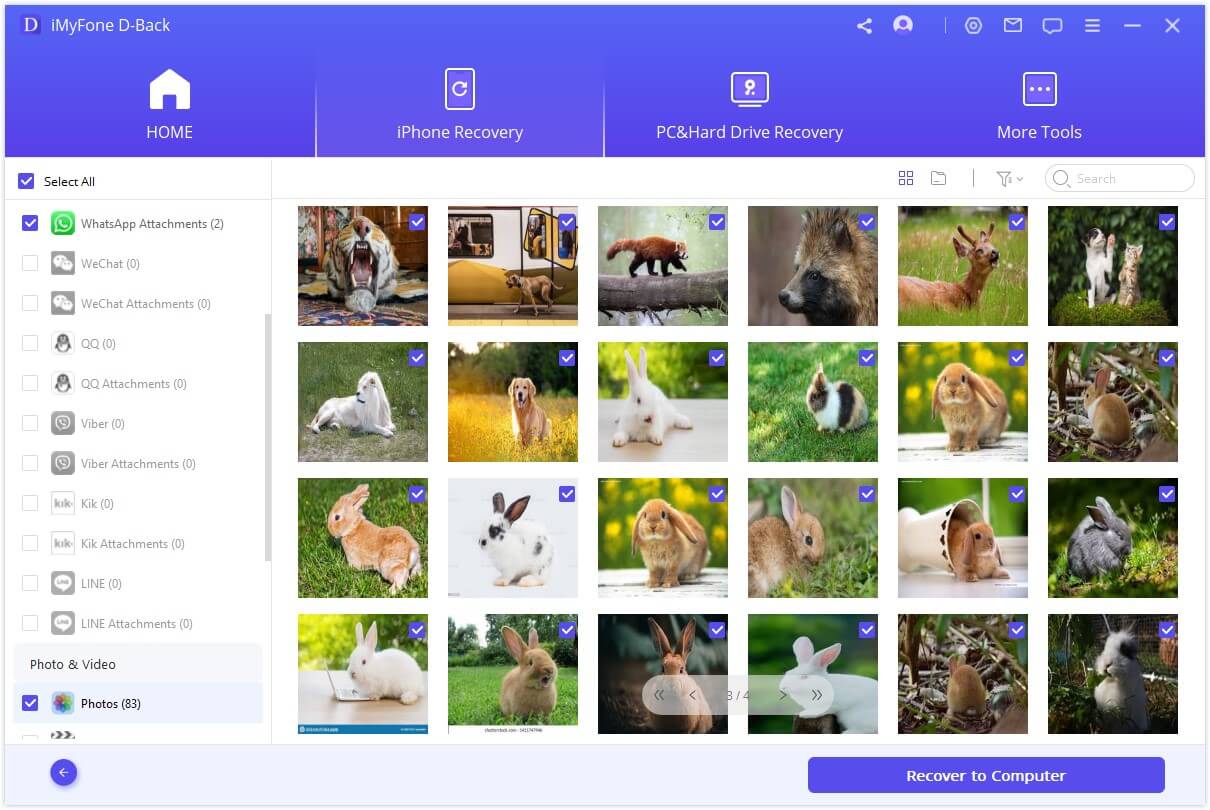 Let's sum-up in short! If you deleted data on iPad without backup, getting them back is not an issue nowadays! By using the top method provided below, or by using our effective D-back, you can retrieve data from your iPad with just a few clicks easily. Download the free trial version of iMyFone D-Back iPad data recovery to scan and preview all the recoverable files from your iPad now!