iPhone 12 purple screen is one of the most prevalent issues that affect iPhones 12, and it can be extremely troublesome. It feels like a terrifying nightmare, especially for users who are experiencing it for the first time. You may also encontered similar issues like iPhone screen purple lines and iPhone screen purple tint.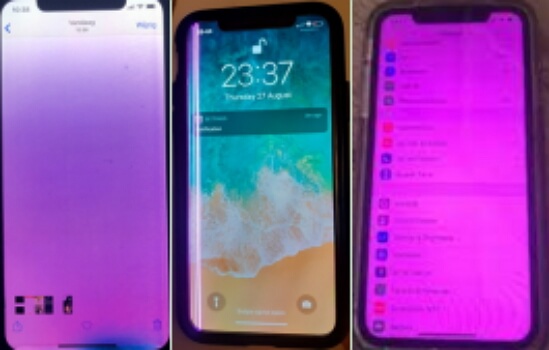 In that case, this article will assist you in troubleshooting and, hopefully, permanently repairing your iPhone.
Why is My iPhone Screen Purple?
Before we get into the remedies, it is vital to remember that this problem can cause by both software and hardware issues. With that said, let us see some reasons for the iPhone purple screen.
Loose connection of flex cable: An intense rollercoaster ride, or just jumping from a high place to a lower surface might cause your flex cable to become hardly connected.
Water and other moisture: If your kid wets your iPhone with saliva all day long, that purple lines or tints will begin to develop on its screen.
Dropping your iPhone on a hard surface: Mistakenly drop it on a hard surface, e.g., concrete, tiles.
System error: Such as an update to iOS 16. Older generation iPhones are more susceptible to this issue.
Backup iPhone with Purple Screen/Lines/Tints
When you met the issue of the iPhone purple screen of death, the first thing that you should consider doing is backing up your device.
You can perform a backup through iTunes, iCloud, or iMyFone iTransor. It is even better if you can perform more than one backup, you know, to be on the safer side. It is just better to have your files on local storage and on the cloud.
Via iTunes or iCloud
iCloud is a good choice to back up the data on your iPhone. You can back up your data whenever and wherever if there is stable internet connection.
PROS
Can be done anywhere, anytime
Does not need cables
CONS
It can't be done without internet connection
Partial backup—leaving app's files unbacked up
Backing up with iTunes does not require internet connection. You only need a USB cable or Wi-Fi network to connect your iPhone or iPad to your computer. Also, your app's data as well as files will be backed up.
PROS
Total and complete backup
No internet connection is required
CONS
Need to Mac or Windows computer and a USB cable
Can't selectively back up some data
Via a better iTunes alternative
iMyFone iTransor, the world's first iCloud data backup and restore tool, is a better alternative to iTunes. This advanced tool from iMyFone can allow you to selectively back up and restore your iPhone or iPad data without the fear of losing them. And the best part of this app is that it is compatible with all iOS versions and devices, even iOS 16!
2 Common Ways to Fix iPhone Purple Screen of Death
Sometimes the iPhone Purple Screen of Death issue can be solved with common ways if you are lucky. Let's see two commons ways to fix the issue.
Adjust iPhone Screen Brightness and Color
Adjusting brightness and color temperature in Settings may do the trick, especially if the cause of the iPhone purple tint is related to the software.
Please follow the steps below to change the brightness and color tint of your iPhone's entire screen:
Go to Settings from the home screen.
Click Accessibility > Display & Text Size > Find the Color Filters.
Tap the switch next to Color Filters to turn them on.
Click Color Tint.
Drag the Hue Slider left or right until the tint is what you need.
Drag the slider left or right to adjust the brightnesss.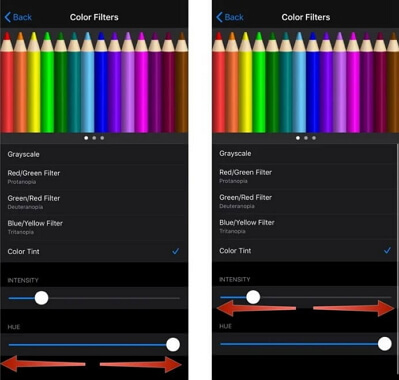 Restore Your iPhone/iPad with Purple Screen to Factory Settings
Another effective solution proven effective for many users faced with iPhone purple screens is performing a factory reset. To reiterate, do not forget to back your data up using any of the methods mentioned above before proceeding to carry out a factory reset on your iPhone or iPad.
Therefore, proceed with the following steps if you have successfully backed up your data.
From your iPhone or iPad home screen, locate the Settings icon.
Scroll down until you will see General, click it, and then hit Reset.
Click on Reset All Contents and Settings.
When selecting Erase All Content and Settings, your iPhone will remind you to enter your Apple ID password.
A pop-up window will appear informing you that all data and settings on your iPhone will be erased.
Press the Erase iPhone button to factory reset your iPhone to solve the purple screen.
By the time your phone comes on, hopefully, the purple screen of death has been resolved.
2 Advanced Methods if iPhone Screen is Turning Purple
If none of the tricks above works for you, you should try the more advanced ways below to remedy your iPhone purple screen. You can choose a professional tool, like iMyFone Fixppo, to fix the iPhone purple screen of death or directly contact Apple customer support should worst come to worst.
| | Use iMyFone Fixppo | Contact Apple Support |
| --- | --- | --- |
| Difficulty | Easy | Complex |
| Required Time | Short | Long |
| Data Loss After Fixing | No | Depends |
| What Can Be Fixed | All system/software issues | Most hardware/software issues |
Fix iPhone Purple Screen with a 100% Success Rate
If you are a tech savvy, especially the one that loves to take matters into their own hands, fixing your purple-tinted iPhone screen shouldn't be a big deal when you use iMyFone Fixppo. It employs independently developed technology and works for all versions of iOS, including iOS 16.
Pretty Easy to Use: An easy-to-use interface is designed to help you repair your iPhone purple screen within minutes.
No Data Loss: You can use it to fix your iPhone purple screen without losing any data.
The Highest Success Rate: It offers a 100% success rate for repairing iOS system issues, like iPhone screen flickering, iPad unable to check for update, and so on.

Step 1. Download the program and lanch it on your computer. Connect your iPhone to your computer and choose a mode to fix the iPhone purple screen.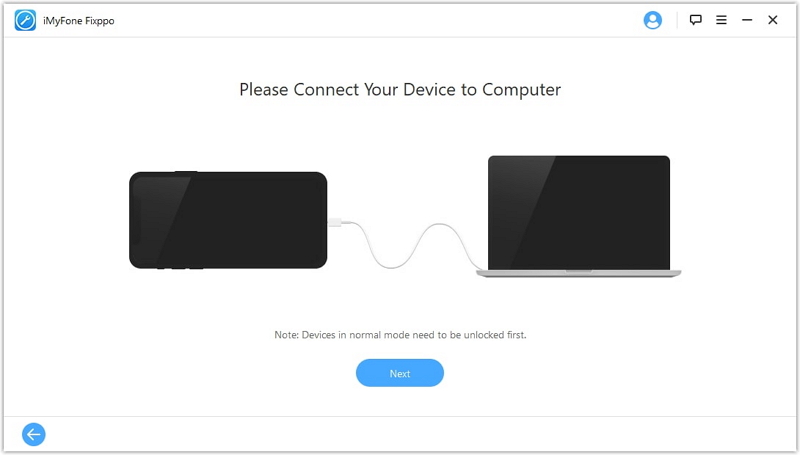 Step 2. If your device wasn't detected, please follow the steps on the window to put your device into DFU or recovery mode. Then you can choose a firmware version and download it.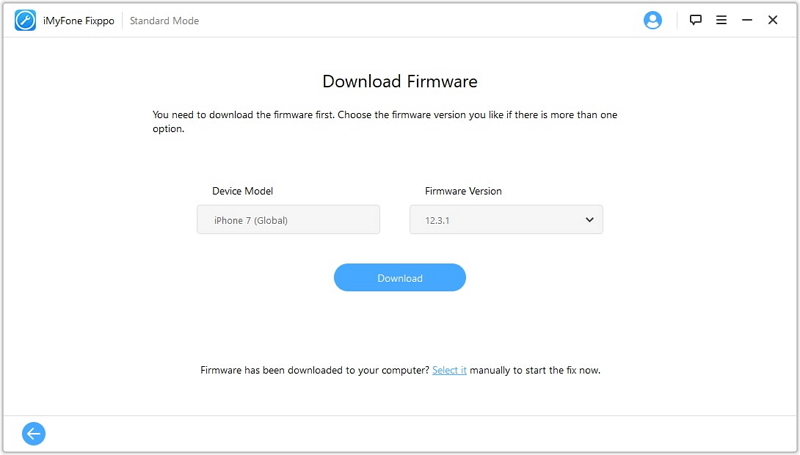 Step 3. Click the Start button and wait for a few minutes. Your iPhone will restart after the fix.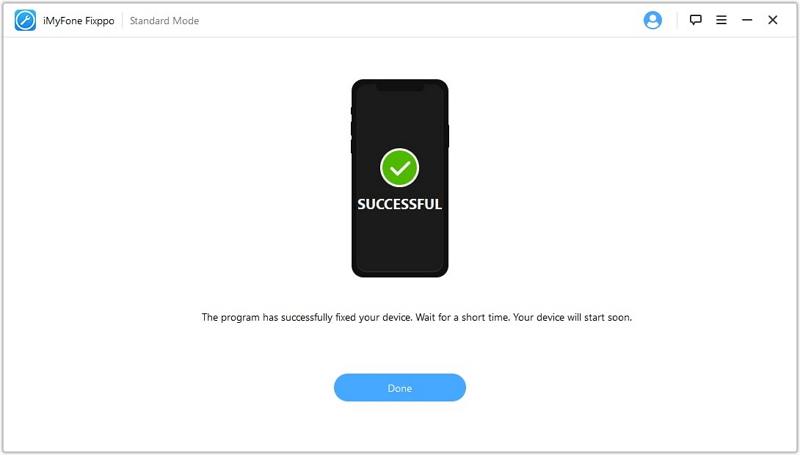 Contact Apple Support
If you do not want to do it yourself, you can directly walk into a certified and authorized Apple support center or store to get your phone fixed. Before doing that, make sure your iPhone or iPad is still under warranty at the time of repair. Otherwise, you would have to pay more bucks. Whatever the case may be, your iPhone is in safe hands with them.
FAQ: What is Purple Mode on iPhone?
Purple mode on iPhones is a mode that allows you to edit otherwise inaccessible hardware-level system configuration files, bypass, Wifi, edit BT, Change NAND, Region, model, and Colour.
Conclusion
If your iPhone screen begins to develop purple lines or tints, don't be alarmed; there are many ways to fix it--including using the iMyFone Fixppo, factory resetting, color adjustment or visiting the Apple customer support. The most important thing is to back up your data before opting for any of the alternatives.