Question
Many Apple lovers has met the issue that the newly bought iPhone had automatically started scrolling back to the top on its own.
Even they restarted their iPhone to see if the issue was fixed but in vain. The screen continued scrolling back to the top when using the internet, exploring apps, or reading messages. They asked me: "How do I stop my iPhone from scrolling back to the top?"
Fortunately, I knew the solution to this problem. For all iPhone users who are also facing this problem, here's how you can fix the scrolling screen jumping issue in four simple ways.
Why Does iPhone Screen Keep Scrolling Up on Its Own?
Have you ever notice that iPhone 8 screen jumping when scrolling? The issue has also appeared on iPhone 12/11. It is quite distressing because it hinders users from using their iPhones freely. Particularly when you are reading some important conversation and your iPhone screen jumps to the top.
Several reasons may make your iPhone automatically scrolling up. The most common cause is faulty display or phone assembly. Usually, a damaged pin could have caused a fault in your phone's display. Similarly, it is also possible that you may have dropped your iPhone from a good height that could have disturbed its display seating.
In some cases, some internal system issues can also result in automatic scrolling problems in iPhone. Such issues can be fixed easily by using any one of the following methods.
The Most Advanced Way to Fix iPhone Automatically Scrolling Up
Whenever you find an iPhone screen jumping when scrolling, you can fix this problem with the help of iMyFone Fixppo. It is a professional tool which can fix iOS/iPadOS/tvOS in minutes.

If your iPhone screen keeps scrolling up, follow these simple steps to fix this problem with iMyFone Fixppo.
Step 1: Download and install iMyFone Fixppo on your computer. Launch iMyFone Fixppo and select Standard Mode to fix the issue without losing your data.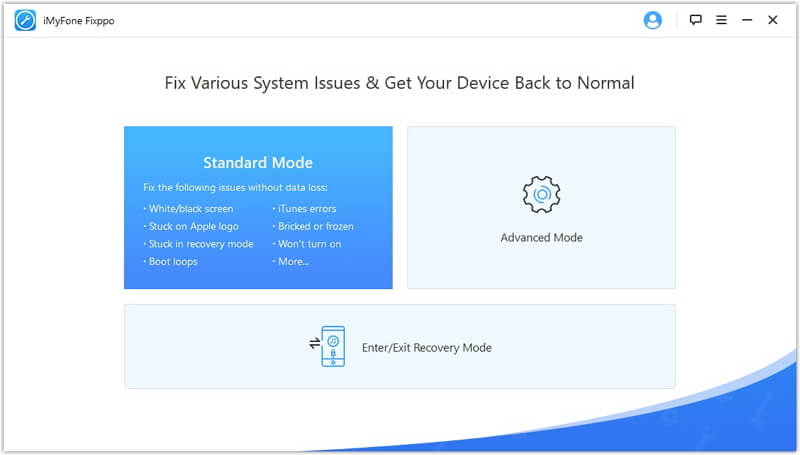 Step 2: Connect your iPhone to the computer where you have installed iMyFone Fixppo. The program will proceed to the next step once it detects your device. However, if the program does not detect your device, please follow the steps shown in the figure to put your device into DFU mode.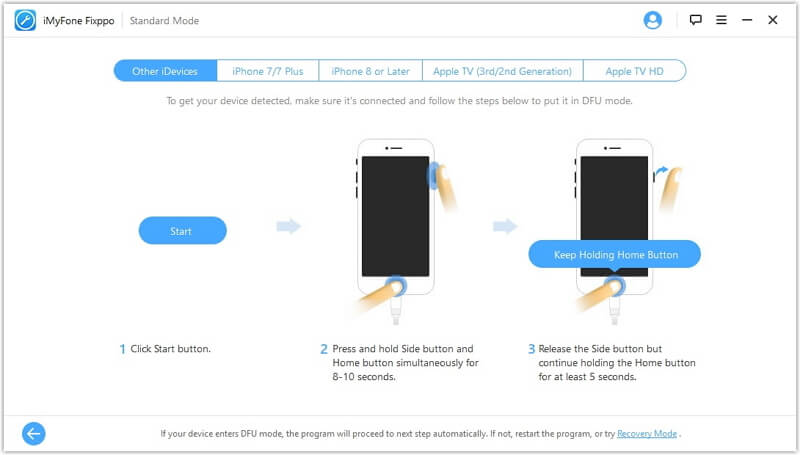 Step 3: Choose a firmware version and click Download. Once everything is ready, click the Start button. Once the issue is fixed, this message will appear on your computer screen.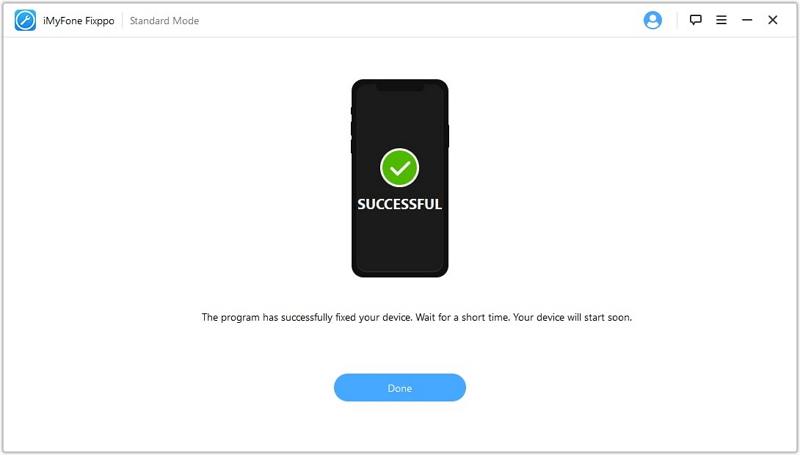 Other 4 Common Ways to Fix iPhone Screen Jumping When Scrolling
Here we offer other four simple ways to help you Fix iPhone Screen Jumping When Scrolling. Please note that the success rate of these easy methods is relatively low, but sometimes they will work. You may try each one of them and see which method works for you.
Way 1: Clean iPhone Screen if Scrolling Up on Its Own
When the scrolling screen jumps back to the top iPhone, you can fix this issue by simply cleaning its screen with some cleaning agent. It will remove any dust or lubricant from the screen and make your iPhone work normally.
Here's how to clean your iPhone screen with a cleaning agent:
Wash your hands and dry them with a towel.
Switch off your iPhone and place your iPhone on a clean and flat surface.
Pour a few drops of come cleaning agent on the phone screen. Polar liquids like alcohol and petrol are good cleaning agents.
Clean your iPhone's body and glass screen with a toothpick. Pay more attention to narrow spaces. Note: For better results, wrap and soften the tip of the toothpick, then dip it into the cleaning agent. Once the toothpick is saturated, clean the screen and narrow spaces in your iPhone.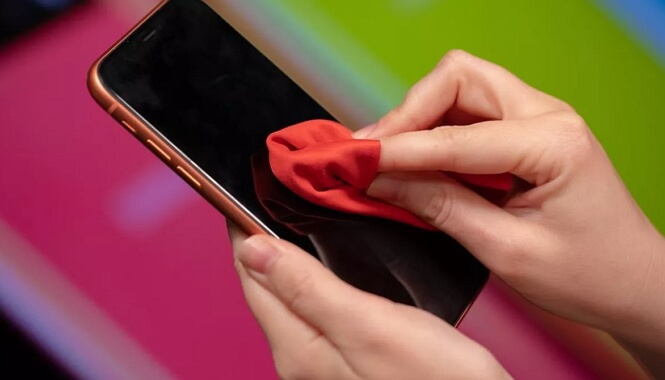 Way 2: Reset All Settings if Screen Keeps Scrolling Up on iPhone
If the screen still scrolls up, the second method to solve the issue is resetting all device settings. This step is also easy and doesn't require any technical expertise. Even if you are a new iPhone user and don't know much about its functions, you can reset your device by following simple steps.
After resetting all settings, you need to set up your iPhone again. Given below are simple steps to reset all settings of your iPhone and get rid of the automatic scrolling issue:
Step 1: Go to Setting in your iPhone.
Step 2: Tap on the General option.
Step 3: Click on Reset followed by Reset All Settings.
Step 4: Your phone will show you a warning message. Click on Yes to proceed.
Step 5: Enter your passcode and tap OK to reset the device settings. Once the process completes, the phone will restart. Check if the issue has been fixed or not.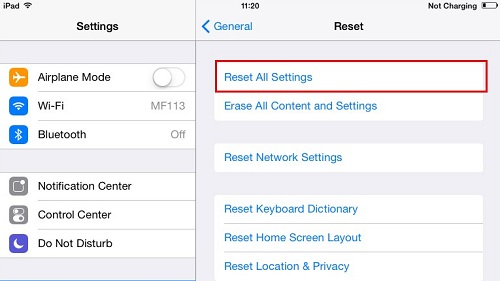 Way 3: Force Restart Your iPhone When Scrolling Screen Jumps Back to Top iPhone
Many iPhone users claim that most of their issues have been resolved by force restarting their devices. It is a safe method as there is no risk of losing any data or device settings. So, whenever you see your iPhone X screen jumping when scrolling, follow these simple steps(For iPhone 8/X/11/12) to force restart or hard reset your device:
First, press and quickly release the Volume Up button. Then press and release the Volume Down button. After this, press the Side button and wait for a few seconds until you see the Apple logo.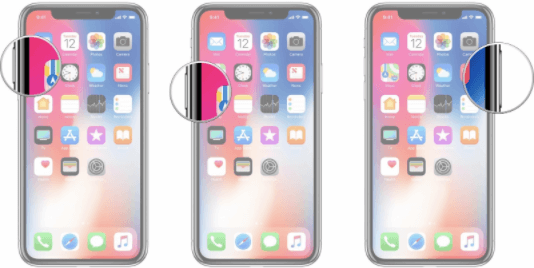 If you are using other iPhone model, please follow the guide to force restart your device.
Way 4: Update Your iPhone to iOS 15 Beta 4/3/2/1
The last method to solve most iPhone software issues like automatic scrolling to the top is upgrading the operating system to the latest iOS 15 Beta 4/3/2/1 version. Updated software solves bugs in the system and protects your devices from malware attacks.
Given below are simple steps to upgrade your iPhone software:
Make sure your iPhone is well-charged and connect it to a reliable Wi-Fi network.
Open Main Menu and go to the Settings, then click on the General option.
Choose Software Update and click on the Download & Install option to download the latest updates.
Once downloaded, tap on Install Now and let your iPhone install those updates.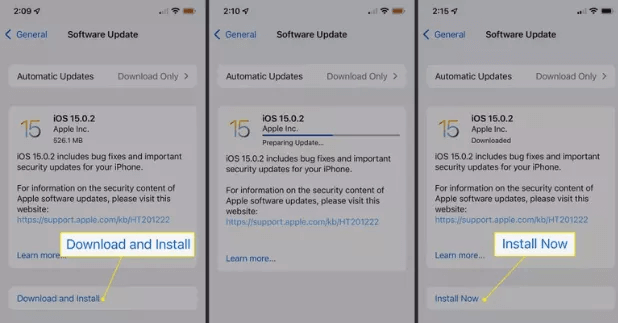 Conclusion
The iPhone users often find their device irritating when it starts scrolling back to the top on its own without any external command. It is a very annoying situation as it interrupts the smooth usage of the iPhone.
The issue can be fixed by cleaning the iPhone screen with a cleaning agent, resetting the device, hard restarting your phone, or updating the iPhone to the latest iOS version.
However, if none of these methods worked, try using iMyFone Fixppo, an advanced iOS system repairing tool that fixes all sorts of iPhone issues in minutes. Once the process completes, your device will start functioning normally.