[Fast Way] How to Back Up iPhone in Recovery Mode
Category: iPhone Issues
3 mins read
"My iPhone, spontaneously went into recovery mode this morning while I was on it, no update or prior issues... now it will not open and I am trying everything I can to get my photos off it before I do a restore. My Windows PC also does not recognize the device. HELP!! I did a backup in June but have way too many pictures since then. Also, if I were able to somehow get it to do a backup now, does it erase the backup I have from June, or add it on? How does this happen, seem to be a known problem as so many others have had the exact same issue. Any suggestions?"
When you are in such a situation, the first thing you should consider is to get your iPhone out of recovery mode, or no tools can access the photos on your iPhone. Since iTunes will remind you that your iPhone needs to be restored to factory settings. There is no option for you to make a backup of the current data before restoring the iPhone.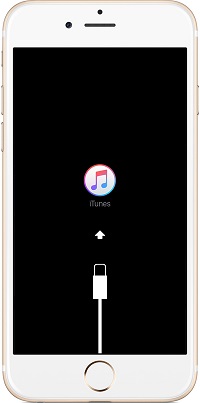 As far as we know, there are no easy ways for users to back up iPhones in recovery mode, even iTunes and iCloud can't do this job. So in this article, we will show quick 3 ways to back up your iPhone in recovery mode, so you don't need to search for a solution for backing up data in recovery mode. Besides, the 3 ways work for iOS 17 to iOS 14/13/12.1 and older versions.
These solutions also work when you want to back up your iPhone in DFU mode, except the second solution.
Part1. Force Restart Your iPhone in Recovery Mode
Since your iPhone is stuck in recovery mode, you will notice that your Mac or Windows PC cannot recognize it when trying to back up files directly to your computer. You can try force restarting your iPhone to get it out of recovery mode. To make it easier let us see how to do so.
iPhone 6/iPad/Earlier Models
Press the Wake/Sleep button and the Home button on your iPhone and continue holding them till your iPad goes blank and you can see the white Apple logo appear.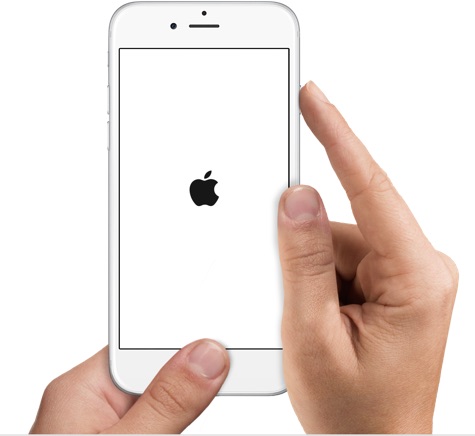 iPhone 6/iPad/Earlier Models
Press the 'Volume Down button along with the 'Power' button and keep holding them until you get to see the Apple logo on your screen.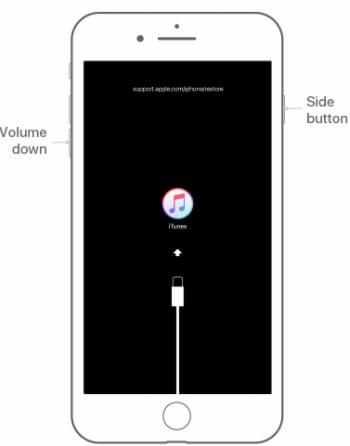 iPhone 8/8 Plus/X/XS/XR/XS Max
Press the 'Volume Up' button and quickly release it. Subsequently, do the same with the 'Volume Down' button. Lastly, push the 'Power' button and keep holding it until you get to see the Apple logo on your screen.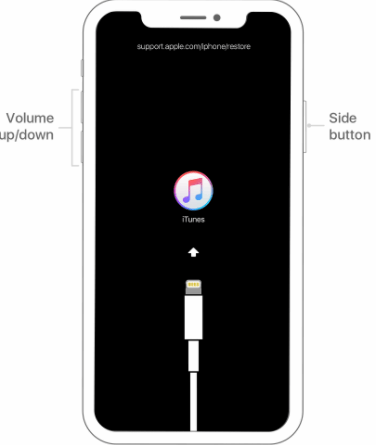 Your iPhone should be out of recovery mode now. It will restart and show the lock screen. You can now enter the passcode to unlock your iPhone and then back up your iPhone without a problem. If it fails, go to the next part and try the free tool to get your iPhone out of recovery mode.
Part2. Free Tool to Back Up & Get iPhone out of Recovery Mode
We would like to recommend a tool to help you fix your iPhone stuck in recovery mode. It is iMyFone Fixppo which offers a quick fix for this problem and can fix your iPhone back to normal without data loss. For your convenience, we are going to make you understand how to exit recovery mode with just a simple click. Since there will not be any data loss on the device, you can back up your iPhone after it exits recovery mode. Let's discover the step-by-step tutorial now.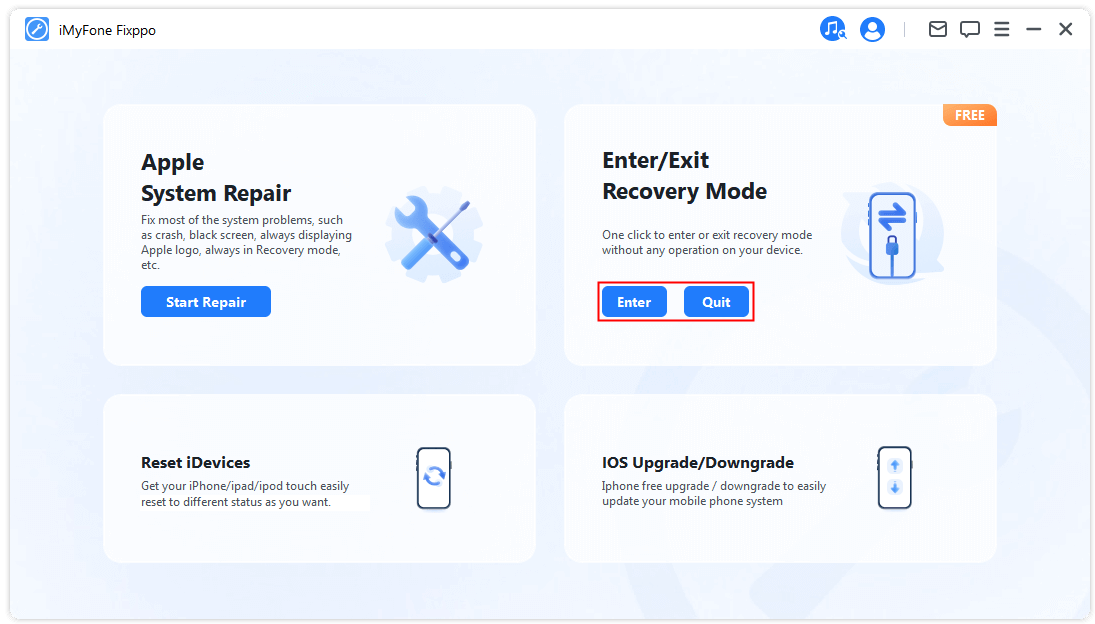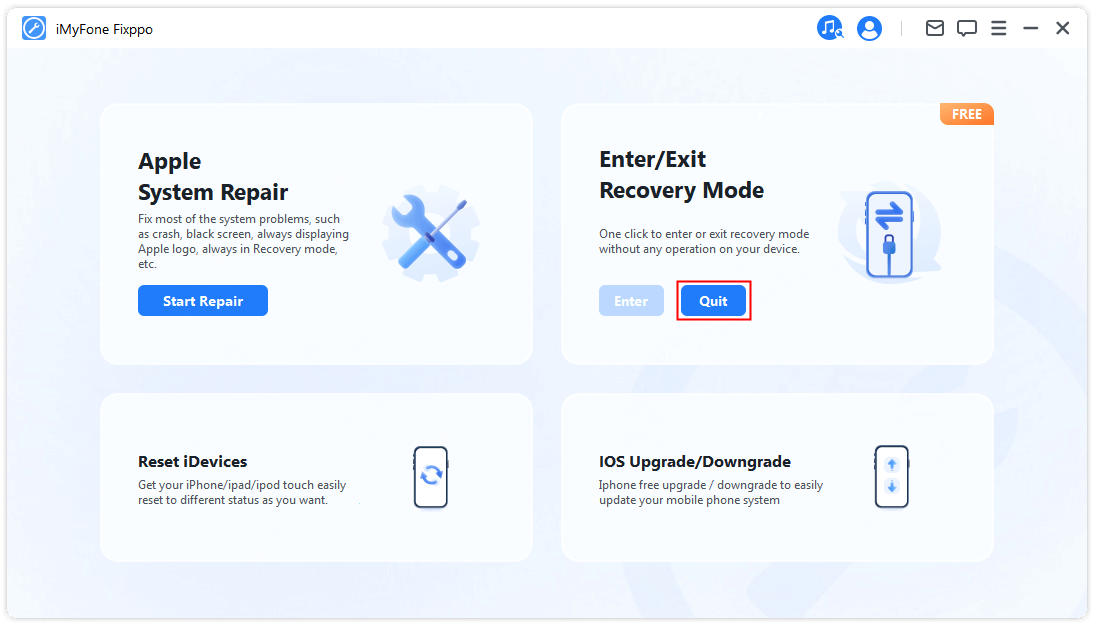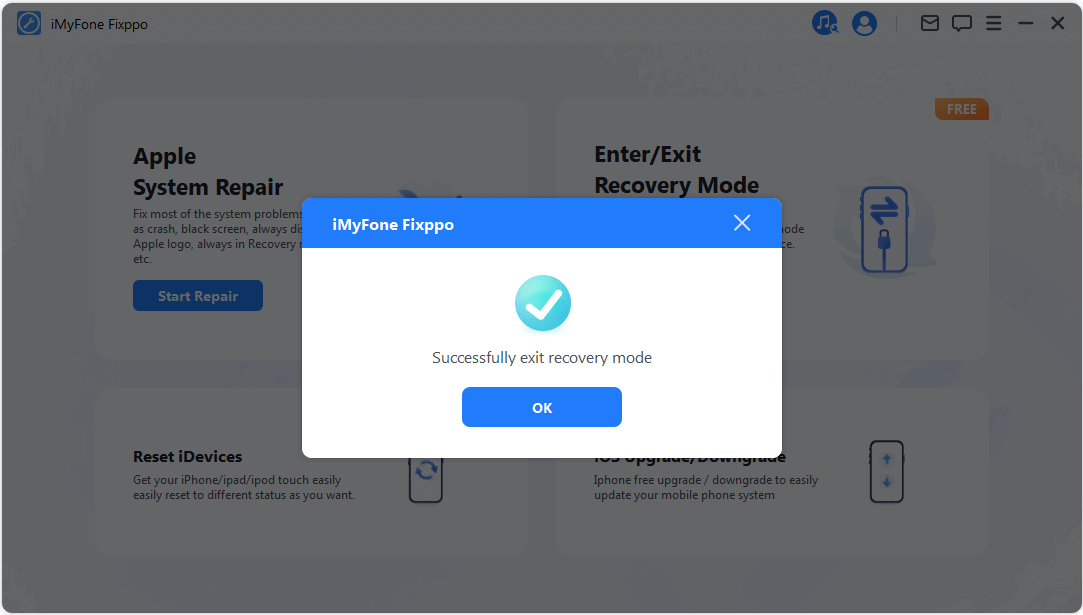 Wait a few seconds, your iPhone will be back to normal and you can backup your iPhone in Recovery Mode using iTunes or other backup tools. Why not just download the program to have a try?
Part3. Advanced Fix: Exit iPhone Recovery Mode without Data Loss
If the above methods don't work, you can try the special feature of iMyFone Fixppo iOS recovery software which fixes various iOS issues without any data loss. It comes with more powerful technology that can repair iOS bugs or glitches. without data loss or restoring your iPhone. When you have successfully got your iPhone out of recovery mode, you don't need to worry about backing up iPhone in Recovery mode anymore.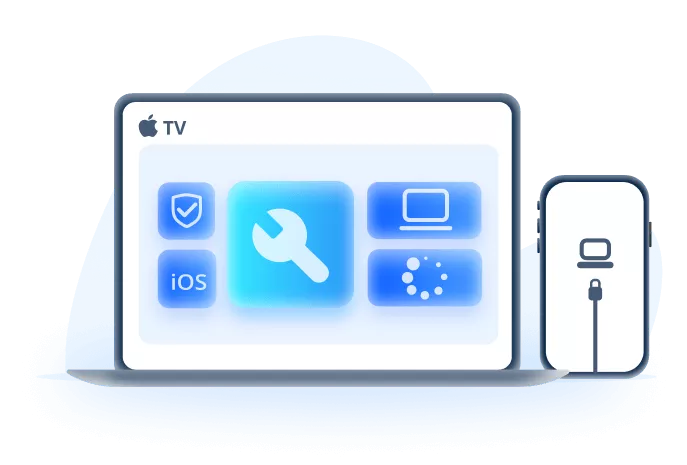 iMyFone Fixppo Key Features:
Best iOS Repair Tool. It can fix the iOS problems that iTunes cannot fix and avoid the errors that occur on iTunes.
Special Fix iOS System function which can fix your iOS to normal from issues such as white screen, black screen, Apple logo of death or stuck in recovery mode.
It can fix not only the iPhone stuck in recovery/DFU mode, but also the devices which are frozen on the Apple logo, stuck in black screen or white screen.
It is developed by iMyFone company which focuses on iOS related tools and has been recommended by Cult of Mac, Payetteforward, Makeuseof, and other famous media sites.
It has been trusted and recommended by a lot of professional websites.
Limited Time 10% OFF Coupon Code for iMyFone Fixppo:YTR5E7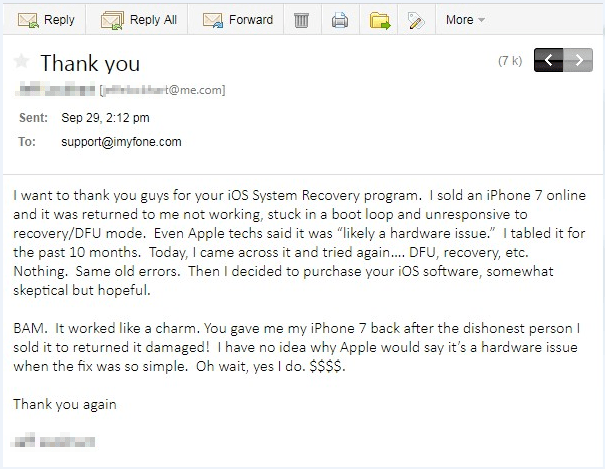 Let us have a look at how to get your iPhone out of recovery mode using Fixppo. Fixppo also helps when you want to back up your iPhone stuck in DFU mode.
Download and open iMyFone Fixppo on your computer. Click on "Standard Mode" that appears on the home screen.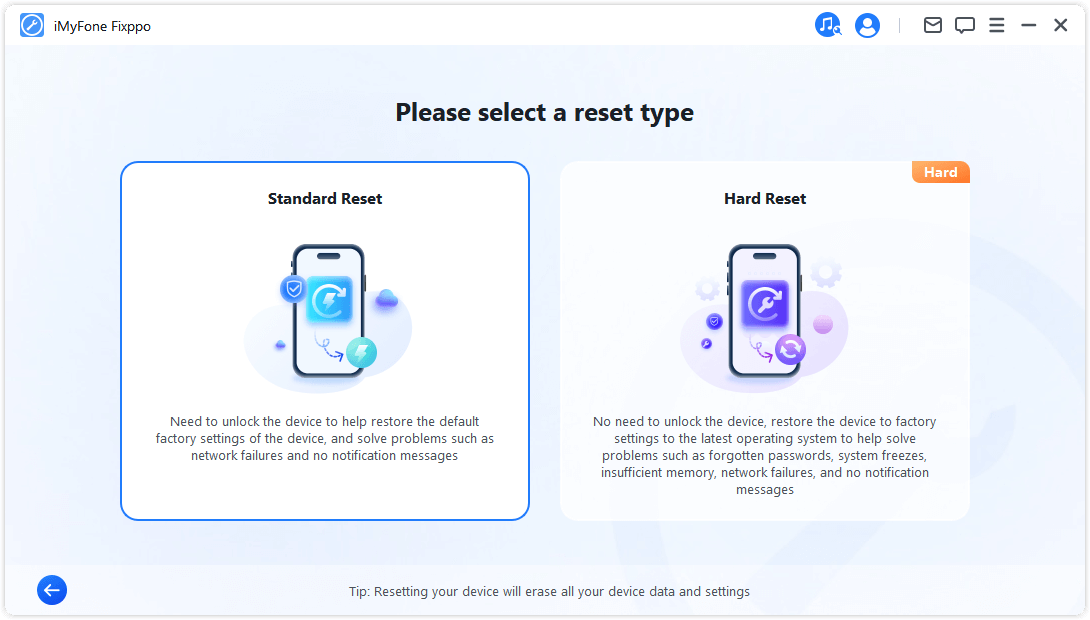 Now connect your iPhone to the computer using a USB cable and click the "Next" button. In the next window, you will be offered all the firmware that matches your iPhone. Therefore, choose a version you like and click "Download." The firmware is then downloaded immediately.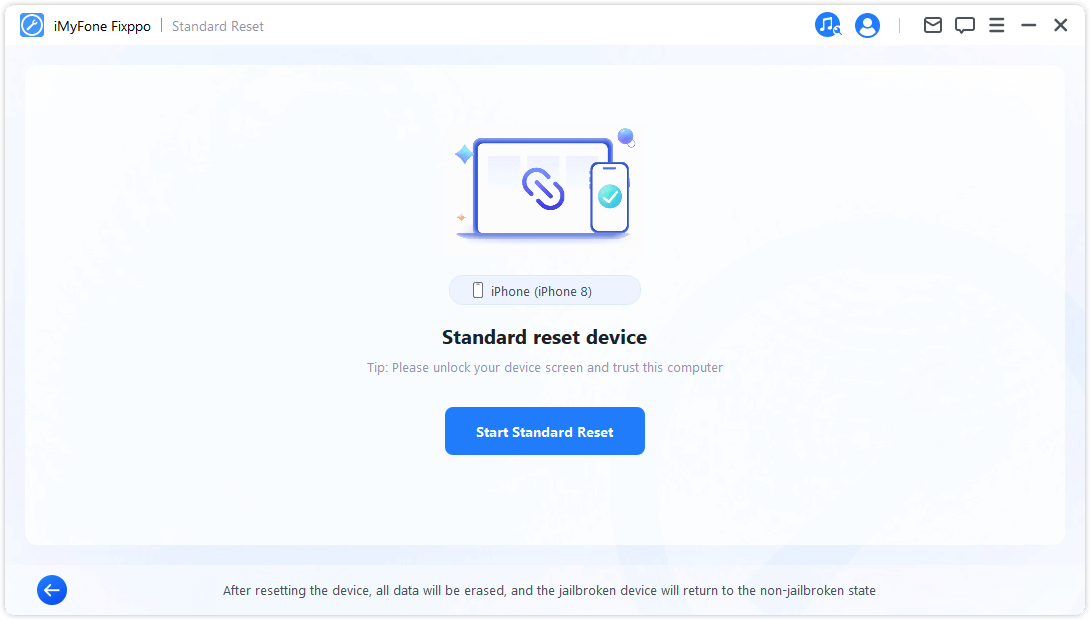 After the firmware is downloaded, click the "Start" button and the program will begin to repair your iPhone.  This will only take a few minutes for your phone to be repaired to normal. When your phone is fixed, it will then reboot. This mode is also applicable when you want to backup iPhone stuck in DFU mode.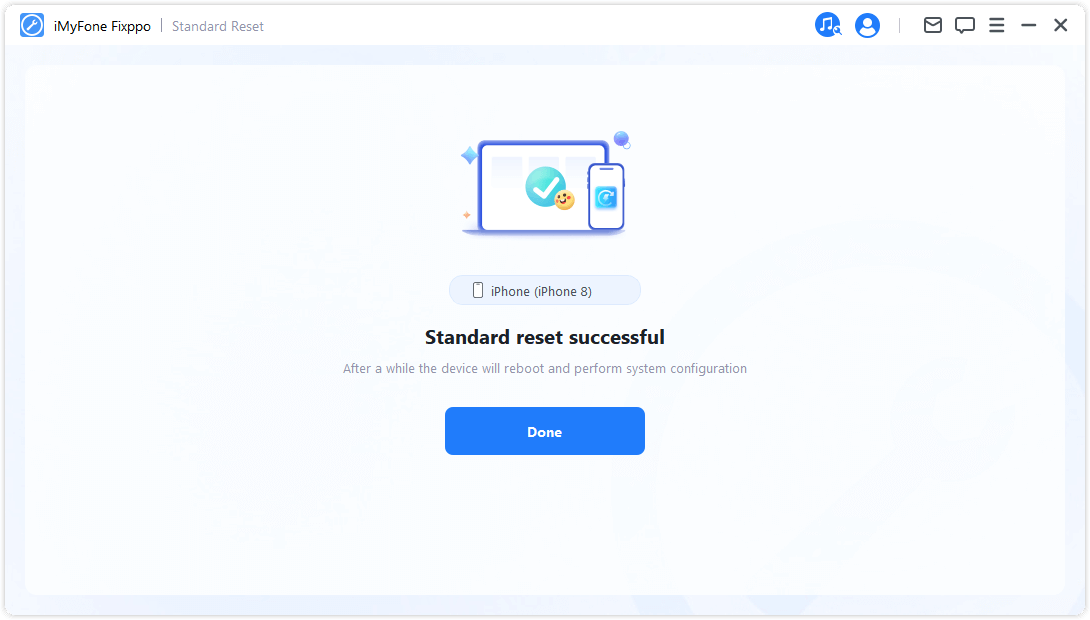 iMyFone Fixppo iOS repair tool is a software that can fix your iPhone, iPad, or iPod to normalcy without loss of data, even your iOS devices running iOS 17/16. There is much good feedback from users for its powerful ability. Download it from the following buttons and try it now!
Part4. Conclusion
If you want an all-in-one way to back up iPhones in recovery mode, iMyFone Fixppo is highly recommended due to its profession. Do not hesitate to try the free version now!
A complete toolkit to fix different issues with your iPhone.
The premium and full version of iMyFone Fixppo is paid but it's worth it.
Limited Time 10% OFF Coupon Code for iMyFone Fixppo:YTR5E7