If you love staying up-to-date with your current iOS operating system and want to install the latest beta version, then we have good news. You must be thinking that it is a difficult task to download the iOS 16 beta. But, do not get confused as it is not. You will get every detail concerning this update on the internet, and right now, we will give you some information on how to download iOS 16 beta for your iPhone, iPad, and macOS.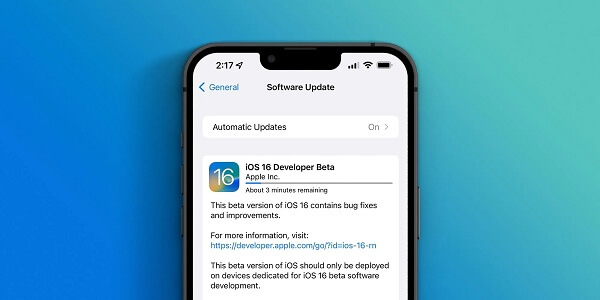 You can watch this video to see how to install iOS 16 on your phone
How to Download iOS 16 on iPhone?
If you have a compatible phone and an Apple developer account, you should back up your iPhone before proceeding. You can always return to an older version of your iPhone if you have an archived backup.
Follow these steps to download iOS 16 beta on iPhone.
Go to developer.apple.com. Then log in to your developer account.

Note

You may be asked to provide two-factor authentication.

Select Downloads from the menu in the upper left corner. Scroll down and select Install Profile to install the iOS 16 beta. Confirm that you agree to install a configuration profile on your phone when asked.

After downloading the iOS 16 beta, go to Settings > View Profile. Tap Install in the top right corner of the next page to begin the installation process.

Note

You'll need to press Install again after some legalese regarding the volatile nature of beta software.

Then restart your iPhone to install the profile. After your iPhone restarts, open the Settings > General > Software Update.

Note

Make sure to plug your iPhone into a power source because this process might take some time.

The iOS 16 beta will be ready for you. When asked, tap Download and Install, then input your passcode. You'll need to tap Install again to confirm.
How to Download iOS 16 on iPad?
You can download iOS 16 beta on your iPad through IPSW. Make sure you get the link for your exact iPad model. These are official Apple links for the iPadOS 16.0 developer beta. If you are not a developer, you may be able to activate these links.
In your Mac's browser, go to developer.apple.com/download.
Log in with your Apple ID credentials, enter the 2FA code from another device, then click "Trust" if prompted.
Under the iPadOS 16 beta category, choose "View all" and download the IPSW file for your iPad model. Then launch Finder.
Connect your iPad to your Mac. If asked, tap "Trust This Computer" on your iPad and follow the on-screen instructions.
In the sidebar, type the name of your iPad. Then hold the Option key and click "Check for Update" in the Summary window.
Select the IPSW to restore the image you downloaded to your Mac and click "Open." Then click "Update" to allow your Mac to contact Apple and verify and install the iPadOS 16 betas.
When Finder has finished installing the file, your iPad will restart. To activate and set up iPadOS 16 beta, follow the instructions on your iPad.
How to Download iOS 16 on MacOS?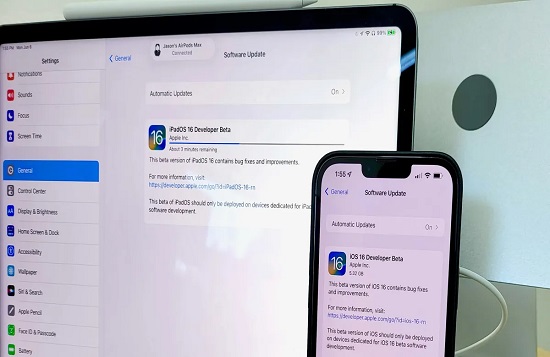 Follow the given steps to install iOS 16 on macOS.
From the download page, get the macOS Developer Beta Access Utility.
Launch the macOS Developer Beta Access Utility and follow the on-screen instructions.
The Mac App Store will display the macOS beta when the installation is finished. To install the beta, click Download.
You'll be notified whenever a new macOS beta is released. The beta may be found on the Software Update page of System Preferences.
FAQs Related to iOS16 Betas
1

How do I delete my iOS 16 beta account?
Here's what you should do: Navigate to Settings > General and choose VPN & Device Management. Select the iOS Beta Software Profile option. Restart your device after selecting Remove Profile.
2

Is it safe to install the iOS 16 beta?
Any beta software is never entirely safe, and iOS 16 is no exception. The safest time to install iOS 16 would be when Apple releases the final stable build to everyone in the fall or a few weeks later.
To Conclude
That's all for now. We hope now you can easily install iOS 16 on your devices. These are simple steps. Carefully follow them and if you have any questions, feel free to contact us.