Question
Hi there, I've recently updated my iPhone X to iOS 14 firmware and now for some reason, my iPhone X got stuck on "Swipe up to Upgrade" screen. What I mean is, all that I get to see is a white background that says "Swipe up to Upgrade". I tried resolving this on my own but was unable to get past this message… Any ideas?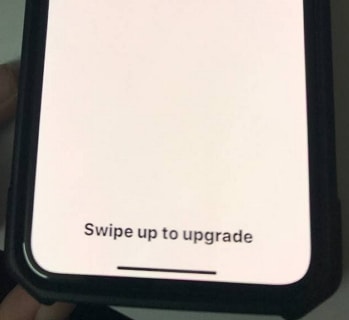 Seems like some software malfunction could have occurred during the iOS 14/15 upgrade process and eventually, your iPhone X got stuck on "Swipe up to Upgrade". Well, fret not. We're here to help you say 'Adios' to such tedious situations with the best and most efficient methods no matter how you get stuck on the screen. Go through the article carefully and you'll get to find a suitable solution for your iPhone X.
1. iPhone X Stuck on "Swipe up to Upgrade" for iOS 15/14/13 Update
When your iPhone X gets stuck on "Swipe up to Upgrade" during or after upgrading the newest iOS 15/14, the best option you can have to fix the issue will be iMyFone Fixppo iOS System Recovery (compatible with iOS 15/14/13) because there must be some problem with the software installation. This program offers an outstanding feature to fix all kinds of iOS problems including software glitches, iPhone stuck on recovery mode, iPhone freezes, iPhone stuck on ghost touch, and so on. With its 'Standard Mode', you'll be able to resolve the issue without any loss of data iPhone X Stuck on "Swipe up to Upgrade". Let's get started on how this tool works.
Step 1 – Open iMyFone iOS System Recovery after installing it on your PC. Once done, connect your device via a genuine lightning cable. When you see the main interface, please click on the 'Standard Mode'.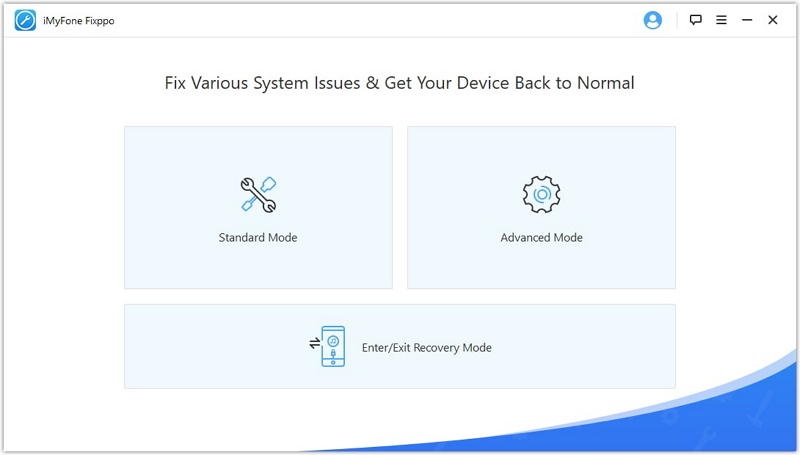 Step 2 – Once you do this, hit on the 'Start' button so that you'll receive the steps that will help you take your device into DFU mode. This step is essential for better detection.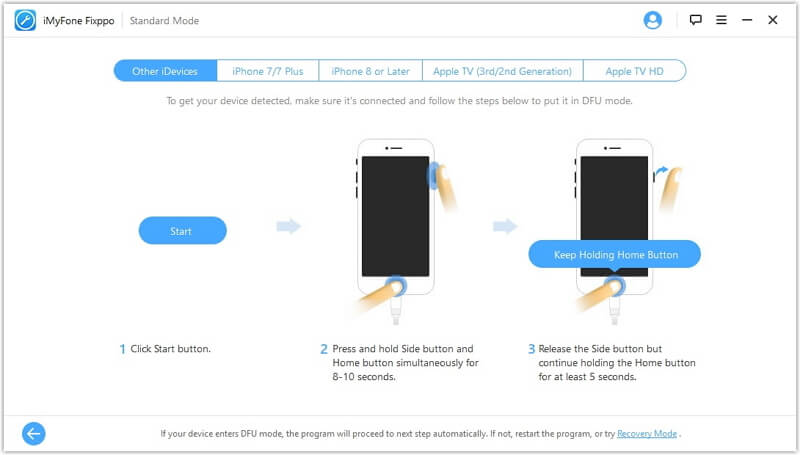 Step 3 – Now, the device will be detected by the program and will prompt you to download the suitable firmware for your device. For this, you just need to click on the 'Download' button and the program will provide the matching firmware.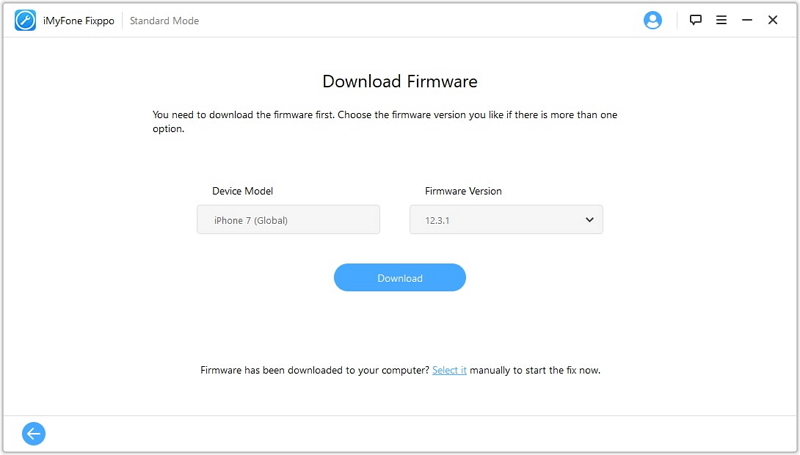 Step 4 – As the final step, you're supposed to hit on 'Start to Fix' button and see what magic this program does. Your device will be repaired and removed from any glitches and you'll no more get stuck on the "Swipe up to Upgrade" screen.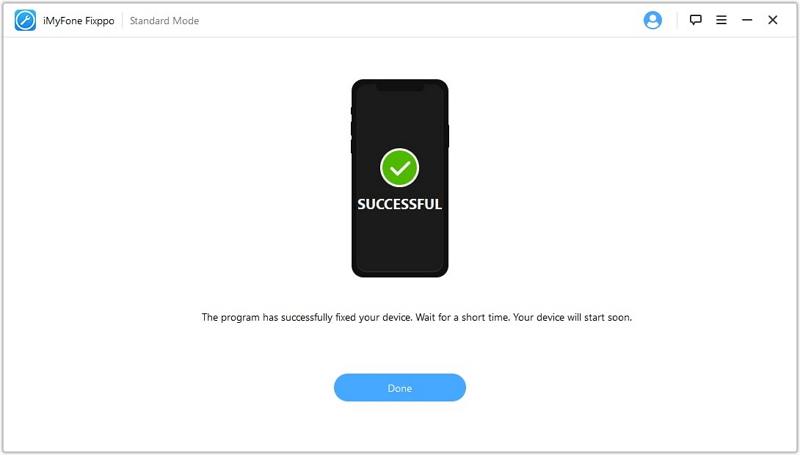 2. If You Want to Restore iPhone X to Factory Settings
The tool iMyFone iOS System Recovery that we mentioned above is multifunctional and therefore, it can assist you in case you wish to restore your device to factory settings. By using its 'Advanced Mode', you'll positively achieve the goal without any limitations or complications. Furthermore, your device will be back to normal. The steps are identical to the above. Check out the following tutorial.
Step 1 – Upon installation, launch the program on your computer. Plug your iPhone X and click on the 'Advanced Mode'.
Step 2 – As you did above, hit on 'Start' and put your iOS device in DFU mode.
Step 3 – Click on the 'Download' button now and get the new firmware installed on your device. Now, hit on 'Start to Fix' tab and then the iOS will be re-installed in your device thereby restoring your device to factory settings.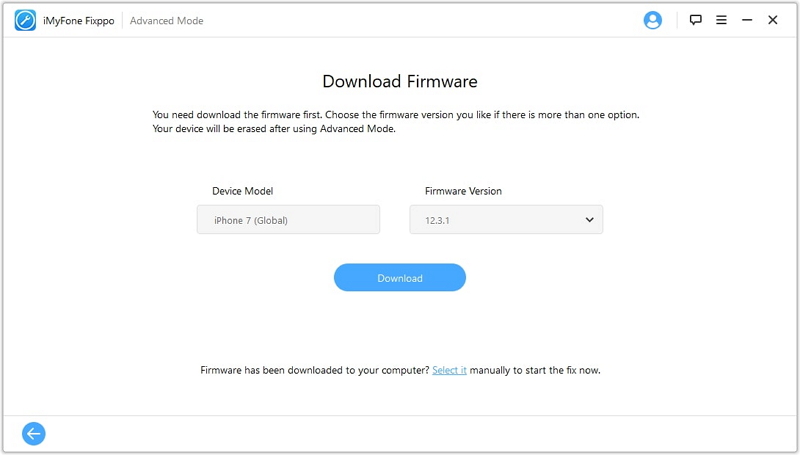 3. If You Want to Restore iPhone X from a Backup
Your iPhone X can also get stuck on "Swipe up to Upgrade" when you are trying to restore an iTunes or iCloud backup to it. In this case, don't worry, iMyFone, as a company which provides different kinds of iPhone-related tools, also offers a very effective program which is known as iTransor (supports iOS 15/14/13). The purpose of this product is to backup and restore your data fully and partially. It gives you full flexibility to choose whether you want to backup/restore fully or selectively. It doesn't overwrite any existing data as well as allow you to preview data before restoring. Let's know how you can restore your backup selectively via iTransor.
Step 1 – Start with download the program on the PC. Install it and launch it later. When launched, choose 'Restore Backup to Device' from the left panel of the interface. A list of backups will appear on the screen.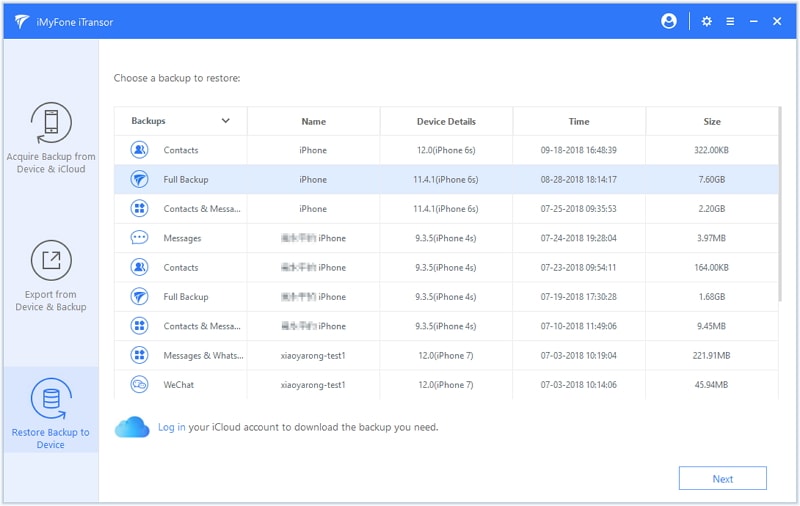 Step 2 – Select 'Restore Partial backup' now and decide what data type you would like to restore.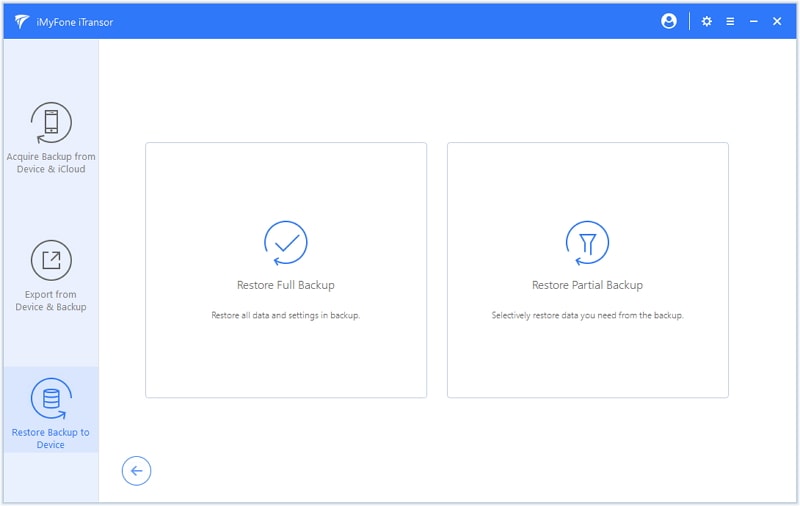 Check the desired box and then, choose between 'Preview & Restore' and 'Directly Restore'.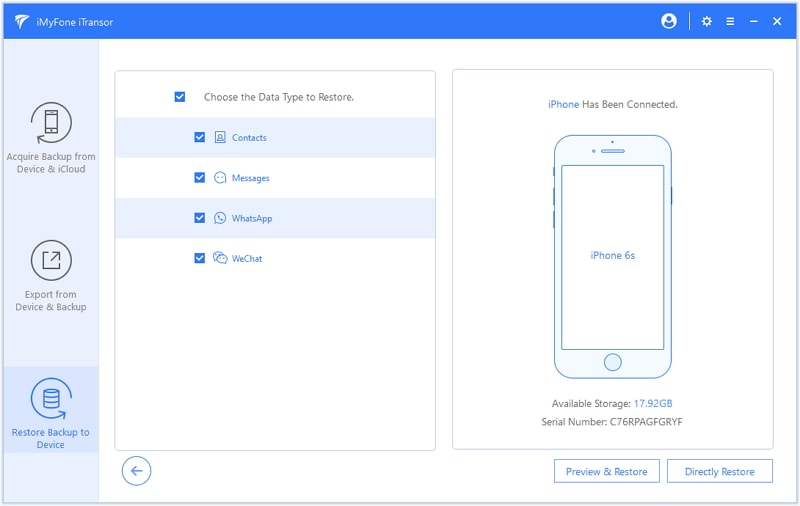 Step 3 – On clicking the 'Preview & Restore' option, you'll get the chance to get your selected data previewed prior to restoring them. Hit on 'Restore' after previewing.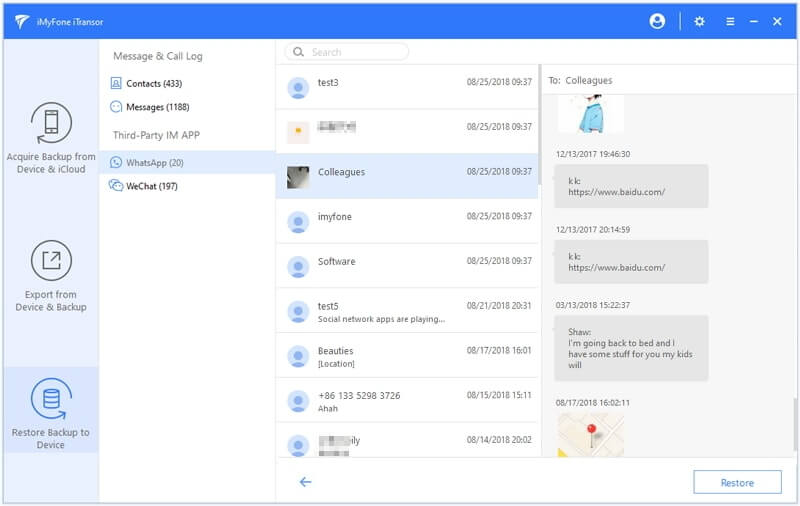 Step 4 – After selecting the preferable option, either select 'Merge' or 'Replace' as per your choice. The former will merge the data on your device and in the backup, while the latter will replace the existing data with the backup.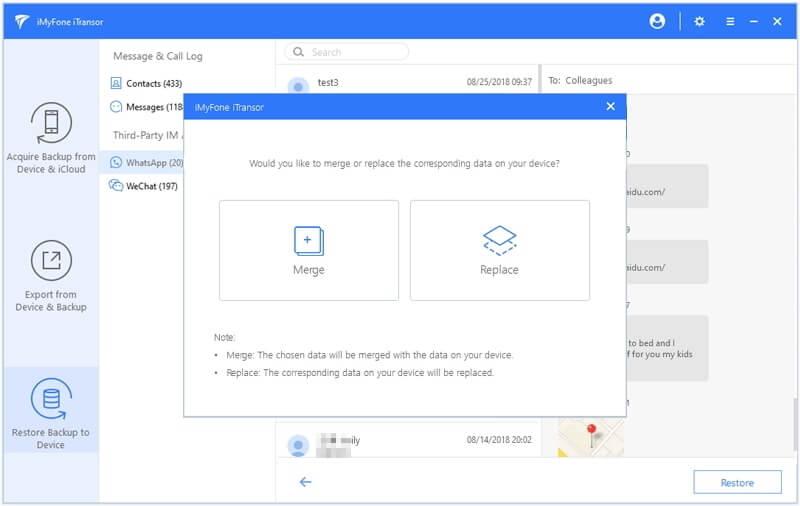 4. Common Tips for iPhone Stuck on "Swipe up to Upgrade"
4.1. Force Restart iPhone X
One of the most common tips includes forcing restart your device. You might have heard this from your friends and other users too. In order to proceed with this tip to fix the "Swipe up to Upgrade" problem, follow the steps below.
Press and release the 'Volume Up' button quickly.
Now, press and release the 'Volume Down' button.
Later, keep hold of the 'Power' button until the Apple logo appears on the screen.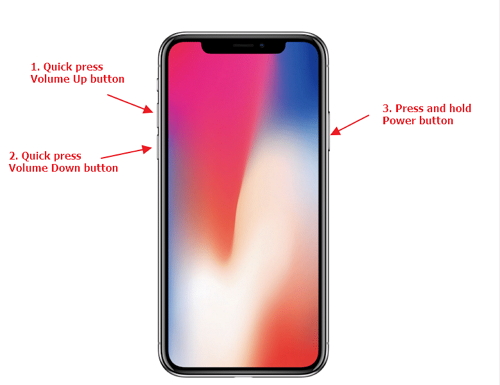 4.2. Update iTunes
Maybe your iTunes is not updated and that's why the problem is occurring. Hence, our next advice for you is to update iTunes as soon as possible if it's not.
To do this on your Mac, open 'App Store' and hit 'Updates'. You'll be able to notice if there's any available. Hit 'Install' on availability.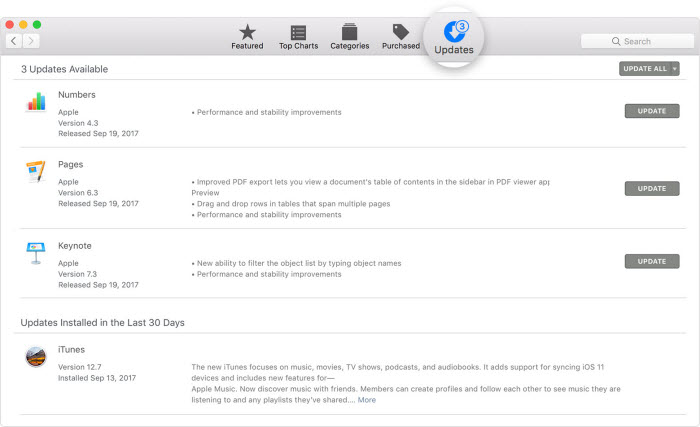 For performing on Windows, launch iTunes and choose 'Help' from the top. Hit 'Check for Updates' and get notified if any update's available or not. Follow prompts accordingly.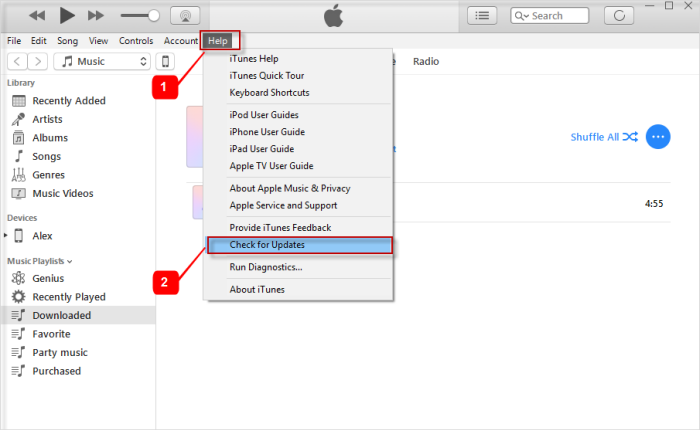 4.3. Try Another Computer
Another suggestion that we'd like to share with you is to take the help of another PC. There's a possibility that the port you're using in your PC is damaged or maybe there's some other issue so that the restore process or update process didn't succeed and your iPhone X gets stuck on "Swipe up to Upgrade". Hence it is suggested to try with another PC and see if it gives your results.