Is there something wrong with your iOS system that needs to be fixed as soon as possible but you've tried all common methods without getting satisfactory results? In this case, you may want to employ a third-party tool to help you out.
However, the question is: which one should you choose with so many different products on the market? Is the one you pick really work? In today's article, I'll introduce one and have a detailed review of it - TunesKit iOS system recovery. Let's see what is it, how to use it and if it really works for you. Without further ado, let's move on to check.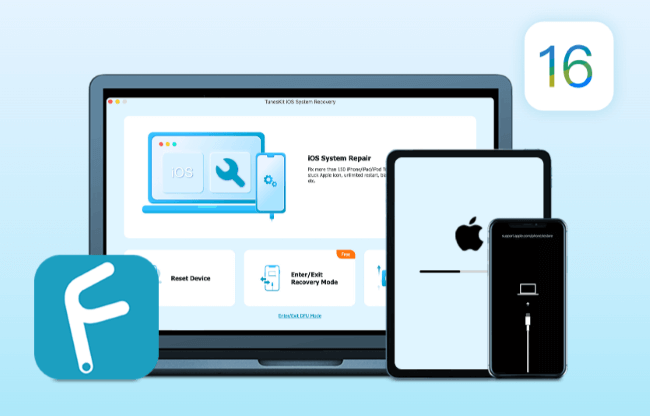 Part 1. Full Review of TunesKit
1

What is TunesKit?
TunesKit is an iOS system recovery tool that can be used to fix over 150+ iOS problems including iPhone stuck on green screen, iPhone stuck on headphone mode, etc. Users can get help from it to solve their issues within clicks.
It offers to repair iOS system, reset devices and enter or exit recovery mode, which are all useful features for iPhone users when try need help to get their iPhones back to normal.
---
2

How to Use TunesKit?
Since you now know what is it, you must want to know how to use this TunesKit iOS System Recovery tool the time you run into some sort of iPhone issues that keep hindering your normal life.
Here, I'll show you how to use it with its most frequently used feature: Standard Repair. But before that, you're required to download and install it first.
Step 1: After you download and install TunesKit to your computer, open it, choose its iOS System Repair and click Start.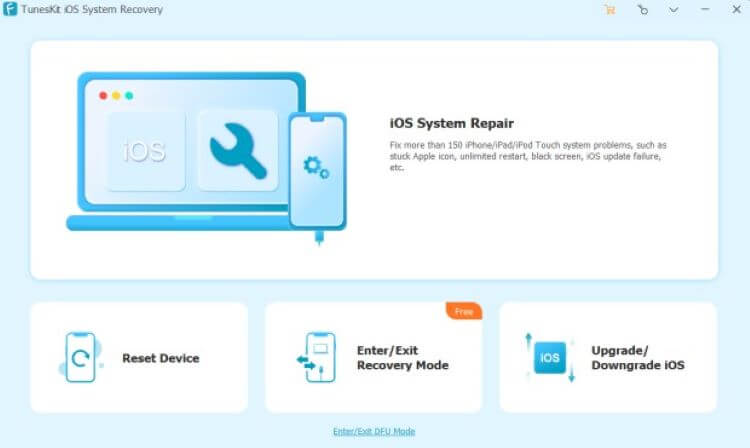 Step 2: Choose Standard Repair and follow to put your iPhone into Recovery Mode.
Step 3: When your device is detected, click to download the firmware package.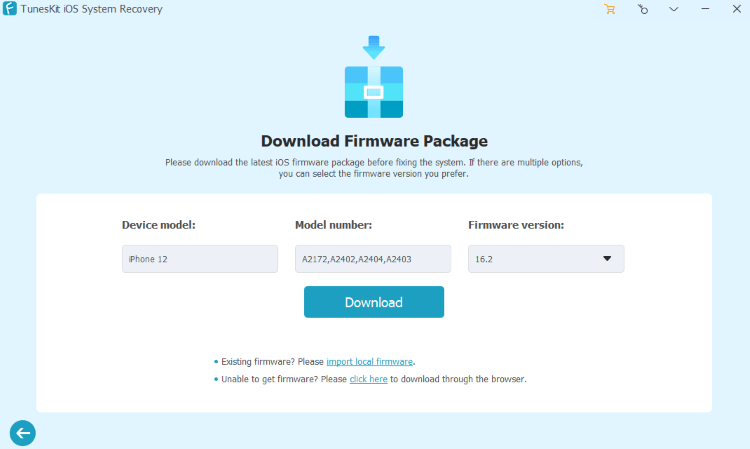 Step 4: After that, please click on Start Standard Repair to begin the process.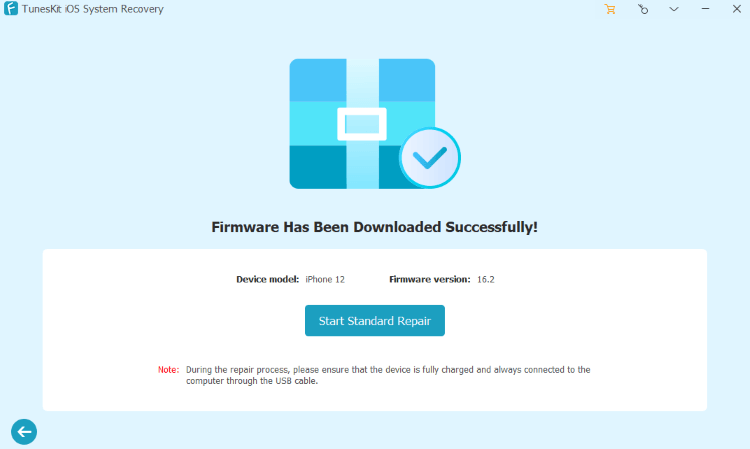 ---
3

FAQs about TunesKit
1. Is TunesKit legal?
Yes. Like many other products, TunesKit is legit and is quite safe to use. There is no need to worry about your private data since it'll not violate your privacy.
2. Can I try TunesKit for free?
The answer is no if you want to use all of its features except to enter or exit the recovery mode.
3. What about the plans and pricing of TunesKit?
For 1-Month license: 5 devices and 1 PC for $29.95.
For 1-Year license: 5 devices and 1 PC for $39.95.
For Lifetime license: 5 devices for $49.95/10 devices for $69.95/15 devices for $89.95/unlimited devices for $299.95.
4. What are the differences between Standard Repair and Deep Repair?
Standard Repair of this TunesKit iOS system repair tool is the feature most used to fix many common iPhone problems without data loss, whereas the Deep Repair of it can fix more serious problems while erasing all your data.
---
4

Users' Comments on TunesKit
It's sure that every product will receive both positive and negative feedbacks, so does TunesKit. Here, I'll list several below to let you judge for yourself.
Review 1
Purchase iOS System Recovery, thinking it could help me, as I could not get recover from iTunes. Tuneskit behaved same way. I wasted my money. It says can repair up to 50 kinds of iOS system issues on iPhone/iPad/iPod touch. But in fact, any problem you mark result the same process, reinstalling the firmware. And it can't install unsigned ones. Purchased the 1-Month License, with auto renewal. I want to cancel, but cannot find where... If you do not want to lose money and time, do not buy it.
- from RODRIGO D
Review 2
The customer service was nonexistent. The software failed the first day and I immediately asked for a refund. They didn't respond until 30 days later and stated that it was beyond their 5-day return policy. If they would have responded when I requested a refund, then it would have been on time. They have a very deceptive way of doing business. They'll just take your money and run. Buyer beware.
- from Albert A
Review 3
Software design is straightforward and pretty easy to use. Fast download and everything seems to be working as advertised.
- from Martin W
With these reviews, you can check the advantages and disadvantages of TunesKit iOS system recovery summed up below.
Pros
Offers to enter or exit recovery mode for free.
You can fix many iOS-related problems.
Upgrade or downgrade your iOS can be entered directly from the interface.
Cons
The fixing process may crash and it disconnect your iPhone unexpectedly when downloading the firmware.
It offers no entrance to reset your iDevices on the interface.
Its customer service is condemned by many people.
Users who buy their 1-month plan can only get 5-day money back guarantee.
Part 2. A Better Alternative to TunesKit iOS System Recovery
After getting to know all details about TunesKit, you must want to know whether there is a better alternative to it that can help you decide which to choose.
As it's better to look before you leap, I'm now going to introduce you a more satisfying iOS system repair tool – iMyFone Fixppo. Within a few steps, you can fix more than one iPhone problems that happen at the same time.
What can you do with Fixppo?
Watch how Fixppo helps you get out of iPhone keeps showing Apple logo and turning off trouble.
What are the steps to use Fixppo to solve iPhone problems?
Step 1: Download and install Fixppo to your computer, then choose Standard Mode.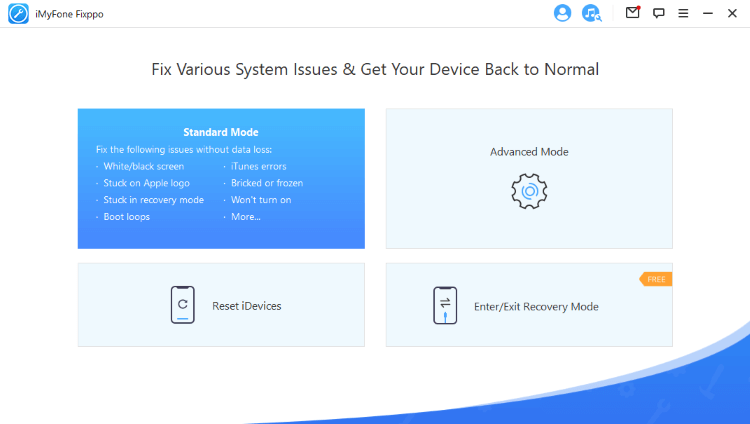 Step 2: Connect your device to computer. If your device gets detected, you're able to head to the next step directly. If not, please put your iPhone into Recovery Mode first.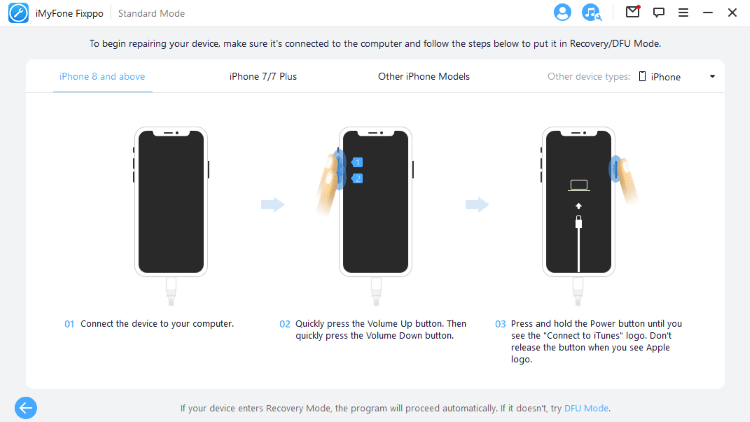 Step 3: Click on Download to download the firmware package after your device gets detected.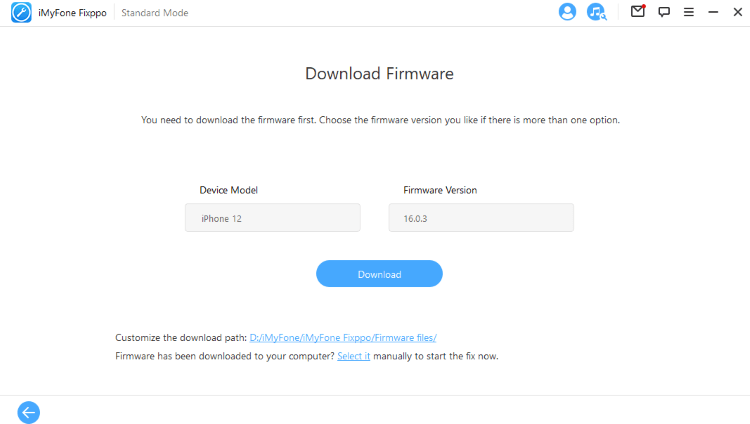 Step 4: When the firmware is downloaded, click Start to begin the fixing process. After that, your iPhone will be restarted successfully and iOS problems of your iPhone will be removed.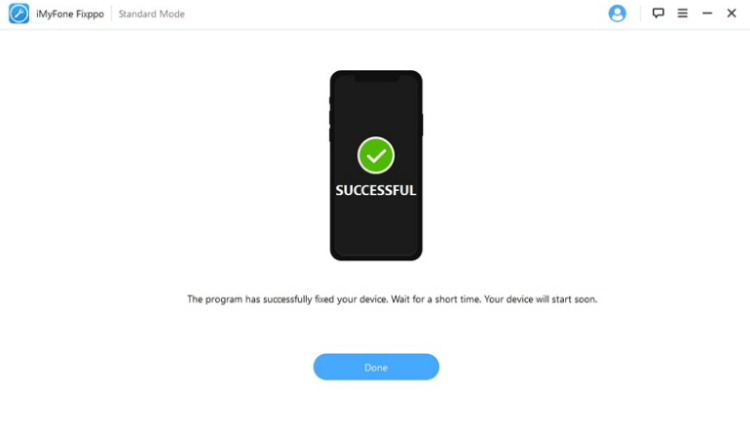 Users' comments on Fixppo
Review 1
I started to freak out a lot since my phone was stuck in recovery mode and after buying the 1-month package I used standard mode and it worked! I wasn't expecting it actually to work because the apple logo loading popped up again but after leaving it in it worked. I also got all the messages I missed when my phone was off. RECOMMEND!
- from Michelle F
Review 2
At first I had a bit of trouble setting up the software, but fortunately customer support was fast at responding and helped me every step of the way. Everything has been excellent so far, they have very useful tools.
- from Alex G
Review 3
The customer support team is very helpful and fast, and as for the IMyFone Fixppo app I could say the same.I had experienced a couple of times a certain type of malfunction/error of my IPhone 8. Due to lack of free storage, when a new iOS version is downloading, my phone starts to turn itself on and off with the apple logo showing on the screen. With your app, I can not only fix it by myself, super easy, but also there is no data loss.
- from Valentina N
Conclusion
The TunesKit iOS system recovery is good in terms of fixing iPhone problems, but there remain problems with it during the fixing process. In such a case, I suggest you to go for iMyFone Fixppo, with which you're free from suffering from so many failures and get your problem fixed instantly.