Having upgraded to iOS 13/12/11/10, but your iOS device is stuck, because of full storage on the iPhone/iPad/iPod? We know that for 16GB iOS devices, there is not complete 16GB storage for usage, instead, it's more like 12 GB of capacity. In this case, your iOS devices'storage will be easier to use up, especially after you update to the new iOS. So, let's embark on doing something to free up iOS space. The following methods will show how to do it effectively. Check them right now!
Part 1: 5 tips to Free Up Storage for iOS 13/12/11/10 manually
1. Delete Apps You Don't Use
Sometimes, we download and install many apps out of temporary experience, as everyone else having them. However, these apps are forgotten very soon and never used in your iPhone. If this is your case, why not deleting such seldom-used apps to help iOS free up space? As you know, one or two apps may only take up a few megabytes, but with bundles of them, these kind of storage space can add up to gigabytes quickly. It's advisable to free up space from iOS by starting with uninstallation of unneeded Apps.
How to delete unused apps? From the home screen, tap and hold the app icon and wait for it to wiggle. Then tap the "X" in the upper left corner to delete it.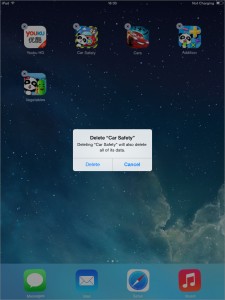 Notice
Games take up much space due to some 3-D graphics, so you can consider uninstalling some games to free more space if you're not a fanatical game player.
---
2. Offload Music, Photos and Videos
Keeping a bunch of music, photos and videos on your iPhone is a sure way to run out of storage space. It's time to manage your music and videos library. When you get down to manage them, you will find out the fact that some music in your phone are not played for once, certain photos are rarely viewed, several videos are never watched. To make more room on iOS 13/12/11/10 12 by getting rid of these media files.And just open your photo/music/video app and delete those useless ones.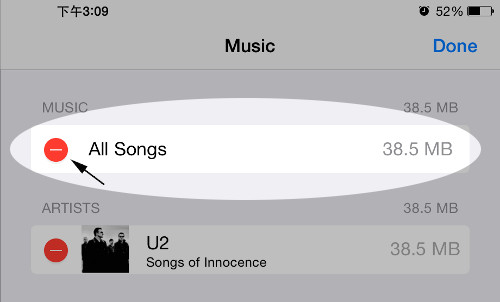 ---
3. Stop Using My Photo Stream
As My Photo Stream automatically syncs your photos across all of your devices connected via your iCloud account, this could gobble up a large amount of storage space on your iOS 13/12/11/10. Unless you have a burning need for syncing photos, you can just turn My Photo Stream off to free up space from iOS.Under Settings, scrolling down to Photos & Camera and toggling off My Photo Stream, and My Photo Stream is out of service.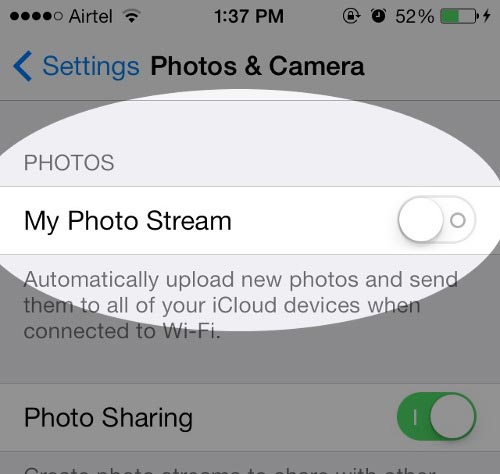 ---
4. Set Messages to Auto-Delete
With time goes by, there are certainly a lot of messages stored on your iOS. Some are with photos; some are with videos; even some messages exist over a year. Check out if they are really meaningful to stay in your iPhone. If not, just delete all the redundant messages to free up storage for iOS 13/12/11/10. Or there is one option much easier than manually deleting old threads.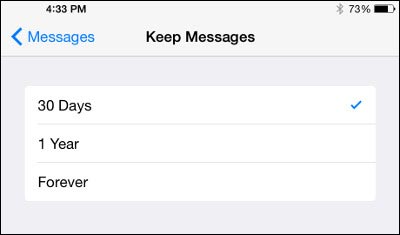 Go to Settings > Messages. Under Keep Message, select 30 days or 1 year. Accordingly, iOS system will automatically delete messages for you after 30 days or 1 year according to your choice.
Notice
if you delete messages accidentally and want to recover them, please refer the remedial measures.
---
5. Delete Voicemail Messages
Apple's Visual Voicemails can quickly take up a lot of space on your iPhone if you never delete any of them. It's a good choice to delete the non-significant voicemail messages after you got them. How to free up space on iOS 13 by deleting individual Visual Voicemail, go to the Phone app then tap on the Voicemail button. Find the voicemail you want to delete and then swipe left on it and tap the red Delete button.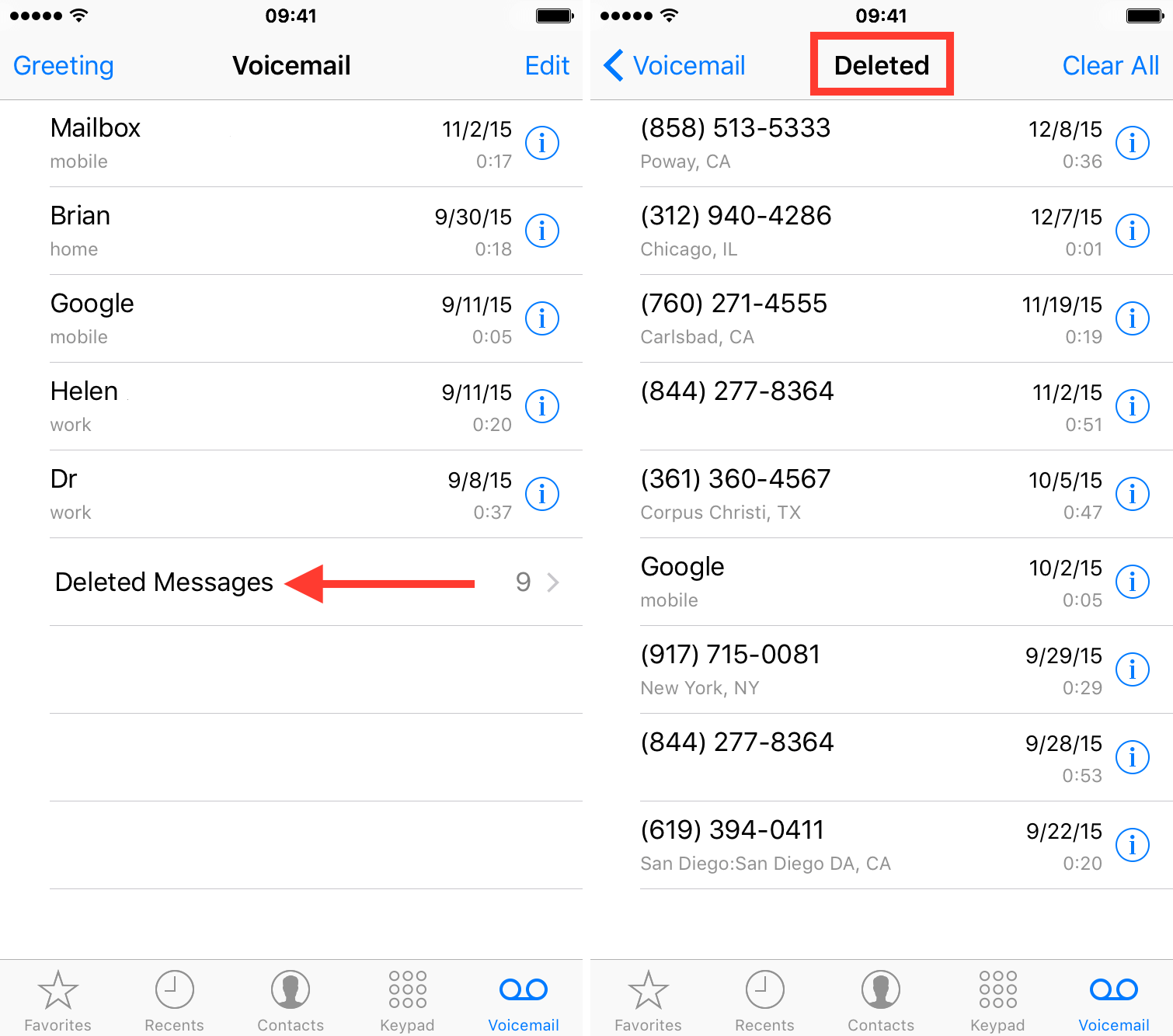 ---
Part Two - One-Click to Make More Room on iOS (iOS 13 Supported)
To solve the question of how to free up space on iOS by adopting a third-party software can be easier and faster. And if you want to save space without deletion, iMyFone Umate Pro or iMyFone Umate Pro for Mac is the best choice for you.
Comparing with method one, iMyFone Umate can free up huge space on iOS just in several clicks, by cleaning all junks files, temps files, app caches, unused apps etc.
Key features of iMyFone Umate
Clean Junk Files to Help iOS Free up Space - Don't have to delete them one by one, remove all of them in the twinkling of an eye.
Clear invisible temporary files - clear them thoroughly from your iPhone.
Compress Photos Losslessly & mass delete photos - release at least 75% of your photo storage without deleting any of your photos.
Manage Large Files Reasonably - scan your iPhone and find all the videos
Remove Apps Selectively - rank all your apps and you can choose seldom-used ones and delete them by one click.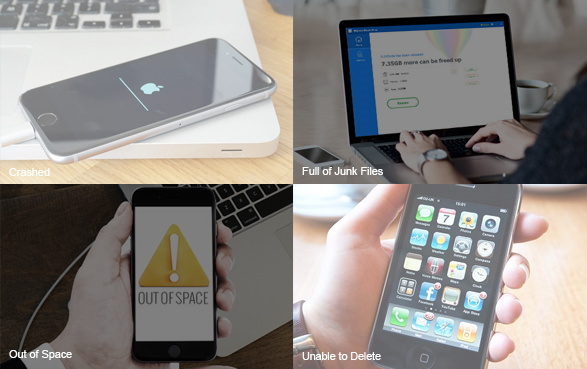 How to use iMyFone Umate to make roon for your iOS Devicec ?
Step 1. Install Umate and connect your iOS device.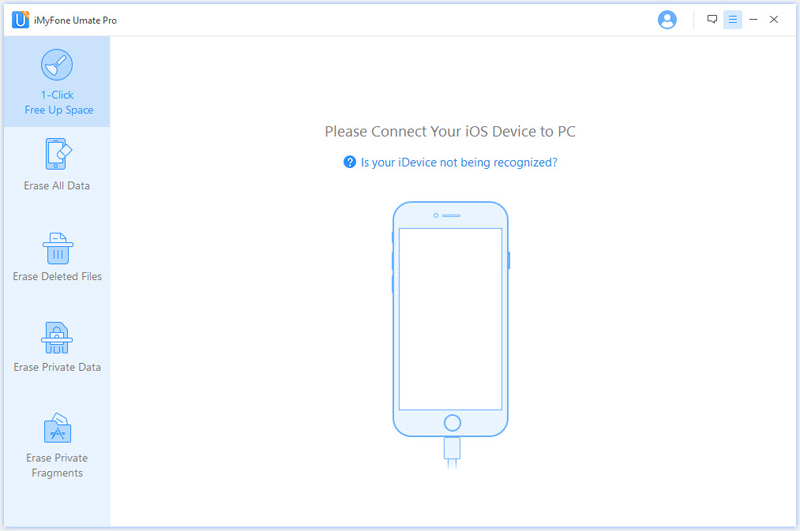 Step 2. Click "Quick Scan" to scan your iOS 13 device and know how much space can be cleaned up!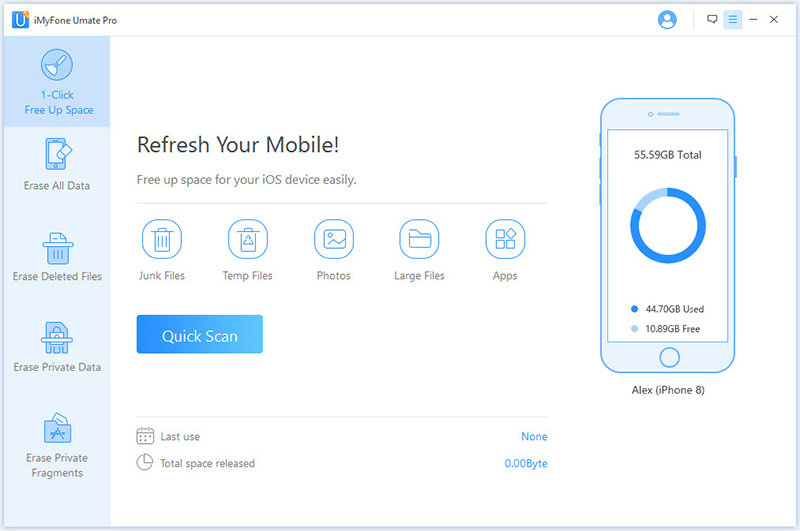 Step 3. Click "Clean" to clear up your device.