The current sixth-generation iPod touch significantly improved internals. The new iPod touch 6 has a better camera and faster processor than ever before. It's also slim and light, so you can take it everywhere, and relatively inexpensive, which makes it affordable for people who want to own it. With no data contract to worry about, and a million and lots of apps in the App Store, it is very annoying to see the obnoxious "out of memory" message pop up on your iPod from time to time. It is extremely irritating to have to delete older photographs or videos so there is more space for new ones. But how to clean iPod Touch effectively?
Before introducing how to clean up iPod Touch, it is necessary to talk more about iPod Touch.
What is iPod Touch?
To music lovers, iPod is the best device for carrying music in your pocket everywhere you go. To movie lovers, iPod is the best mobile cinema known to man. To Internet geeks, anywhere a Wi-Fi network is accessible, iPod should be working. However, in a more general note, an iPod is an iOS handheld PC designed and marketed by Apple Inc, that serves all mobile device purposes such as playing music, video, gaming, camera, and as a personal assistance.
iPod has several features such as:
iPod features a 4-inch Retina display
M8 Motion Coprocessor
8-megapixel iSight camera
Improved FaceTime HD camera
A powerful A8 chip gaming effects
Super music sounds
HD video at 120 fps in 720p
Improved face detection technology
These are the features of iPod Touch 6, which is the latest version of iPod Touch. Nevertheless, it has been noticed that in the process of utilizing the above features of you iPod, over a while, you may start encountering some difficulties, low performances, low memory signals and other related error. This is when you will know that your iPod memory is full and the need for an iPod cleaner must be satisfied.
How to Clean up iPod Touch Memory
1

Delete Unused Applications
A major culprit in lost iPhone or iPod Touch space is a collection of useless apps that you no longer use. There are many applications that we download in heat and then never use them again. Go to your iPod Touch's memory manager and take a look at the list of the installed apps and the amount of space they occupy. Uninstall the ones you no longer use and you will be surprised to see how much space was being wasted on those applications!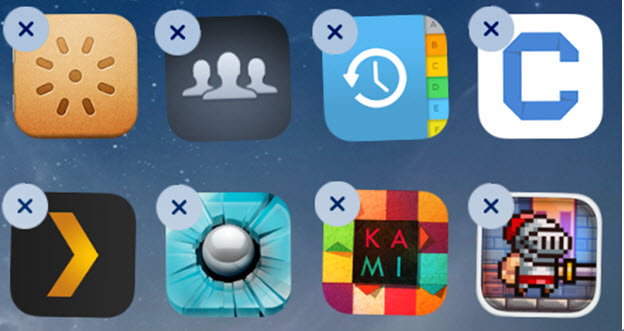 ---
2

Don't Double Save Photos
If you use the HDR mode to take photographs, you should be aware of the fact that the iPod Touch also stores a normal version of the photograph. Go to the settings of your photos and camera and turn off the "keep normal photo" feature. This will save you a lot of space as now you will store only one copy of the photo on your device if your iPod is not having enough space.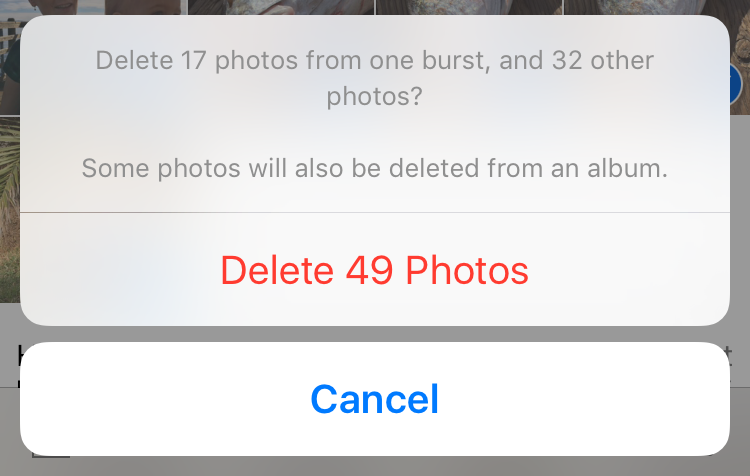 ---
3

Clear Your Browser Cache
Believe it or not, your browser cache occupies a lot of space if you browse often. Browser cache can be responsible for taking up a considerable amount of space if not be cleaned regularly. Caches are intended to make browsing faster but if you are running low on space, you can remove the cache, history, etc..
---
4

Set Messages to Auto Delete
Text messages are stored forever and if you don't delete them manually on your iPod, they will stay in the memory till your device is not working. Set them to auto delete so as to clear storage on iPhone. To set up automatically cleaning old messages, you can do the following:
Open Settings > Messages.
Scroll down to the section labelled MESSAGE HISTORY.
Tap Keep Messages.
Choose either 30 Days or 1 Year. This will delete messages older than one month or one year.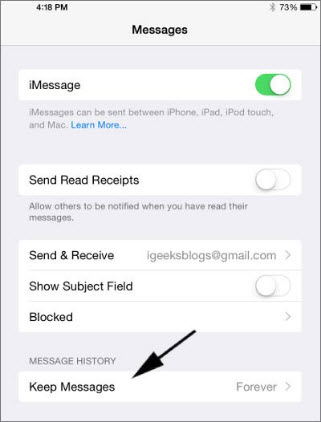 ---
5

Delete All Music
Keeping all Music on the iPod Touch in particular is unnecessary, so when the storage is almost full, you can remove all the music. Don't want to delete them all? Don't worry, take some time to set up and use iTunes Home Sharing to play music from a computer while at home or the office. Also, apps like SoundCloud, Spotify, Rdio, and others are great ways to stream music to the iPod Touch without actually taking up precious storage space on the device.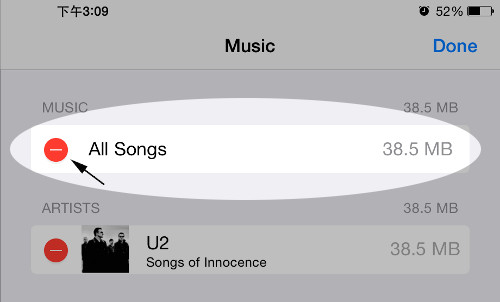 ---
6

Clean up iPod Touch Memory with iMyFone Umate Pro
iMyFone Umate Pro is a special tool for keeping iPod Touch in the best and efficient mode. This great app has stood the test of time in effective iPhone, iPad and iPod cleaning. It has maintained the spot of world's number 1 cleaner on many review website and among iPhone cleaner users. iMyFone Umate Pro can compress losslessly your photos that take up a huge memory space on your iPod. It also removes in one click all needless files, junk files, temporary files, unused apps, cookies, browser logs, caches, clash logs, etc. The following steps will guide you in using iMyFone Umate Pro or iMyFone Umate Pro for Mac.
One-click analysis and cleaning process.
Clean junks files and temporary files to speed up your device.
Compress photos losslessly, or mass delete photos, and automatically back up original photos on PC.
Delete large files according to different file sizes and remove unwanted apps
Erase all content and settings, with NO chance of recovery.
Erase all content and settings, with NO chance of recovery.
Find out and permanently erase existing private data or previously deleted files, suhc as contact, messages, photos, call history, Whatsapp, Wechat, etc..
Step 1. Run the software and connect your iPod to your PC.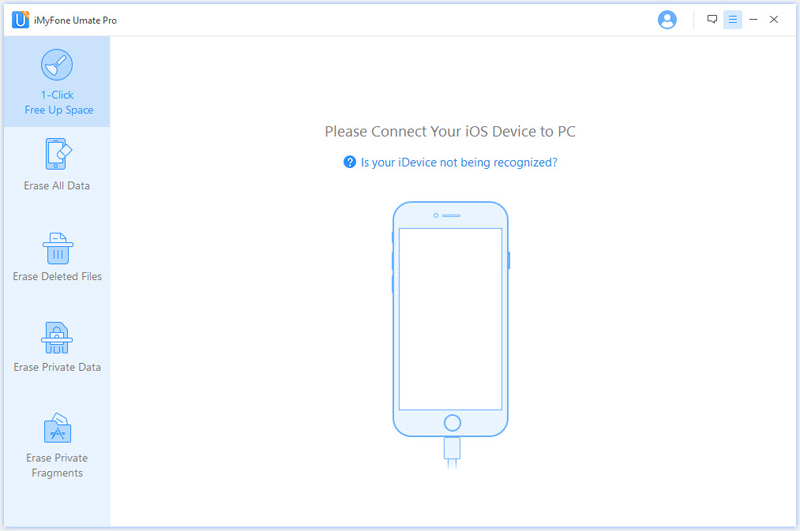 Step 2. Hit "Quick Scan" button to start a complete analysis of your iPod space.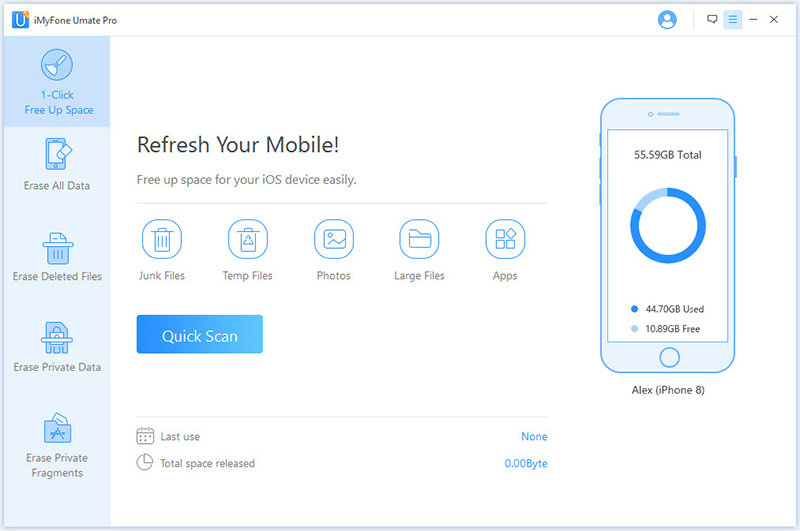 Step 3. Clean up your device with one click.