iPhone is one of the most sophisticated and secure devices in the world. These devices, running on iOS, rarely get infected by viruses.
However, you should be careful of malicious software or viruses that can access your personal information and harm your device.
Many iPhone users notice a misbehaving ad in an app that they use regularly. They immediately enter how to check if my iPhone has a virus in the search engines.
Basically, there is a lot of personal information stored in a device and if your iPhone is infected, your personal details might get compromised.
1#: Top 6 Ways to Check iPhone for Virus or Malware
Malware does exist in iPhone and if you are sure that your device is misbehaving, you should definitely check your iPhone for viruses or malware. If you are thinking how to check iPhone for virus or malware, you can follow the methods given below.
1.

Check Battery Performance

Viruses are harmful programs that run in the background. They drain the battery of your iPhone very quickly. So, you need to check the battery performance of your iPhone.

Step 1. Go to Settings and tap on Battery.

Step 2. All the apps with the respective battery usage will be listed.

Step 3. When you tap on Show Detailed Usage, you will get the breakdown of foreground and background usage. If you find an app that you don't recognize, remove it immediately.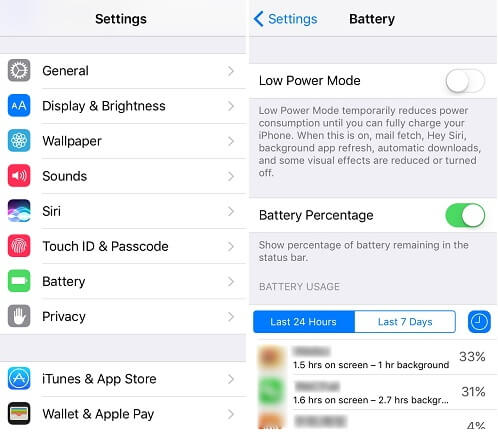 2.

Check whether Your iPhone is JailBroken

In the jailbroken iPhone, all the in-built restrictions are removed, making it vulnerable to harmful app installations. Follow the steps given below to check if your iPhone is jailbroken.

Step 1. Open the Search bar in your device.

Step 2. Enter cydia in the search bar and tap Search. If you find Cydia in your iPhone, your device is jailbroken.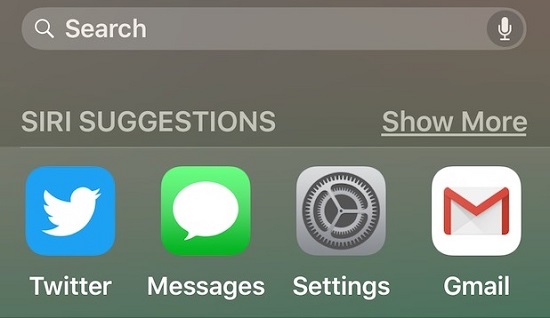 3.

Check Crashing Apps

If the apps that you regularly use are suddenly crashing, your device's privacy has been compromised. Keep all the apps updated to the latest and secure version. Follow the steps below to update the apps.

Step 1. Open App Store on your device.

Step 2. If asked, enter the Apple ID and password.

Step 3. If there are any updates available, tap Update All.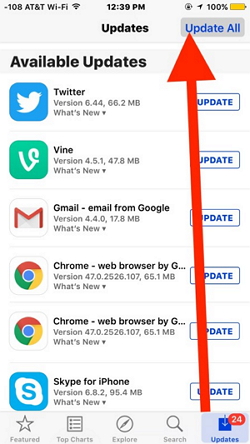 4.

Check Unknown Apps

The malicious apps look similar to the original apps so you need to be extra careful while checking for unknown apps.

Step 1. Swipe through the screen and look for the apps that you don't remember installing.

Step 2. If you find an app that looks suspicious, delete it immediately.

Step 3. To see the list of apps that are installed from App Store, tap the Apps icon -> your profile photo -> Purchased. If you have an app on iPhone that doesn't belong to this list, it is malicious.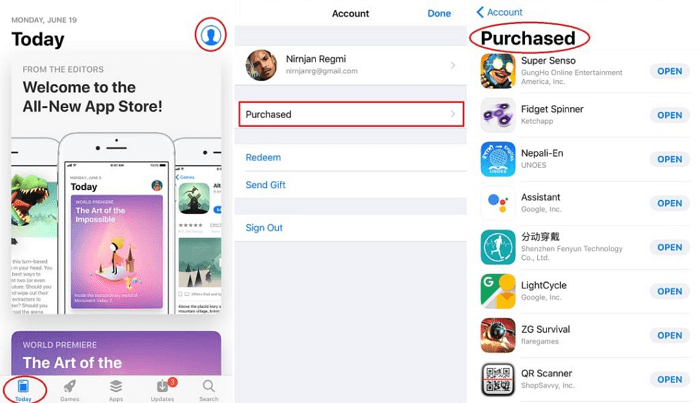 5.

Check Pop-up Ads in Safari

When there is a sudden surge in the pop-up ads, your device is definitely infected. To be safe, don't click any of the pop-up ads.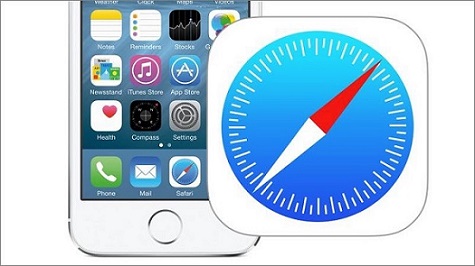 6.

Check Unexplained Extra Charges

Viruses use your phone's data to access the internet and always run in the background. Keep checking your bill statements to ensure that there is no sudden surge in your data usage or messages.
2#: 5 Tips to Do after Checking iPhone for Virus/Malware
After checking all the steps above, if you find something suspicious or unknown apps, you need to take actions on this situation.
Tip 1.

Turn off & Restart your Device

Step 1. Hold down the power button of your device until you see a slider.

Step 2. Slide and turn the iPhone off.

Step 3. To restart, hold down the power button until you see the Apple logo.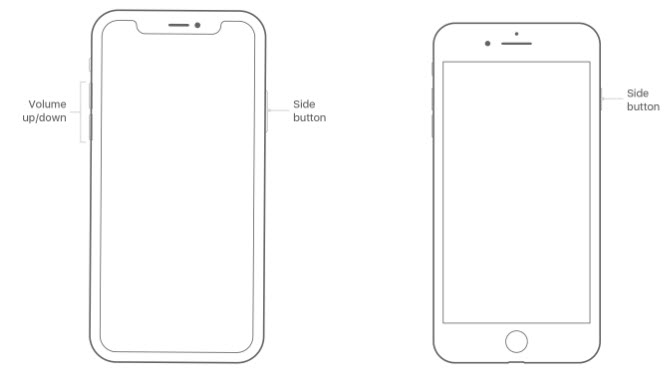 Tip 2.

Clear History & Website Data

Step 1. Open Settings on your device and tap Safari.

Step 2. Again tap Clear History and Website Data.

Step 3. Confirm by tapping Clear History and Data.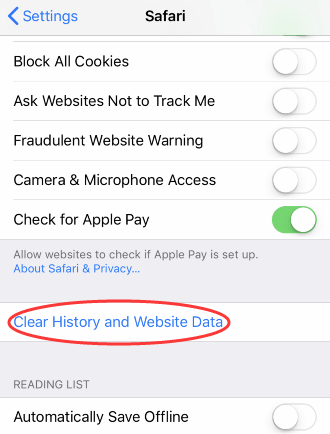 Tip 3.

Reset Your iPhone as a New One

If nothing works, you need to factory reset your iPhone.

Step 1. Go to Settings -> General -> Reset -> Erase All Contents and Settings.

Step 2. Enter your passcode to confirm the reset.

Step 3. The process will take some time to complete. Then set up your device as a new one.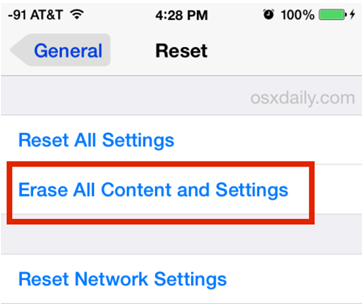 Tip 4.

Restore your iPhone from Backup

You can also restore the backup to your device to remove the viruses. You can restore either the iTunes backup or iCloud backup to your iPhone. If the most recent backup is corrupted and if for any reason you are not able to restore, it might contain malware. So, restore one of other backups to your device.
Tip 5. Erase Your iPhone/iPad from Virus or Malware Attack
It's neccessary to give your iPhone a thorough examination. The above 4 tips are not quite enough to free your iPhone from potential virus or malware. Therefore, you can use a third-party software to prevent iPhone from being attacked again due to virus or malware.
iMyFone Umate Pro iPhone Data Eraser offers you 1-click functions to totally clean up your iPhone. It is developed using the latest technology and comes with maximum features. iPhone just makes data invisible, that means deleted data is still recoverable. However, Umate Pro repeatedly overwrites iPhone data to remove from iPhone and its drive. There is no track to access or retrieve the erased data.
Key Features:
4 erasing modes to protect your iPhone: erase all data, erase existing files, erase deleted files and wipe app fragments.
Your data will be completely wiped that no one can recover.
It enables you to access and view all iPhone data, and destroy data you don't want selectively in bulk or all at once.
It's the first and only one iPhone data eraser that supports completely erasing 3rd-party app data.
Just download iMyfone iPhone Cleaner and start cleaning your iPhone. Following are few steps that will be used to clear your iPhone.
Step1. Connect iPhone to your Computer
Open the iMyFone iPhone Cleaner on your PC or Mac. Then connect your iPhone to it.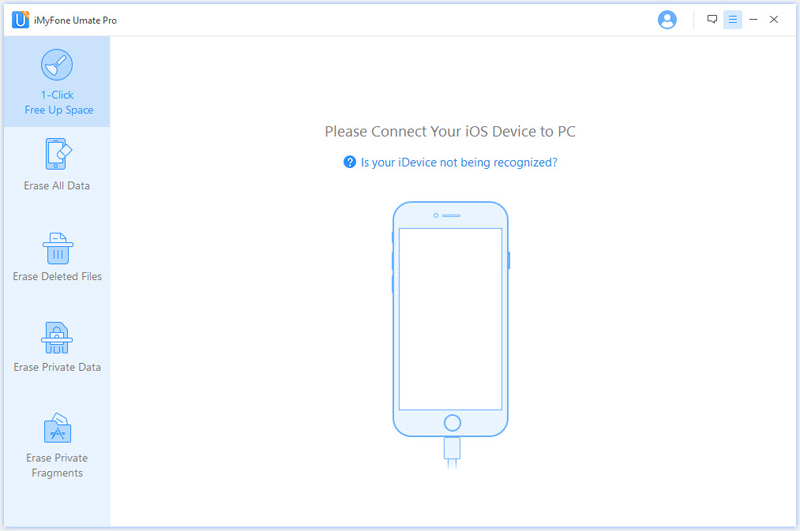 Step2. Scan your iPhone
Now click on the "Qucik Scan" button it will start scanning your iPhone. When the scanning process is completed it will show you what kinds of data can be cleared on iPhone.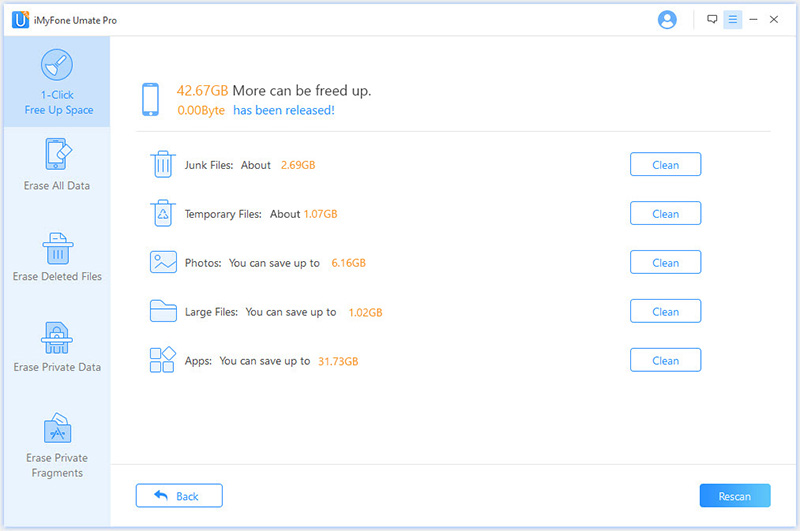 Step3. One Click to Clean
Click on the "Clean" button of each item that you want to clear, like "Temporary Files."
Conclusion
If you are thinking how to check iPhone for virus or malware then you have to view all the above methods carefully. You can choose any one method depending on your situation and then check the iPhone for the virus. You can ask anything regarding this topic by leaving your comments below.