Over the years, WhatsApp has become one of the most popular messaging apps. Not only does it make texting and sharing easy, but also it is a cross-platform app which makes communication between iOS and Android users quite simple. As a result of this, WhatsApp is now one of the most used apps in the market, but one thing is missing from it - multi-account support.
Having two WhatsApp accounts can be useful. For example, having one for personal use and having one for business, or having one for your family and one for your friends. While WhatsApp doesn't include this feature, we're going to show you how to have multiple WhatsApp accounts iPhone, even when iOS 15/14 is running your device. Our focus in this article is to discuss how to use two WhatsApp on iPhone without having to jailbreak your device.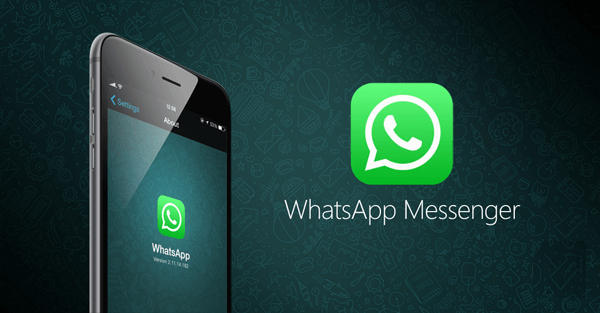 Method 1: Use Two WhatsApp in One iPhone via WhatsApp 2
The first solution that we're going to show you is using WhatsApp 2. This is simply an exact copy of the original WhatsApp, but has been saved to your iPhone under a different name to allow 2 instances.
Step 1: Download and setup WhatsApp from the App Store, if you haven't already done so.
Step 2: Open the Safari app and go to iOS.Othman.tv. Tap on "WhatsApp 2" and then press the green button to download it.
Step 3: You'll be prompted to allow the installation, simply click on "Install".
Step 4: After it has been installed, go to "Settings> General > Profile", and enable "Trust VNE Software".
Step 5: Now, setup WhatsApp2 accordingly and you're done.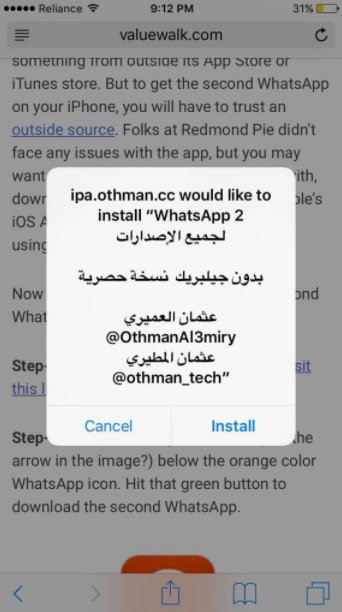 One of the main benefits to this is that you don't have to sign in and out of your accounts whenever you want to switch, as both of your accounts can be signed into their own app. You can also use WhatsApp 2 in iOS 15/14.
Method 2: Use Dual Messenger for WhatsApp - Chats
Here we're going to introduce you the iOS app called Dual Messenger for WhatsApp - Chats. This application gives you a lot of flexibility over your WhatsApp account, allowing you to have 2 WhatsApp accounts on 1 iPhone or 1 account between 2 devices - whatever is most convenient for you.
This app is incredibly effective and aside from the fact that it's a paid app, which is an alternative option for having 2 WhatsApp accounts on 1 iPhone. It is a very straight-forward program to use which gives you all the control that you need to manage both of your WhatsApp accounts.
Step 1: Download and install the "Dual Messenger for WhatsApp - Chats" app on your iPhone.
Step 2: A QR code will be shown and you must use another iPhone to scan it.
Step 3: Go to the original WhatsApp application on the original iPhone and go to "Settings > WhatsApp Web/Desktop > Scan QR Code".
Step 4: After scanning the code, your WhatsApp messages will be synced between both devices.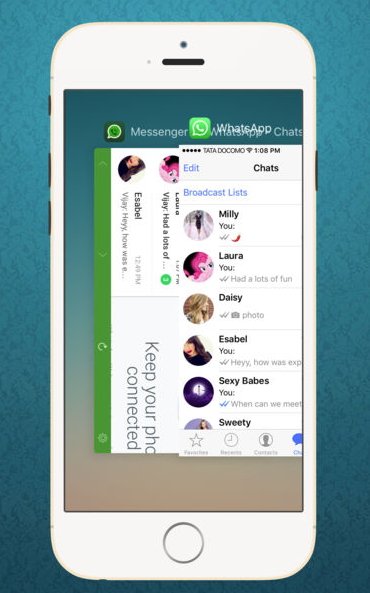 Tip: Recover WhatsApp Messages (Including Media Data)
Now, if you've been trying to get multiple WhatsApp accounts iPhone and haven't done so successfully, you might end up corrupting some of your messages. For this unexpected case, you may not have any complete backup.
So a reliable software can help you quickly recover these lost or missing WhatsApp messages. Before recovery, do not use or turn off your iPhone which might produce new data and any new data may probably overwrite your lost data.
iMyFone ChatsBack WhatsApp Recovery provides you with multiple solutions for recovering data - the chance to try before you buy, the chance to preview data before you recover it to save time, the ability to recover a variety of different WhatsApp data types, and it is compatible with all iPhone models and iOS versions, including the latest iOS 15.
By following our short guides below, you can use this WhatsApp recovery tool to recover your WhatsApp messages from several sources. Before you follow any of these methods, make sure that iMyFone ChatsBack is installed on your computer.
Note
If you have iTunes backup, you can also use
iMyFone ChatsBack
to recover only WhatsApp messages from a backup to iPhone without erasing or replacing the other data on your iPhone.
Steps to recover WhatsApp data from your iPhone directly even with no backup.
Step 1: Launch iMyFone ChatsBack and connect your iPhone. Then select the "Device Storage" from the home page.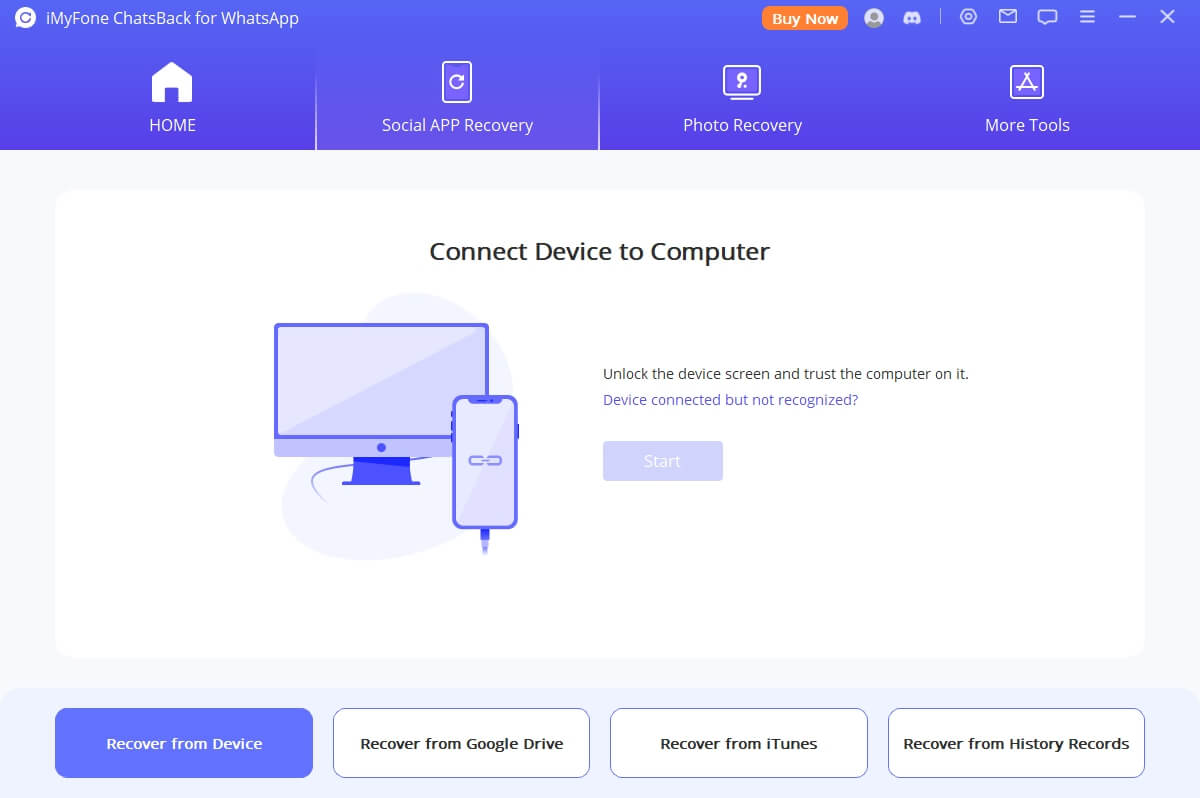 Step 2: Connect your iPhone with the computer using a USB cable and wait for the program to recognize it. Choose WhatsApp Messager and click Start to scan your iPhone.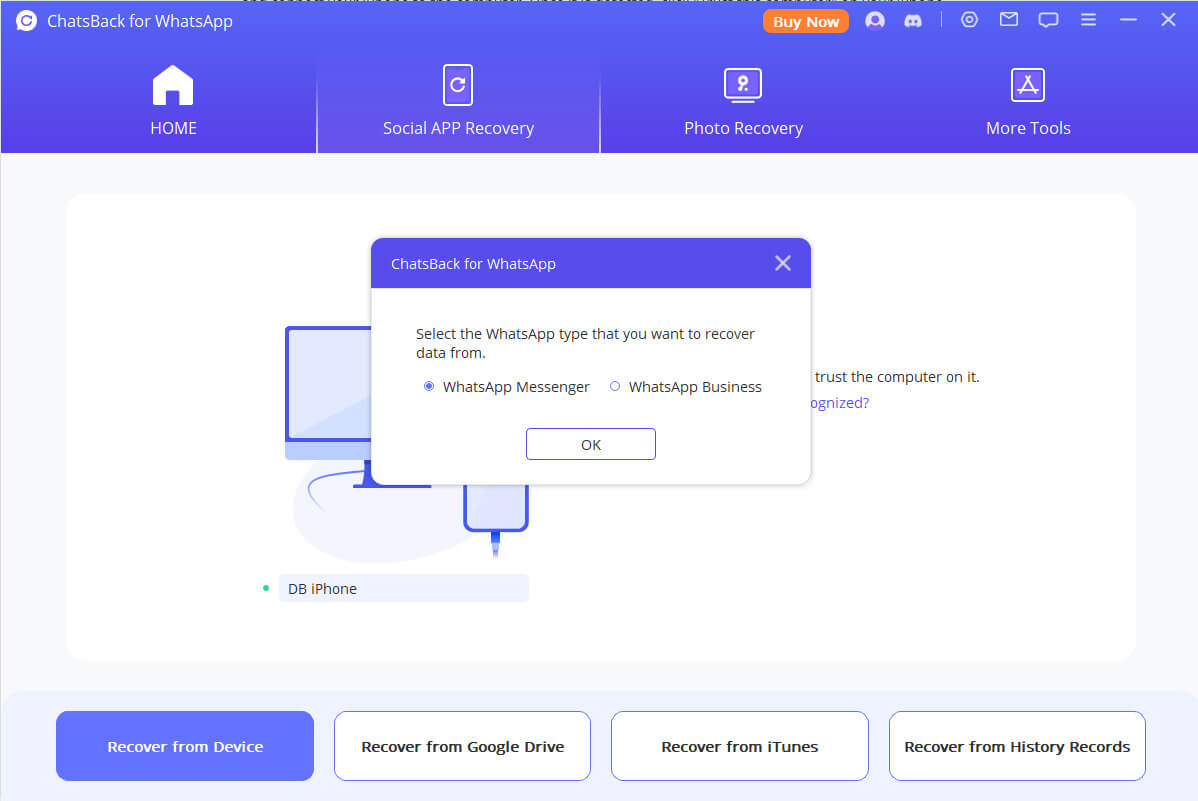 Step 3: Select the WhatsApp messages that you wish to recover after analyzing the database. Choose recover the WhatsApp messages to the computer or your iPhone and click the corresponding button. You can also preview the WhatsApp messages before recovering..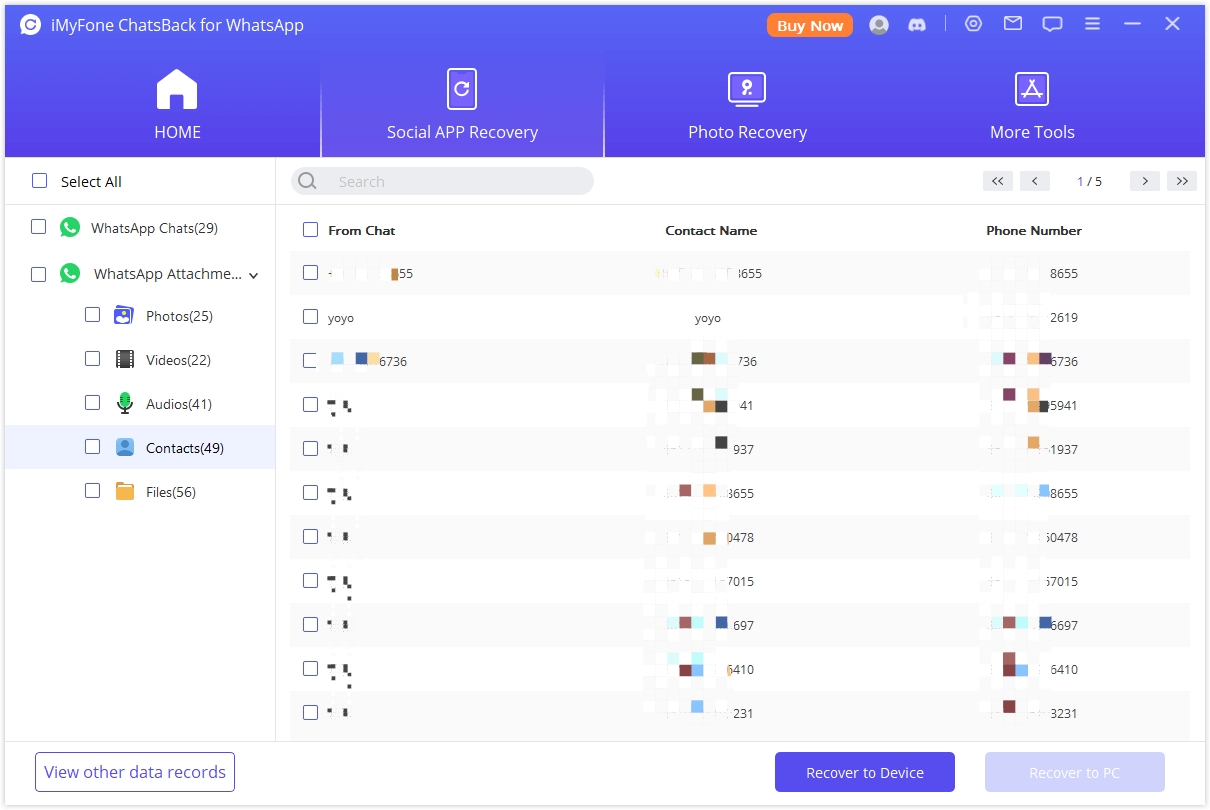 Steps to recover WhatsApp conversations from iTunes backup (preview allows).
Step 1: Open iMyFone ChatsBack and select the iTunes option on the home page. Choose an iTunes backup that you want to recover WhatsApp converstaion from and click "Next".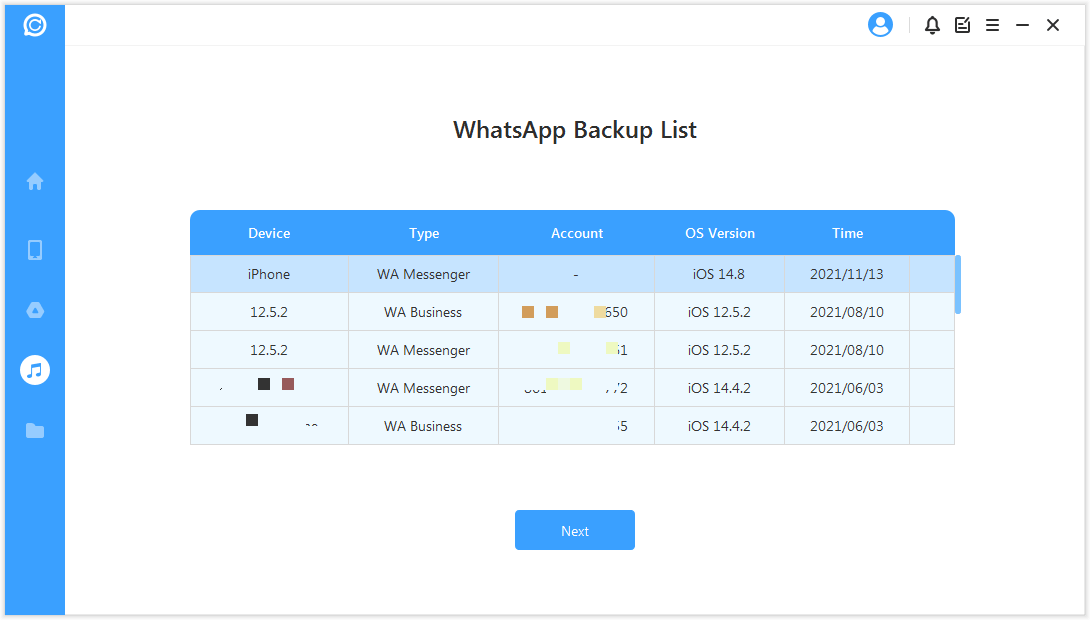 Step 2: You'll now be shown all the WhatsApp data that iMyFone ChatsBack can recover. You can select the messages you want to recover from there. When you click on Recover to Device or Recover to PC, those messages will be restored.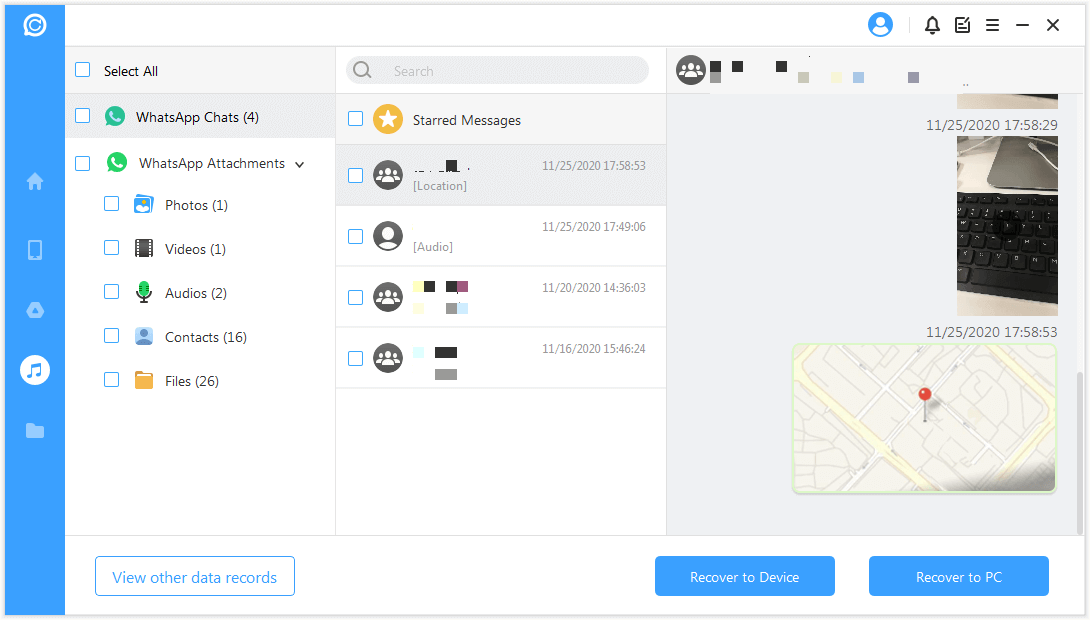 Conclusion
Knowing how to use 2 WhatsApp in 1 iPhone can be incredibly useful, as we explained above, although finally getting both of your WhatsApp accounts set up can take a while, thus, you may experience data loss during this time. If that happens, don't worry - there are some best free WhatsApp recovery tools (supporting iOS 15/14) you can try to quickly recover your WhatsApp messages and it'd be like they were never gone.
Furthermore, using iMyFone ChatsBack gives users the chance to preview and recover your WhatsApp messages from either iTunes or iCloud backups. Although you can also restore your iTunes or iCloud backup, they won't allow you to preview the data beforehand. So your current or existing data that is stored on your device will be overwritten – thus, it isn't optimal.