User Guide of iMyFone TunesMate
Transferring media files between iOS devices and iTunes/computer is extremely easy with iMyFone TunesMate. TunesMate lets you transfer files conveniently with two-way transfer, and you can even rebuild the iTunes library. It supports music, playlists, movies, camera roll images, photo libraries, podcasts, and more. To correctly use the function you want, click on one of these navigation in the Content bar on the left to read the full guide!
Part 1: TunesMate User Interface
Note: We will majorly introduce the Windows version of iMyFone TunesMate. If there is no special remark, the Mac version will be with the same capacities. In the meantime, you can complete the errands on Mac version by following the steps cited for the Windows version as well.
For the Windows version or Mac version, iMyFone TunesMate has 6 function modules where you can use from the main interface.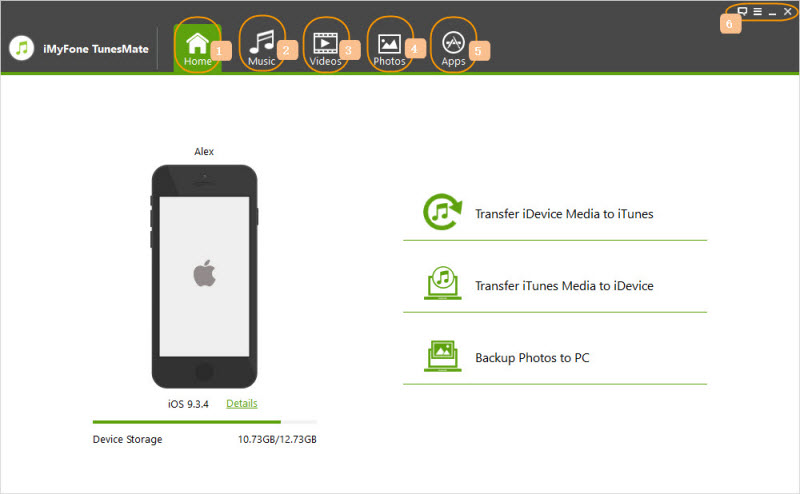 1. Home
Without any device connected, iMyFone TunesMate will remind you to connect your device to computer with a USB cable on the Home interface.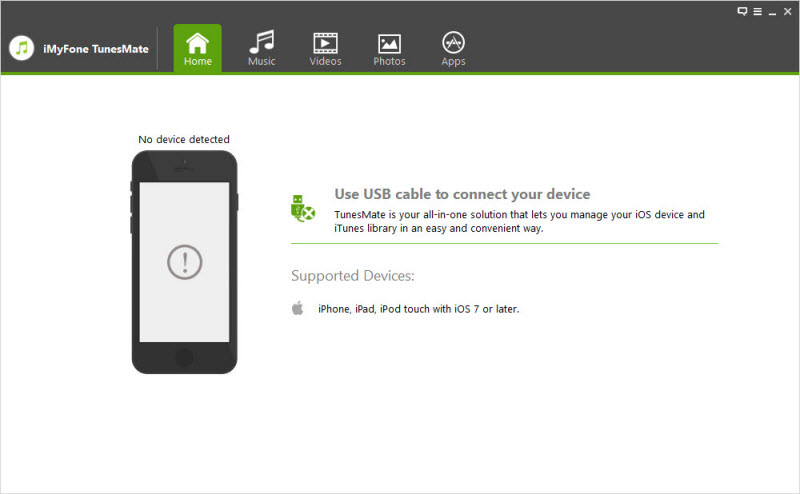 When your device is connected, the Home interface will show you three 1-Click functions which allow you to transfer in one click and 1 Details option that you can learn more about the detailed info of your device. The three 1-click functions are "Transfer iDevice Media to iTunes", "Transfer iTunes Media to iDevice" and "Backup Photos to PC/Mac".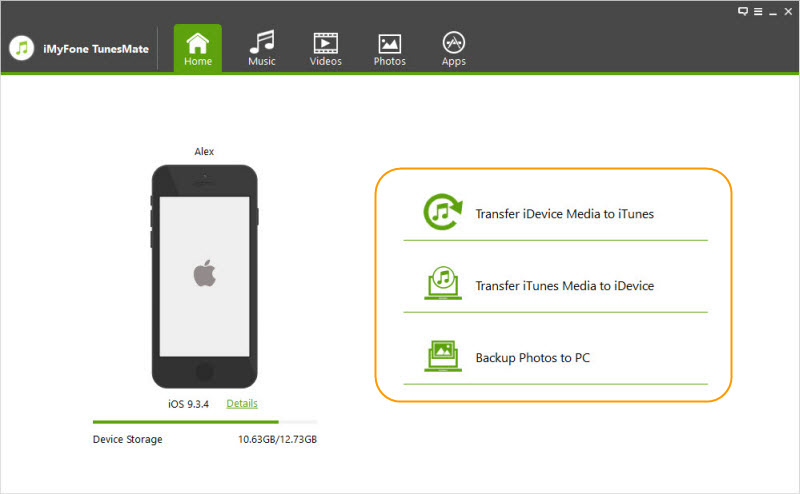 2. Music
It involves all the audio contents in your device by sort, like, Music, iTunes U, Podcasts, and Audiobooks. Then, all your music playlists will be listed under "PLAYLISTS". Through Music module, you're empowered to freely transfer and smartly manage your music collection on your iDevice and iTunes library.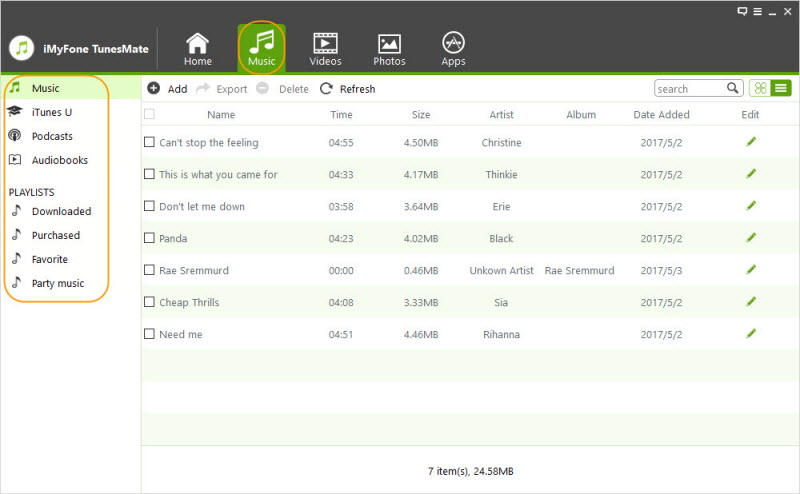 3. Videos
It involves all the video contents in your device by sort, such as Movies, Music videos, Home Videos, TV shows, iTunes U and Podcasts. You're empowered to transfer and manage your videos on your iDevice and iTunes library flexibly.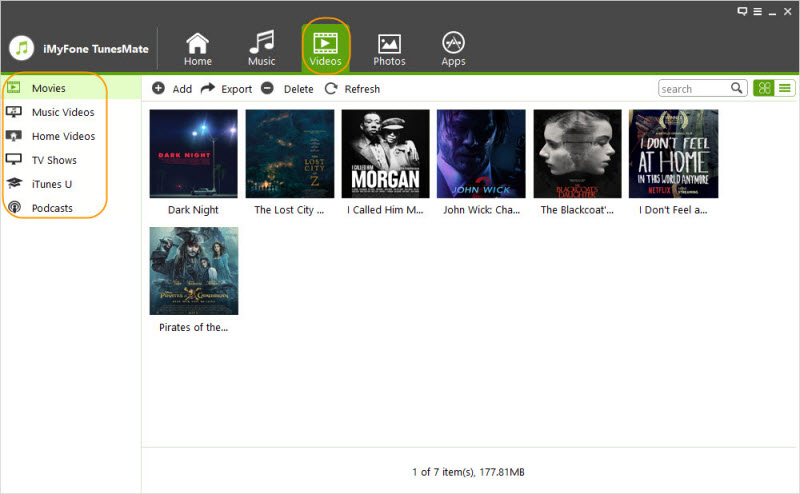 4. Photos
It involves your photo contents in your iDevice by sort, such as Camera Roll and My Photo Stream. You're empowered to transfer and delete your photos on your iDevice easily.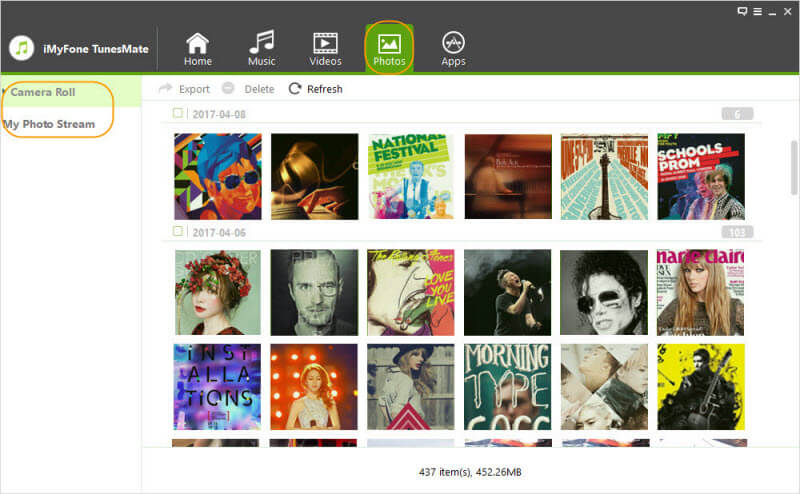 5. Apps
You're empowered to uninstall apps on your iDevices in batch easily.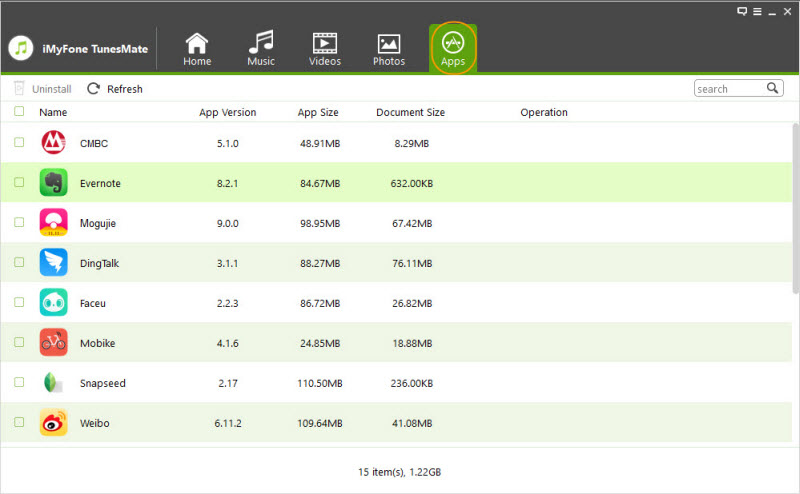 Product Setting Area
You can register the license, find detailed info of the software, check for updates, send Feedback, search FAQ, etc.
Part 2: Connect Your iDevice
To enjoy iMyFone TunesMate, you need to connect your iDevice to computer with a USB cable. So as to make the process simple and easy, kindly, follow the following steps.
Supported iDevices
Fully compatible with iOS 7/8/9/10/11/12/13.
Support iPhone 11 Pro Max, iPhone 11 Pro, iPhone 11, iPhone XS Max, iPhone XS, iPhone XR, iPhone X, iPhone 8/8 Plus, iPhone 7/7 plus, iPhone 6s/6s plus, iPhone 6/6 plus, iPhone SE, iPhone5/5s/5c, iPad Pro, iPad Air, iPad mini, iPod touch and more.
How to Connect Your iDevice with A USB Cable?
Step 1: Install and launch iMyFone TunesMate on your computer. Connect your iDevice to your computer with a USB cable.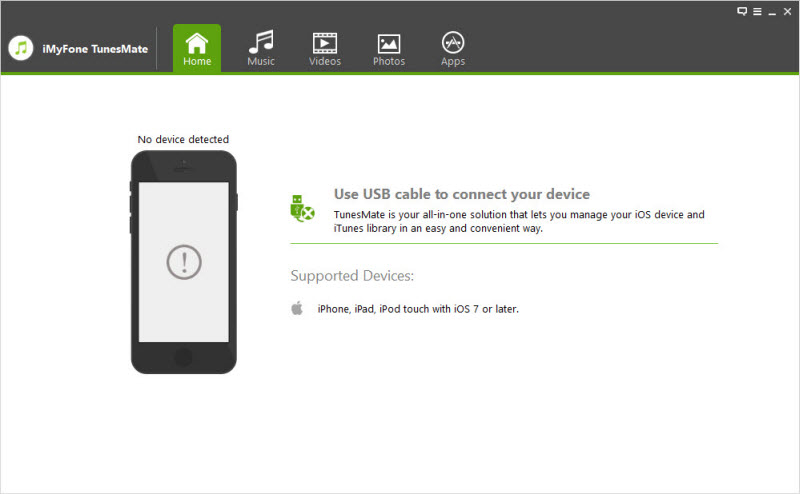 Step 2: iMyFone TunesMate will remind you to trust the computer on your device. Please unlock your device and tap "Trust" button from the pop-up window on your device. Once done, TunesMate will automatically detect your device.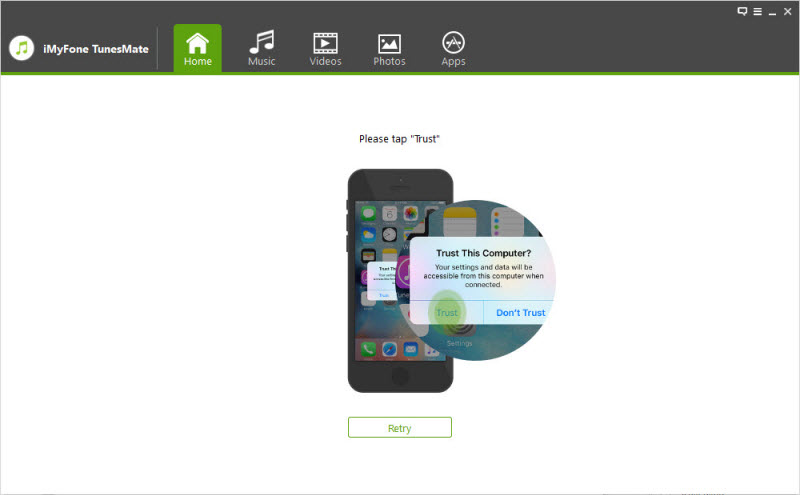 Note: You can click "Details" option under the device icon on TunesMate for more detailed info about your iDevice.