Do you want to stream the videos, photos, or multimedia on your Android device to a big screen? Or are you a huge fan of playing Android games on your computer? Luckily, it's easier than you think.
All you need is a competent mirroring app like iMyFone MirrorTo to screencast Android Screen to PC and get a better gaming experience. Stick to reading to learn everything about this top-ranked screen mirror app including its features, pros, and cons, and "How To" guide.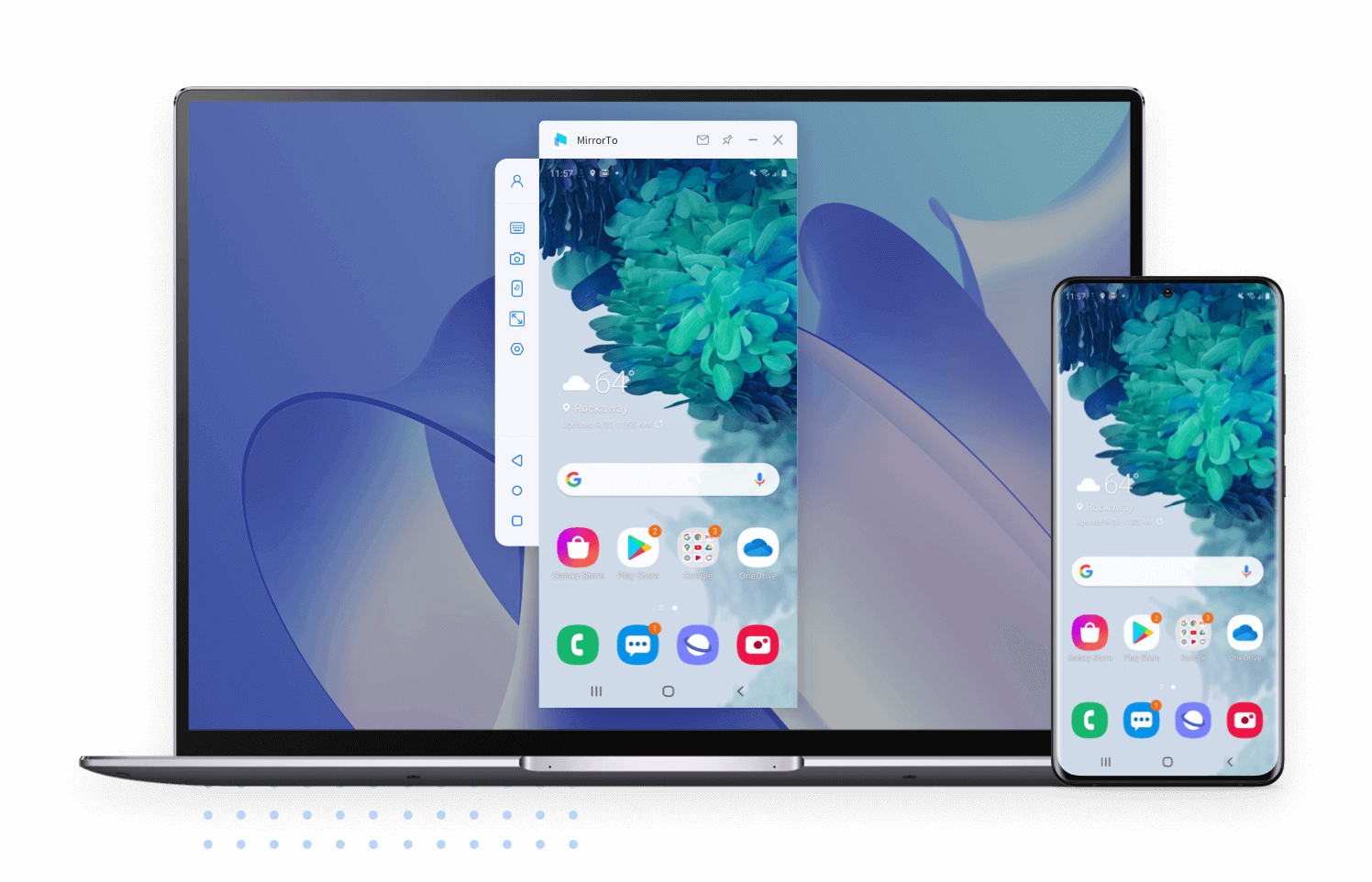 Let's cut to the chase.
Part 1: An In-depth Review of iMyFone MirrorTo
It's difficult to assess the efficiency of a screen mirroring app without diving into features and feasibility.
a. What is iMyFone MirrorTo?
Just as its name indicates, MirrorTo is a top-ranked mirroring software that empowers users to cast anything on their Android devices on a big screen. Once the connection is established, MirrorTo provides an intuitive way to control your PC and enjoy Android games like never before.
This remarkable app is developed by the tech giant "iMyFone," so you can expect handy updates in future.
b. Features of MirrorTo
What makes MirrorTo stand apart from other players in the market is its library of stellar features. Below are some of its highlighted features:
1.

Stable and Fast Connection
The foremost purpose of a mirror app is to provide a stable and consistent connection between a smartphone and a PC. MirrorTo employs advanced algorithms and promises a fluent connection without any lag or bug even on low-end PCs.
2.

Convenience in Keyboard Controlling
MirrorTo offers advanced controller options to manage your big screen effortlessly. Once the connection between devices is established, it shows an intuitive keyboard controller that anyone can use with great use.
3.

Customizable Keyboard
MirrorTo comes with advanced customization settings to let users adjust the settings according to their gaming style. With just one click, you can reset controls, swap controls, or adjust gaming settings as needed.
This feature brings a lot of fluency and personalization while playing games or managing social media apps on the big screen.
4.

Universal Compatibility
MirrorTo is arguably the most efficient mirroring app when it comes to compatibility with Android devices. It works perfectly well with almost all major Android smartphones as well as supports most Android games.
c. When Can You Use iMyFone MirrorTo?
MirrorTo amongst the hot-selling products of iMyFone. We did some research and found out how feasible and useful it is for multiple purposes. Below are a few situations where you can use this application:
1

Record Android Screen
Users can easily capture the Android screen after mirroring it on a PC. This comes in handy for presentation or tutorial videos as you can save the recorded videos for posterity.
2

Live Streaming
Nothing is better than watching the live streaming of your favorite sports on a big TV. Just mirror your Android device to PC and enjoy watching the live stream like it's meant to be.
Likewise, you can play live Android games on your computer using MirrorTo.
3

Smooth Communication
If you're kind of a jolly person who loves to communicate on social media apps, then why not screencast your smartphone to a PC and manage all the apps intuitively. Plus, you get tons of options to customize the keys for a better experience.
4

Take Entertainment to a New Height
No matter how advanced your smartphone is, it's natural to get bored while watching videos or your favorite shows on a small screen. Worry not as MirrorTo comes to your rescue.
Install this amazing application and screencast your Android device on a big TV to watch movies on a large screen.
d. How to Mirror Android Device to Computer: Steps with Pictures
The strength of MirrorTo is its ease of use and user-friendliness. It offers a click-through process to screen-share an Android device on your computer. Here's how you do that:
Step 1.First of all, download iMyFone MirrorTo from the official site and run it on your computer.
Step 2.Now, connect your Android mobile to the PC via a lightning cable and hit "Transferring files" to get started.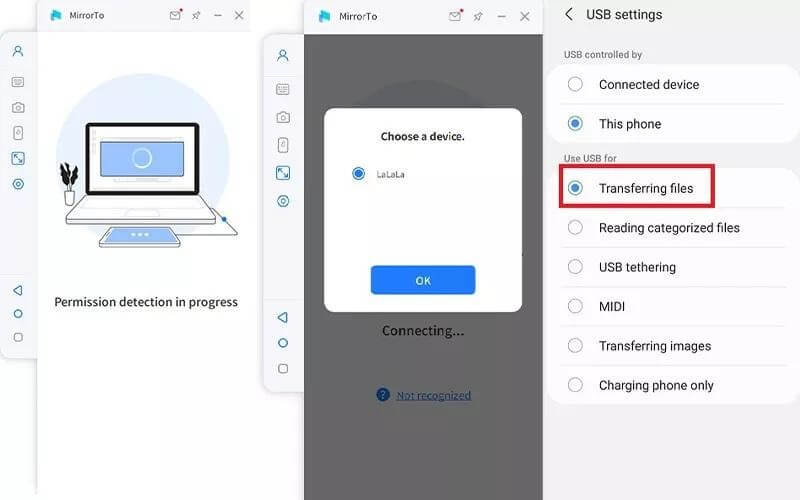 Step 3.Follow the on-screen instructions to enable the USB debugging on your mobile as shown in the figure.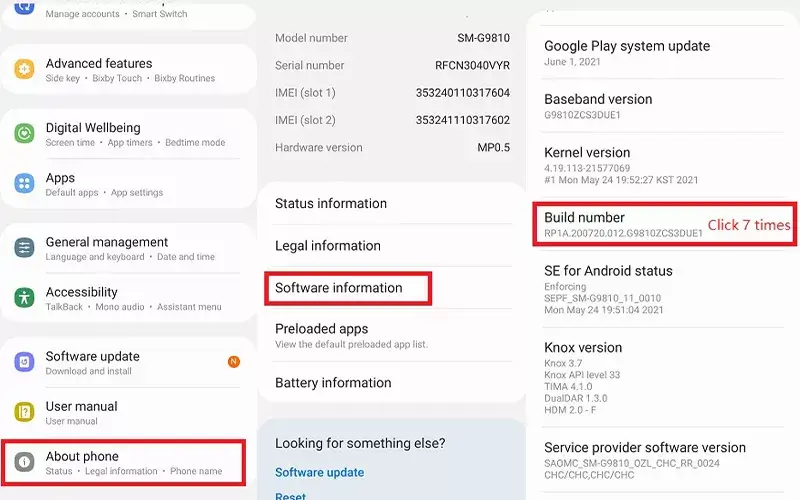 Step 4.Now, hit Turn On to allow MirrorTo mirror your smartphone on the computer.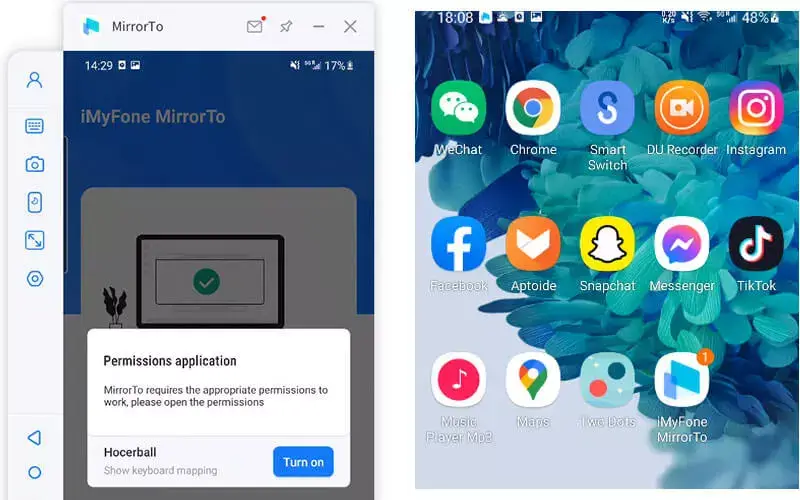 Step 5.And there you go. Now, you can watch videos or play any game on the big screen.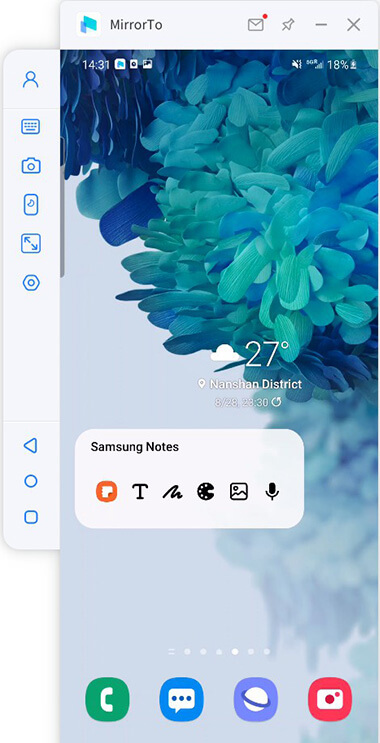 e. User Reviews about MirrorTo
MirrorTo has taken the mirroring app industry by storm. Having over a million downloads, MirrorTo has received encouraging reviews from users. Its ease of use, blazing-fast speed, and ability to provide seamless connection are what impress the users most.
No wonder, MirrorTo has spectacular ratings of 4.9/5.
Part 2: Hot FAQs about Casting Android to PC by iMyFone MirrorTo
We have gathered and answered some common queries of users pertaining to using MirrorTo.
1

Is iMyFone MirrorTo safe and legal?
The answer is YES. Unlike its competitors, MirrorTo is 100% safe and secure for use. It doesn't cause any harm to your devices whatsoever. There's no virus, bug, and malware in the app as long as you download it from the official site.
And yes, iMyFone MirrorTo like all other mirroring apps is legal – but don't use the pirated version.
2

Can I play all Android games on the computer with MirrorTo?
The primary objective of any Android mirroring app is to enhance users' gaming experience and here too, MirrorTo stands apart. It supports almost all major Android games including PUBG. However, the application is still in its nascent stage and the developers are constantly working to make it compatible with all existing Android games.
So, brace yourself for several free updates in the next few months.
3

What's the difference between the Free trial and the Full version?
As you already know, MirrorTo offers a free trial to users to win their praise and trust. But free trial offers limited features compared to its full-paid subscription plan. For instance, users get 5 limited mirroring minutes and no keyboard mapping on free trial while there's no upper limit for mirroring once you buy the product.
As of now, this powerful software is available for only $19.95/month which is quite customer-friendly for the features it offers.
4

Is iMyFone MirrorTo Trustworthy?
Definitely yes. MirrorTo is one of the most reliable and efficient apps to stream your Android device on a PC. It provides a stable connection and uses advanced technology to offer the smoothest gaming experience.
5

What's the difference between emulators and mirroring apps?
The ultimate objective of both an Android emulator and a mirroring app is the same, to screen-share an Android device on a big screen. However, an emulator is more complicated and time-consumingg to use while a mirroring app is very easy even for first-time users.
Conclusion:
To wrap it up, this review article shows that MirrorTo is an efficient mirroring app for streaming your Android device on a big screen. It comes preloaded with all the impeccable features that you expect from a premium mirroring software. On top of that, it has a sleek and innovative interface, making it a go-to screen mirror app even for not-so-tech-savvy users.
Install the premium version to enjoy all the features of iMyFone MirrorTo. If you have any questions, feel free to ask.