There may be a time when you see the need to show off photos, videos, and other visual content from your iPad to a bigger screen simply because the small screen is not good enough to give you what you want. Fortunately, there are different ways you to connect your device to your big-screen TV.
This article has set to explore three different ways to screen mirror your iPad to TV. With any, you can enjoy viewing some activities on your iPad screen from a larger screen.
Part 1: Screen Mirror iPad with AirPlay
AirPlay refers to a wireless communication protocol suite or stack. It is developed by Apple Inc and designed to support streaming between devices of video, audio, photos, device screens, together with related metadata. Your iPad is not in any way an exception. With ease, you can duplicate the screen of your iPad on your TV with AirPlay. AirPlay remains the best choice for all iOS users. How then can you screen mirror using it?
Steps to Screen Mirror iPad with AirPlay
Step 1. Open the Control Panel
Remember that screen mirroring your iPad to your TV using AirPlay is a very easy process. To start, open the Control Panel by swiping down from the upper-right corner of the Home screen.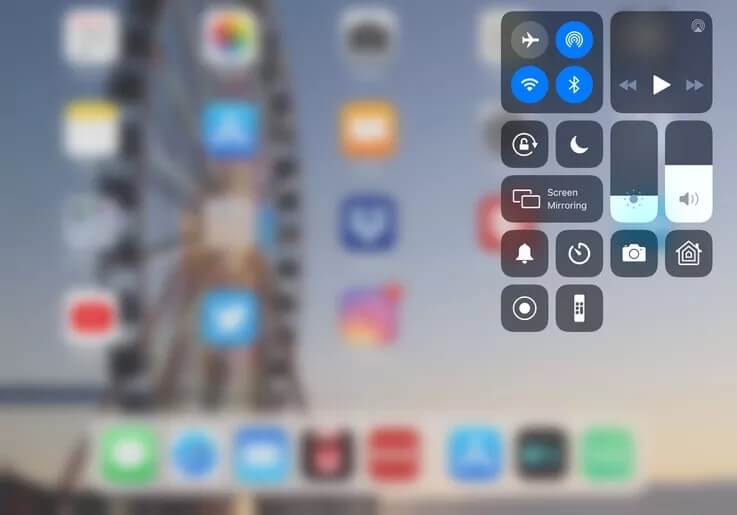 Step 2. Tap Screen Mirroring
You will see the "Screen Mirroring" button on the Quick Settings, try to click on it.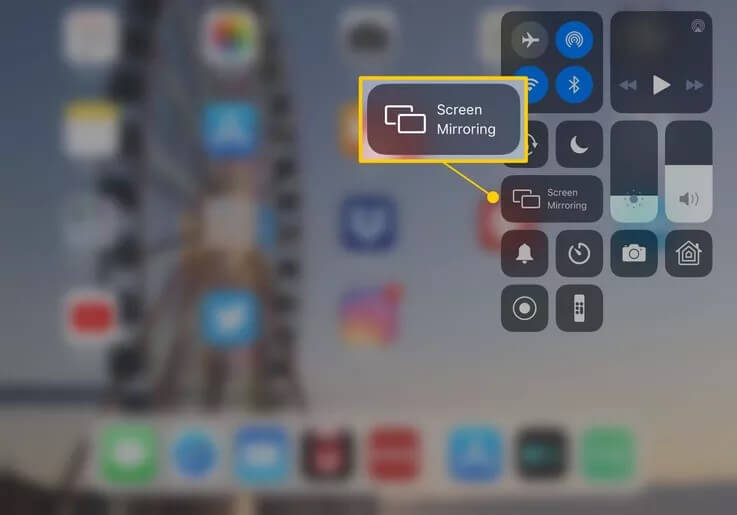 Step 3: Click on the name of your TV
You will see all available devices for AirPlay in the menu. Click on the name of the TV to be connected to your iPad.
Note
You may be required to pair the devices by entering a code from the TV screen if it's your first time using your iPad with your Apple TV.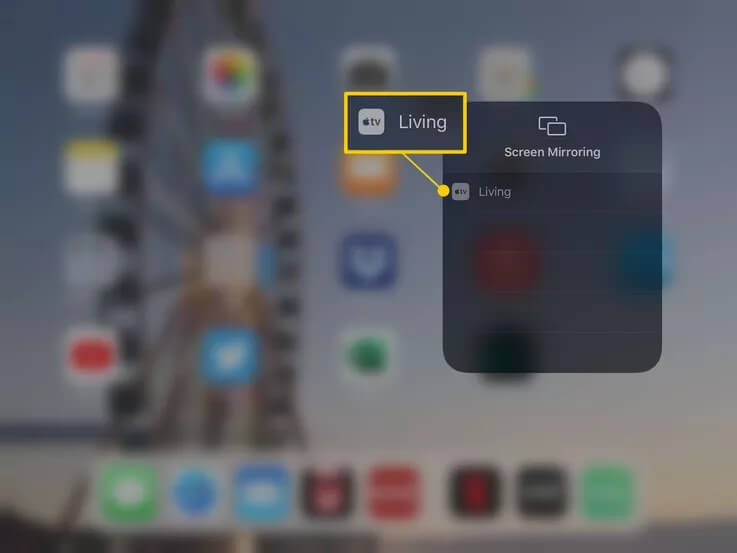 After the preceding step, you will see your iPad display show on your TV. To turn AirPlay off, you will need to go to the "Control center" and click on "Screen mirroring", then tap "STOP Mirroring".
Bonus
: Not only can you mirror iPad to your TV, you can also mirror iPad to your PC. Unlike mirror screen to TV, you need to download
iMyFone MirrorTo
on the PC first, and then make your PC and iPad in the same wifi, and then you can control your iPad desktop with keyboard and mouse.
Part 2: Use Chromecast to Mirror iPad to TV
Setting up Chromecast on your iPad can help you stream to your TV through Chromecast from apps such as YouTube, Netflix, and Pandora.
To use Chromecast, it is important to have a Google account and the Google Home app first on your iPad. You can download Google Home from the Apple store. Connect the Chromecast dingle to any power source and then plug it into your TV's HDMI port.
Steps to Screen Mirror iPad with Chromecast
Step 1: Launch the Google Home app
After downloading the Google Home app, try to install it launch it on your iPad, and click on "Devices" in the top right corner.
Step 2: Set up your Chromecast device
To set up your Chromecast device, try to follow the on-screen steps.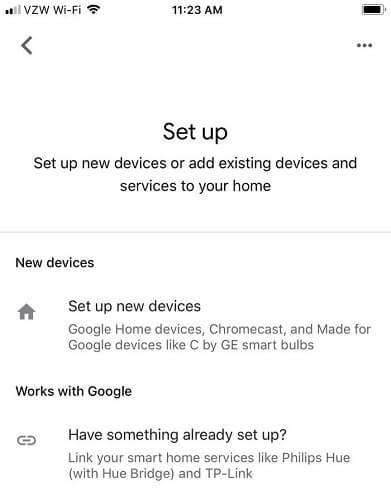 Step 3: Showing the same code on both devices
You need to ensure that both your iPad and TV screen show the same code. Seeing this, click on "Yes".
Step 4: Choose a name and set privacy options
Try to name your Chromecast. It is best to choose a name referring to its physical location. You need to also set privacy options
Step 5: Connect the Chromecast device to WiFi
The next step is to connect your Chromecast device to the WiFi. Ensure that the Chromecast device and your iPad share the same network.
You are good to go the moment you enter the WiFi password. Open any of your apps such as Netflix on your device to show it on your TV screen. You will see the Chromecast icon in the top left corner.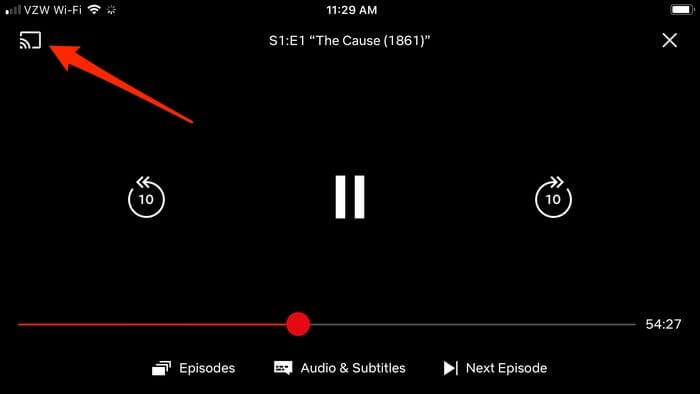 Sept 6: Start your screen mirroring
To start the screen mirroring, you need to click on the Chromecast icon and choose your Chromecast device.
Part 3: Mirror iPad to TV with A USB Cable
Another way to connect your ipad to TV is through the use of an appropriate cable. This method requires a compatible adapter cable. Check to know if the cable is the proper one for the input on your TV. This can be an HDMI cable, therefore, you may need to find a Lightning to Digital AV Adapter from Apple.
Steps to Mirror iPad to TV with A USB Cable
Step 1: Connect the adapter to a VGA (or HDMI) cable.
Step 2: Connect the USB cable to an input on your TV.
Step 3: Before you turn on the iPad, plug the adapter into the Lightning port of the iPad.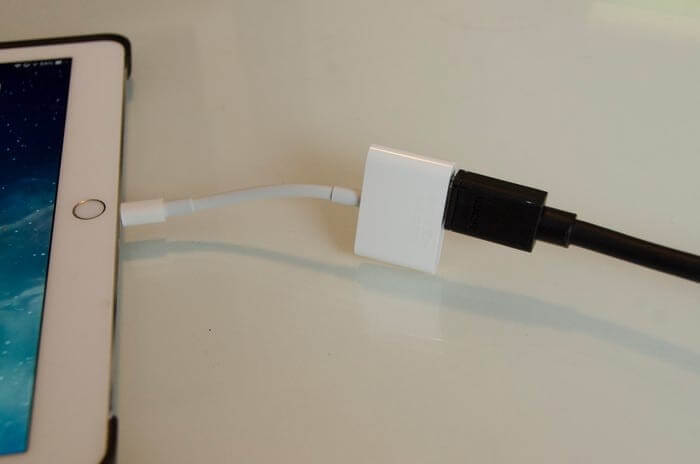 Step 4: To switch to the input to which the USB cable is attached, you can use the remote control or the TV's control panel. Then you should see the screen of your iPad mirrored on the TV.
Note
In a situation where the iPad is to be used for a long time, plugging the AV adapter into the Ac adapter may be an option. Through this, you will get power to the device while running. To do it, you will have to get an extra AC adapter and Lightning cable.
FAQs Related to Mirroring iPad to TV
1

How do I AirPlay from iPad to TV without Apple TV?
It is very possible to do AirPlay from iPad to TV without Apple TV. Some of the ways to do this include the use of Google Chromecast, Lightning Digital AV Adapter, AirBeamTV, AirServer, and Raspberry Pi.
2

Why is Screen Mirroring not working on my iPad?
Different things can be responsible for why screen mirroring is not working on your iPad.

Your screen mirroring may not be working If your AirPlay-compatible devices are not near each other or not turned on. It may also be that the software of the devices is outdated and are not on the same WiFi network.

To fix the problem, try to turn the AirPlay-compatible devices on and make sure they are near each other, update to the latest software if outdated, ensure they are on the same Wi-Fi network, or reboot the WiFi router and then check it's working.
3

Do all ipads have AirPlay?
Any iPad running iOS 4.2 or newer should have AirPlay built-in. With the AirPlay, you can wirelessly cast video or audio from your iPad to an Apple TV/an AirPlay 2-compatible smart TV provided that your iPad and your TV are connected to the same Wi-Fi.
4

How can I show my iPad screen on my TV?
It is very easy to show your iPad screen on your TV. The steps you need to take include opening the "the Control Panel", clicking on the "Screen Mirroring" choosing an AirPlay 2-compatible smart TV or Apple TV as the destination of the playback, entering an AirPlay passcode on your iPad if it appears on the TV screen and starts streaming your videos and pictures. To go back to your iPad, just click on the "Stop Mirroring" button and select your iPad.
---
Conclusion
The aforementioned three ways to screen mirror your iPad to TV have been carefully selected after been found great and easy methods. Try any and see how perfectly it will work on your TV (whether it is an Apple brand or not). To make it work as expected, ensure you follow the steps appropriately.