There are currently 2 billion Android users and nearly half a billion iOS users worldwide. These are some of the fastest most efficient user interfaces out there. Whether it is memorizing a pattern or a code, it is also easy getting locked out of your phone. No matter how you get locked out, it is quite troublesome to not have access to your phone. Here is some phone unlocking software to help you out!
1

iMyFone LockWiper (Android)

Whether it's an error with your passcode, pattern or even finger print, iMyFone LockWiper (Android) screen lock removal is great phone unlocking software can help you regain access to your Android/Apple phone or tablet in no time whenever you forgot the password. iMyFone LockWiper (Android) is compatible with Android versions starting from 2.3 to 10.0.!
Features of iMyFone LockWiper (Android)
Remove any format of Android screen lock, such as a PIN, password, pattern, fingerprint, or face ID.

Remove any type of screen lock from your Android phone without providing any password.

Support almost all mobile brands and models that use the Android system, including Huawei, Samsung, Motorola, Google, Lenovo, LG, and more.

Provide specific unlock solutions to Android phones of different brands and models.
In spite of serving as excellent Android phone unlocking software, iMyFone LockWiper (iOS) works great with Apple iPhones, iPads and iPods. It can unlock differenr types of screen passwords.
Features of iMyFone LockWiper (iOS):
Suppport to unlock various screen locks, including passcode, fingerprint and face ID, etc.

Can unlock Apple ID without password.

Support all iOS versions and devices including iOS 13 and iPhone 11 models.

Update to a new iOS version wirelessly without losing your newly acquired Apple ID.

iDevice will also be removed from previous iCloud account.
How to Unlock Phone in 4 Steps Easily and Effectively.
iMyFone LockWiper (Android) can unlock and bypass any kind of password restriction in a few easy steps. Free download and install LockWiper (Android) trial to see how to remove Android lock in no time.
Step 1Connect your device to your PC using a standard data cable. The app will automatically detect your device and load its information.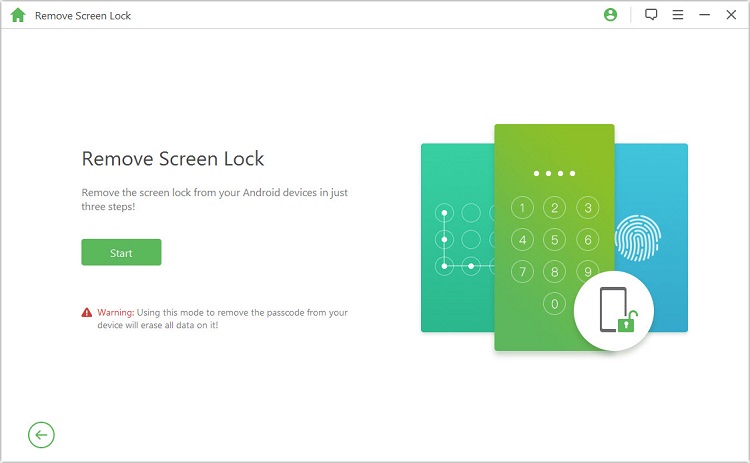 Step 2Confirming your device's brand and model. Click on Start to Unlock to proceed further.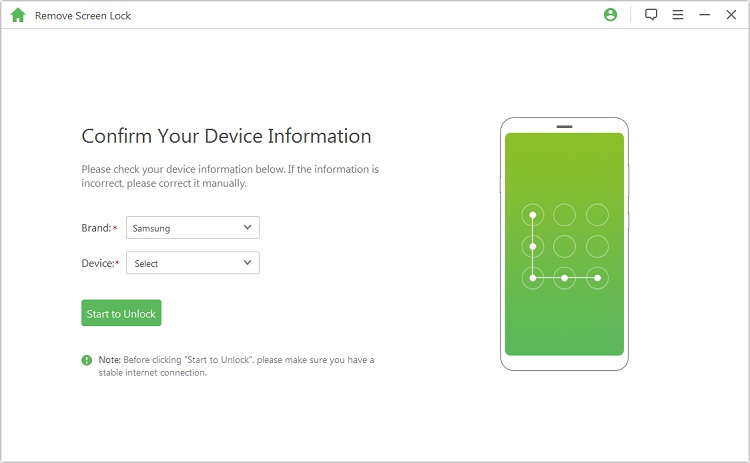 Step 3As the app sends the data package to your device; you can put your device into recovery mode and click on Next.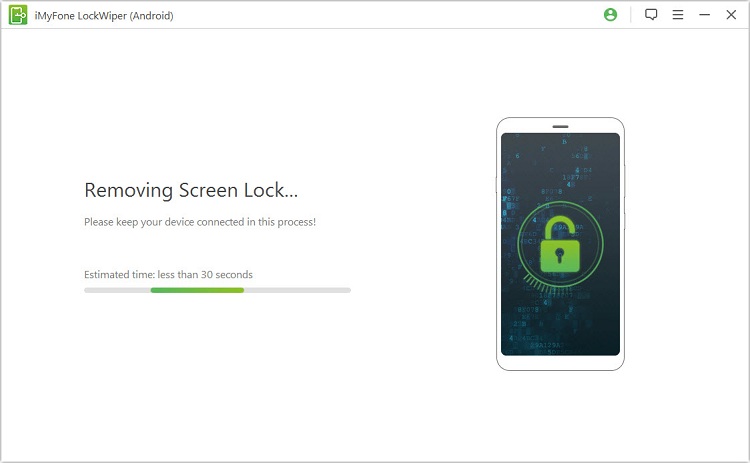 Step 4Sit back and wait for the iMyFone LockWiper (Android) to remove the password. It will hardly take any time and there! You are done.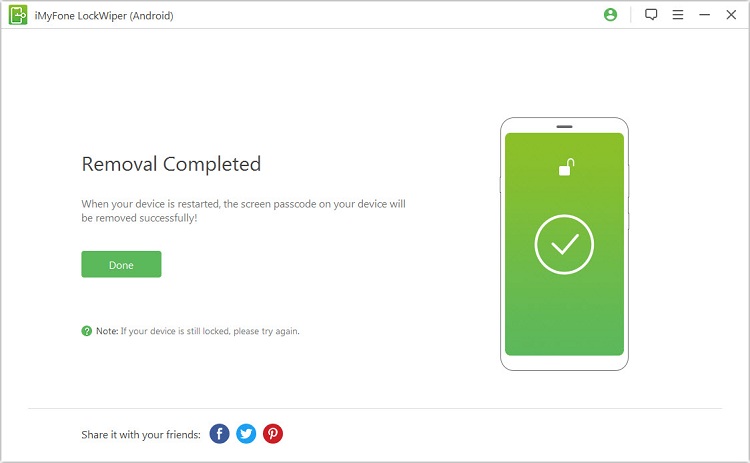 This software is quick, efficient and easy to use. It is one of the most used and recommended options when trying to unlock your iOS or Android devices. You can download the trial version on your PC and test it out for yourself!
2

Android Device Manager

Android Device Manager (also named "Find My Device") is a security system from Google Play Protect. This software allows you to bypass Android lock screen without reset data. It is used to find, lock or erase a lost Android device. When you are locked out of your phone or lost it, Android Device Manager can lock your device with your PIN, pattern, or password through this application. After the "Lock"option is selected, you can reset a password to lock your phone. You may visit https://www.google.com/android/find to know more details.

To unlock you Android screen with Android Device Manager, your Android phone must:

Be turned on
Be signed in to a Google Account
Be connected to mobile data or Wi-Fi
Have Location turned on
Have Find My Device turned on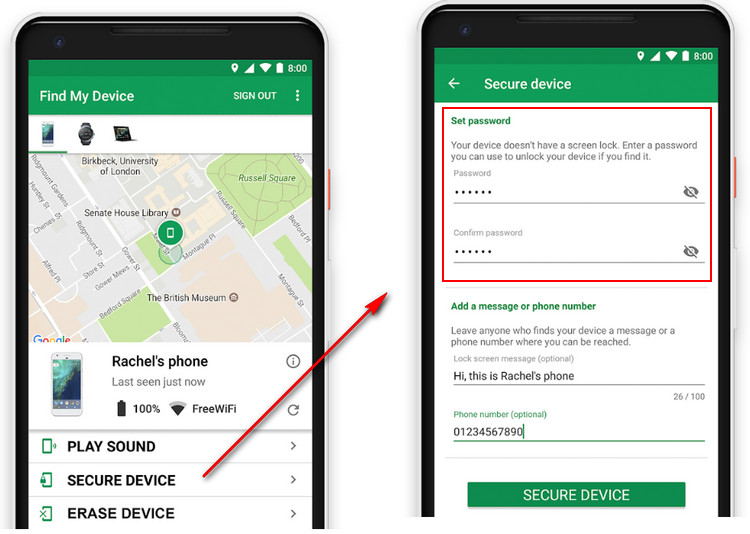 Pros        
Android Device Manager can not only unlock your phone, but also find your lost phone or erase your device to protect your information.        
Cons        
Support only Android devices that use Google Play service.        
Meet conditions listed above to use the software.
3

Dr.fone - Unlock

Dr.fone released Unlock Android version and iOS version to Android devies and iOS devices. You can use this software to quickly and efficiently unlock your phone. The core competence of Dr.Fone is that you don't lose your data at all while unlocking your phone! It does not completely reset your phone but in fact, keeps the data intact, all while removing the pattern, password, PIN and fingerprints for you. The easy to use phone unlocking software is compatible with both iOS 5 and up and Android 2.1 and onwards.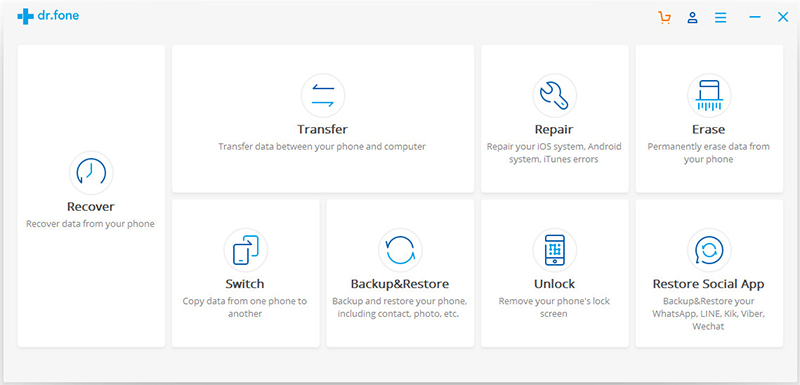 Pros        
No data loss after the Android phone is unlocked.        
Cons        
Requires 1GB or more space on your PC to operate sufficiently.        
The Android version only supports most Samsung and LG products currently.
4

iSkysoft Toolbox - Unlock

Specially made for the IOS system, this software is great for unlocking your Iphone. Whether its face ID, Touch ID, 4- or 6-digit passcode the iSkyTool box is an optimized phone unlocking software that helps your bypass the password restrictions. The iOS version of the software supports iOS 12 and the new iPhone XR. Whether you've had one too many disabled attempts or your touch id fails to recognize you, using this software can conveniently help you out.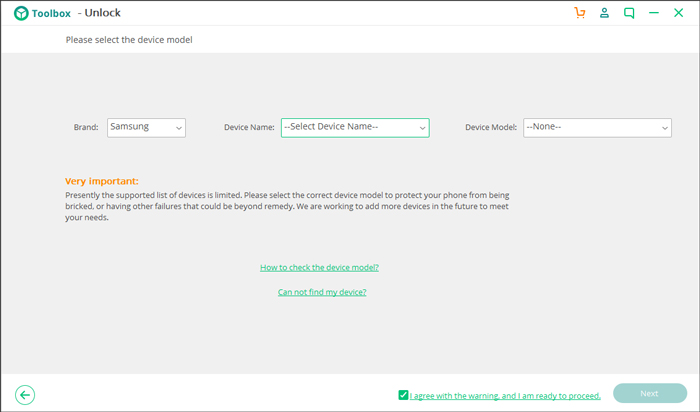 Pros        
Support to unlock Android pattern lock without losing data        
Cons        
Only support devices of Samsung Galaxy S/Note/Tab series, and LG G2/G3/G4        
Only unlock Android devices runs Android 7.0 and previous
5

Conclusion - Phone Unlocking Software Comparison

A comparison table is made based on what has been discussed above.
| Software and Metrics | iMyFone LockWiper | Android Device Manager | Dr.fone Unlock | iSkysoft Toolbox Unlock |
| --- | --- | --- | --- | --- |
| Unlock various locks | | | | |
| Unlock  Apple ID | | | | |
| Support  Android brands | 4 | Almost all | 2 | 2 |
| Specific  fixes to specific Android devices | | | | |
| Hard disk | 200MB | | 1GB | 200MB |
| Money back guarantee | 30-day | | 7-day | 7-day |
As the table shows, iMyFone LockWiper is thus far the most recommended out of all the available options. It is quick, efficient and an easy fix. If you are looking for powerful phone unlocking software, you can download the trial version and test it out yourself and save yourself from all the trouble.